Must-do Sighseeings (in one day)
SUNRISE from Bukit Sikunir
First of all, I advise you to avoid going there on the weekend because it gets really crowded. I visited during public holiday, there were so many people coming down from the mountain after sunrise that there was a 30 min traffic jam !
Wake-up at 3.30am / 4am.
The road from Wonosobo forms a crossroad with Dieng main street at the entrance of the village. Turn left to go to Sikunir when coming from Wonosobo.
The ride takes about 20-25min by motorbike. Much more by car because of the traffic !
You pay 10,000Rp for entrance and 5,000Rp to park your motorbike. There is a camping ground next to the parking.
Then hiking until the top of Bukit Sikunir takes about 30min. Put on some warm clothes, it's windy up there.
From the top of Bukit Sikunir you can enjoy a nice view on Telega [Lake] Cebong
Kawah Sikidang
After you enjoyed the sunrise over Dieng valley from Bukit Sikunir it's time to go down and to eat breakfast. Potatoes are highly popular in the area, probably because the climate is cold enough to grow them.
Get back on your motorbike and drive back to Dieng. After 15min you should see a track on the left that goes to Kawah [Crater] Sikidang.
Entrance is 5,000Rp for local, maybe  a bit higher for foreigners. If you have bought a ticket to Candi Arjuna, then it includes the entrance to Kawah Sikidang (15,000Rp for local/30,000Rp for foreigner).
It's a nature curiosity, the heat from volcano comes up through sulfur-infused water.
Local have created some attractions around the sites: quad riding, taking pictures with owls or snakes, souvenirs…
Telaga Warna & Telaga Pergilon
Time to take the road again. After a few minutes you will arrive to Telaga Warna site. Again you have to pay an entrance ticket at the booth. It's 8,500Rp for local. I've read on travel blogs that they ask 150,000Rp for foreigners.
Actually there are two lakes : Telaga Warna and Telaga Pergilon.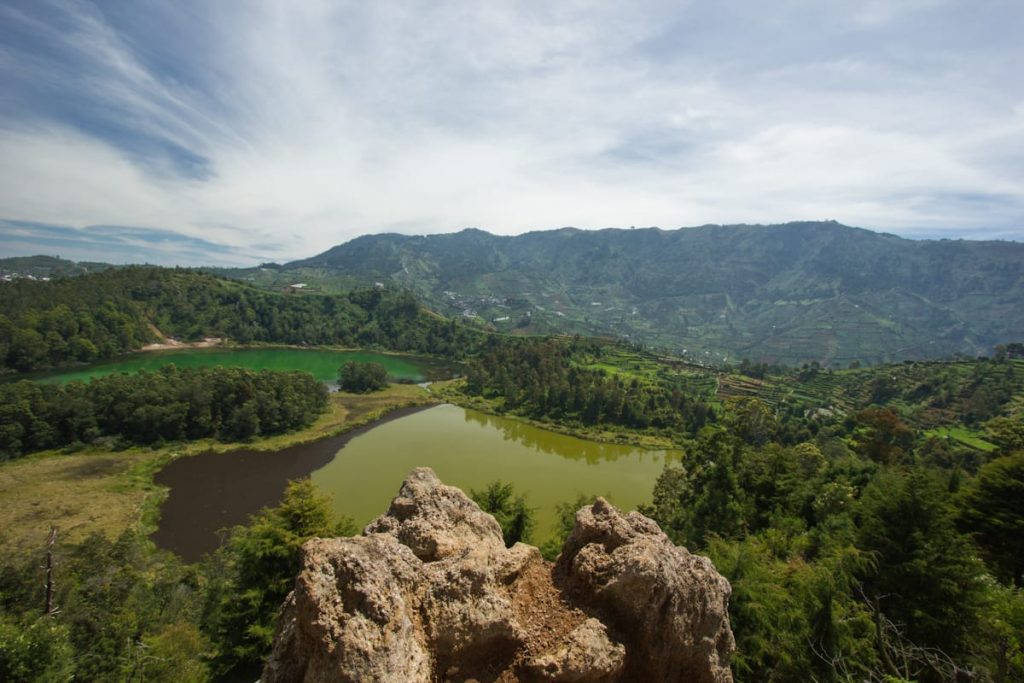 Like in Kawah Sikidang, local set up some attractions for tourists.
Telaga Merdada
It's a nice lake popular for fishing. After spending 15min there talking with fishermen a guy came up and told me I have to pay 5,000Rp for entrance. There is no booth but he handed me over a ticket that looked official.
If you wanna go there from Telaga Warna go back to Dieng, and follow the main road. Once you're out of the village take the first road on your left.
At this point, it should be 2 or 3pm and I guess you would get tired after waking up at 3am.
Other sightseeings (another day)
Tourist maps are available everywhere either in your homestay or on billboards in front of each site. There are many more site to visit than the few I listed before.
One important stuff: the weather gets cloudy almost everyday from noon. Better wake up early and see as much as possible in the morning.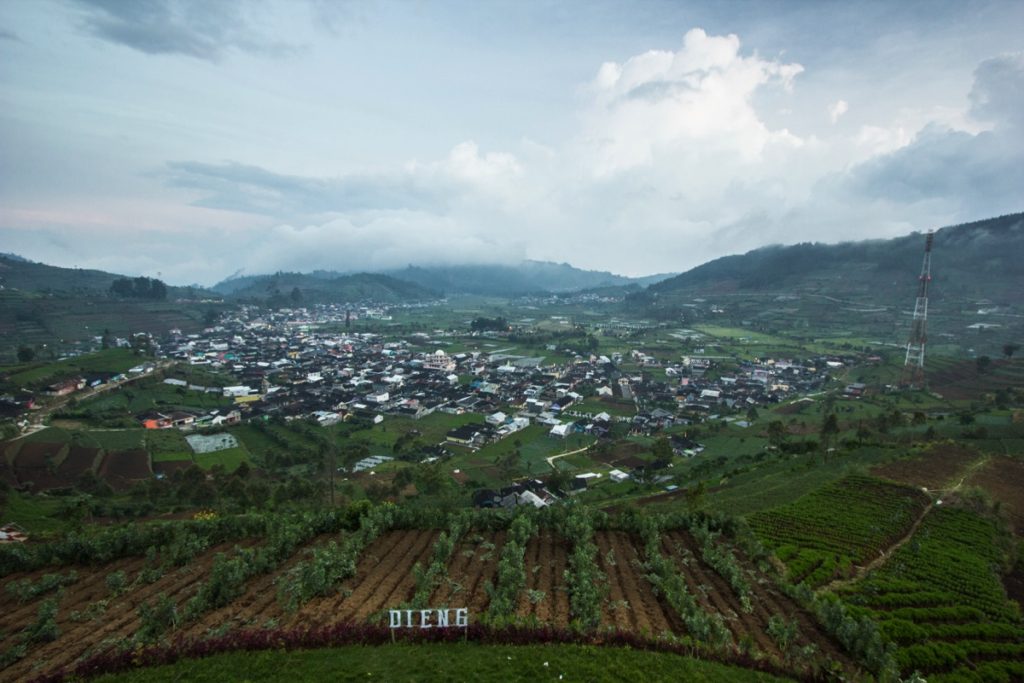 There are a few hindu temples left in Dieng. The place is called Candi Arjuna. The problem is that if you're coming to Dieng, you've probably already saw the Prambanan temples and one have to admit that Candi Arjuna cannot really compete with it.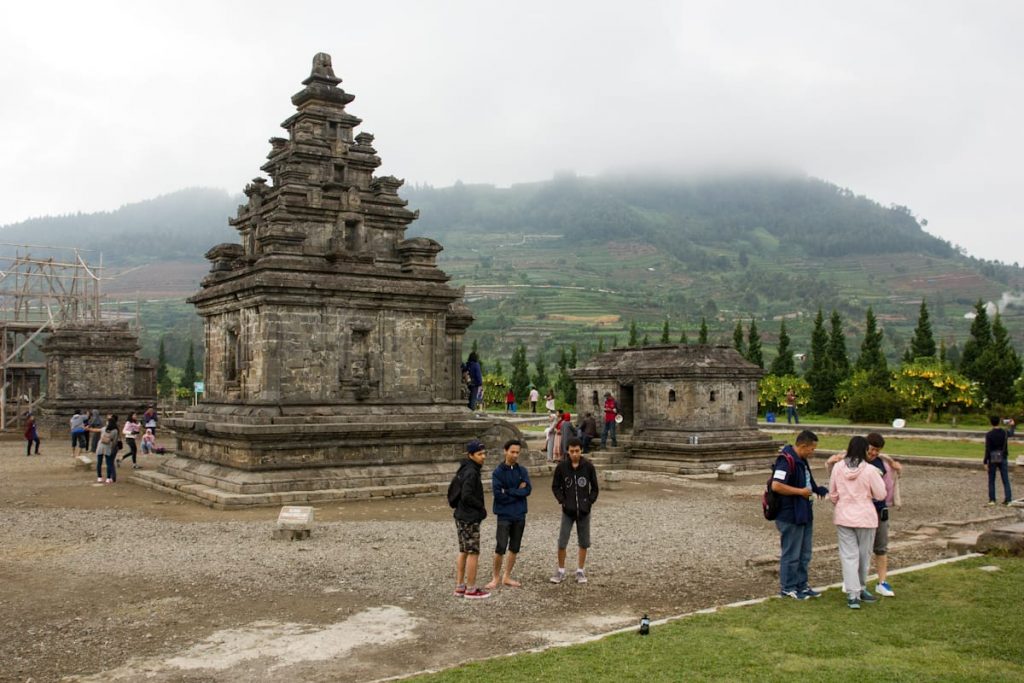 Besides Kawah Sikidang, you can see two other craters : Kawah Candrimuka and Kawah Sileri. Honnestly I wasn't really thrilled by those 2 places but I made the mistake to visit them in the afternoon so the weather was poor as well as the view.
The road to Kawah Candrimuka was really bad in September 2016. Don't go there if you don't trust your driving skills.
Dieng Theater that you can see on the map has no real interest. It's a theater with 60 seats that casts documentary film about Dieng.
Get lost
Dieng has fantastic landscapes and amazingly nice inhabitants. Exploring the area on motorbike without any plan is actually an excellent plan. Just remember to do it in the morning.
Hiking
A few summits can be hiked overnight. From what I saw, Gunung Prau is the most popular. Everything can be arranged from Dieng. Check the website Gunung Bagging for more info.
A few thought about tourism in dieng
First of all, I think it's the most well organized tourist place I've seen so far in Indonesia.
It's true that you have to pay a small price to access any site but on the other side there are all clean. If you have travelled a little bit accross Indonesia you know that garbages are usually everywhere. Not in Dieng.
I've read on the Internet that some foreign tourists got pissed because of the sometimes huge discrepancy between foreigner / local price. From what I've seen it's only the case in Telaga Warna (8,500 vs 150,000). If you really cannot bear this, settle in Indonesia and get a resident permit.
I've also read that some are disappointed by the numerous tourist attractions set up around some sites (mostly Telaga Warna and Kawah Sikidang). They say it ruins the authenticity of the place.
My comment is that Dieng people don't care about what foreigners think. There might be one foreigner that visits Dieng for 100 locals. The place is designed for them not for you.
People that go to Dieng for the weekend from Yogjakarta or Magelang are not looking for "authenticity". They just want to have fun with their families. Dieng community took a clever approach to tourism and created some attractions to generate more revenue from visitors without ruining its beautiful nature.
Of course it looks poor to foreigners eyes but unlike you, they've never been to Disney World.
A LITTLE BIT OF LOGISTICS
HOW TO GET TO DIENG ?
The 2 closest city with an easy access are Semarang or Yogjakarta.
Then you have 3 options:
Rent a motorbike and drive by yourself
Hire a car with a driver
Take a bus to Wonosobo. From there catch a small bus to Dieng (they run all day long).
If you are leaving from Yogjakarta, then you catch the bus in Jembor bus station.
I've explained how to rent a motorbike in Yogjakarta in this article. It costs around 60-70,000Rp per day.
It took me about 5 hours to drive from Yogjakarta to Dieng (I took wrong directions a few time but most of all the road up to Dieng was congested with trucks).
I drove the way back in less than 4 hours.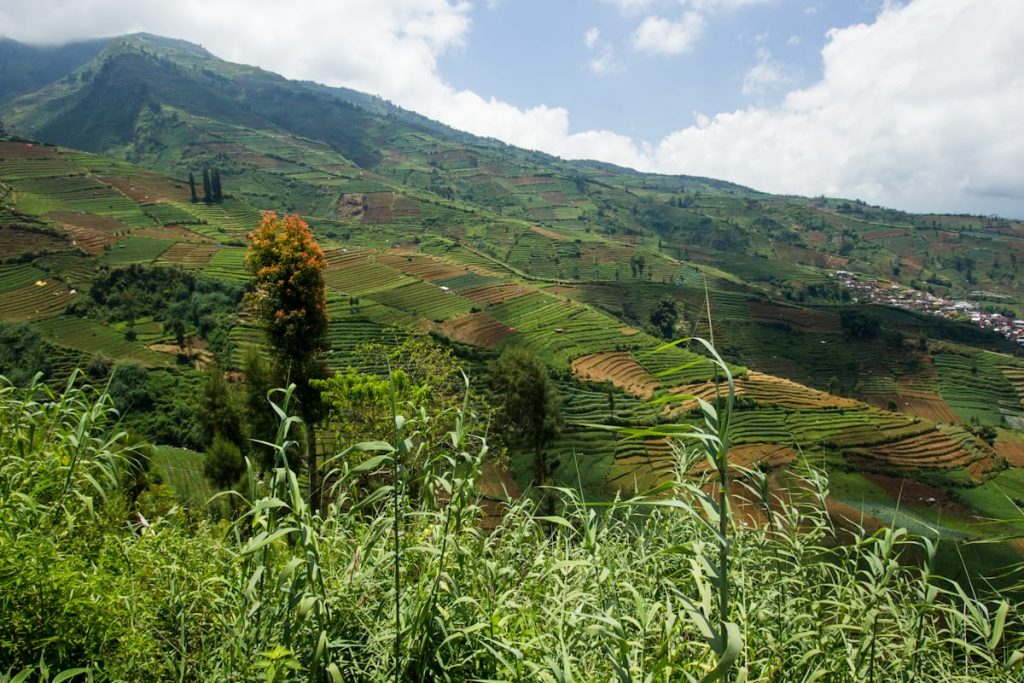 Where to sleep in Dieng?
There are tons of homestays in Dieng, Wonosobo or even Sembungan (the village located next to Bukit Sikunir).
Room price ranges from 80,000 to 150,000Rp. There is no need to book in advance unless you go there on a weekend. Dieng is a very popular destination for Central Java people that flock to Dieng every weekend.
Last point, you have to pay a 10,000Rp entrance fee to Dieng area.