Surfing and chilling on the beach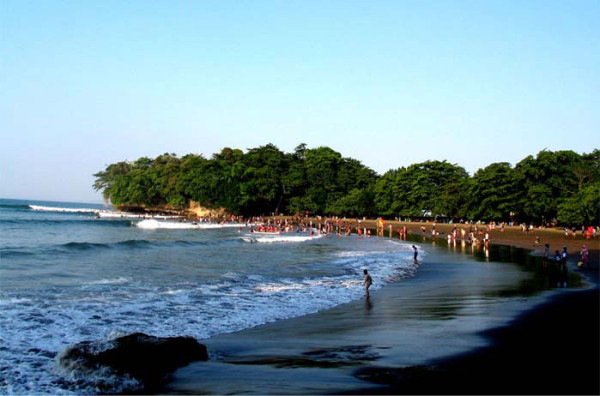 Batukaras is a small village on Java South shore popular both with Indonesian that go there with their families in the weekend as well as tourists in search for authenticity.
There is a surf spot just on the shore of the village and another one a bit further. The reputation of the break is increasing and you will always find surfers around.
Some locals have a pretty good level and have competed in international contests. I remember meeting a crew for Deus Ex shooting a promotion clip in the area.
The configuration of the spot caters both to experienced surfers and beginners (who should avoid coming close to the rocks).
Boards can be rented on the beach for around 30,000 or 50,000Rp.
If you come during the weekend you will meet lots of local who spend the day at the beach in family. The area is to avoid during national holidays because it is overcrowded.
A few meters from the beach there is a couple of nice and cheap restaurant. A friend of mine told me he once used a large surfboard to go off the coast with some hooks. He catch a few squids, brought them back to a restaurant and they cooked it for him.
My preference goes to Popeye and its lovely owner.
At night a few groups will form on the terrace of the restaurants. Mix with other people and the locals. Batukaras guys love live music and especially reggae. They even recorded their own song.
What to do around Batukaras ?
Green Canyon
There is a place called Green Canyon a few kilometers from Batu Karas where you can do some canyoning. Don't expect day-long adventure. It should keep you busy for something like 1 or 2 hours.
You have to rent a boat (coast 150,000Rp as a basis I don't remember if it's for 1h or 1h30) and then add 100,000 per extra 30min. The boat will take you on the river through beautiful scenery until the entrance of the canyon.
The canyoning part is maybe 50 or 60m long. Current can be pretty strong.
You get back to the boat by letting you drifting along the river which is quite nice.
Exploring the area
Scooters can also be rented for around 50,000Rp a day. Take one a go explore the surrounding areas. There is some nice beaches around like Pantai Mata Hari or Pantai Batu Hie.
How to go to Batukaras ?
Batukaras is located about 30km from Pagandaran, Central Java. It can be reached by the road (cheap) or the plane (expensive). All prices given are back in 2014-2015. It shouldn't have changed much.
Going to Pagandaran from Jakarta by bus
Go to Kambung Rambutan bus station in South Jakarta and look for the right bus.
I used to take the Friday bus, no idea of the company. I was just showing up around 5pm on Friday and get a seat on the bus. It would eventually leave around 6pm (once it's full). The fare was 85,000Rp.
According to this website there is a least 2 bus a day with fare now between 85,000 and 95,000Rp.
The bus is comfortable enough to sleep inside. The trip will take about 8 hours. So if you take the night bus you will land in Pangandaran around 2am.
The bus stops around 22pm to have dinner.
Of course you can use your own car to accommodate the trip. If you don't have any car you can find a private driver and hire him for the weekend.
I have honestly no idea for the price, my guess would be at least around 1M per day.
Going to Pagandaran from Bandung or Yodjakarta by bus
Pagandaran is about 220km from Bandung and 400km from Yodjakarta. It's possible to take a bus to Pagandaran from both cities.
Use the price from Jakarta as a reference to estimate the price.
Jakarta – Pagandaran flights
Susi Air operates small planes from Halim Airport in Jakarta to Pagandaran. I only heard about this flight from reputation and I cannot really review them.
According to this website there is one flight a day in both ways. The flight lasts 1 hours and the ticket should cost 520,000Rp (this sounds quite cheap for me, price is higher in my opinion).
Booking a flight online with Susi Air is a real hassle so I invite you to go to their offices or to call them (not sure if they can speak English).
Reaching Batukaras from Pagandaran
Now you have to find a way to go to Batukaras (about 30km for Pagandaran). I used to pay ojek (moto taxi) around 80,000Rp for a 45min ride to Batukaras.
One time I arrived with 4 friends and we decided to rent a bemo. The ride was much longer (almost 2 hours if I remember well) because you have to take a longer road that avoids the bridge.
I've always arrived in the middle of the night in Pagandaran so I never used public transport. I think you can find a bus to the nearest town Cijulang and then find an ojek for the last-miles. It should cost around 30,000Rp.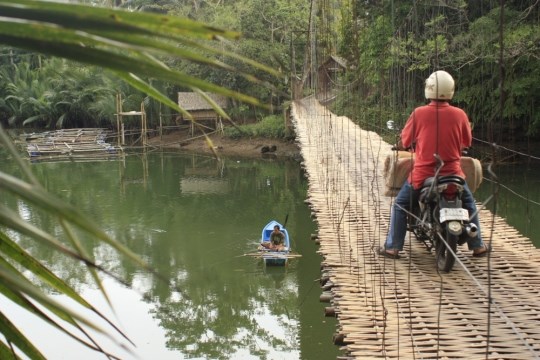 By the way I think you have to pay a small fee to enter the village as a tourist because there is a desk at the entrance of the village with a guy sitting there during the day. Since I always arrived in the middle of the night I never paid anything: the guy was sleeping and he never bothered to enquire if we had paid or not when he saw us getting in and out of the village later.
According to this blog, the price is 3,900Rp for a motorbike and 9,200 for a car.
Sleeping in Batukaras
The few times I've been to Batukaras I slept at Bonsai Bungalow. We used to pay 200,000Rp for a 3 people bungalow, including a nice wifi but no breakfast.
You can call them to book the room and get the key if you arrive in the middle of the night.