Uluwatu is not only a surfer's paradise, it's also a great spot to soak up some sun, enjoy a drink on a cliff bar or watch a beautiful sunset.
I realised that I have a lot of pictures of most of the beaches (pantai) in Uluwatu, so I decided to make a guide out of it.
Pantai SULUBAN
A great beach for those who feels a little bit adventurous. It's not that large and the seabed is quickly covered by sharp coral. But the setting is really cool.
It sometimes goes by the time Pantai Uluwatu or Blue Point.
It's a popular reef break (really not recommended for surf beginners) and a great place to watch sunset.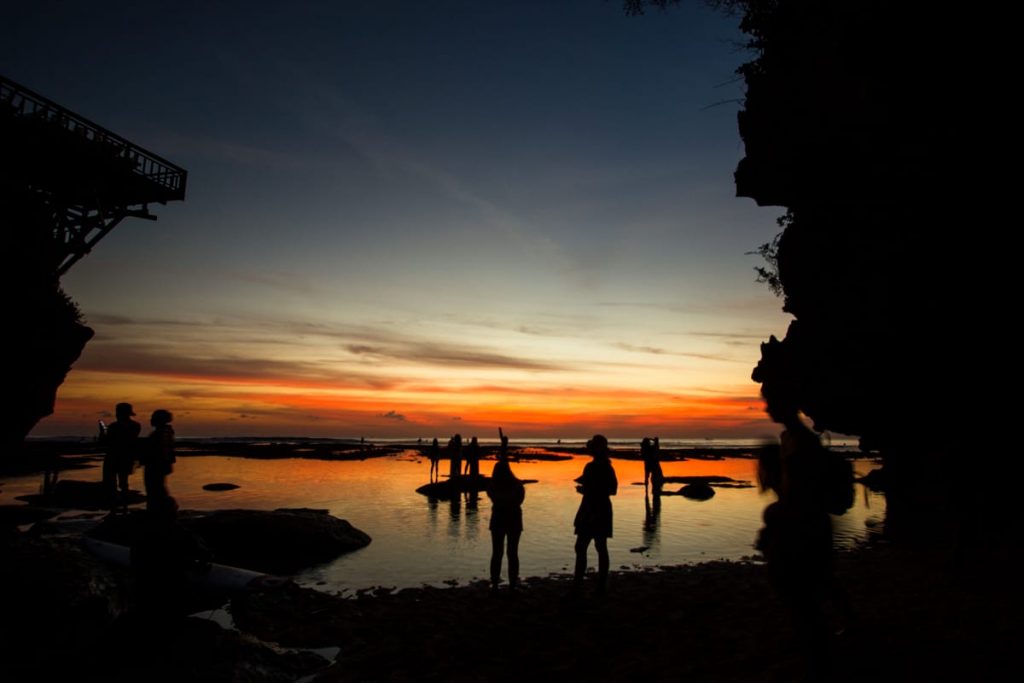 Parking fee : 5,000Rp/motorbike.
Avoid high tide (no beach !)
PANTAI LABUAN SAIT / PADANG PADANG
This is the beach that features in the movie "Eat, Pray, Love". The most famous name is Padang Padang beach but you will see Labuan Sait on the entrance ticket.
This a great beach to swim and chill. A few surfers and stand up paddle but the spot is located quite far from the beach.
The place is not that large so better check how crowded it is from the bridge before paying the entrance.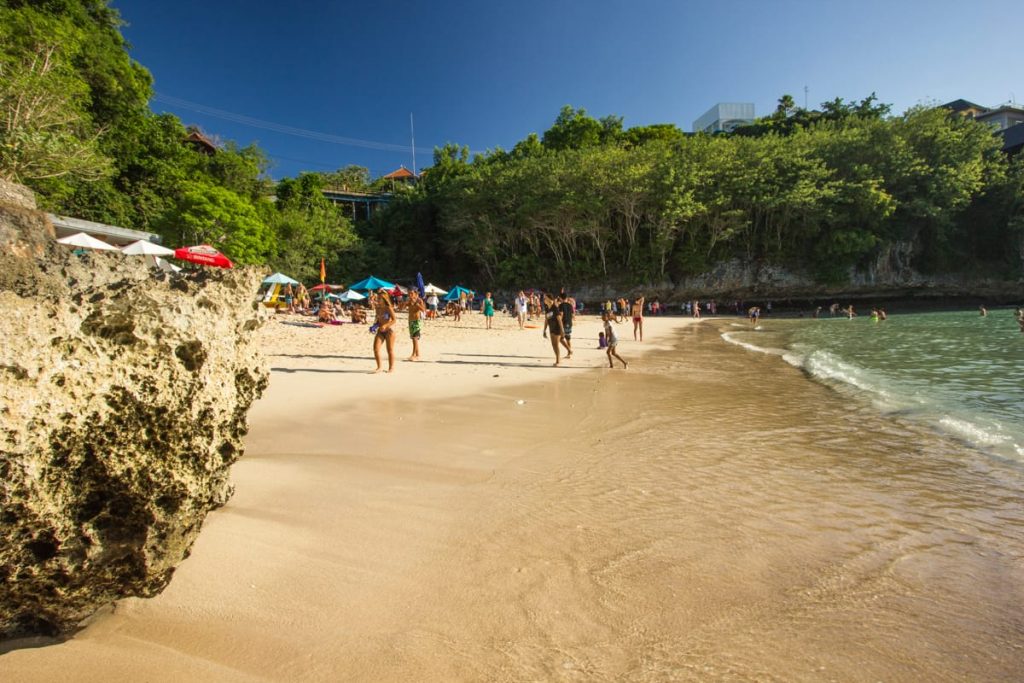 If the weather is clear, both Mount Batukau and Mount Agung can be seen from the beach. As well as a permanent flow of airplanes about the land on the nearby airport.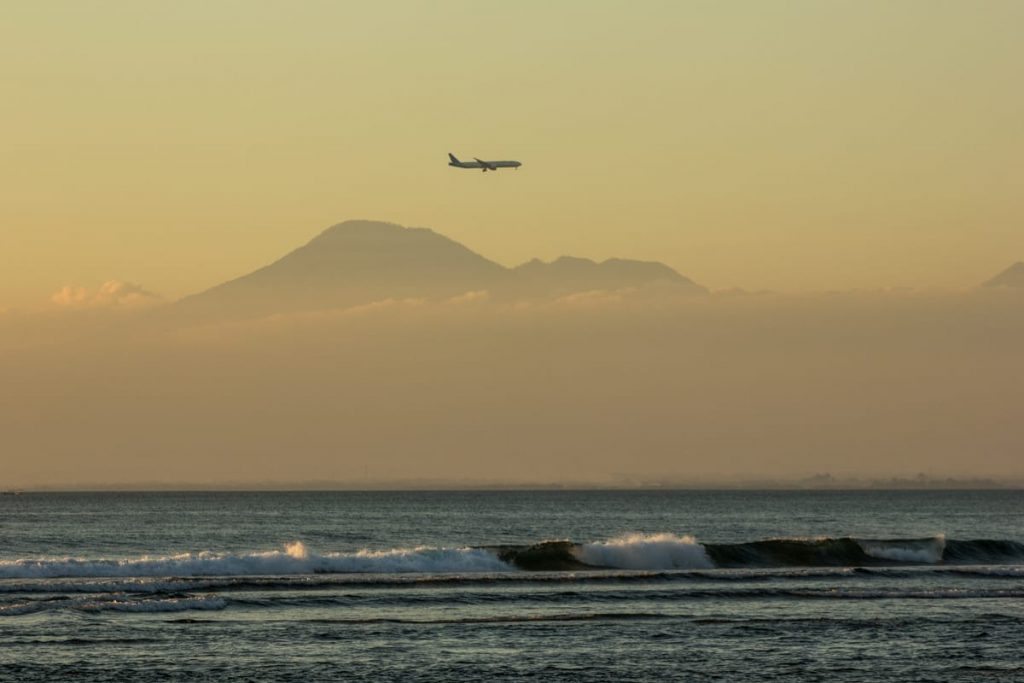 It might not be the best spot to enjoy the sunset, given the sun is gonna set behind the rocks on the left. Still some pretty nice views to enjoy.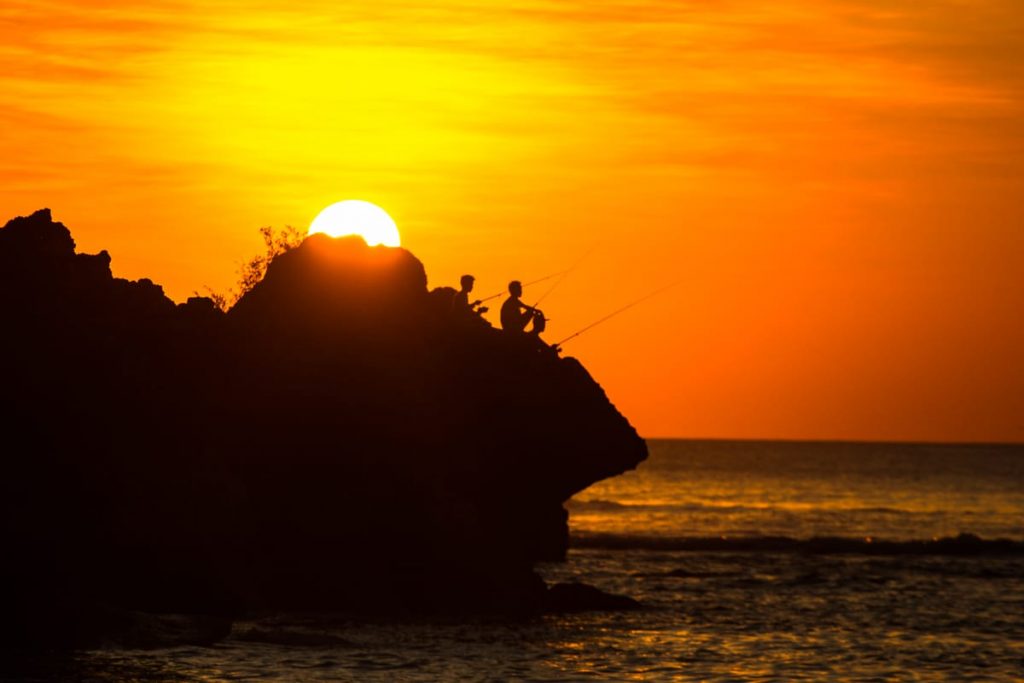 Entrance fee: 10,000Rp for foreigners / 5,000 for locals. Additional 2,000Rp to park your motorbike.
Best at high tide.
PANTAI NYANG NYANG
This one is a real gem if you wanna be alone. It's located on the southern shore of Uluwatu. You gonna have to go down a pretty long stair to eventually arrive on a virgin beach at the foot of the cliff.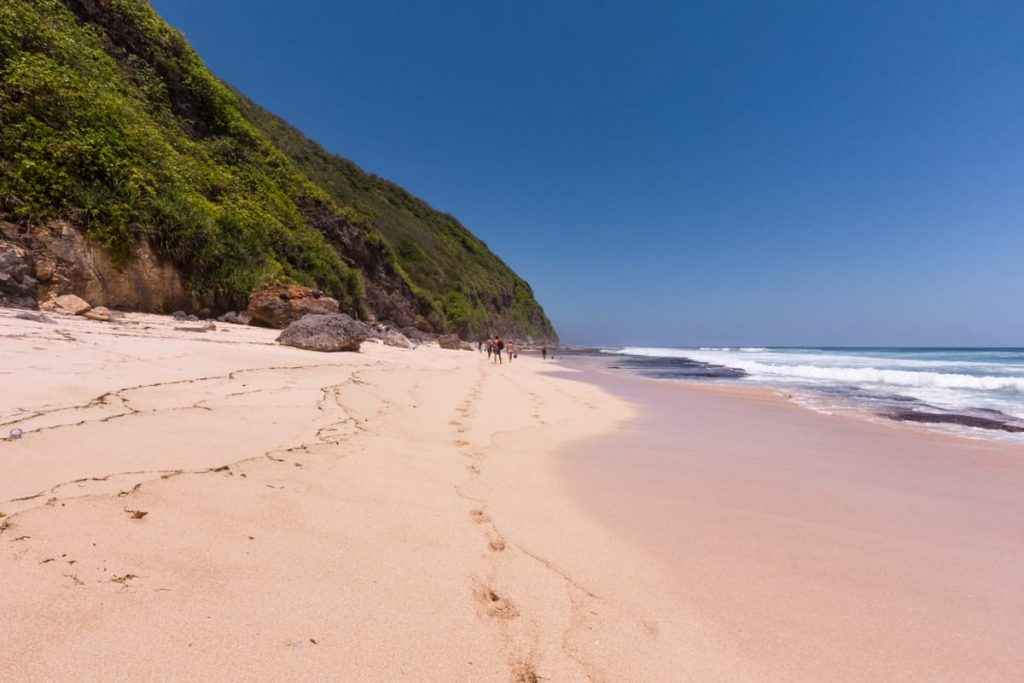 The current and the waves are pretty powerful so be really cautious when swimming. There is no one to rescue you if you get cast away by the ocean.
I haven't been there since a while so I don't know if the locals implemented a parking fee or not. Back then there wasn't even a tout near the entrance. Only a couple of cows.
PANTAI PANDAWA
A great place if you wanna swim because there the bottom is mostly sand, there is no big wave or current and the beach is really large.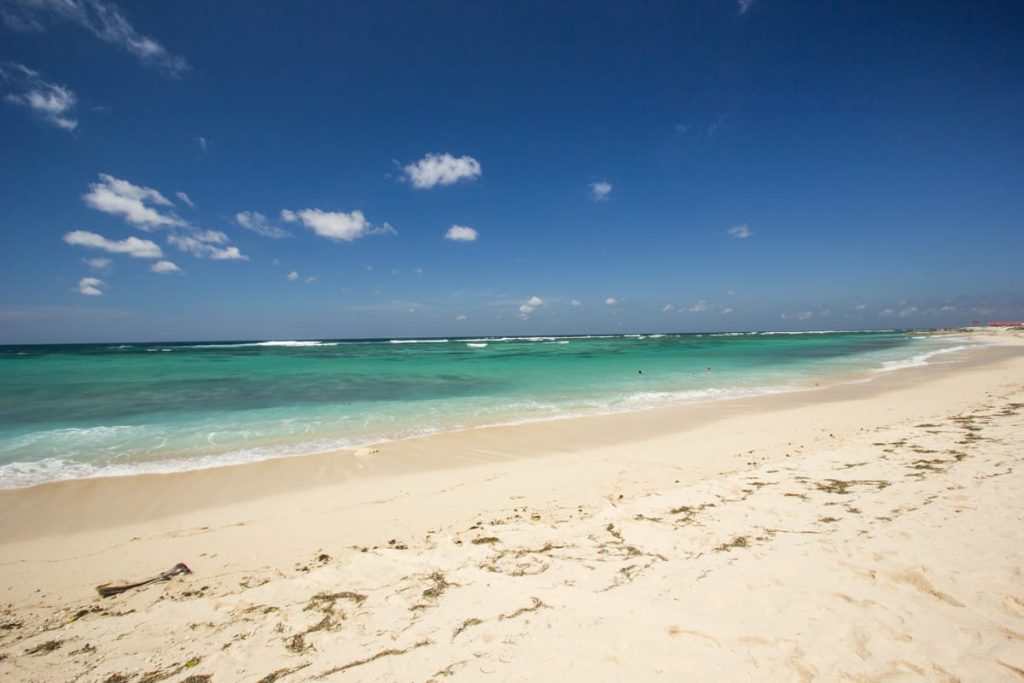 The beachfront is full of warung and transat for rent. Don't expect to have the beach for yourself. If it's what you are looking for go for Nyang Nyang or Green Bowl.
A similar alternative is Dreamland beach on the East coast. I don't have any pictures of it but Google has plenty. Quite similar to Pandawa.
Entrance fee: 8,000Rp + 2,000 to park your motorbike.
PANTAI GREEN BOWL
Another nice beach in South Uluwatu. Same setting as Nyang Nyang : you have to go down a long stair to get there.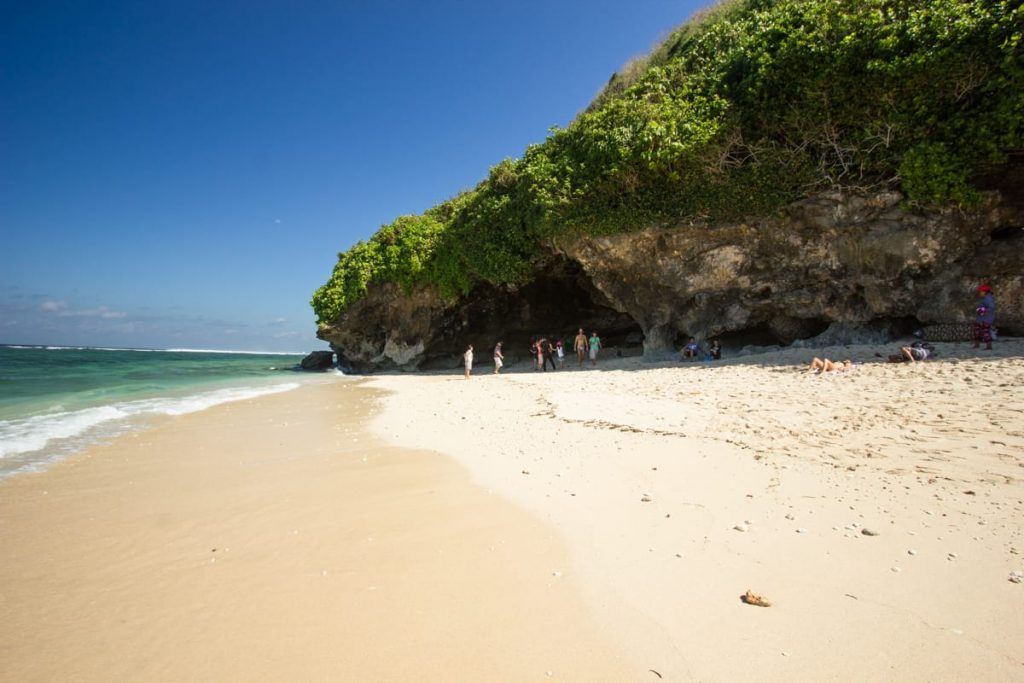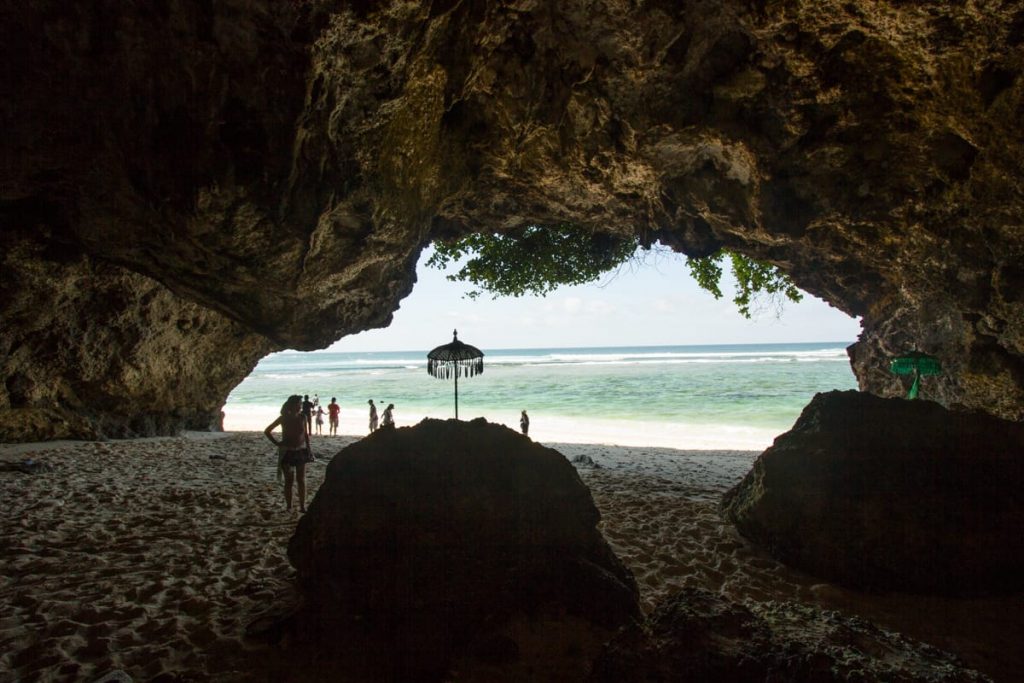 Entrance fee : 5,000Rp per person.
Can be quickly crowded at low tide (the beach is quite small).
OTHER LESS RECOMMENDED BEACH
PANTAI BINGIN
Popular with surfers, this beach is rather small and the sand mixed with a lots of dead corals. So not really nice to walk there. It's not a bad one, but Dreamland or Padang Padang are next to it and much better in my opinion.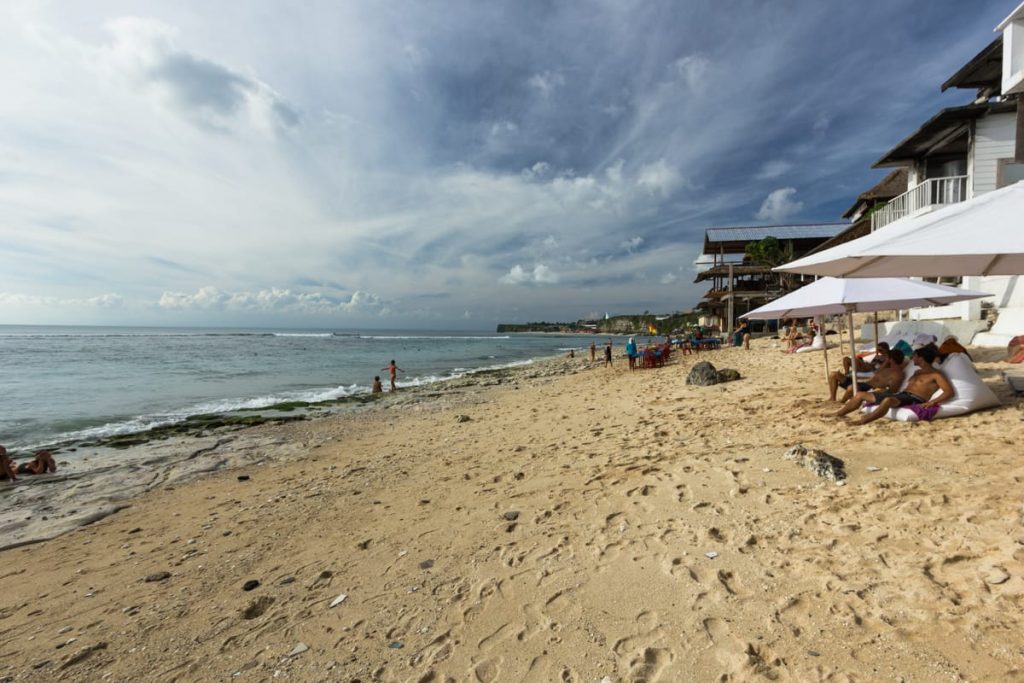 PANTAI MELASTI
This beach is mostly famous for a huge cliff nearby with free access.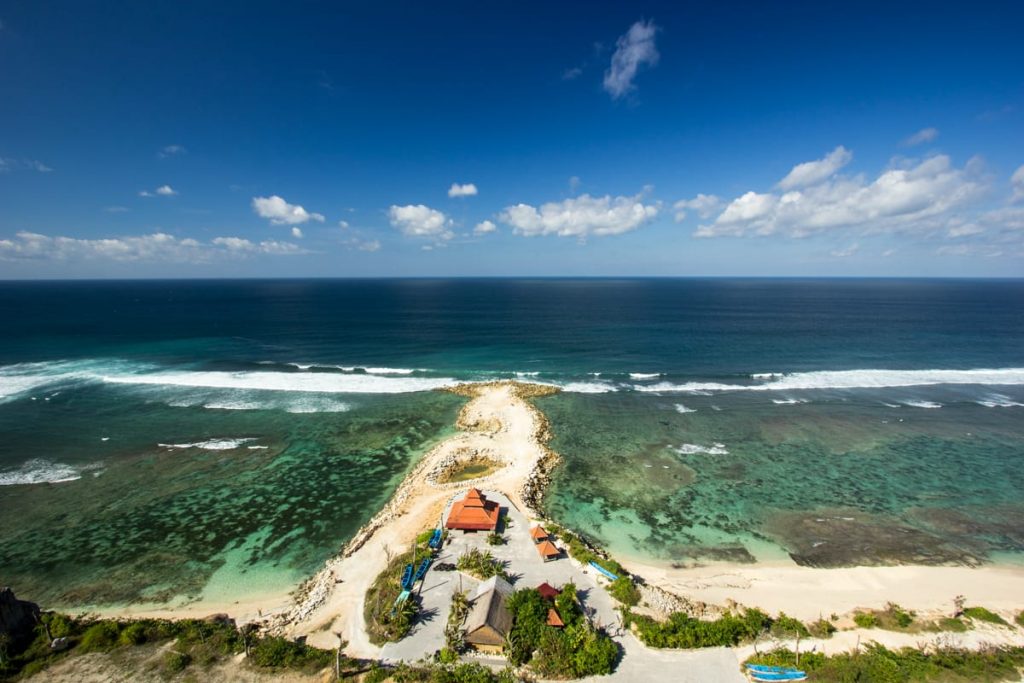 CLIFF BARS IN ULUWATU
There is many beautiful bars and restaurants in Uluwatu that are perfect for a drink or a meal. Don't expect warung price though. If you are on a short budget, you better check the menu first on Zomato.
If you fancy that kind of experience, you can check in particular
El Cabron
Rock Bar
Single Fin
Otherwise the classic seafood dinner in Jimbaran bay is always a good options.
SUGGESTION OF A 2 DAYS ITINERARY IN ULUWATU
I think 2 days is a enough to explore Uluwatu peninsula. I willingly set aside Nusa Dua area (the Western part of Uluwatu) which a soulless complex of luxury hotels.
This itinerary supposed that you have you own vehicle (motorbike or car). It's more logic to do it when you stay in Pecatu, Jimbaran or even Kuta area (but don't stay in Kuta area, really).
I recommend that you check the tide schedule in order to decide in which order you are going to visit the sites. If you have only one day, focus on the first part of the itinerary.
Day 1 : the east coast
Recommended : Pantai Suluban, Pantai Padang Padang. Pantai Dreamland if you are looking for a larger beach.
Other idea : enjoy the view over Pantai Tegal Wangi. Visiting Uluwatu temple is not a must-see in my opinion (I explained why in this article).
Dinner on Jimbaran beach / in a cliff bar.
Day 2 : the south coast
Recommended : Pantai Nyang Nyang, Pantai Greenbowl. Pantai Pandawa if you are looking for a larger beach and that you wanna swim safely.