Surfing and chilling
There isn't much to do in Cimaja. When I go there I spend all my time on Sunset Beach. I rent a large board, go take some waves, go back, chill, have a fresh coconut, read a book and then back in the water.
Don't expect anything fancy and the beach is a little bit dirty (like always in Java) but the vibe is cool and you're breathing fresh air far from the frenzyness of Jakarta.
If you are more into surfing, Cimaja has other good waves. But Sunset Beach is definitely the best spot if you don't know how to surf properly.
Where to sleep
There are plenty of options available. I tried only 2 to be honnest but there are some fancier resorts with pool.
My pick would be Cimaja square and there bungalow build in the middle of the ricefields. They include a kitchen. Prices are about 300,000Rp for 2 people for the week-end (arrive on Saturday morning and leave on Sunday afternoon/night).
If you are more on a budget, I already stayed in Ombak 7 Hotel, a 4 people bungalow costed 230,000Rp in 2014.
How to get there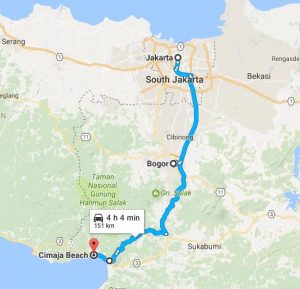 Even though Cimaja is only 150km from Jakarta don't expect to spend less than 4 hours in the car.
If you are unlucky, it might even take 6 hours.
There is no highway once you reach Bogor so you gonna have to drive accross Bogor, Sukabumi …
A good idea is to leave really early on Saturday morning (like 5.30am) to avoid the traffic.
By car
It's the easiest solution. If you don't have a car you can easily find a driver that will take you there and bring you back for slightly more than 1M IDR (including his food and accomodation in Cimaja).
Ask your friends for a contact. Another solution might be to talk with the various drivers you hail through Grab, Uber, Gojek and check if they would be interested in the future.
By bus
There are bus from Jakarta (Kampung Rambutan station) to Pelabuhan Ratu. You might have to stop first in Bogor and change bus.
Last time I did this was in 2014 so I don't know if the prices are still correct but it costed 50,000Rp from Jakarta to Pelabuhan Ratu.
From Pelabuhan Ratu, arrange an angkot to Cimaja (about 15,000Rp). It takes about 20 minutes.
By train
Might be a smart solution to avoid the traffic. Trains are available from Bogor to Sukabumi. So go to Bogor by bus or another train first and then ride to Sukabumi. From Sukabumi take a small bus to Pelabuhan Ratu.
You can check the train prices and schedules on tiket.com.