For many years the Indonesian tourism ministry has been promoting the traditional villages (desa adat) of Flores. They embody the traditional cultures of various ethnical group of the island: Manggarai, Ngada, Lio …
I had the occasion to visit some of them in the recent years around Ruteng and Bajawa.
RUTENG
A 4-hours drive from Labuan Bajo, Ruteng is the usually the first stop on your way towards East Flores.
I've been there twice and every single day I saw the same weather pattern: nice in the morning, covered by cloud and often by fog in the afternoon. So you better get up early.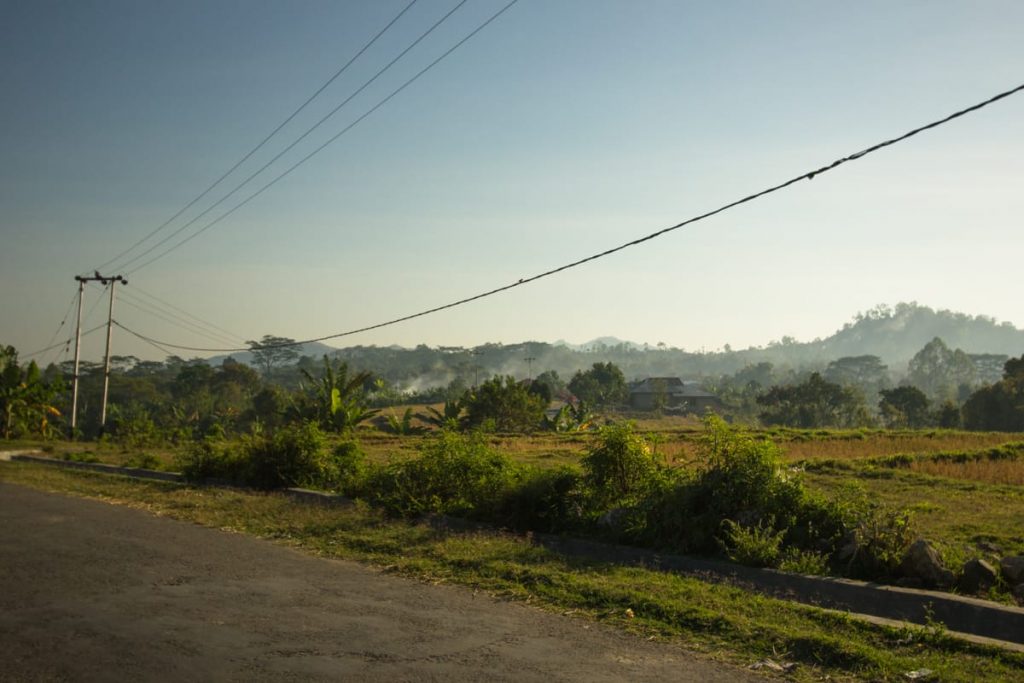 WAE REBO
It's a traditional Manggarai village that has been renovated a few years ago. It's totally lost in the mountain and you will have to hike for 2 hours to get there.
The government has really been pushing to increase the flow of tourists. Now the village can accommodate 200 people every night. From my discussions with inhabitants, it's very common to have between 30 and 80 people every night.
Given that you need about 5 hours to go there from Ruteng, I don't see the point of not staying overnight. The rate is fixed: 325,000Rp per person including dinner and breakfast on the next day.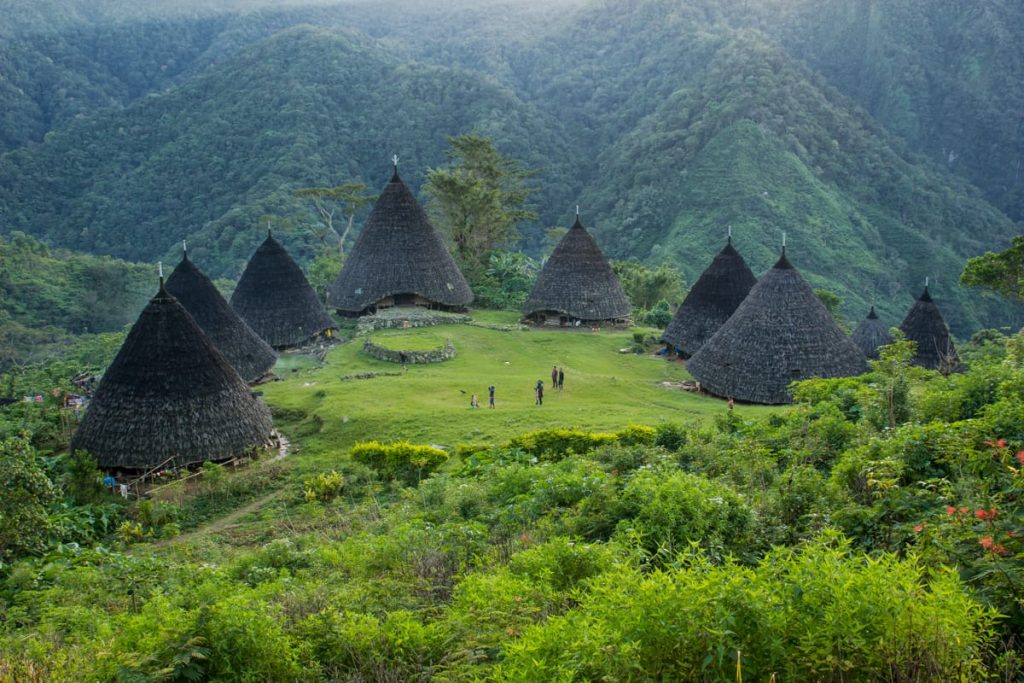 Houses are shared by up to 10 families (I don't remember the exact number honestly) that all have a private area but share a kitchen in the middle.
The first house on the left of the picture above is dedicated to accommodate guests. As you can see, it's the only one with a additional building behind. In order to lower the amount of smoke in the house, the kitchen has been relocated to the back of the house.
If you are into architecture, those large huts with thatched roofs are pretty amazing. If you pay close attention you can notice that the structure is absolutely nail-free.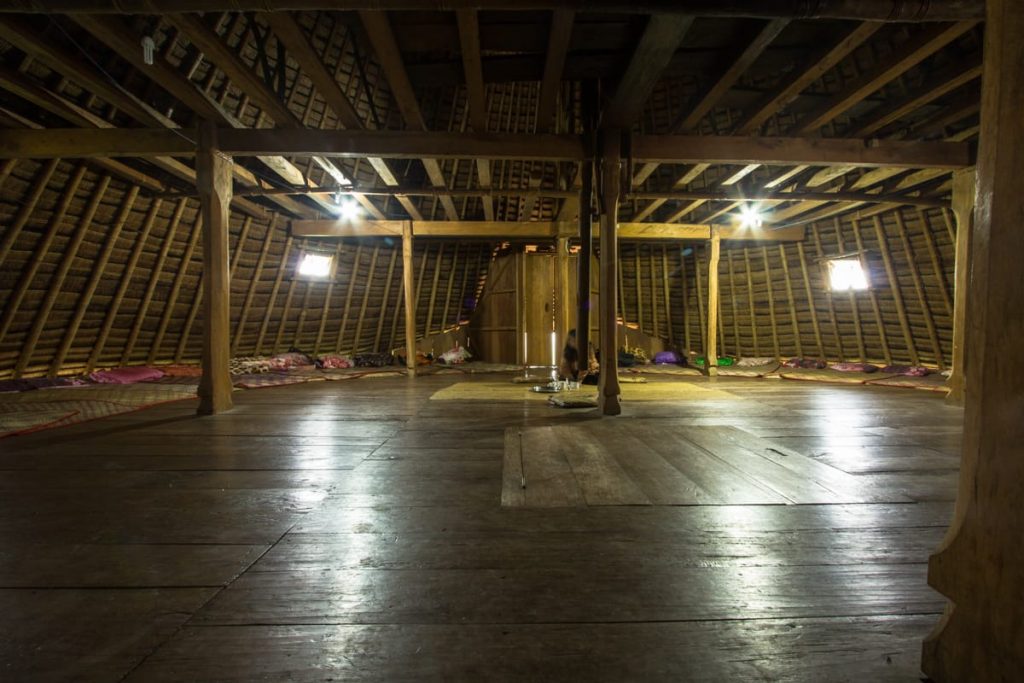 Upon your arrival, you are requested to report yourself so that an elder of the village can proceed to a short welcoming ceremony. A donation will be asked, about 20,000Rp for 2 people.
HOW TO GO TO FROM RUTENG TO DENGE ?
You will need to go first to Denge village that is located about 3 hours South of Ruteng. Just ask Google Maps to show you the way. On my phone it looks like this :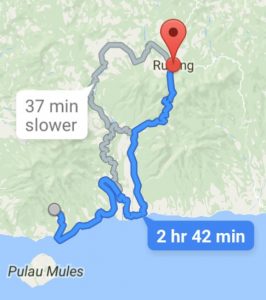 The road in blue is in much better condition that the grey one. I especially think about a portion of 5 km on the grey one featuring a steep slope, no asphalt but only large sharp rocks.
If you go to Cancar in the morning before heading to Denge, it's better to go back to Ruteng first even though Cancar is located on the grey road.
If you are coming from Labuan Bajo you will see a road sign to turn left for Wae Rebo. This is the grey road, you have to enter Ruteng first to take the blue road.
According to Flores Tourism official website, it's possible to charter a boat from Labuan Bajo to Dintor in front of Pulau Mules. This is the last fishing village you will pass, before the road goes up to Denge. There would be also a truck picking passengers from Ruteng to Denge.
Motorbike is your best option in my option.
From Ruteng, Google's time estimate is rather correct.
HIKING FROM DENGE TO WAE REBO
From Denge, you can drive an additional 15 minutes to reach the so called Pos I. You can park your motorbikes there overnight with the helmet. It's safe.
From there just follow the path for 2 hours to reach Wae Rebo. I did it in the afternoon, the air was full of fog it was pretty nice.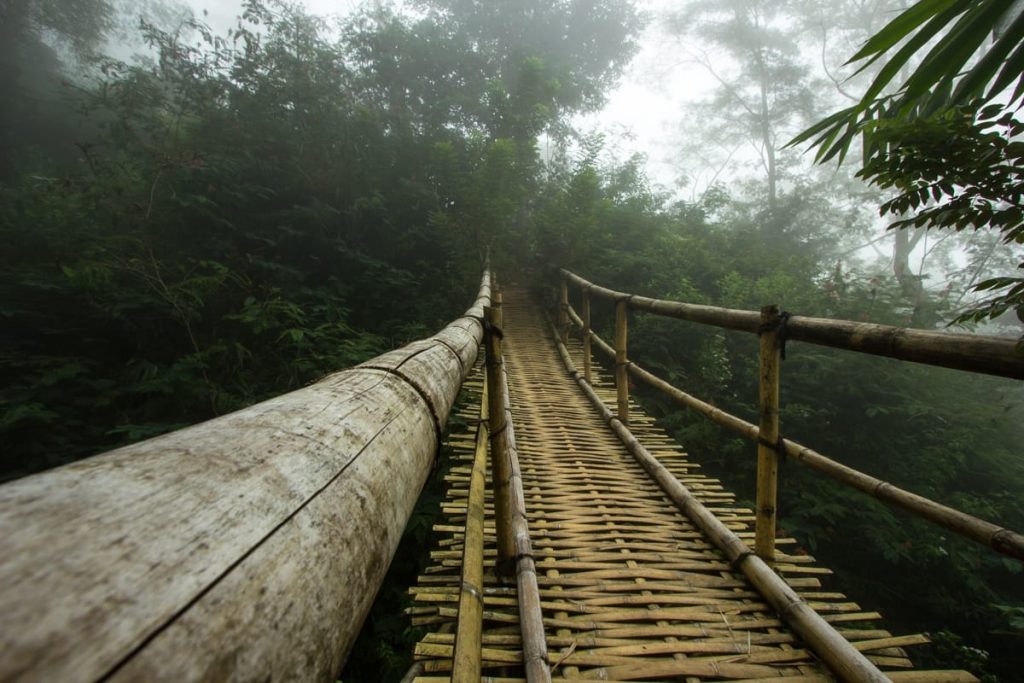 CANCAR SPIDERWEB RICEFIELDS
Not far from Ruteng, don't miss the famous spiderweb rice fields of Cancar.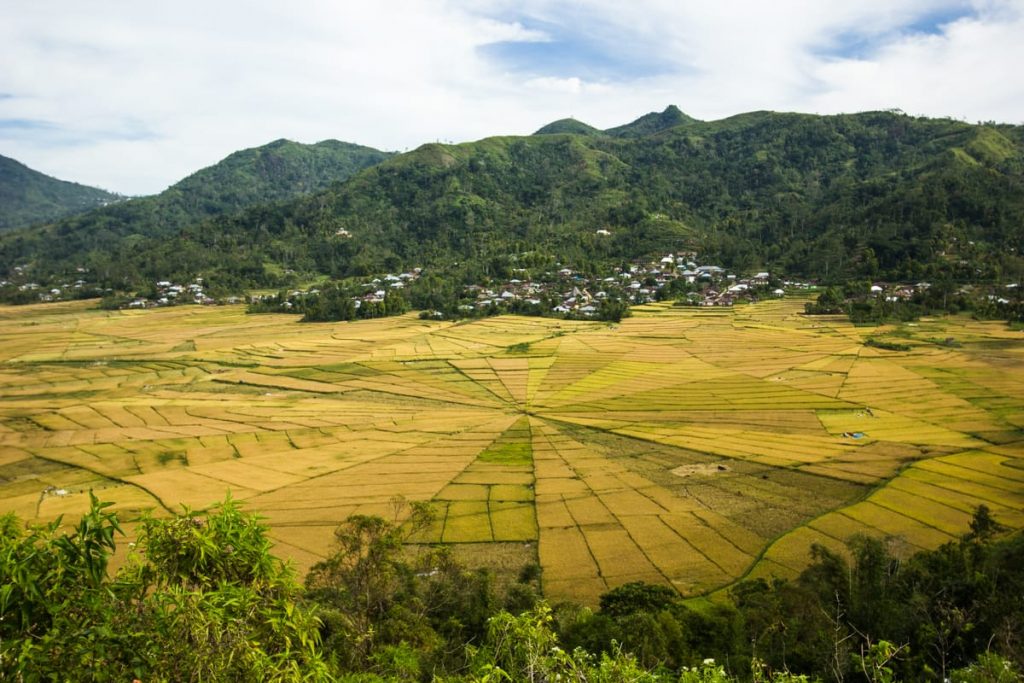 There is a small booth just before the stairs that lead to the best viewpoint. If there is someone in the booth he will request a donation of 15,000Rp per person.
BAJAWA
From Ruteng you will need an additional 4 hours to reach Bajawa. From Labuan Bajo to Ruteng the main ethnical group is Manggarai but Bajawa is the main city of the Ngada regency.
BENA VILLAGE
It's the most famous traditional village around Bajawa. Virtually all houses are still in pretty good conditions.
I felt uncomfortable in Bena. The village looks like a living museum. It's hard to tell if women weaving on their doorstep do it as an habit or just to please tourists.
You will be asked to sign the guestbook upon your arrival and to proceed to a free donation. I gave 20,000Rp.
GURUSINA VILLAGE
A few kilometers from Bena, you have another similar but much less visited village. It's Gurusina. The same system of guestbook / free donation than in Bena applies.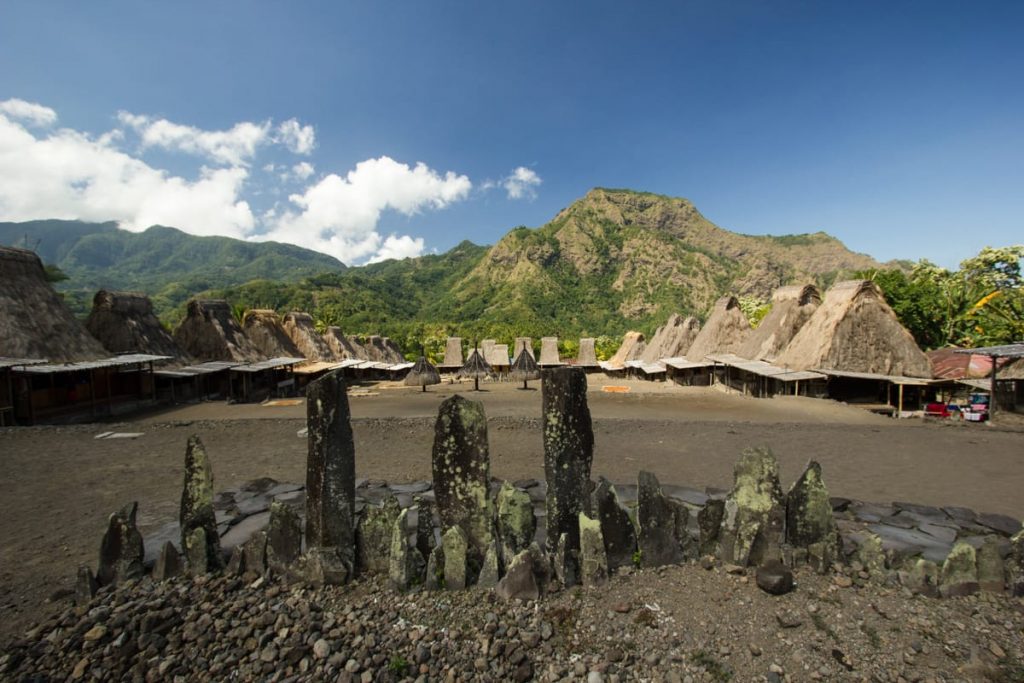 I spend about an hour there and I was the only visitor. I immediatly met a villager who insisted to tour me in the village. He gave me a lengthy tour in Indonesian, but it was 2 years ago and I understood maybe half of what he said.
It was still pretty interesting, here is a few stuff I learned :
Women and men live in separated house and they have to use a designated shared house if they want to spend the night together.
Most of the villages inhabitants emigrated to look for a better job. Most of them come back to attend important ceremonies
The inside of a house is considered sacred. He was deeply sorry but he couldn't let me in the houses. I had to have a look from the doorstep.
The wood carving and the small bamboo statue on top on some roof reflects the identity of the family.
OTHER VILLAGES NEAR BAJAWA : WOGO AND BELAHRAGI
From the always insightful florestourism.com website, I learned that 2 others traditional villages exists.
If I have time someday, I'd like to come back to Bajawa to climb Mount Iniere and to spend one night in Belahragi.
A FEW THOUGHTS ABOUT VISITING THOSE TRADITIONAL VILLAGES
Like I said I had mixed feelings about the different villages. Sure they offer really nice pictures but I sometimes felt like I was in a kind of a human zoo especially in Bena.
For a fee, many villages can stage a welcoming ceremony featuring dances, songs or arrange to show you the whole process of ikat weaving. I don't like this because I consider it deprives the old traditions from their meaning to turn them into a simple show for guests.
One have to keep in my mind that Nusa Tenggara Timur province is the poorest province of Indonesia with a GRP per capita of about $1,150. It doesn't mean that the population of other provinces is better off, but it mostly reflect the fact that NTT has neither natural ressources nor industry.
I asked the questions to villagers in Wae Rebo last time I visited in April 17. I was thinking that welcoming tens of guests everyday must have transformed the life of this small village. But the overall responses I got were quite positive. It brings fresh money to the village, that they can use to send children to university for instance.
My advice would be to choose just a few villages and to spend the night and the next morning there. English is not spoken so take a guide that can walk you through the local culture. If you speak Indonesian, locals will be more than happy to explain about their traditions.