Understand the Rinjani trek
A map can be handy to understand the path.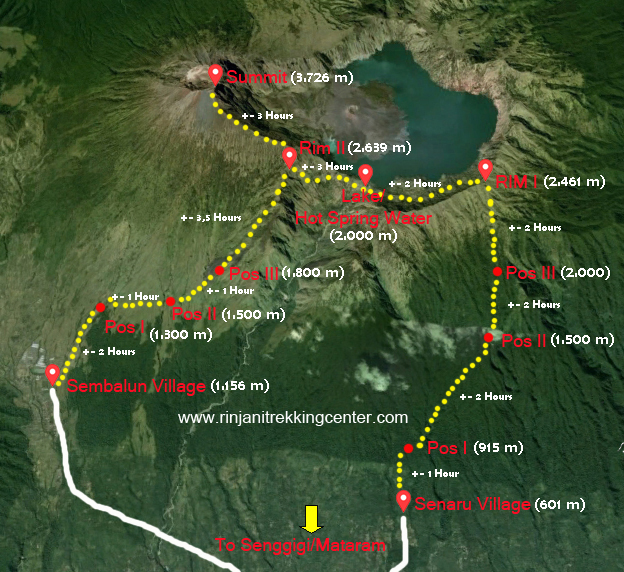 The Sembalun route
Day 1: depart from Sembalun village (1,100m), climb to RIM II
Day 2: [Optional : summit ascend at 2am] then descend to the lake and then climb up to RIM I
Day 3: Descend to Senaru (600m high).
The Senaru route
Day 1: depart from Senaru village (600m high), climb to RIM I.
Day 2: descend to the lake (Anak Segara) and then climb up to RIM II
Day 3: [Optional : summit ascend at 2am] make your way back to Sembalun village (1,100m).
This route is easier given you only descend after climbing to the summit.
Do I need a guide?
The answer is no if you have hiking experience. There is almost always only one path and there are people on every portion of it so it's impossible to get lost.
Many Indonesian students go on this trek on their own. Gear can be rented easily in Senaru or Sembalu.
Guides get their living off the trekking industry so they don't like people going there on their own, especially foreigners. I seem to notice that their attitude changed a bit once we were on the mountain (it is then too late to book a guide).
Keep a low profile and everything will be ok. If you ask politely porters will keep your bags in their tents on RIM II while you climb to the summit.
Death already occurred on the Rinjani so don't take any unconsidered risk.
How to get the best price for my Rinjani Trek ?
The majority of the people will hire a guide and a team of porters. They will take charge of carrying the materials (tents, cooking gears, water and food) and preparing the meals.
There is tons of trekking agencies in Lombok with travel agency acting as a 3rd party. If you want a fair price better contact directly the one located in Sembalun or Senaru.
If you want to book your trek in advance go on Tripadvisor and Google and get a few Whatsapp numbers. Contact some guides and take the best price.
I paid 1,500,000IDR per person (3 people) in July 2015 including a hotel night in Bangsal the night before the trek departure, transfer by car from Bangsal to Senaru and then transfer from Senaru to Kuta Lombok. This is a high season price, so if you're going off season you might get lower.
My guide was Jamal. He is nice and professional. He runs his own agency : Rinjani Fantastic.
I think all guides based in Senaru or Sembalun offer more or less the same thing. Tents might be more recent with pricy packages: my tent collapsed on me during the second night for instance. But the team managed to fix it quickly with some ropes.
In any case remember you're going to camp on a mountain: the ground is hard, the weather cold and windy during the night. Don't expect much comfort.
Gear / physical condition required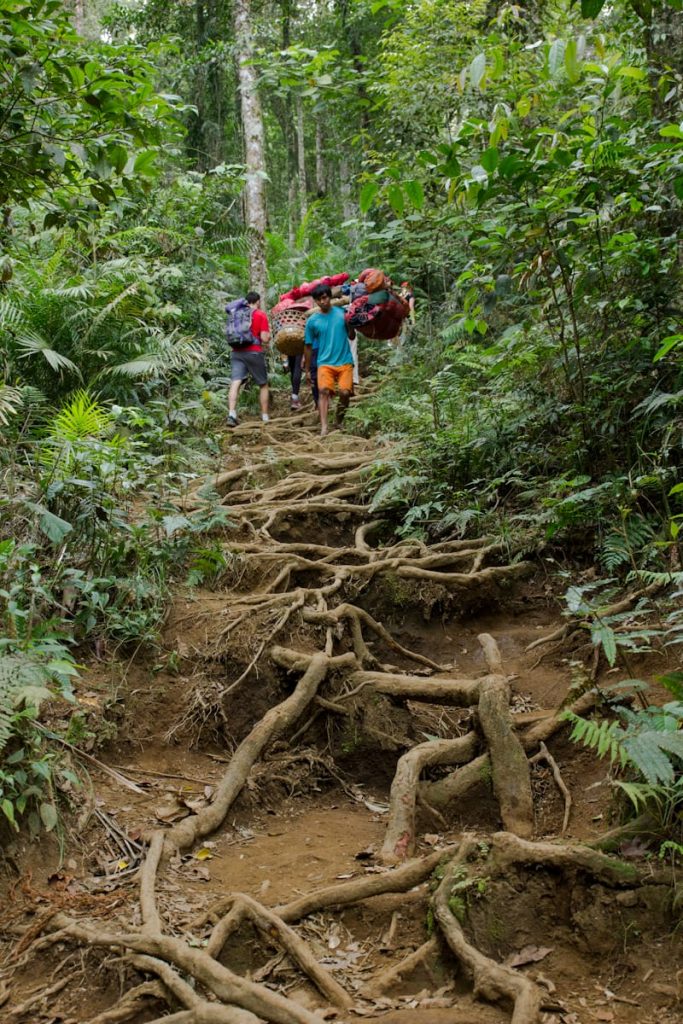 You're not going to climb the Everest. I did the 3 days with New Balance sneakers and it was just fine. Some porters climb barefooted.
Don't forget to take: toilet paper, torchlight, some hot clothes for the night and the summit (ask the guides before leaving if you need) and a pair of flip flops to wear after taking off your shoes at night.
It can be a little bit physically challenging but if you are a minimum fit everything will be alright.
Climbing from RIM II to the summit is way harder than the rest of the hike. You can skip this part if you don't feel able to do it.
If the weather is bad you might not be able to reach the summit. Just accept it, life is more precious than a few extra meters.