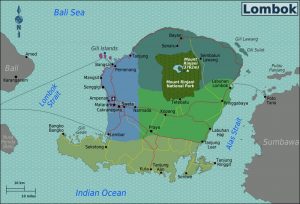 WEST LOMBOK
This area has not much interest besides behind the entry point to Lombok (either by boat or by plane).
Sengiggi
That's where you will land if you're coming by boat from Bali / Gili / Nusa Penida.
Sengiggi was made to become the island main seaside resort but now beaches in the South are much more popular. I never found anything interesting in this city. It might be conveniently located to spend one night after spending one day in North Lombok.
There is a few cheap rooms at Sonya Homestay. A room with double bed and fan was charged 100,000Rp a night in February 2014.
Well established dive operator Two Fish Divers has set up a new base in Sengiggi offering daily trips to the Gili but also diving Lombok West coast.
Renting a motorbike in senggigi
If you intend to arrive and leave Lombok by the boat you should consider renting a motorbike in Senggigi. A few shops can arrange that in town. Just ask around.
In March 2014 I rented a bike for 9 days, 35,000Rp a day.
Bangsal
Just remember this name if you wanna go to the Gili Islands. It's the closest harbour. Transports will usually drop you before the pier where some touts wait for you and will try to sell you fastboat ticket.
Keep walking 200m to the pier and you can buy a ticket to the public boat there (schedule might not be convenient though).
MATARAM
This is the capital of the island. Again not much to do.
The airport is no more located in Mataram but 40km South of it, near Praya.
North Lombok
Hiking the rinjani
The busiest places in North Lombok are Senaru and Sembalung Lawang, the 2 ends of the Rinjani trekking route. The Rinjani trek is clearly the highlight of Lombok.
Stunning waterfalls
You got a lots of waterfall all around the Rinjani. This guys counted at least 20 of them (in Indonesian) :  http://lomboknesia.blogspot.sg/2014/11/beberapa-air-terjun-di-sekitar-gunung.html).
The most spectacular are probably Tiu Kelep and Sendang Gile (same location), a few kilometers from Senaru. Expect the water to be quite cold.
Entrance fee for those two waterfalls is 10,000Rp. The walk to Senang Gile takes about 10 min + additional 25-30min to Tiu Kelep.
Waterfalls are more or less public pools for locals. There is almost always a legend attached to every one of them (water gets you younger, water prevents hair from falling…).
HIKING BUKIT PERGASINGAN NEAR SEMBALUN LAWANG
There is a really nice point of view not far from Sembalun Lawang. The exact place is Bukit Pergasingan.
It takes between 2 and 3 hours to climb it depending on your pace. It's a popular camping spot where you can enjoy the sunset and the sunrise over Mount Rinjani.
More pictures on this article (in Indonesian): http://liburmulu.com/wisata-baru-lombok-bukit-pergasingan/.
Central Lombok
This part of the island is pretty much untouched by tourism. You will encounter only rural villages. Inhabitants are not used to see foreigners but really eager to share with them. Everyone is aware that tourism might bring more revenue to these rather poor areas.
I rode a motorbike from Senggigi to Tetebatu in something like 3 hours.
Then I settled at Krist's Homestay. He charged me 70,000Rp per night. He got a few rooms that he built behind his home. It can be a bit chilly in the morning.
Krist is a really nice guy who used to be guide on the Rinjani. He's quite concerned about local generations. He asked me to spend an hour with local kids so they could practice their English and be able to help tourists in the future.
I met a young guy from Jeruk Manis village who was teaching English in primary school there. He invited me to spend the night with him and his friends and eventually show me his school on the next day as well as his parents fields.
Two other waterfalls are also popular in the area : Air Terjun [Waterfall] Benang Kelumbu and Air Terjun Benang Stokel.
South Lombok
South coast of Lombok has some of the most beautiful beaches in Indonesia and surprisingly enough they're almost empty especially during the off season. As of 2016, 10,000Rp is usually charge for parking at the entrance of most beaches (Senong Blanak, Mauwun …).
Most people sleep in Kuta (not to be confused with Kuta Bali). I've been a few time at Seger Reef Homestay on the seafront. They usually charge 200,00Rp for a 2 people room. They also rent motorbikes (unfortunately I don't remember the rate) which are a must to explore beaches around.
It takes about 2 hours to go from Tetebatu to Kuta, and about the same from Senggigi.
Surfing
South Lombok is popular for surfing. You usually rent a board for 50,000Rp a day. There are maybe 20 different spots on the South coast.
Cenon Blanak beach is nice for beginners.
Gerupuk is also quite popular. You need to hire a boat that will take you in the middle of the bay. Boat charges about 150,000 to be divided between the passengers.
On the most eastern part of the South coast you got the infamous Desert Point. It's quite far from Kuta and the road is mostly shitty. It takes about 2h30 to drive to Sekotong and then at least the same to Desert Point. There is a few homestay in front of Desert Point.
In my opinion, it's not worth the ride if you're not a confirmed surfer.
The pink beach disappointment
I've read about a pink beach in South Lombok so I decided to check it out by myself. It's located near Sekaroh, in Jerowaru district.
I decided to drive along the coastal road because I thought I would be more scenic. Big mistake, this road is really bumpy goes through the forest. It took me about 3 hours to reach the beach.
It's actually way faster to take the main road further North.
So it's a nice beach but when I visited (beginning of the afternoon) it was absolutely not pink. The locals told me the color was better seen in the morning. My guess is that you need quite special conditions to witness the phenomenom.
Beware of photoshop (just look at the sky to understand how much the color have been saturated on the following pictures) :
Definitely not worth the ride in my opinion.