Update July 19 : visitors to Nusa Penida, Ceningan and Lembongan are required to pay a 25'000Rp fee per person (paid one time and valid for all three islands, source).
Located only 30 minutes from Bali by boat. Nusa Lembongan and Ceningan are a real treat for underwater and beach lovers.
I strongly recommend to combine 2 days in Lembongan and Ceningan with 2 days in Nusa Penida + at least one day for snorkeling or diving.
Nusa Lembongan
As far as I know, there is not connection betweens Nusa Ceningan and another island, therefore it's likely that you start by exploring Lembongan.
I recommend that you rent a motorbike to explore both Lembongan and Ceningan (that are connected by a bridge). Price should be around 50-60.000Rp per day. Given the small size of the islands, a bike is also a reasonable option if you are keen on cycling up hills.
Diving, snorkeling and surfing
If you want to take your Open Water course, Nusa Lembongan is in my opinion the best place to do it in Bali. I explain why in a dedicated article.
Snorkeling trips are also highly popular and can be arranged easily.
There are also about 4 or 5 surf breaks around Nusa Lembongan. From what I've heard, the swell is quite irregular though.
North Lembongan: Jungut Batu and the mangrove
Jungut Batu is the northernmost village. The main interest is the long beach facing West from where you can enjoy stunning sunsets with Mount Agung in background.
Local boatmen will offer you tour in the mangrove forest. Never tried.
South Lembongan : More beaches and nice views
Just follow the road at the South East. Many nice beaches to be seen. The best one is Dream Beach in my opinion.
If the weather is a bit windy, try to have a look at a place called Devil's Tear close from Dream Beach. Waves crash against the rocks, that create a perfect background for cool pictures !
Nusa Ceningan
It's now time to cross the iconic yellow suspension bridge to reach Nusa Ceningan.
The bridge collapsed in October 16 killing 9 people. As of April 2017, it was rebuilt with a stronger structure. Now 2 motorbikes can cross each others on the bridge.
Don't miss the view on the blue lagoon. People used to jump from the cliff, but the infrastructure has been demolished after too many accidents.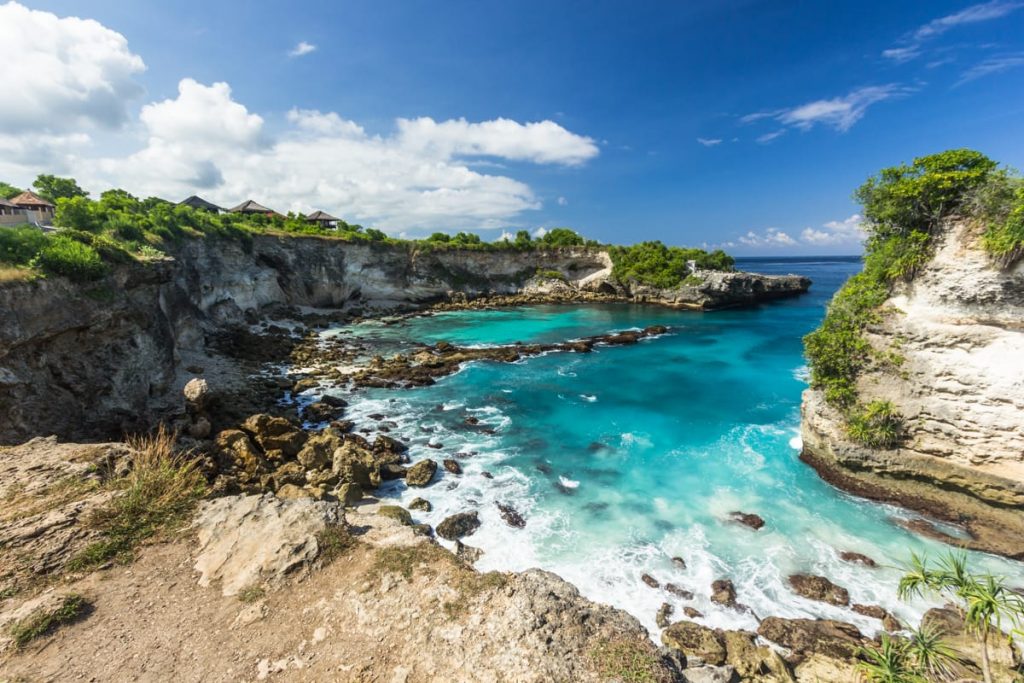 Local life
I enjoy the atmosphere on these islands. A good idea is to wake up early (like 5AM), go enjoy the sunrise and then wander around. Tourists are still sleeping but local are already busy.
Cock fights are highly popular on the island, but they remain illegals. If you are interested just ask around.
How to go there ?
From Sanur
Crossing the Badung strait takes about half an hour by fastboat and will land you on Nusa Lembongan.
Tons of company are offering transport services. The two most reliable (and also the most expensive) are Rocky Fast Cruise and Scoot Cruise. I recommend using them if you are coming from Jakarta for a few days and don't wanna loose time. They have a few departures everyday, and the ticket includes pick-up and drop off.
Otherwise, you will get a cheaper price bargaining with any local agent in Bali. I remember to have paid 150,000Rp for a one-way ticket including a pick-up in Kuta area in 2013.
If you are really on a budget, the public boat is even cheaper (100,000Rp for foreigners one-way, 50,000Rp for locals). Departs everyday from Lembongan at 08:00AM and from Sanur at 10:30AM.
More information available on Wikitravel.
From gili or lombok
Many companies can arrange an open-date ticket to do Bali > Lembongan > Gili > Lombok.
Boats from Nusa Penida to Nusa Lembongan
Boats connects Lembongan and Penida all day long. The price is 50,000Rp per person. Just go on the beach next to the Yellow Bridge on Nusa Lembongan.
You can charter the full boat for about 200,000Rp. The trip takes about 10 minutes.
Where to stay ?
Lots of accomodation are available in any budget. I had good experience with Wahyu Homestay in 2013. There were charging 100,000Rp for a fan room (2 people) with pool.
I stayed again at Wahyu 2 in September 2016 which is at walking distance from the 2 dives center I recommended. Price was 150,000 for 2 people (fan room). Wahyu 2 also has a pool.
It's also possible to stay on Nusa Ceningan.