Padang, the capital of West Sumatera province, is notorious throughout Indonesia for its food. Besides iconic restaurants, it is also the perfect access point to this beautiful area.
It's definitely one of my favorite trip to Sumatera. My original plan was simply to see Harau and Solok in 3 days from Padang. Hopefully it became a 4 days trip after my outbound flight was rescheduled by Lion Air but it was still too short.
In this article I will try to highlight all the beauty of West Sumatera and propose a 1 week itinerary to discover this province with motorbike.
Note: I will neither discuss Mentawai islands nor Kerinci Seblat National Park in this article.
Proposed itineraries Around padang
This is the following trip I did in 4 days in May 2016 :

Retrospectively, I would now recommend the following itineraries :
4 days itinerary in west sumatera
Day 0: arrive in Padang at night. Sleep in Padang and have a motorbike ready for the next morning.
Day 1: drive to Bukittinggi in the morning. Spend the afternoon hiking in Syanok Canyon. Wander in town at night
Day 2: drive to Harau in the morning. Explore Harau in the afternoon
Day 3 : explore Harau
Day 4 : go back to Padang from Harau through Batusangkar and Solok.
Extended 7 DAYS itinerary in West Sumatera
Day 0: arrive in Padang. Sleep in Padang and have a motorbike ready for the next morning.
Day 1: drive to Bukittingi in the morning. Explore Bukittingi town during the afternoon. Go watch the sunset from one of the hills.
Day 2: spend the morning hiking in Syanok Canyon. Go on a trip around Bukittingi in the afternoon (buffalo race, rafflesia …)
Day 3: spend a day trekking a volcano
Day 4: drive to Harau. Explore.
Day 5: explore Harau and around
Day 6: leave Harau after lunch. Visit Batusangkar, Solok and drive your way until South Solok District
Day 7: visit Saribu Rumah Gadang (Thousands Rumah Gadang, proposed Unesco-heritage site) and then go back to Padang
padang
Getting to PADANG through AIRPLANE OR BUS
Padang has its own international airport (Minangkabau International Airport, IATA: PDG), 23km north of the city with connections to Kuala Lumpur, Jakarta, Batam or Medan.
Last time I visited in May 2016 they had Blue Birds taxi operating in the airport. It costed me about 100,000Rp to go downtown (+ additional 15,000 airport charge) at night. If I remember well the ride lasted 45min.
Public transports should be available during daytime : ask around for Angkot (public minivan).
For hardcore backpackers it's possible to reach Padang by bus from other large cities in Sumatera or even Jakarta (it takes 2 days though).
WHERE TO SLEEP AND RENT A MOTORBIKE IN PADANG
I landed on a Friday night from Jakarta and stayed overnight in Padang before leaving in the next morning.
I took a room in Yani's Homestay (I think the official name is Yani Backpacker Padang) on Jl. Nipah. You can reach him by Whatsapp on +62 852 6380 1686. He's a young guy running this 2 floors homestay with his mom (they sleep behind the reception).
Yani rents his room with AC 150,000Rp per night for 2 people. 50m from Yani you got Brigitte Homestay which is a bit cheaper.
Yani has several motorbikes to rent. He charges 60,000Rp per day. Beware that he won't let you go until you leave him an official document (most likely passport). It might be a bit annoying in the unlikely event of getting pulled over by a cop far from Padang. Try to convince him to leave your national ID, otherwise he can print a photocopy of your passport that you will keep.
Now you're ready to go.
Bukittingi
ITINERARY FROM PADANG TO BUKITTINGGI
I decided not to take the direct road to Bukittinggi but to drive north to Tiku and then follow the road along Lake Maninjau [Danau Maninjau].
Follow this itinerary: drive north from Padang to Pariaman, then Tiku. From Tiku follow the road to Danau Maninjau and then to Bukittinggi.
I was a bit disappointed either by the coastal road either by the lake. You drive across traditional Indonesian countryside, it's a pleasant trip but nothing memorable especially if you are already familiar with Indonesia.
I left Padang at 8:30 and arrived in Bukittingi around 16:00 if I remember well. Shall I do it again I will definitely take the classic road that goes through Padang Panjang.
WHERE TO SLEEP IN BUKITTINGGI ?
Bukittinggi litteraly means the high hill in Indonesian and that's for a reason: the weather can be a bit cold.
I was a bit surprised by the size of the city : I even saw a university. Actually it's one of the largest city in West Sumatera (about 90,000 inhabitants).
Yani in Padang told me about her friends running a guesthouse in Bukittinggi so I followed his advice and landed in Hello Homestay.
They got rooms and a dorm upstairs. Rooms were all booked so I went for the dorm (80,000Rp a night including breakfast). I don't know about the rooms but the dorm is extremely noisy due to the vicinity of one or more mosque. I realized the next day that earplugs were available at the reception for sell.
The main perk of Hello Homestay is the Chinese girl who runs it. She keeps updated a large panel on the wall of the lobby with all the activities available around. She has lot of contacts so she's really helpful if you want to arrange something or inquire about a schedule.
WHAT TO DO IN BUKITTINGGI ?
Sianok Canyon
Bukittinggi stands on one hill of Sianok Canyon [Ngarai Sianok]. This is a natural canyon about 100m high surrounding a 15km long valley.
After I dropped my bag in Hello I decided to go see the canyon. You can watch it from Panorama Park. The entrance fee is about 5,000Rp (+ give 2,000Rp to the guy running the parking if you park your motorbike).
I've read a few times it was one of the most beautiful scenery in Indonesia but unfortunately the weather was clouded at this time and the view not that stunning. After this trip I did more research about the canyon and I stumbled upon some of the following pictures :
First I went down the canyon and saw a group of people walking on the left side of the picture. I joined them but they walked only 800m and then stopped. I didn't saw any path going further. I didn't saw anyone going right either. It was getting late so I decided to go to the Panorama Park.
There is what is called the Great Wall of Koto Gadang [Tembok Koto Gadang]. It's a large wall you can walk on that goes from Bukittingi to Koto Gadang on the other side of the valley (so you're going to cross a bridge at one point).
The itinerary is about one kilometer and I think it's really nice, especially if you go early in the morning. You have to enter Panorama Park, go left. Past the shops you will have to enter Japanese Caves. The wall starts after.
It seems it's also possible to hike directly in the valley to reach a village.
I'm actually a bit disappointed to have missed that. I kept enough time to go to Harau and then to Solok so I didn't had time to stay another day to explore the canyon.
OTHER SIGHTSEEINGS IN BUKITTINGGI
There is a few other sightseeing in town: Limpapeh Bridge (a Minangkabau architecture overpass bridge) that connects 2 hills. On one you have Fort De Kock and on the other the city zoo.
I only wandered in the city at night to get dinner so I didn't go to those place even though I saw the bridge from the street.
Both hills should offer a nice panorama on the town. Nevertheless I would never step a foot in the local zoo. Even in big cities, zoo in Indonesia are almost always in very poor condition and only is the very minimum level of care is given to animals to say the less.
A guy sharing the dorm with me showed me some pictures he took there. It featured one Sumateran tiger with an amputated pawn. A few months later, 4 tiger cubs died in the zoo because of a birth defects.
I know you can also visit the birth house of Muhammad Hatta, first vice president of Indonesian (Jakarta's Sukarno-Hatta International Airport bears his name).
AROUND BUKITTINGGI: VOLCANOES, LAKES AND LOCAL CULTURE
Buffalo race [Pacu Jawi]
I've learned from the receptionist in Hello Homestay that there were buffalo races in villages nearby. The problem is that the races always take place in a different village. But she called a couple of friends and gave me the schedule.
Buffalo races are a tradition in West Sumatera and take place a bit everywhere. I watched one near Harau (about 40min drive).
The one I saw was a small one catering only to the farmers from surroundings villages. One some special occasion, the event can have a much bigger scale like the ones in Madura or Bali.
Spotting the Rafflesia
For everlasting pokemon fan, it's possible to go in the forest to spot natural rafflesia. I've learn that from Hello Homestay. The problem is that the Rafflesia is not blooming all the time.
Again, ask Hello can provide you with the right date and call a guide to arrange the trip.
HIKING MOUNT SINGGALANG OR MOUNT MARAPI
The road from Padang (ie not the one I took) runs between two volcanos: Mount Singgalang and Mount Marapi. The first one is extinct but the second one is the most active volcano in Sumatera (last eruption happened in 2004).
It's possible to hike those two volcanos.
Gunung Singgalang
I found the following blog post in Indonesian :
https://jalankemanagitu.com/2013/10/06/mendaki-gunung-singgalang/ (featuring some pictures)
http://risdaindrizalti.blogspot.sg/2013/02/jalur-pendakian-gunung-singgalang.html
http://epictio.com/tempat/gunung-singgalang/
The volcano is a bit less than 2,877m. The ascension takes about between 6 and 10 hours according to the different sources. It's possible to go to the summit in one day but it requires climbing during the night.
A shorter hike stops at Lake Dewi [Telaga Dewi in Bahasa Minang] at 2,762m. It's also popular to spend one night camping on the volcano
It seems there is some electric poles and television transmitters on the volcano including on the top.
Gunung Marapi
Again I browsed some Indonesian travel blog to get information:
http://iniyuha.blogspot.com/2015/08/pendakian-ke-gunung-marapi-sumatera.html (featuring some pictures)
http://nanagobah.blogspot.sg/2015/04/mendaki-gunung-marapi-sumatera-barat-14.html (featuring some pictures)
Mount Marapi (do not get confused with Mount Merapi located near Yodjakarta in Java) is 2,891m high and still an active volcano. Hiking might be forbidden depending on the time of the year
From what I understand it takes 7 hours to climb up the summit and then 4 hours to go down. People usually spend one night on top to enjoy the sunrise view. Both bloggers spent about 24 hours on the Merapi (including the night bivouac).
Duck race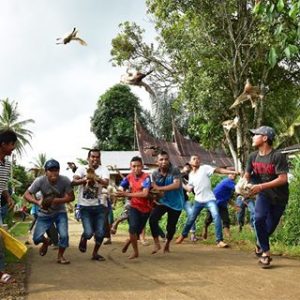 I was watching the buffalo race surrounded by a bunch of curious kids. One asked me if there is such kind of race in France. I answered no but we have horse races. Then he began to ask me about any kind of animal race existing in Indonesia : horse, dogs … I ran short of animal names I know quite quickly but he kept on asking (including some stuff I'm convinced he made up like crocodile race).
At one point he talked me about duck race. I called bullshit but 2 days later I discovered it was actually real. I found this video on youtube for instance : https://www.youtube.com/watch?v=rlszmAkerlo.
The simple idea of a duck race [Pacu Itik] is funny enough so you go watch it if you heard of any around.
Harau
REACHING AND SLEEPING IN HARAU
Once you are in Bukittinggi going to Harau is easy. It takes a bit more than 2 hours if I remember well. Go first to Payakumbuh and then follow Harau signs.
Soon you will spot huge avatar-style cliffs with wild water falling off them.
I kept following Yani's advices and slept to his friends at Abdi Homestay. Look for a billboard at the very beginning of Harau village, and turn left. You have to drive 500 additional meters.
There is a few rustic bungalows build between rice paddies and a cliff. It's absolutely peaceful. As soon as I saw it I knew I wasn't going to check other places.
Price was 120,000Rp for a 2 people room (including breakfast). They serve only dinner. There is not much options to eat in Harau. If you're nice you can find someone in the village to cook for you. Otherwise just take the bike and drive for about 15 minutes on the way to Payakumbuh to find other local restaurants.
EXPLORING HARAU
Get a map from Abdi. Now go back to the main road and go deeper in the village. You will reach a junction, let's called it Junction A. Turn left. Soon you will encounter a range of food stall in front of a large natural pool. You can stop and climb up the stairs on your right. It takes less a bit more than 5 minutes and you will enjoy a really nice panorama.
Take back the motorbike and keep driving. Soon you'll have to choose either to keep going straight or turn left. The road makes a loop at this point so take any direction and just follow the road until you come back there.
I think it took me about 4 hours to drive around this loop. The path is a bit rocky and you might have to push the motorbike across mud at some point.
But all the people you will meet are really kind and welcoming. Don't hesitate to stop and go walk in the rice paddies.
There is a couple of waterfall to find on the road but they are a bit hidden.
I saw a couple of other tourists walking with a guide. It's not necessary but it can be quite useful if you don't speak the language to exchange with the locals.
If you turn right at Junction A you will reach a large parking area. Behind there is a few natural pools. It's a popular destination in the weekend. I saw buses coming from Medan just for the weekend.
Stay minimum 2 nights in Harau, more if you like it. Besides the itinerary I just explained you got a couple of more remote places in the valley. It might be a good plan to hire a guide to take you to these places on one day and then wander on your own on the second.
A taste of Minangkabau architecture on the way back to Padang
For the last part of the trip I made my way back to Padang.
My itinerary was: Harau > Payakumbuh > Batusangkar > Belimbing > Solok > Padang.
I left at 9:00 and arrived in Padang at 15:30 with a few stops to eat, visit building or shelter from the rain.
On the road you will find numerous house or larger buildings with traditional Minangkabau architecture, lots of them really good maintained and still inhabited, some other almost in ruins.
The largest one, but not the best in my opinion, is the Sultan palace in Batusangkar. It's now a museum that you can visit and imagine the life of the court back then.
Some really beautiful sceneries can be seen on the road.
Follow the road signs to Koto Baru (stay alert, they're small) and you will end up in a really nice neighborhood. You can spend an hour or two wandering around. Keep smiling and there is good chance someone invites you to enter his house to have coffee.
The Thousands Rumah Gadang area
In local Indonesian nagari saribu rumah gadang, this site was proposed to UNESCO to became part of World Heritage program in 2013.
The site is located in Koto Baru village in Sungai Pagu subdistrict (Kecamatan Sungai Pagu), part of South Solok subdistrict (Kabupaten Solok Selatan).
But don't get confused because there is also a Koto Baru village near Solok city in Solok district (the one I mentioned a few lines above).