Kerinci Seblat is the second largest Indonesian national parks (after Wasur NP in Papua) with a protected area covering near 14'000 km2.
The national park spans over four provinces : West Sumatra, Jambi, Bengkulu and South Sumatra.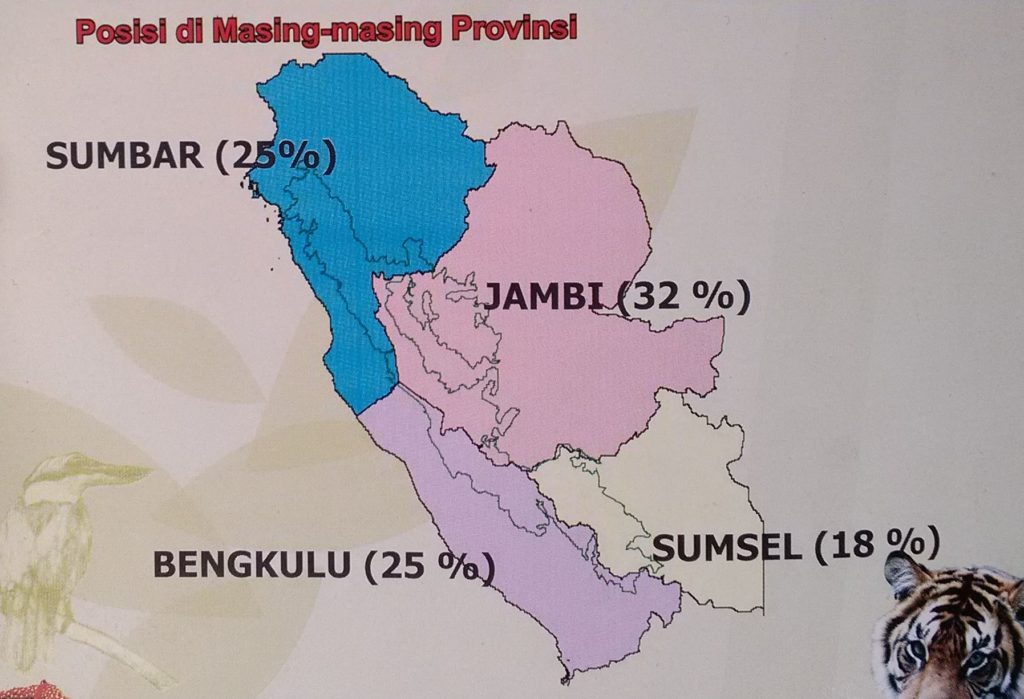 As any national park in Indonesia, the daily entrance fee for foreign visitors is 150'000Rp but you won't spend that money everyday.
Kersik Tuo and mount Kerinci
Hiking Mount Kerinci
The landmark of the park is the Kerinci volcano, the highest peak of Sumatra and the tallest Indonesian volcano (but Papua has some higher mountains). Most visitors base themselves in the village of Kersik Tuo, located a few kilometers from the volcano.
This is a great hike that is usually done in 2 days and 1 night but it also doable as a (long) daytrip. I posted a detailed report on this here. A national park daily ticket is necessary for this hike.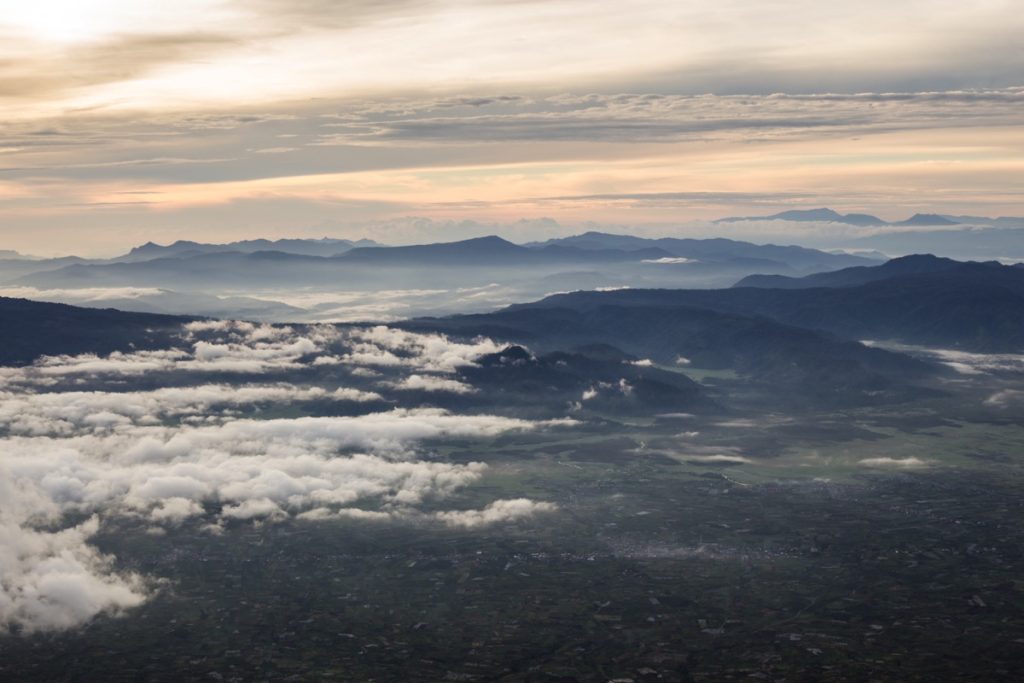 Kersik Tuo tea plantations
One thing you cannot miss when you arrive in Kersik Tuo is the huge and beautiful tea plantation. The so called Perkebunan Teh Kayu Aro covers about 2'500 ha at the foot of Mount Kerinci.
You can stroll the area freely using the farmers' trails. If you know a bit of Indonesian, they will be delighted to have a small talk while they're resting.
A hike to Belibis lake
For those keen on hiking, a good idea is to walk from Kersik Tuo to Belibis lake which is an old secondary vent of Mount Kerinci. You will pass through the beautiful tea plantation, a couple of villages and potato fields edged by cinnamon trees.
The lake is home to some wild ducks but they seem rather elusive. Surrounding forest offers birding opportunities but it's often overlooked to the profit of the Kerinci trail and Tapan road. Still, I saw an eagle (I think a crested serpent eagle) and a couple of other smaller birds. No wild duck though.
I reached the lake in about 3h30 from Kersik Tuo at a relaxed pace, looking for the best views in the tea gardens.
Gunung Tujuh
Litteraly 'the seven moutains', gunung tujuh is another easy hike offering great opportunities to spot wildlife before reaching a very peaceful volcanic lake.
Camping by the lake is very popular among young locals and I've seen more than 200 people registering at the park office on a Saturday. It's much calmer during weekdays, but unfortunately some garbages are left behind…
Otherwise, the lake can be done as a day trip. It's 2h30 walking both ways. I've seen lots of wildlife on this trail, it was great.
I didn't explore much the forest around the lake but I guess it's also pretty rewarding. I loved this place, I really wished I had brought a tent and some food to spend more time there.
How to get there ?
From Kersik Tuo, take a bemo heading North and stop at Pelompek village (5'000Rp). You'll then have to walk or take an ojek for 10'000Rp to the trailhead. There you have a couple of houses. On your right you have Pak Edes' Losmen, whose very nice family also seems to manage the sale of national park tickets to visitors.
National park ticket is required here. It costs 150'000Rp for foreigners and 5'000Rp for locals.
Around Pelompek
About 1h walk away from Pak Edes' Losmen, you can reach a nice waterfall called Air terjun Telun Berasap. The entry is 4'000Rp.
Otherwise, there is a potential trekking itinerary to visit 3 different waterfalls south of Pelompek. The highest of it is called Pauh Tinggi and is 80m high according to Wild Sumatra.
I attempted to visit it during my stay in Pelompek. From the nearest village, I struggled a bit to find the right way but with the help of the villagers I eventually reached what I thought was the right trail along a river. I went up the river for about 1 hour before I gave up (maybe close from the waterfall I have no idea) because the sky started to look like it was going to rain and there is a horrible urticating plant all over this trail. I have never seen anything like that, it stings so much that it becomes painful and the effect lasted for days even after 2 or 3 showers. Better get there with someone who knows the way I guess.
Near Pelompek, from the village of Jernih Jaya, you can hire a boat to take you to Bento swamps (rawa Bento), allegedly a good spot for birding. I understand that boats can be chartered from 400'000Rp (some information in Indonesian here).
Sungai Penuh and Tapan road
Sungai penuh is the main town in the area. You have a tourism office who can give you a couple of leaflets about the area.
From Sungai Penuh, don't miss Tapan road. It's exactly what the name suggests : a road, cutting right through the national park forest. It is an excellent place to spot wildlife.
To get there, I looked for an ojek in town and arranged a departure for 6:50AM. I got offered 100 for the ride, which I bargained down easily to 60'000Rp.
After 30 minutes, we reached a barrack from the national park that can be used as accomodation (get the key first from the staff in town I guess because it's usually locked). From there, just walk down the road and open your eyes.
Beware because there is no phone signal from there. Retrospectively it would have been wise to agree on a time to get picked up and taken back to Sungai Penuh. I've seen a couple of pick-up passing by but they were already overloaded with passengers. I eventually flagged down a guy alone on his motorbike and asked for a ride back (50'000Rp).
Try to check for the weather before leaving because there is no shelter on the way.
Lempur and lake Kaco
The last stop of this stay in the national park was the village of Lempur. This is the best base to visit the unreal lake Kaco.
A popular spot for local young people, the lake can be reached in 3 hours from Lempur. Just follow the asphalt road south of Lempur to reach the forest. Then follow the trail (the start is marked). There is a river to cross after about 2h30 walking, right after you pass a kind of bamboo grove.
The trail is flat and easy to follow. It becomes quite muddy after rain. The lake itself is quite cold and surprisingly deep. There isn't much wildlife to spot on the way.
Unfortunately, some garbages are left over near the lake. There is a small cabin indicating that a national park ticket has to be purchased before accessing the lake but I have never seen it staffed.
Hiking to Renah Kemumu
Renah Kemumu is a remote village located about 20km south of Lempur. As of 2018, the track between the two villages is only ridable by modified motorbikes (with chains attached to the tires for adherence). You pass near 2 lakes and normally large portions of forest before reaching the village.
I left Lempur and was dropped at the end of the asphalt road a little bit after Lingkat lake around 7:30AM. I reached Renah Kemumu at 2:10PM. I slept at the village head's house (left 100'000Rp for food and hospitality).
Unfortunately widespread logging has occured on the track. Farmers are clearing the sides of the road to make way for crops. Villagers from Renah Kemumu are hopeful that the development of a geothermal project will speed up the creation of road suitable for cars to Lempur. As of today, they need to drive 6h to reach Bangko. A road to Lempur would put them only 2 hours away from Sungai Penuh, its transports, administration and hospital.
The first day was very poor in wildlife sightings (only a couple of yellow mitred leafmonkeys not far from Renah Kemumu). Besides, I've met farmers along the way until KM12. Some bringing cinnamon harvest on buffalo-pulled sleighs, others bringing back a few birds they shot (including a beautiful black-browed barbet) to eat.
In Renah Kemumu, I spent most of my time resting and discussing with guests in kepala desa's house. There is a very old megalith up the hill (as well as another one in the ricefields near Lempur). Unless you are a specialist, you probably won't find it very interesting.
The return the following day was much richer in wildlife. Besides a couple of shy yellow-mitred leafmonkeys, I counted 15 hornbills flying over me. After I found a large tiger footprint in the mud, I came across a huge wild boar getting out of the forest to drink at a puddle, it flew away as soon as he saw me. I left at 7:00AM and arrived at 4:00PM in Lempur (but I had to wait a bit in a farmer shelter for the rain to stop).
Tiger attacks do happen sometimes in the area. For instance in May 2018.
Practical details
Accomodation suggestions
I stayed at the following places during my stay in Kerinci NP. Besides maybe Paiman in Kersik Tuo, I doubt any English is spoken at any of those places.
Paiman homestay in Kersik Tuo. 100'000Rp for a simple single room, shared bathroom (cold water) and breakfast. Nice family living there. Very popular among local hikers. Large groups usually stay all together in a common room upstairs.
Pak Edes' losmen in Pelompek (right at the foot of Gunung Tujuh). A double room for 100'000Rp, shared bathroom (cold water). Lovely family running it, they charged me 15'000Rp per meals I took there. They have only 3 rooms so it might be full. But you can stay at the national park office in that case. Lots of mosquitoes though, maybe because of the proximity with Bento swamp. Contact: 08-23-8044-6193.

The only other option in Pelompek is Kerinci View homestay which charges 250'000Rp per room. Kersik Tuo can also be used as a base to reach Gunung Tujuh.

Hotel Yani in Sungai Penuh. Simple double rooms for 100'000Rp, shared bathroom (cold water)
Buk Tin homestay in Lempur. 150'000 for a comfortable double room, private bathroom (cold shower), breakfast. The owners are great, I felt like home. I took 5 or 6 tasty meals there, the wife asked me for 50'000Rp for everything, I gave 100'000Rp. You can contact them by phone : 08-52-7216-1009 or 08-23-7436-6777.
Insights on transport in Kerinci
I came from Bukittinggi by shared taxi (travel). No bus is available for this trip. We left at 9:40AM and arrived in Kersik Tuo at 5:30PM. The fare was 120'000Rp.
From Kersik Tuo, regular white angkot take you to Pelompek for 5'000Rp. From Pelompek to Sungai Penuh, it costs 15'000Rp and takes 2h30. So I guess the fare from Kersik Tuo to Sungai Penuh is 10'000Rp.
From Lempur to Sungai Penuh, 2 buses leave Lempur at 8:00AM and one at 7:30AM. Then they return to Lempur around 1:00PM from the bus terminal. Fare is 20'000Rp.
From Sungai Penuh, I took a shared minibus around 10:00AM bound to Padang for 100'000Rp (shared car also available for 120'000Rp). We arrived at 5:30PM.
Shared taxi (travel) heading to Padang can pick up passengers directly at the airport. Contacting them beforehand is the best solution if you want to optimize your transport time from Padang airport.
Wings Air operates a flight a couple of times a week from Sungai Penuh to Jambi.
Cultural events
I picked up a couple of leaftlets from the tourism office in Sungai Penuh. There is one or two yearly festivals which are a nice occasion to witness traditional dances in local costumes. The main one is Festival Kerinci held in July (previously Festival Masyarakat Peduli Danau Kerinci). Get in touch with the tourism office (dinas pariwisata) in Sungai Penuh for more updated information.
Traditional mysticism is still strong in the area. Check out this article about the still strong belief in a cryptid called orang pendek.
Map
Online ressources
I have browsed extensively all the ressources put online by British Luke Mackin who runs a tourism agency based in Sungai Penuh. I first came across some of his old posts on Lonely Planet forum and especially a very comprehensive set of GPS points about the area. This set contained lots of link to his personal Flickr and Facebook page which are also full of informations.
Kerinci, Gunung Tujuh or Lake Kaco are now rather well-known regional attractions but all the ideas about Lake Belibis, Pauh Tinggi waterfal, Renah Kemumu came from his posts online.
I really recommend that you check his company Wild Sumatra's website. Organized tours of course come at a price (not unreasonable though) but they also have their perks. This is not really the philosophy of this website but I'm sure some would be interested.