This article is a wrap-up of 3 different trips to Flores island. Each section briefly summarizes the highlights of each regency, more details are to be found in the linked articles.
Labuan Bajo and Komodo National Park
Komodo National Park has received heavy promotion from the Tourism Department and the airport is set to be upgraded to international in the coming years.
Number of visitors has boomed and the trend is not over. The area remains absolutely stunning even if its development has brought its own share of new challenges (see this article in English, or this one in Indonesian). Floating waste are now a common sight in the bay and unfortunately increasingly underwater too.

You should at least allow yourself two days for a boat trip in the park. And many more if you are a diver.
Komodo dragon spotting is not exactly the best thing to do, largely due to the fact that the National Park is more concerned about the satisfaction of the Instagrammers rather than serious nature lovers. In December 2018, NTT governor has explained that he plans to make Komodo an exclusive destination, increasing the price of the National Park ticket to 500$ for foreigners and 100$ for locals (vs 20$/2$ in 2018).
As of today Komodo dragons are still a cool thing to see, but don't expect much more than a simple sighting near the ranger's barracks if you join a public tour.
Besides that, Padar island is one of the very best view Indonesia has to offer, and snorkeling with manta rays is always a special moment (which is best during the rainy season, c. November to May).
I wrote a comprehensive guide about Komodo National Park boat trips for detailed informations.
When it comes to diving I have been loyal to Dive Komodo but it's not the only reputable operator in town. Expect to pay about 1'500'000Rp for 3 dives-a-day trip + 150'000/225'000Rp (regular day/weekend or bank holiday) for the daily national park fees.
Ruteng and the Manggarai regency
As you make your way to the town of Ruteng, the weather gets chillier. Ruteng is surrounded by very nice countryside that should not be reduced only to the spiderweb ricefields of Cancar village.
Ruteng is the starting point of the trip to Wae Rebo traditional village. The government has developped a sucessful eco-tourism program there, that can bring in massive group of local tourists.
If you have some time I recommend that you go. Otherwise you will have other occasions to see traditional villages (but from a different ethnical group) in Bajawa.
Bajawa and the Ngada ethnic group
It's probably the town with the most easily accessible stuffs around. You could spend one week or more in the area without getting bored. There are lots of traditional Ngada villages to visit, as well as hotsprings, good nature and the Inerie volcano to hike.
Kelimutu volcano
The easternmost point reached by a majority of travelers. This a true naturel wonder (and a national park, meaning you have to pay a significant entry fee to get in). Kelimutu is the landmark of a region inhabited by Lio people.
Not very far from Moni (the main village at the foot of Kelimutu), an overnight stop at Koka beach could be added.
Itinerary suggestions
A 10 days itinerary
10 days seem the very minimum to see the essentials of the island without rushing it too much. Hiring a driver and driving a lot at night could push it down to a week though.
If you don't intend to go farther east than Kelimutu, then it makes more sense to fly out from Ende which has connections to Bali and Kupang and is only 1h30 away from Moni rather than Maumere which is 3h away (but there are more flights from Maumere though).
Day 1 : landing in Labuan Bajo and chill.
Day 2-3 : boat trip to Komodo National Park.
Day 3 : morning ride to Ruteng (4h). Motorbike trip to the countryside, easily accessed Mangarai traditional villages and the spiderweb ricefields in the afternoon.
Day 4 : ride to Bajawa (a bit less than 4h).
Day 5 : motorbike trip around Bajawa through a couple of traditional village, hotsprings …
Day 6 : same as the previous day. A hike to Inerie volcano or Wowumedha crater is also possible.
Day 7 : transport to Ende and then Moni (5h30 at best).
Day 8 : Kelimutu volcano. Transport to Koka Beach.
Day 9 : enjoy your day at the beach. Transport to Maumere (3h).
Day 10 : flight to your next destination
Some less visited areas to extend your trip
Maumere region
Few people stop in Maumere but I trully enjoyed spending a couple of days exploring the area.
Lio and Nagakeo regions
I would be very keen to explore the domain of Lio and Nagakeo ethnic groups around Ende and Mbay respectively. The excellent website of the Flores Tourism Board gives a couple of ideas.
Practical tips
Getting to Flores
By plane
Labuan Bajo is the main airport with the most connections to Denpasar and Jakarta. Maumere and Ende are also connected to Denpasar. Ende is closer to Kelimutu than Maumere, but flights are more numerous in Maumere.
All mains towns are connected to the capital of the regency Kupang.
Maumere, Ende and Bajawa have flights to Labuan Bajo that can be handy in case you're running short of time.
In December 2018, Wings Air has added flights from Lombok.
By sea
There is a daily ferry from Labuan Bajo to Sape in Sumbawa operated by ASDP, leaving every morning around 9AM (same things from Sape to Labuan Bajo). As of 2018, the price is 60'000 per person, plus an additional 20'000 to pay on board if you want to stay in the AC VIP room which has some matress.
From Sape, an angkot to Bima costs 30'000, another 80'000 to Sumbawa Besar and a few more to Pototano. From Pototano to Labuan Kayangan in Lombok you have regular ferries (20'000Rp).

You can take a direct bus from Sape to Mataram, Denpasar or even Java (by direct I mean you stay on the same bus until the destination, you will make numerous stops on the way). If I remember well large AC bus departing from Bima to Mataram (Mandalika terminal) are priced around 200'000Rp).
From Mandalika terminal, angkot are available to Lembar harbor (for crossing to Bali) for about 20'000Rp.
Labuan Bajo is also connected to Bira and Selayar island in South Sulawesi by a weekly ASDP ferry. Check the website for schedule but I advise you to confirm it by phone or WA.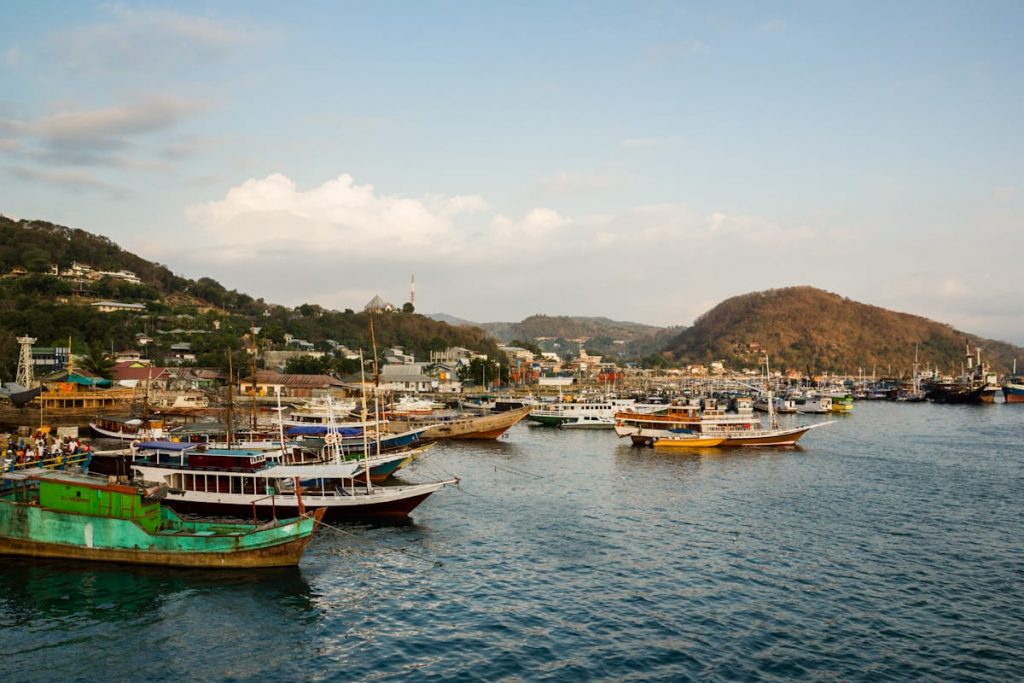 Pelni operates 2 ferries between Denpasar (Benoa harbor) and Labuan Bajo. Price is 230'000Rp. I posted lots of information in an article about boat travel in Indonesia.
The KM Binaiya makes one round trip a week, from Denpasar to Labuan Bajo it is direct and takes 24h.
The KM Tilongkabila leaves also once every 2 weeks from Denpasar, stops in Lombok (Lembar), Sumbawa (Bima) and Labuan Bajo before heading further East. The trip takes 32h.
The KM Leuser also stops in Denpasar, Bima and Labuan Bajo before heading further East, but less regularly.
Some privates compagnies also operate direct ferries from Surabaya in Java to Labuan Bajo for about 250'000Rp (check for the KM Swarna Bathera, KM Nikki, KM Amarissa …). You also have Pelni ferries sailing this route but they are not direct.
Aimere and Ende harbors have weekly connections to Sumba, Sabu, Rote (through Sabu) and Kupang (more frequent) by ferries operated by ASDP and Pelni.
The eastern harbour of Larantuka has connections to the Solor archipelago, Alor and Kupang on a weekly basis by ASDP and more irregularly by Pelni ships.
Finally some Pelni ships stops in Maumere before going to Makassar, Sulawesi and Kalimantan.
As a rule of thumb, check Pelni and ASDP website for price and schedule. Pelni's schedules are reliable. ASDP's aren't, try to cross-check online informations by reaching them by phone or WA.
Transport on Flores island
Collective transports
All large cities are connected each others by buses (expect something more like a large minibus) and collective taxies (called 'travel'). There is many different companies, it seems most travel guides recommend Gunung Mas but I've crossed the island both ways without never using it so nothing mandatory.
The distance covered by buses is variable. Some only go to the next city while others cover 2/3 of the island daily. There is not a real schedule but early morning and around noon is usually a good time. They leave when they are full. I'm not sure there is much if any night buses by I might be wrong.
To get the bus 3 options :
Call them ahead (or ask your accomodation to do so), most of them can pick you up.
Get to the bus station.
Use the picking area used by locals or simply wave it down when it passes in front of you if you know which road it takes.
A sample of fares from 2015 to 2018 with the actual time of the trip when I kept a record of it:
Bajawa-Labuan Bajo: 120'000Rp. Pick-up 6h30, arrival 17h30.
Bajawa-Maumere: 150'000Rp. Pick-up 7h, arrival 16h
Maumere-Moni: 50'000Rp
Moni-Ende: 30'000Rp
Maumere-Larantuka: 60'000Rp
Aimere-Bajawa: 40'000Rp
Ende-Bajawa: 65'000Rp
The standard seems to be 60'000-75'000Rp between major town (which are all more or less 4h far from each others).
'Travel' (collective taxies) operates in parallel with regular cars. The car rarely leaves if not full (7 to 8 passengers). I didn't use it much but of course expect to pay a premium. Labuan Bajo-Ruteng is priced at 100'000Rp per person compared to 60'000Rp for a bus. Seats are more comfortable and it's slightly faster.
Motorbike rental
Motorbikes can be rented in every major towns for a standard rate of 70'000Rp per day. This a great way to explore on your own an area.
Beware that motorbikes have to be brought back to where you've rented them. As far as I know, the only guy proposing to rent a bike at one end of the island and to drop it at the other is Didakus the owner of Lena House near Maumere. He rents his bike at 75'000Rp a day, if you want to drop them in Labuan Bajo the deal is as following :
If you find someone in Labuan Bajo to bring it back to Maumere, then you pay the normal rate of 75'000Rp per day and pass the motorbike to the other person after checking Didakus's partner in Labuan Bajo.
If you cannot find someone to bring it back, then you pay a daily rate of 150'000Rp instead.
As long as you stay on the Trans-Flores road, the driving conditions are good. Beware of sharp turns though.
I remember that sometimes you can see motorbikes attached at the back of minibus so it might be possible to take the bus with your motorbike if you are tired.
Hiring a car with a driver is also possible. I have never done that. Given Bali's rates, I would expect to pay 600-800'000Rp per day including gas.

Accomodation tips
Here is a list of some budget accomodation in each main towns. My main concerns are price and location. I don't care about getting AC, Wi-fi (use 4G) or breakfast (buy it on the street).
In Labuan Bajo :
Hotel Mutiara. Starting from 100,000Rp (double room, fan, simple breakfast). Great location. 150'000Rp for a double room with AC. Cheaper dorms available in town a bit farther from the seafront. Motorbike rental for 70'000Rp a day.
In Ruteng :
Budget : possible to find double room for 150,000Rp
More comfortable : Hotel Rima. Double room for 250,000Rp. Ruteng is cold, you might want hot shower. Motorbike rental for 75'000-125'000Rp a day depending on where you want to go.
In Bajawa :
Budget : Dagalos Homestay. Double room 150'000Rp, hot shower, breakfast. Great family, the daughter speaks good English if I remember well. Motorbike can be rented in Edelweiss homestay less than 100m away for 70'000Rp a day.
In Ende :
Hotel Ikhlas, simple solo room from 80,000Rp. Walking distance from the airport. Have a few motorbikes available for rent.
In Moni :
Budget : double room from 150,000Rp (but in really poor condition).
In Maumere :
Hotel El Tari, solo room from 110,000Rp, share bathroom, AC, breakfast. They have a couple of motorbikes available for rent.
Other accomodation available east of town on the seafront (black sand). Lena House is a good one, rents motorbike, great staff. No options to eat outside nearby. 150'000Rp for a double room, cold shower, fan, breakfast.
Map
I tried to include everything, at least one budget options for accomodation in every town, all the airports and the harbors (and the available destinations) as well as cultural and natural attractions.
As you can see, large portions of the islands remain unexplored on my side. With the exception of Riung, those areas receive, as far as I know, virtually no visitors. For sure, some not well-known gems are to be found there.
All the articles about Flores
A nice and easy hike overlooking Ngada traditional villages near Bajawa.