Gunung (Mount) Kerinci is the highest peak of Sumatra reaching 3'805m. Located around beautiful tea and cinnamon tree plantations, the slopes of the mountain are covered with protected forests which are home to a great diversity of wildlife.
The area around Mount Kerinci is amazing and I loved the 2 weeks I spent exploring it.
Update July 2019 : new regulation have been issued by the National Park. A health certificate must now be provided along copy of ID when buying tickets. Any Puskesmas (Community Health Center) will issue one for about 20'000Rp (source).
The hike
The trail is quite simple and straightforward. As soon as you have found the trail head, just follow it to the summit. Before starting, I strongly recommend that you check Gunung-Bagging and download their GPS track.
Virtually all hikers base themselves in Kersik Tuo (about 1'500m in altitude). From the main road, a roads goes through the tea fields at the tiger statue. If you have the GPS track on your phone, it's pretty easy to find the start of the trail using Maps.me. This part can be done by ojek or simply at foot (50 minutes).
You will reach an iron gate called Pintu Rimba. This is where the trail starts. There you have a small cabin from the national park selling entrance tickets but it doesn't seem to be staffed all the time.
You will then reach a series of camp (Pos I, Pos II, Pos III). The hike is fairly easy until Pos II. It is the area where you can expect to spot most wildlife (mostly birds and monkeys).
From Pos II, it gets much steeper and some passages require the use of hand to be cleared.
Pos III is right above the treeline and hence much more exposed to the wind. Be careful to not arrive too early there because it is freezing until the sunrise once you don't have trees anymore to protect you from the wind.
From Pos III, the ground gets much more sandy. Still, it is not very slippery and I found the last portion easier than the likes of Rinjani or Semeru.
You finally reach the summit, the view from there is stunning.
In my case, the clouds were covering all the land north of the volcano (towards West Sumatra), but the view in the other directions was just great. You can see beautiful Gunung Tujuh's lake from there as well as the ocean.
The Kerinci crater is one of the most impressive I have seen in Indonesia. Unfortunately I went hiking without my wide-angle lense so the pictures don't really show the sense of the actual dimensions of the crater. It is pretty huge.
How long it takes ?
Left Kersik Tuo at 00:50AM. I reached Pintu Rimba in 50min.
Then it was 1h hiking to Pos I and another 45min to Pos II. I rested a bit at Pos II and continued at 4:05AM. I was another 2h20min to Pos III and finaly 1h30 to the summit. So it took me 7h10 to reach the summit from Kersik Tuo.
I spent 40min on top and then started to descend. I was back to Kersik Tuo at 13:40PM which means 5h from the summit to my homestay. I was quite tired and didn't took time to check for wildlife on the way down (of course I didn't see much at night).
This time could be pushed down by using ojek from Pintu Rimba to Kersik Tuo which would save 50min of hiking both way.
Camping overnight or not ?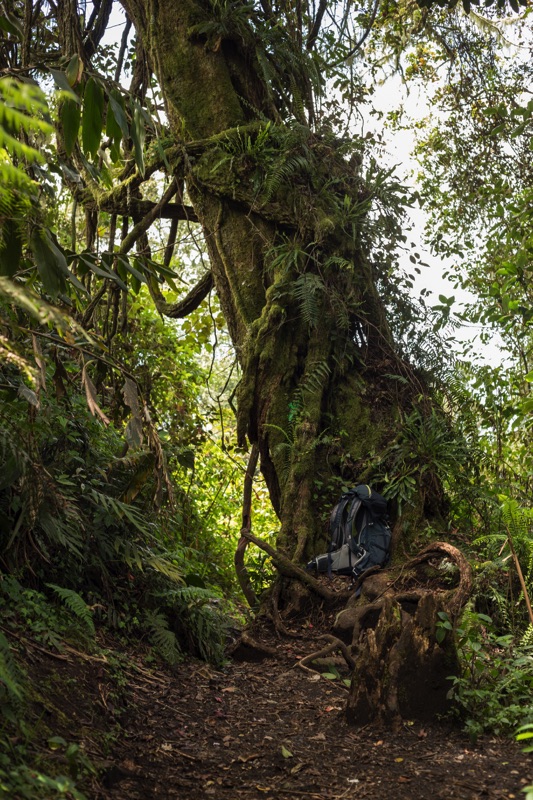 Kerinci is usually hiked in 2 days, including one night spent at 3'000m. It is also possible to do it in one day as I did.
From my experience, Kerinci like many other mountains in Indonesia tends to get covered by clouds from mid-morning. So if you wanna maximize your chances to enjoy the view, you have to reach the top in the early morning.
It means that if you want to do it one day, you have to hike to the summit in the dark. So you will probably see very little birds and mammals on your way up. And I was personnaly too tired on the way down to look up for anything.
The forest that surrounds the park is home to tons of very nice birds (it is actually the most popular birding site of the whole national park along with Tapan road), some of them endemic to the national park. Yellow-mitred leafmonkeys and siamang are also regularly sighted. Camping overnight allow you to fully enjoy the lower forest of Kerinci.
On my side, I was planning to visit a lots of other spots in the parks offering good wildlife spotting opportunities so I was ok with the trade-off of doing a tik tok as locals say (a straight round trip to the summit)
In summary, camping overnight allows you to fully enjoy the rich wildlife of the forest. It is also less physically demanding. On the other hand, you'll have to take more water and food with you as well as camping gear. It also means that you will have to purchase 2 national park tickets instead of one.
What about guides ?
You definetly do not need a guide to find your way up to the summit. The trail is clear and not confusing. The only section where you have to pay attention to the way you're going is the portion from the summit to Pos III where you could maybe take a wrong way while descending if it gets foggy. There is some marking along the trail and by paying attention as well as using the GPS track of Gunung-Bagging as a lifeline you don't risk much.
As the highest peak of Sumatra as well as the highest volcanic peak of Indonesia, Kerinci is very popular among local hikers. Any day sees at least a few groups reaching the summit and weekend can be busy. I would be very surprised that you end up alone on the trail near the summit.
For less fit hikers, a porter might be useful to carry the logistics. I would expect to pay 150'000 to 200'000Rp a day for that service.
As I mentionned earlier, the forest of the volcano is a very popular birding site and you might want to hire someone familiar with the area if you are looking for some specific species.
When to go ?
The trail to the summit falls within the Kerinci Sebelat national park boundaries and thus requires you to purchase a 150'000Rp daily ticket to stroll it. The fee is supposed to increase to 225'000Rp on weekends and national holidays but I'm not sure that this rule is enforced (I hiked Kerinci during weekdays but for instance I paid 150'000Rp for Gunung Tujuh even though it was during weekend).
If you can, I would recommend (as with any popular moutains in Indonesia) to avoid weekends which bring crowds of local hikers anyway.
Kerinci might be hard and even dangerous to hike by rainy weather. I had a very good weather early March on my side.
Accomodation and logistics
Kerinci is usually reached from the town of Kersik Tuo. You have a couple of homestays catering almost only to hikers. I stayed at Paiman homestay which charges 100'000Rp/night for a single room, shared bathroom and breakfast.
It's possible to rent camping gear in town but there is not much choice from what I've seen. I didn't look for it very thoroughly so do inquire by yourself.
Kersik Tuo can be reached from Bukittinggi or Padang by shared taxi (travel). From Bukittinggi, I left at 9h40 and arrived at 17h20. Fare was 120'000Rp in 2018.
Kersik Tuo is connected to Sungai Penuh, the main town in the area by white city minibus (angkot). The fare is 10'000R and it takes about 2 hours. Collective taxis coming from the North (Padang or Bukittinggi) will definetly pick up any passenger on their way to Sungai Penuh if they have any seat available.
Sungai Penuh has also connections to Jambi and Bengkulu. There is even an airport with a couple of flights a week to Jambi operated by Wings Air.