Batak is an umbrella name for different ethnic groups living in the highlands of North Sumatra. The most visited ones are the Karo Batak living around Berastagi and the Toba Batak living around Lake Toba. They are also the two sub-ethnic groups who have the most preserved their old traditions.
This article is intended as a travel guide. For more in-depth informations about Batak culture, please refer to this article.
Around Berastagi : the Karo highlands
Visitors to the Karo highlands usually base themselves in Berastagi even though Kabanjahe is also an option. I always go to Wisma Sibayak, right in front of the cabbage statue. Further South on Jl Veteran you have a couple of good Batak restaurants (look for Mentam RS Khas Batak Berastagi or BPK Aji Mbelang on Google Maps).
Get a taste of Karo culture
I advise you to visit the village of Lingga which had preserved some of the old traditional Karo houses. From Berastagi, take an angkot to Kabanjahe then another one to Lingga (forgot how much not more than 5'000Rp).
What you can do is to stop on the way at the Karo Batak museum and then walk until the houses of Lingga. The museum have a small but interesting collections. A donation is asked at the end, I left 10'000Rp.
The daughter of the guardian of Lingga museum kindly offered me to show me the houses. She told me that 10 years ago, there was much more traditional houses than now. But, understandingly, people prefer to live in a more modern and individual houses now. The type of wood needed for the building is also harder to come by.
In Lingga leave a donation inside one house. The structure is back from the 19th century. A house like that used to be inhabited by 6 to 12 families. As of today only 2 remains.
The traditonal architecture is nonetheless preserved in skull houses (geriten) and gazebo (?)
Don't miss the Museum Pusaka Karo in Berastagi which is the best I've seen in the whole region. The entrance is bloody cheap (5'000Rp), the collection is huge and very interesting with carved staffs, medecine containers, lots of very old pictures, outfits …
Sibayak and Sinabung volcanoes
The Sinabung is a very active volcano that is erupting sporadically since 2013. It is thus formally forbidden to approach it. The Sibayak is a very easy volcano to hike with hotsprings nearby.
North of Lake Toba
From Berastagi, I recommend you to do the following day-trip. Get an angkot to Kabanjahe (5'000Rp) and ask the driver to drop you a the pick-up point for angkot to Tongging. I arrived in Kabanjahe at 10:20AM and left at 11AM so you may have to wait a bit.
The angkot to Tongging costs 15'000Rp. Ask the driver to drop you at the junction with the road to Sipiso-piso and walk the remaining few hundred meters. The entrance to Sipiso-piso is 4'000Rp.
You can enjoy the view over the waterfall and also over the North of Lake Toba :
Have a lunch in Sipiso-piso and then walk a few kilometers to Gajah Bobok hill to enjoy another great view over Lake Toba. Entrance is 5'000Rp.
From there walk a little bit more to get to the Sidikalang – Kabanjahe road and flag down any public transport that will pass by. I got a seat in a minibus bound to Medan who dropped me in Berastagi for 25'000Rp.
Lake Toba
The Indonesian government has pushed a lot to improve tourism around Lake Toba. You have a great map of the area in Parapat harbor. I took a picture of it with my phone, otherwise I found an earlier version with better definition online.
Samosir island
From Tuktuk to Samanindo
This is the heart of Lake Toba tourism. Many chose to rent a motorbike but you can also walk and use public transport which runs all day long all around the island but in the Tuktuk peninsula (where 80% of the accomodation for tourist are located).
Going North you could go as far as Huta Bolon museum in Simanindo, walk until the main road from Tuktuk and take an angkot for 10'000Rp. In the museum, you pay either 10'000Rp to just have a look on the site or 50'000Rp if you want to attend a dance performance.
Then you could walk your way back and take an angkot when you are tired. Many traditional houses (rumah bolon) are to be seen along the road.
Near Ambarita you have a couple of interesting sites. Walk down the coastal road, you will see a sign for "Parulubalangan Kursi Batu Sira".
This is an ancient site where justice was served and magical rituals carried out. The guardian of the site is eager to give interesting explanations, unfortunately in Indonesian only.
A few hundred meters further, you will see the site of the stone throne of King Siallagan (Batu Kursi Raja Siallagan). Many souvenirs stalls near the site. The entrance is 3'000Rp. You will find a couple of houses, stone chairs as well as an execution place.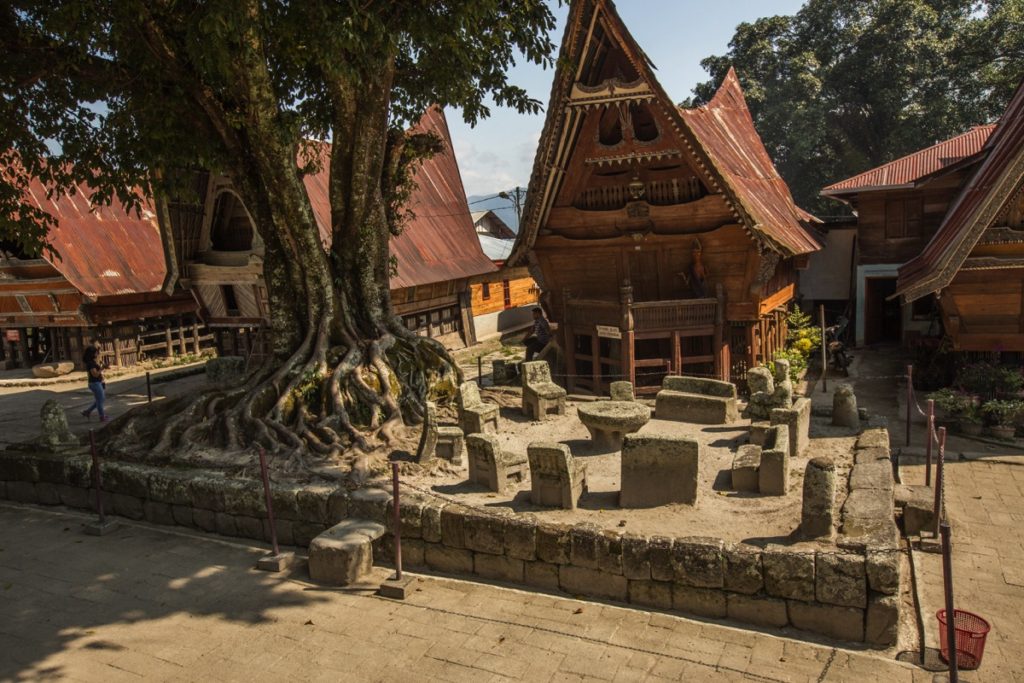 Around Ambarita you have a couple of interesting sites, just keep your eyes open.
From Tuktuk to Tomok
Take an angkot to Tomok (5'000Rp) and get off in front of the museum. You have different places to visit.
Right behind it you have the grave of King Sidabutar with a stone sarcophagus and other strange stone statues.
Eventually, you have the actual museum building which is not as good as Berastagi's but still have a couple of stunning wooden carved pieces. The building itself is well worth a look. I left 10'000Rp of donation at the museum.
You have a couple of interesting houses and graves along the Tuktuk – Tomok road.
Near Pusik Buhit
Pusuk Buhit is according to the Toba Batak myth where the first men arrived on Earth. From Tuktuk, walk to the main road and wait for an angkot heading to Pangururan to pass (20'000Rp).
It's possible to hike up the hill if you want to, otherwise just enjoy the landscape.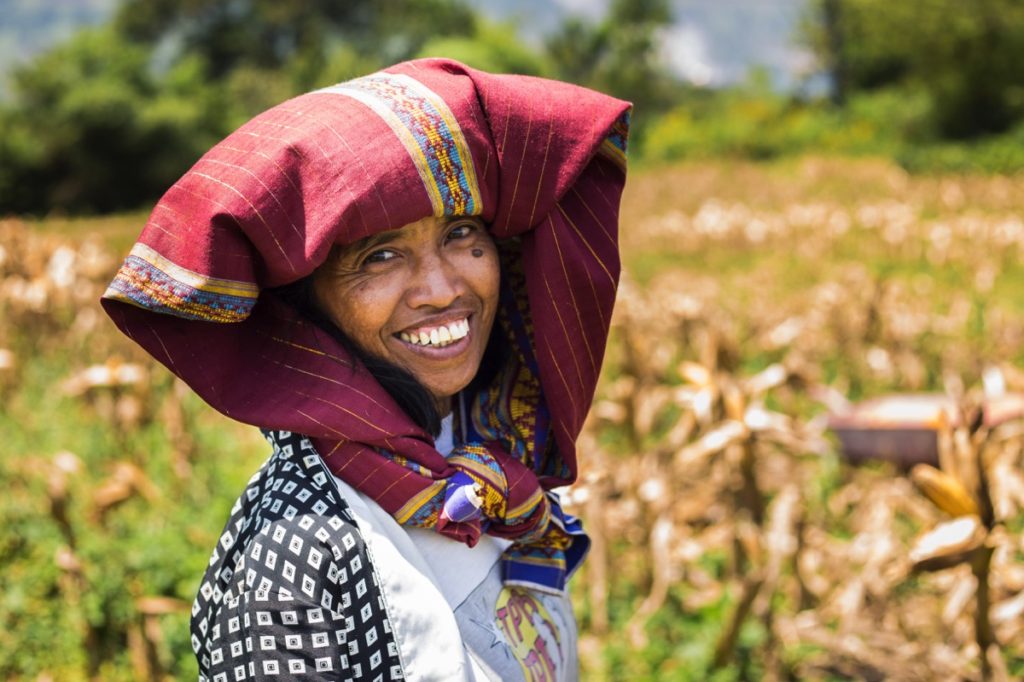 There is a very impressive and church to see in Pangururan. The decoration is a mix of Christian and Batak influence.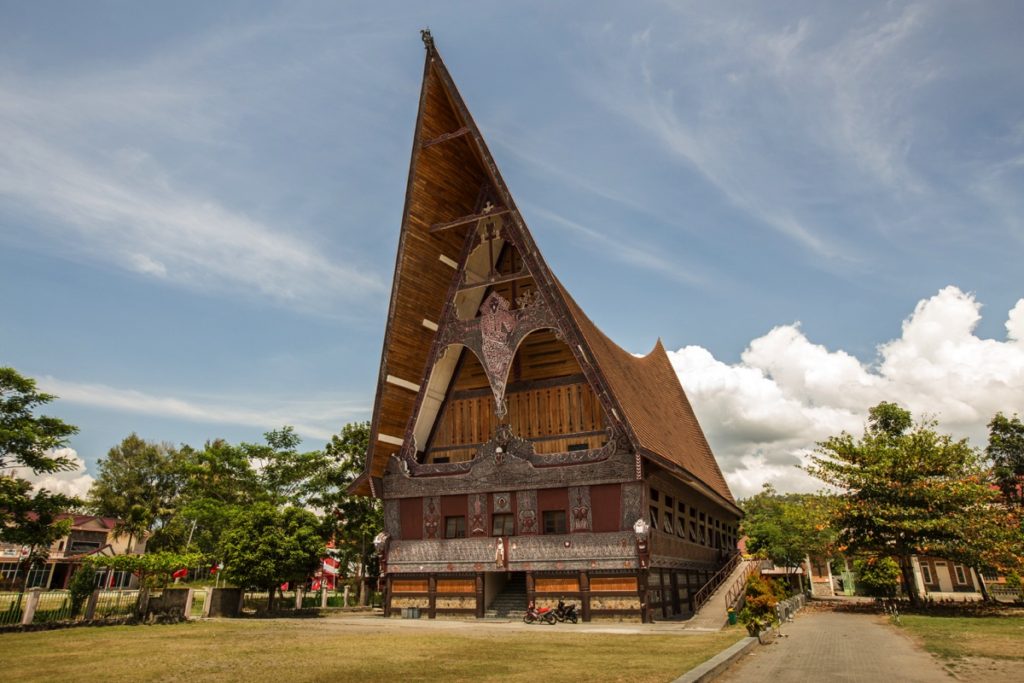 The outer shore of Lake Toba
A majority of the visitors will stay on Samosir island but the outer shore of Lake Toba is also quite interesting. I have already mentioned the northern tip near Tongging above.
It is possible to explore this area by using public transport and walking but it will take time. The best solution would be probably to rent a motorbike either in Parapat or in Tuktuk and taking the bridge out of Samosir near Pangururan. It is also possible to load a motorbike on a boat.
From Parapat to Balige by Porsea
In the area around Porsea you will find Batak houses with very distinctive carving. I wish I had taken more time to explore this part of Lake Toba.
From Balige take an angkot and get dropped near Museum Silalahir (2'000Rp). The museum is more like an entertainment center (with swimming pools …) and charges a very high price for foreigners (50'000Rp). I didn't visit but behind it you have 3 houses with the finest carving I've seen in Lake Toba area.
Near Balige you have another nice viewpoint in Bakara. Take a bus to Dolok Sanggul (30'000Rp, 1h20) and then walk one hour to Bakara. Buses are not plenty, riding a motorbike would be far easier to get there. On the way you could stop at Ragi Hotang Meat village, which is funded by the government to preserve Porsea's architecture (I haven't visited).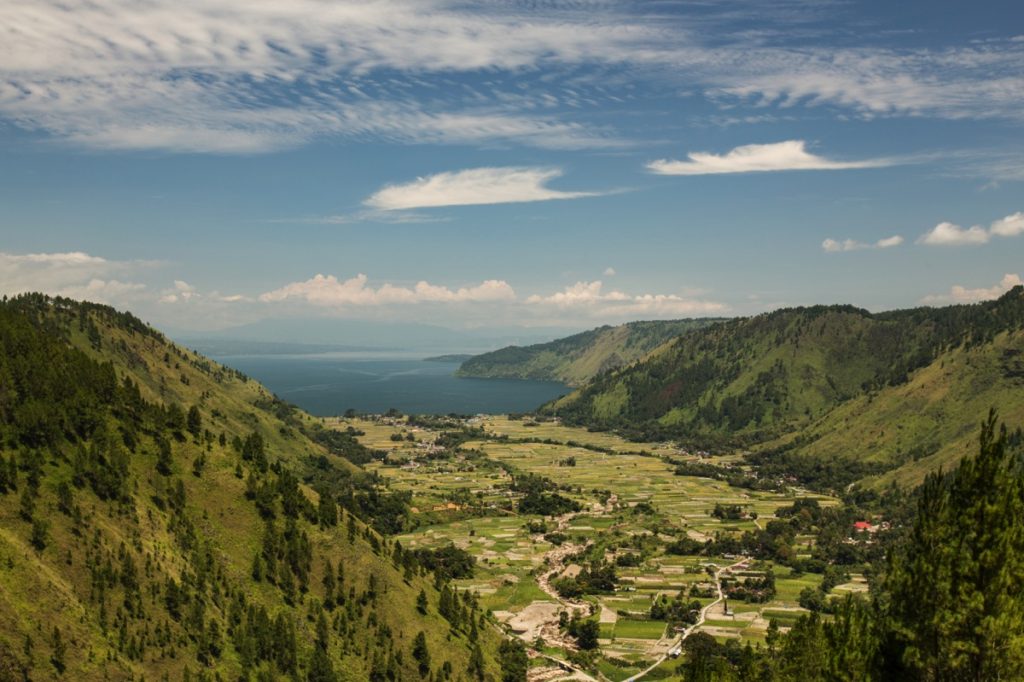 Practical tips
Transport
From Medan Airport to Berastagi and Lake Toba
Medan has an international airport with cheap connections to Kuala Lumpur thanks to Air Asia, as well as flight to Bangkok, Singapore and Penang. Locally it is well connected with most cities in Sumatra as well as Jakarta, Surabaya and Yogyakarta.
From the airport, touts will definetly offer taxi ride to any destination you want (including Bukit Lawang, Lake Toba or even Ketambe). Price might be interesting if you share it with a large group
From the airport a train takes you to to Medan train station in about 40min for 100'000Rp. Otherwise follow the signs for buses (check the airport website for updated information about frequency and fares) :
DAMRI takes you near the Independance square in town and then to Amplas bus terminal where you can take bus to lake Toba. Fare is 15'000 for the square and 20'000 for Amplas as of 2018.
ALS takes you to directly to Binjai (from where you can reach Bukit Lawang) for 40'000Rp. A ride to town is charged 20'000Rp.
From the airport board ALS bus and ask to be dropped at Simpang Pos. 20'000Rp, 1h15 because of the traffic.
From here you have regular minibus heading to Kabanjahe (Berastagi is on the way). They leave when full until night, costs 10'000Rp. It's a 1h15 ride to Berastagi and 1h30 to Kabanjahe.
From Berastagi's main road, almost every angkot is heading to Kabanjahe. Fare is 5'000Rp for a 20 minutes ride. Cheap accomodation are easier to find in Berastagi.
Between Berastagi and Lake Toba
From Berastagi take an angkot to Kabanjahe (5'000Rp). You shouldn't wait long to get a bus to Pematang Siantar (20'000Rp, 2h30).
From Pematang Siantar take another bus to Parapat, shared taxi are also available (20'000Rp, 1h).
Between Parapat and Tuktuk, boats leave every hour for 15'000Rp.
Transport on Samosir island
There are plenty of minibus on Samosir island driving along the coast. The only place where they don't stop is Tuktuk peninsula. If you don't want to rent a motorbike, walk for 20 minutes to the main road and flag down an angkot.
Going to Gunung Leuser National Park, Banyak Islands, Nias or Bukittinggi from there
From Kabanjahe you can get to Ketambe or Kedah which are the most interesting entry points to Gunung Leuser National Park (detailed informations about public transport in the article).
Kabanjahe is also the starting point to get to Singkil and from there to the Banyak islands.
From Parapat in Lake Toba, get a angkot to the terminal for 4'000Rp. From the terminal wait for a bus to Bukittinggi (it's gonna be very long) hailing from Medan, I have no idea about the schedule so inquire first.
If you want to go to Nias from terminal Parapat, take a bus to Balige (25'000Rp). From Balige take another bus to Taturung (1h40, 30'000Rp) and then another one to Sibolga (2h, 30'000Rp). From Sibolga wait for the night ferry.
Accomodation
In Berastagi, Losmen Sibayak has simple double room for 80'000Rp, with bathroom outside. More expensive rooms with hot water are also available in the front yard.
In Samosir, I warmly recommend Liberta Homestay, double room starting at 65'000Rp, cold water, no breakfast.
In Balige, you can stay at Losmen Gelora, hot, noisy and cheap. 60'000Rp for a double room. Shared bathroom.
Map