Ternate and Tidore are 2 modest volcanic islands off the west coast of Halmahera in Maluku.
They held a very important role historically through their implication in the spice trades. Nowadays they are a very laid back destination.
Things to see around Ternate island
Batu Angus
Not far from Ternate town. It's a very scenic place with molded lava.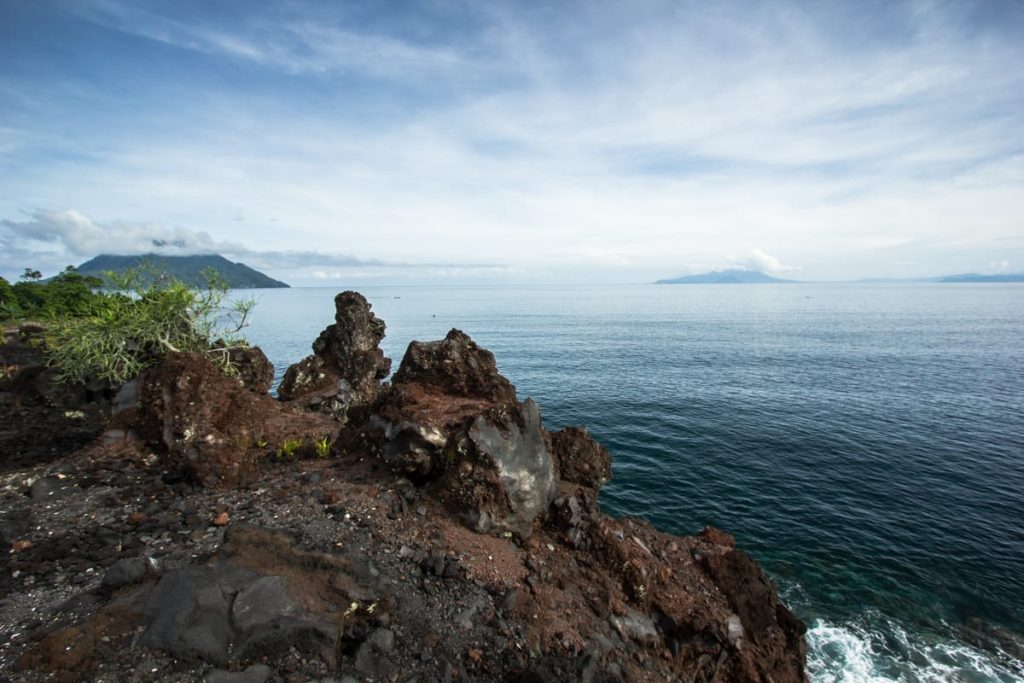 Danau Tolire (Tolire Lake)
A large lake on the North-West part of the island. I don't think it's possible to easily climb down the slope to get into the lake. The view is nice though.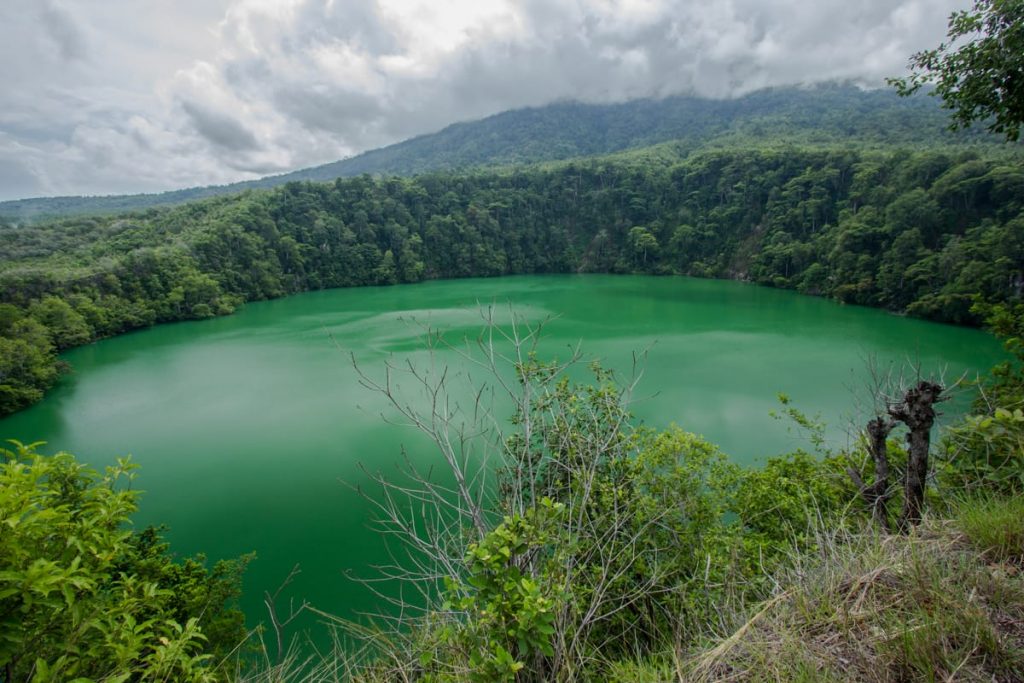 I toured Ternate on a Friday so most of sightseeings were empty.
But I was delighted by the number of place designed to relax. Just pay attention and you will find a lot of places with a couple of tables and chairs just to sit down and chill in front of the sea.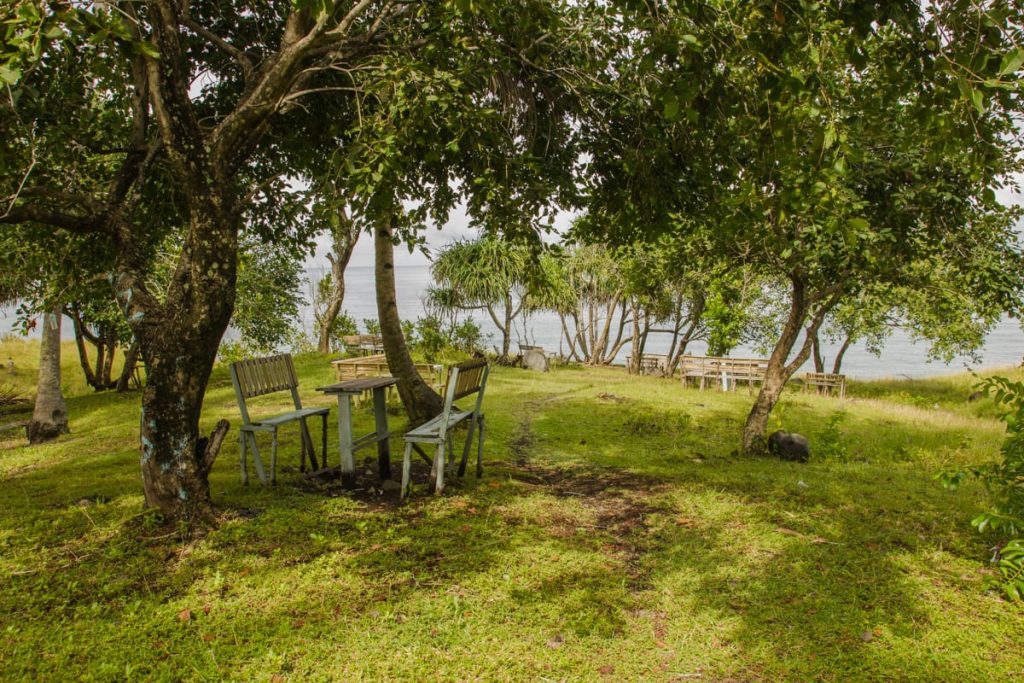 Beaches
Quite obviously, there are many beaches over the island. But 2 names always came up when I was asking locals advice about place to see : Pantai Sulamadeha and Pantai Jikomalamo.
Sulamadeha is the closest from downtown but when I passed by I saw only a "classic" black sand beach that didn't attracted me much. The weather wasn't good hence I couldn't take nice picture.
But it turns out that I should have been more curious because 10 minutes away from Pantai Sulamadeha you got what's called Teluk (bay) Sulamadeha and it looks georgeous.
Jikomalamo is just in front of Pulau Hiri. As of February 2017 they are heavy construction ongoing to build restaurants and other stuff to accomodate visitors.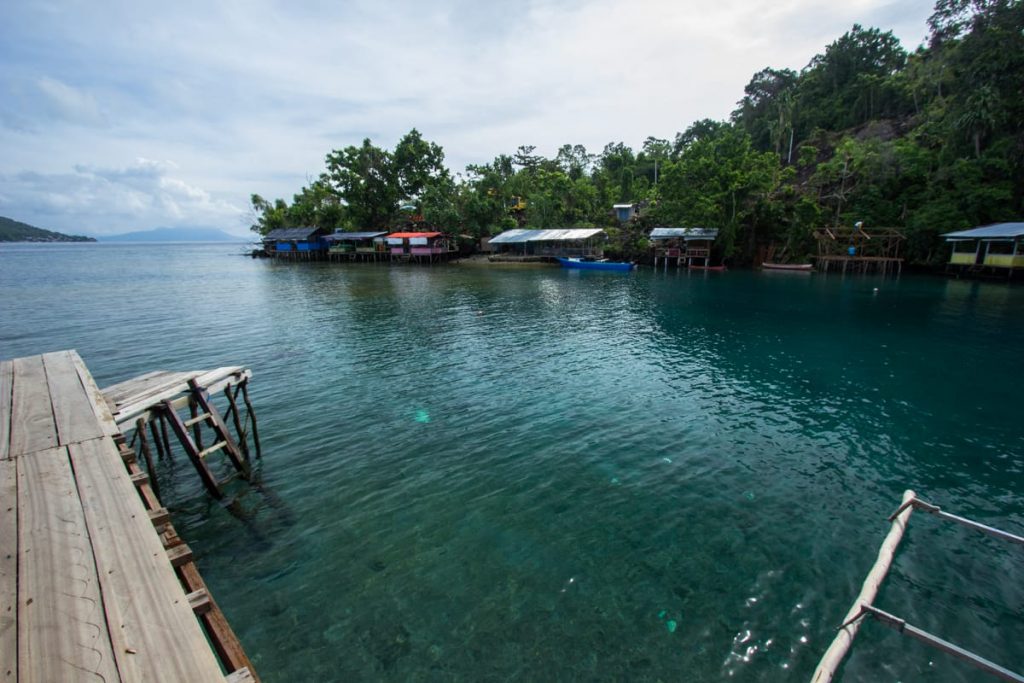 Scenes sighted while riding across the island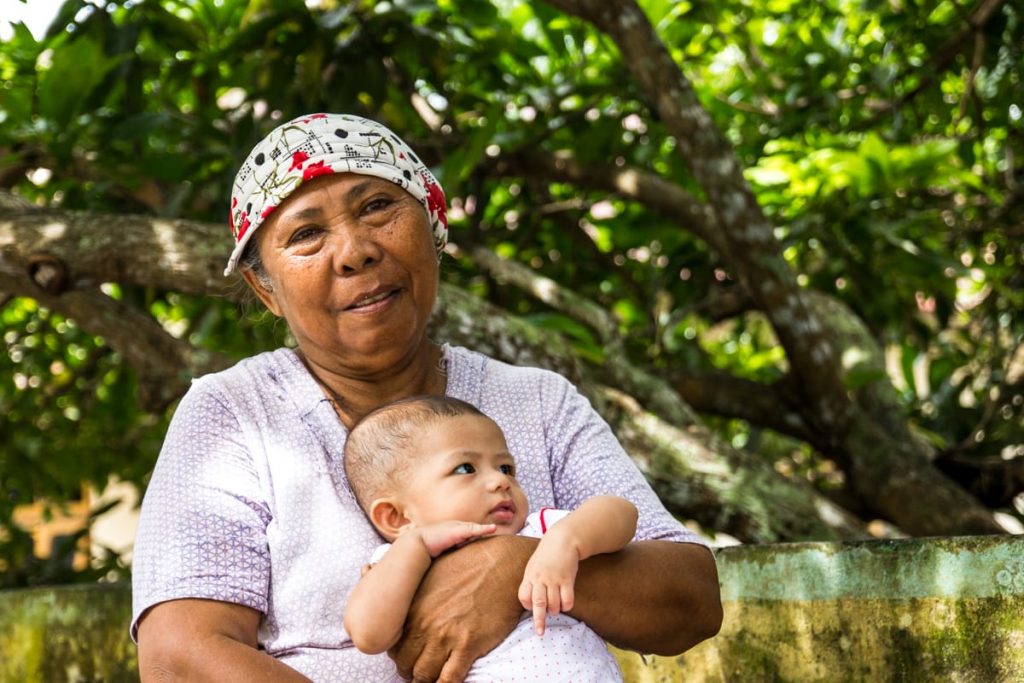 Houses are everywhere colorful.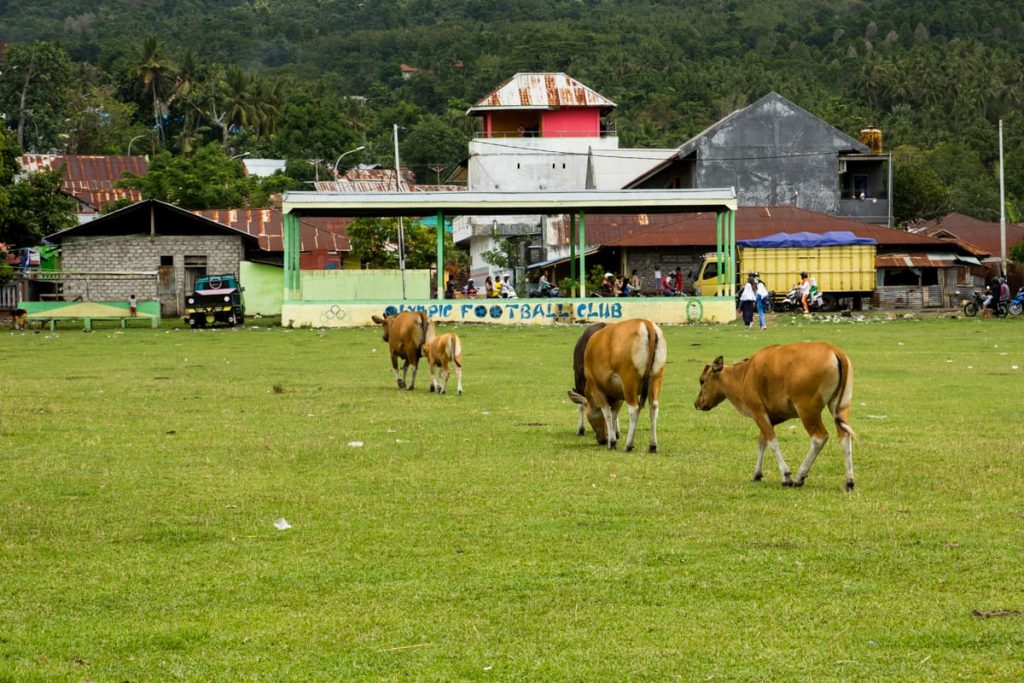 Spices (mostly cloves and nutmeg) drying under the sun are pretty common in the streets of Ternate.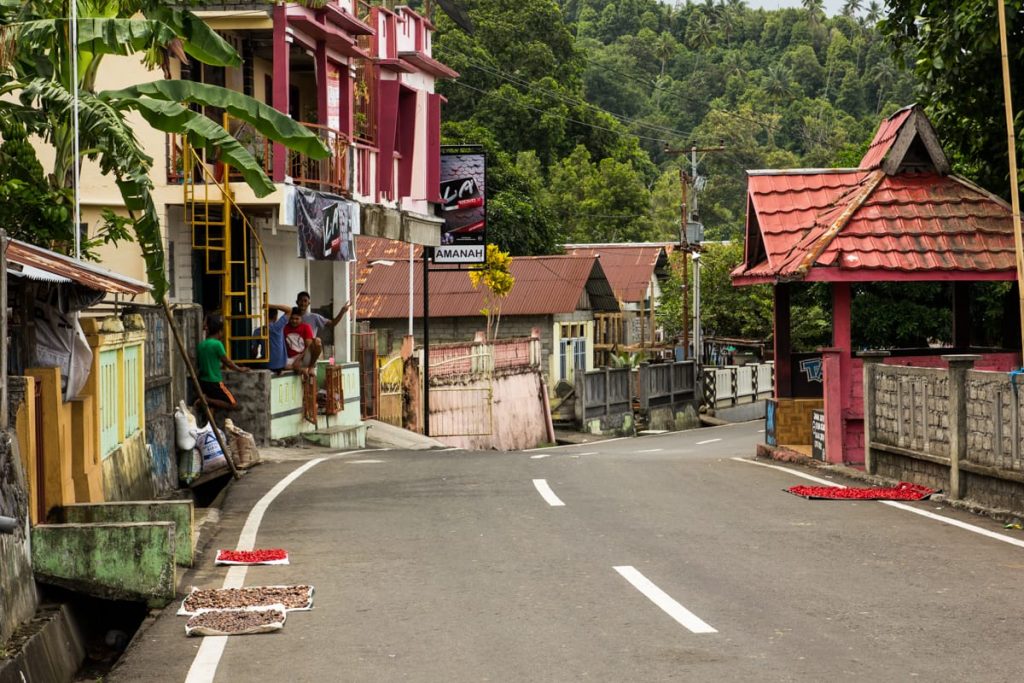 Enjoy a lunch with a stunning view over Pulau Maitara and Pulau Tidore from a place called Panorama Cafe. It's located a few meters before Danau Laguna.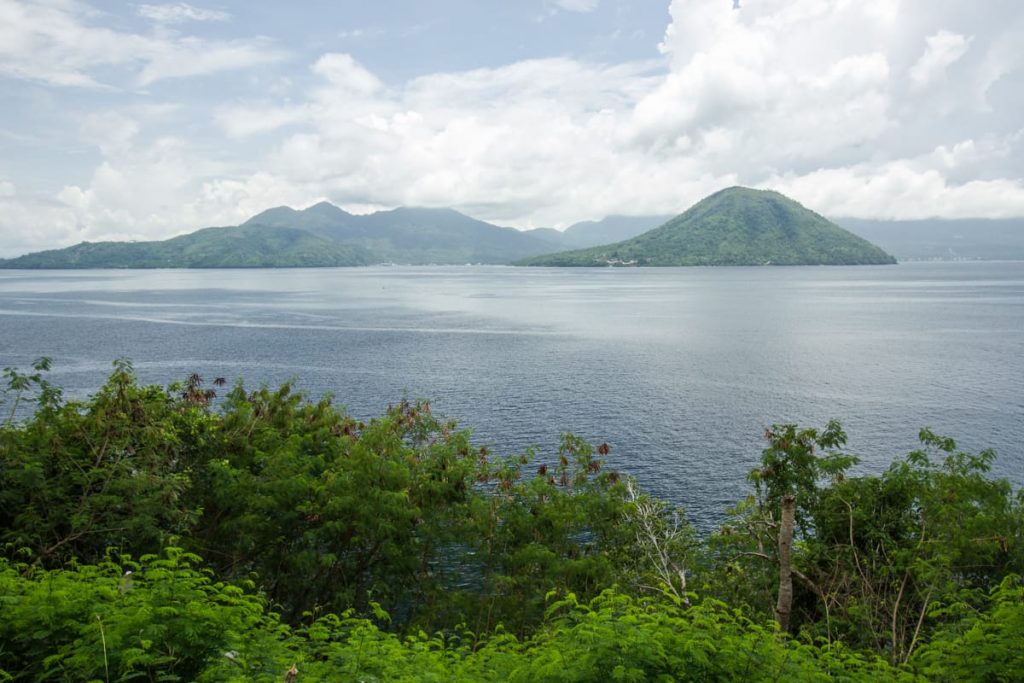 Historical remains in the town of Ternate
Ternate was maybe the very first commercial hub along the spice trade road. It also attracted very soon the interest of the VOC (Dutch East India Company).
Several buildings remain from this time. A few minutes after you leave downtown, you will pass Benteng Tolukko on your left. The stronghold has not much interest (especialy because you are given almost no background about the site) but offers a nice view over Ternate main city.
A donation will be asked (I gave 10,000).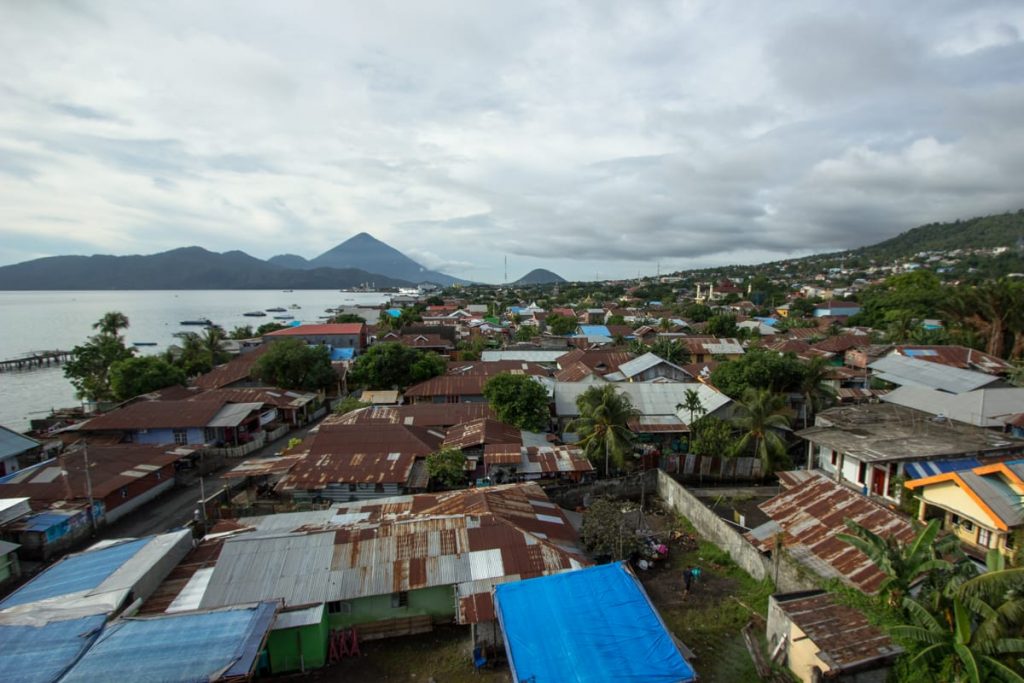 There are many others over Tidore islands: Benteng Kastela, Benteng Kalamata, Benteng Oranje … I didn't check on them.
The Sultan palace
To my great surprise, the building is in pretty bad conditions. The last sultan died in 2015 and his heir has not be designated yet so the palace has no one living in it since 2 years.
The visit is quite short : 2 rooms with a few rusty antiquities. I was disappointed and I did not take any picture.
You have to wear a long pant to enter the palace.
Tidore island
I had intended to spend one day exploring Tidore islands but I wanted to climb first the volcano in the middle of the island (Gunung Kie Mabutu).
I obviously mis-evaluated the time needed to complete the hike because it took me 6 hours to go back to the highest village. Afterwards I was exhausted (I was dumb enough to go without bringing any water) and went straight back to Ternate to rest.
Still, this is quite a nice hike with a rewarding view from the top if the weather is clear enough.
From your hotel in Ternate, go to Bastiong harbour (not the same harbour than the one for boat that goes to Sofifi). Just hail a bemo in the street, it will cost you 5,000Rp.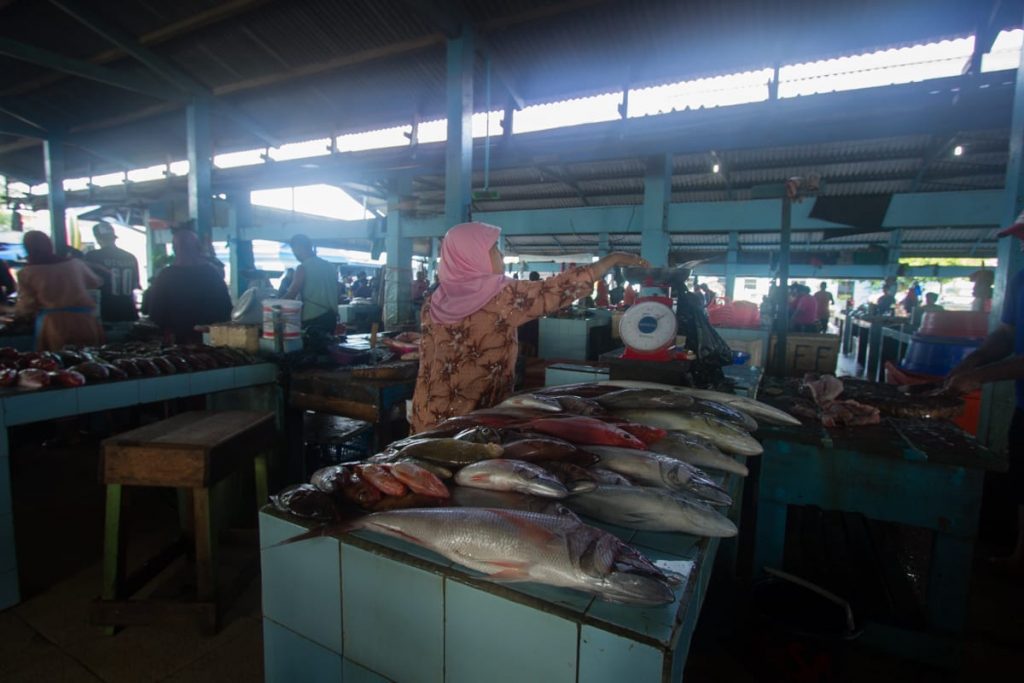 From Bastiong the speedboat coast 20,000Rp per person, just jump onto the first boat it will leave when it's full (I waited 2 and 10 minutes).
The view from the harbour on Pulau Maitara (the small one) and Ternate features on the 1,000 Rupiah bill.
From the harbour in Tidore the cheapest solution is to take another Bemo to Soasio (12,000Rp). From Soasio wait for the Bemo or take an ojek to Gurabuga. You can also charter a bemo from the harbour directly to Gurabuga.
In Gurabuga, ask the driver to drop you in front of the house of the head of the village (Desa Kepala). You have to ask the permission to climb the moutain first.
Once you have it you can go for the climb. It took me 3h30 to reach the summit and then 2h30 to go down. I don't know exactly if I got lost or the track ends at one point but the hike can be quite harsch, the slope is slippery and there are thorny branches everywhere.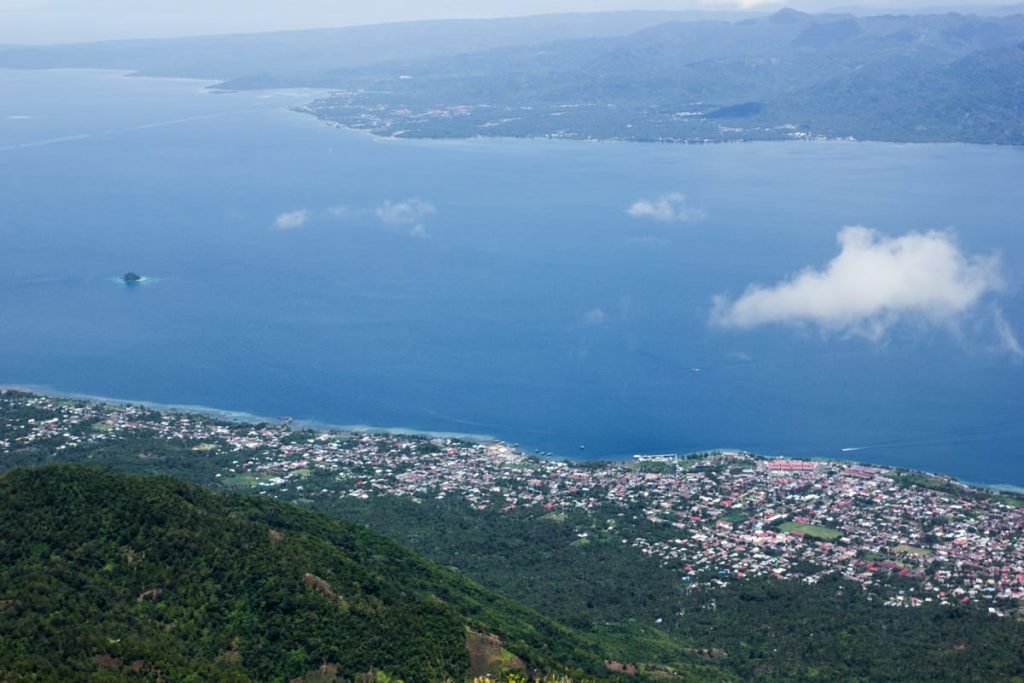 They are many fields on the slopes on the volcano. Farmers will be quite suprised to see you there but helpful nonetheless.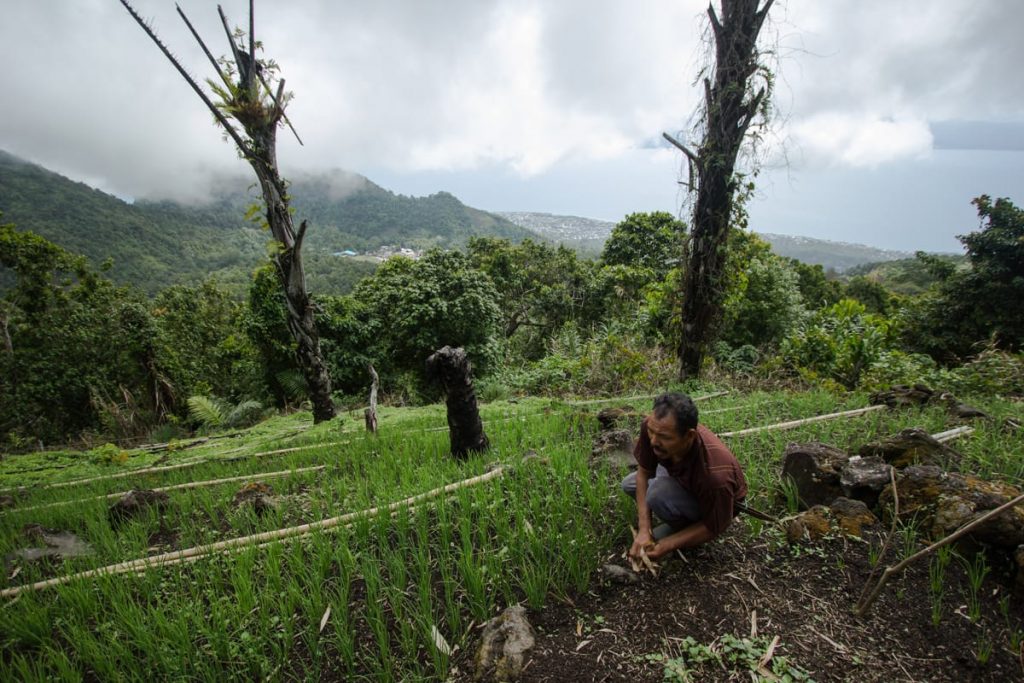 Practical tips
Ternate is well connected to Jakarta, Makassar and Manado by plane. Otherwise you have regular speedboat from Sofifi (50,000Rp). They leave when all seats are taken.
Ternate used to be the province capital (now it's Sofifi) so it has plenty of hotels. A cheap option I had in mind was Hotel Indah (room starting at 80,000Rp) but it was full.
After some walking in the city, I ended up in Penginapan Yusrama (150,000Rp for a single room, 200,000 for a double). The owners are really nice. I could borrow a motorbike from them to explore the island.