Located about 60km West of Rantepao in North Toraja district, the district of Mamasa can be considered as a relative of Toraja.
According to the tradition, the ancestor of Mamasa people came from Sa'dan area (Toraja). As one would expect, Toraja and Mamasa cultures are close, including the traditional design of the house.
The Mamasa – Toraja trek is still mentioned in guidebooks but I think it is rather outdated. It's possible to drive directly from Mamasa to Toraja nowadays and in my opinion, the landscape of Toraja itself offer more rewarding hikes. If you have fresh informations, feel free to use the comment section.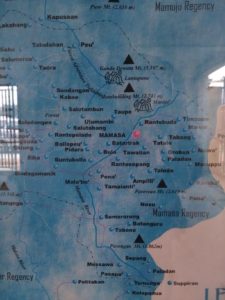 Rantebuda
Not very far from town (I'd say 30-40min walking) you have the village of Rantebuda where you can find the most impressive tongkonan of the region. Traditional houses indeed bear the same name as in Toraja but they have a distinctive shape and the carving is also different.
In Rantebuda, besides the huge tongkonan you have also 2 small one as well as some graves down the hill. Nearby, you have the house of a guy called Demianus. He is native from here but went to tourism school in Bali, he was guide in Bali for some times before coming back to his homeland. He speaks good English and can guide you in Mamasa if you want to.
Tawalian – Tatale – Orobua – Paladan
On my way from Mamasa I met Aidil who offered to give me a ride to my destination. A native of Makassar, he had married a Mamasa girl he met while they were student in the regional capital. He told me he had some time ahead and drove me around Mamasa for 2 days.
The loop I'm describing here can easily be done with a motorbike in one day. If you are on foot, you may need 2 days.
In Tawalian, we saw a brand new huge tongkonan on top of a hill. The carving had not yet been done. They told a me a house like that costs 2 billion IDR to build. Decorate the house with carving is another undertaking, besides the salary of the artist, some rituals have to be carried out (including slaughtering a buffalo). Today fewer are willing to bear this important cost, hence as a respect with old tradition they prefer not to decorate their house at all.
The countryside from Rantebuda, Tawalian, Tatale and Orobua is quite nice.
In Orabua you have several nicely decorated tongkonan.
The road passing by Paladan offers some very nice views over the rice paddies. I got told some people in Paladan were still following the old indigeneous faith.
Nearby Paladan, there is an interesting graveyard.
Balapeu
On our way to Balapeu, we stopped at the huge statue of Marie in Balla.
Balapeu is maybe the highest concentration of tongkonan in Mamasa. There is about 200 traditional houses in the village, but they are not decorated.
Nearby you have a popular camping spot up a hill called negeri atas awan 'the land above the clouds'. People come as far as Porowali to camp there for a night.
Driving back to Mamasa, you will see several people whose job is to smash rocks on the side of the road to make gravel. One bag is sold 35'000Rp and a truck 800'000Rp…
Taupe
Taupe is another interesting village located about 2h walking from Mamasa.
There are a couple of very interesting houses in the village.
Taupe gets electricity from a small scale hydroelectric generator.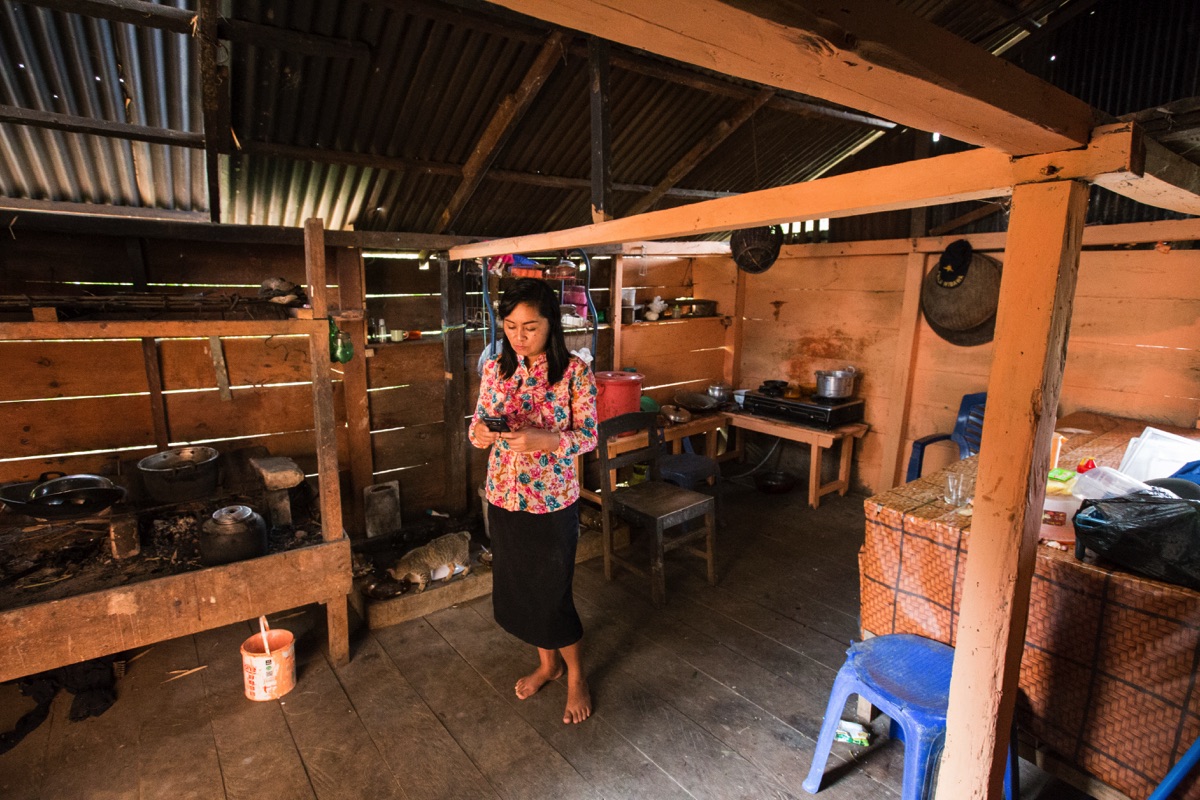 How to get to Mamasa ?
From South Sulawesi
People going to Mamasa are mostly coming from the South of Sulawesi. You have to go to Porowali in West Sulawesi province and from there take a shared taxi (bus might be available but I don't know about it) to Mamasa.
As of October 2017, the shared taxi from Porowali to Mamasa costs 100'000Rp and takes 4 hours. I arrived in Porowali late in the afternoon and we left when the car was full around 8PM.
As a reference, a shared taxi from Pangkajene from Singkang to Pangkajene is 40'000Rp, from Pinrang to Porowali it's 30'000Rp and it takes 2 hours.
From Toraja
You have daily shared taxi going from Mamasa to Makale and Rantepao. If they have at least 7 passengers going to Toraja, the driver will take the most direct road and pass by Bittuang. Otherwise he goes back first to Porowali, then passes Enrekang and finally Toraja. The last options takes 10 hours and costs 150'000Rp.
Accomodation in Mamasa
Google maps indicates Hotel Matana for the place where I stayed. I'm not sure it's the current name but the location is correct, immediately right of bank BRI. It's not well indicated. Price is 100'000Rp for a simple double room, breakfast and cold shower.
They don't rent motorbikes and I don't know where you can find one in Mamasa. If I had not met Aidil, I would probably have walked to the places I wanted to visit and pay an ojek back to town.