Buy a SIM card in Indonesia
Local SIM cards are cheap and will allow to do a lot of useful stuff like using Grab/Go-Jek application, to use Google map or to contact drivers and accomodations.
They are sold pretty much everywhere, large airports usually have some for sell, otherwise just walk around in anything that looks like a village and some shop will be selling one for sure.
Do not buy packages sold at Jakarta airport, they are not worth it. A SIM card costs maximum 20'000Rp, with 100'000Rp you should have enough Internet for a month.
Available operators
First of all, decide which operator you want to use :
Telkomsel (which owns the brand Simpati) has the better coverage all over Indonesia. This is the recommended pick
Xl and Axis are the second most popular. Their data packages are cheaper but the coverage can be irregular outside large towns. People usually have a dual-SIM cellphone and use Telkomsel as back-up and whatever operators is the cheapeast in the area as their main one.
Let's say you will go for Telkomsel
Welcoming offers
A simple new SIM cards should not cost more than 20'000Rp. Often, welcoming offers are available selling you a SIM card plus pre-loaded credit.
Don't let yourself fooled by whatever amount of GB written in large letters on the cover. Do read the small prints :
HOOQ or VideoMax credit can be used only with local streaming services that you probably won't use
Local data can be used only in an area
Midnight data are only available at night
4G may not be available in the area you are
Good old generic data is called Flash. So pay attention to the amount of Flash and eventually 4G data included in the offer.
Registering your SIM
In 2018, the government passed a very annoying regulation forcing every user to register its SIM card. If you are Indonesian, the process is pretty straightforward, you just send a text with you Family Card number and ID number and its done. As a foreigner you don't own any of these documents so you need to register at Telkomsel office.
Look for Telkomsel GraPARI on Google Maps to know where is the closest. You get there, register with the officer at the entry an wait for your turn. Bring your original passport, a copy is not enough. Then the clerk will register your SIM.
Until July 2018 I was never able to register my SIM card for good. I eventually got told that the registration with a passport was only valid for one month, then you have another month to register again. So basically you need to register your SIM card every two month.
Update July 19 : after a couple of month out of Indonesia, it turns out that my SIM card registered right after the new regulation was still active. So I guess that one registration is enough. This wasn't really clear a year earlier when the new regulation came in effect.
Top up your credit
Codes to remember
To manage your phone credit, everything works with a system of codes, the most important are the following (for Telkomsel) :
*808# : returns a text including your phone number
*888# : returns a text telling you how much global credit you have left, and until when it is valid
*999# : general menu
*363# : main menu to convert your phone credit to data or to check how much you have left
Top up your credit
I've seen dozens of people struggling to buy Internet credit with small resellers. This is pointless, just buy generic phone credit / pulsa (the one you use to call or send texts) and you can convert it to Internet credit on your own phone navigating the menus.
Go to any store selling phone credit and give them your phone number and how much credit you want (from 5'000 to 100'000IDR).
Any phone user can transfer phone credit to another number. So the resellers, buy large amounts of phone credit and then transfer it to individual customers. The operation is usually charged 2'000Rp.
Wait until you receive a text message confirming the purchase.
This credit can be used to call or to send texts. You can also use it to go online but if you do so you will burn you credit in no time because the price of MB non included in a data package is prohibitive.
Convert your credit to Internet data
Dial *888# to know how much credit do you have. You cannot spend more than you have.
Dial *363# : you get something like that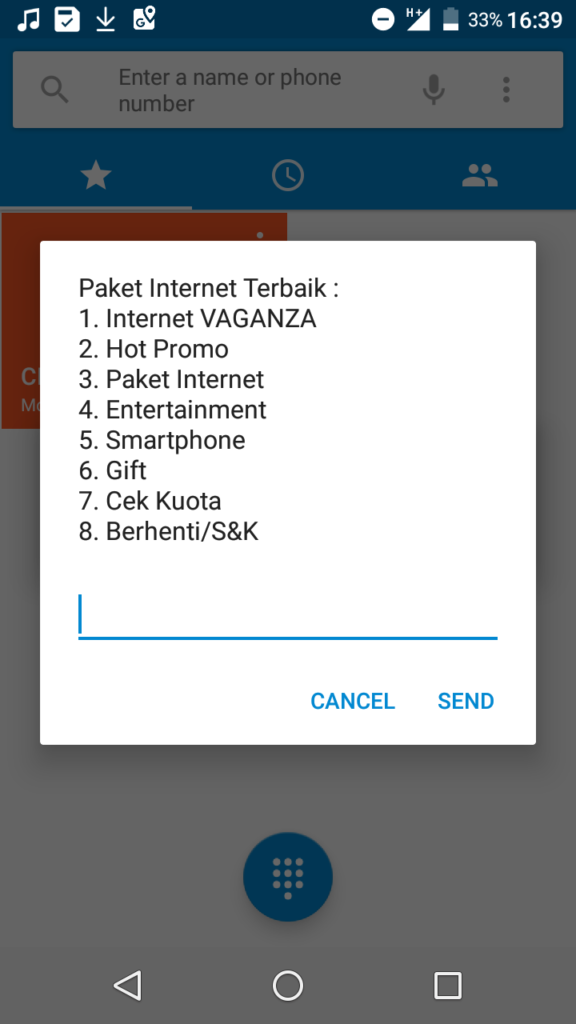 By typing 7 for "Cek Kuota", you would know how much Internet credit (kuota) you have left. But here we want to buy some, so type 3 "Paket Internet" and send.
Step 2 : a new screen pops up. Here you have to choose for how long do you need the package :
For a day (harian)
For a week (mingguan)
For a month (bulanan)
Your data package will be valid only for 1, 7 or 30 days. Past this time, all unconsummed data will be lost. Usually the most advantageous offers are the monthy ones.
Step 3 : I have typed 2 (mingguan : weekly) at step 2. I get a new screen showing the available offers. Hr stands for hari (day), Rb for Ribu (thousand). Mulai means start, so the prices shown are not the final ones.
Step 4 : I have typed 4 at step 3. I get a new screen giving me the final price (27'000 becomes 31'000). Then type 1.Beli (buy) to buy. If you have enough credit (remember your check using *888#) you'll received a text message confirming the purchase and giving you your new credit balance, if your credit is not enough you'll receive another message.
Recommended offer : choose bulanan (monthly) at step 2 and go for the 12GB offer / 95'000Rp. It is Flash Data, so always available, 12GB is more than enough for the month and you won't have to look for accomodation with wifi. You have additional 2GB VideoMax credit, that you won't use unless you download VideoMax app and look for videos in Indonesian.
This is the regular Telkomsel offer, you can get special offers using the same *363# menu, when I made the screenshots both "Internet Vaganza" and "Hot promo" were available. Let's try them out :
This time I type 2 "Hot Promo" in the *363# menu, then I type 5 "14GB 30Hr/Rp125rb" : I get to screen 2 and I can purchase 14GB + 600 minutes of phone call + 400 text, valid for 30 days for 125'000Rp.
Or I could try the Internet VAGANZA promo :
Back in *363# menu, I type 1 for "Internet VAGANZA", then I type 2 for "10GB combo" and I get offered 10GB of Flash + 2GB of VideoMax credit (pretty useless) + 100 minutes of call + 100 text for 30 days and 95'000Rp.
This would be a better offer than the first one because let's say I have bought 100'000Rp of pulsa in the first place, if I buy for 95'000Rp of data then I won't be able to use my phone much to make proper local call or send texts.
Langanan or sekali beli
Often you are asked whether you want to subscribe (langanan), which means make your purchase of credit reccurent each month or week, or to make a single purchase (sekali beli). Do choose sekali beli.
Even if you are wrong, if you phone credit is not enough then the recurrent purchase will fail anyway.