The South of Lombok is a heaven for beach lovers. For years you were almost 100% sure to share huge and idylic bank of sands with a few fellow tourists. The situation is changing with the picking up of the Mandalika project (which is itself part of the "10 new Balis" government program)
I've met several people who had bought land as an investment in this part of Lombok in the last 10 years. It seems time has come to reap the profits : several luxury hotels are under construction and everywhere promoters are advertising in English for leasehold villas.
But don't freak out, the new development is rather localized and you can still get your shot of empty (or at least not very crowded) beaches, just drive an additional 5km. The road network is also much better than it used to be.
South Lombok is mostly about beaches. Locals generally charge a 10'000Rp access fee per person.
West of Kuta : from Mawun to Berongas
The beach of Kuta (now dubbed Kuta-Mandalika) is still for now the epicenter of the South Coast.
If you have been there before 2018, the place has totally changed, all former warungs and homestays on the beach front have been demolished to make way for under construction luxury hotels.
A few kilometers heading West, you will reach the great Mawun beach (access fee 10'000Rp per person). Everywhere, hills are currently terraced to build villas.
Continuing further West you will pass other beaches, some are only interesting for surfers (like Mawi). Senong Blanak is good for beginner surfers (no reef and regular small waves), many warung and surf teachers there.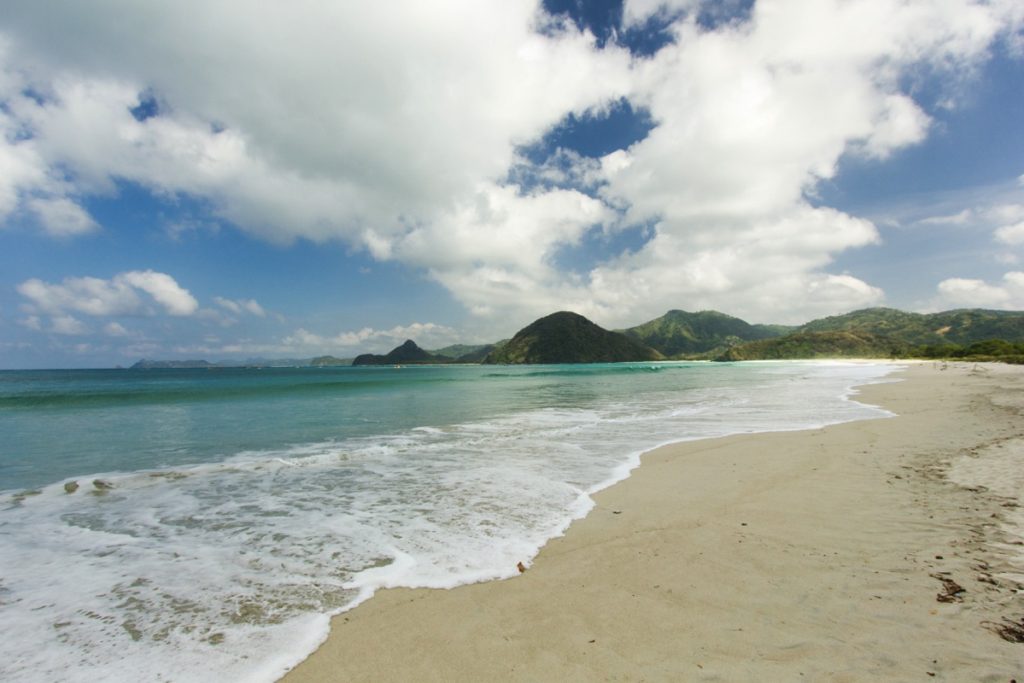 I feel that there is more agriculture along the West road.
Eventually you will reach the bay of Berongas, not the best for beaches but it's famous for the diving spot Magnet where you can spot schooling hammerhead sharks for a part of the year (definetely not a beginner's dive though, Two Fish requests 100 logged dives to take you there for instance).
From Berongas, you could keep going until Sekotong from where you can do some island hopping (Gili Gede, Gili Asahan …). A few kilometers East towards Lembar, the three islands of Gili Nanggu, Gili Sudak and Gili Kendis have a good reputation for snorkeling.
At the westernmost point of the South coast, you will find the famous surf spot Desert Point. I've been there once in 2012, the road was quite bad. It wasn't really worth the ride unless you're a surfer in my opinion.
East of Kuta : from Tanjung Aan to Ekas
Right before Tanjung Aan, don't miss Merese hill (Bukit Merese). There are a few parking lots charging an access fee (10'000Rp), otherwise you can also walk from Tanjung Aan (whose access is also charged 10'000Rp) and climb up the hill by a small path.
Tanjung Aan beach is probably one of the nicest of all in Lombok, immense and made of pure white sand. There is more activity and visitors that it used to be but it is still far from overcrowded.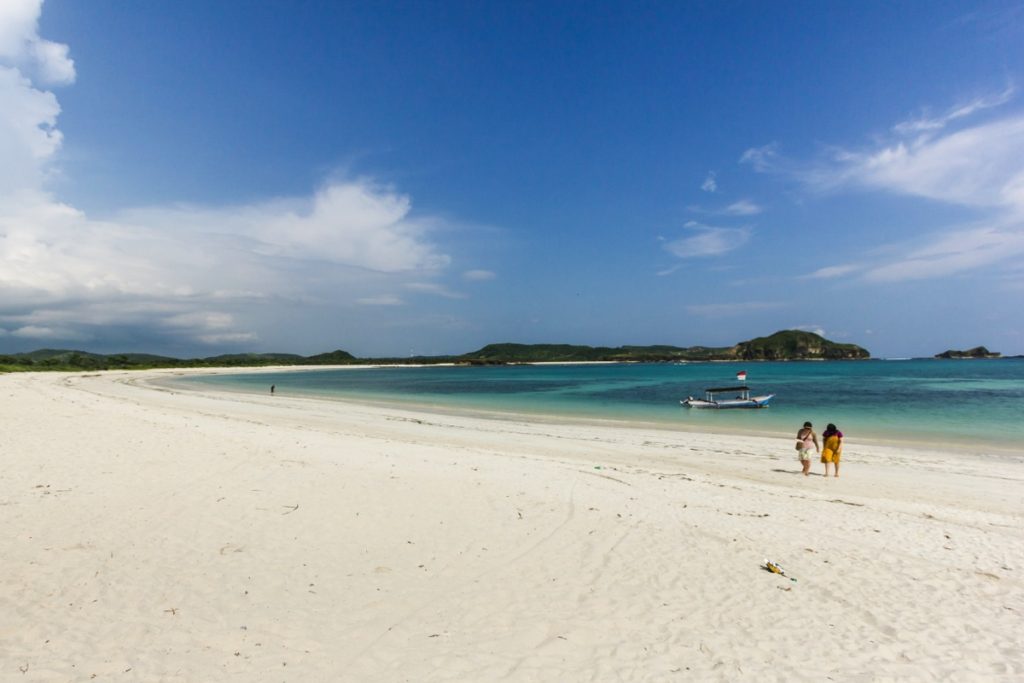 If you keep walking after the left end of the beach (when facing the sea), you will find a rather weird shaped stone called batu payung. Touts offer boat tour from Tanjung Aan, but you can also walk there without any problem (beware of high tide though).
You will find many other beaches if you keep driving East. Not far from Tanjung Aan, you have the surf spot of Gerupuk.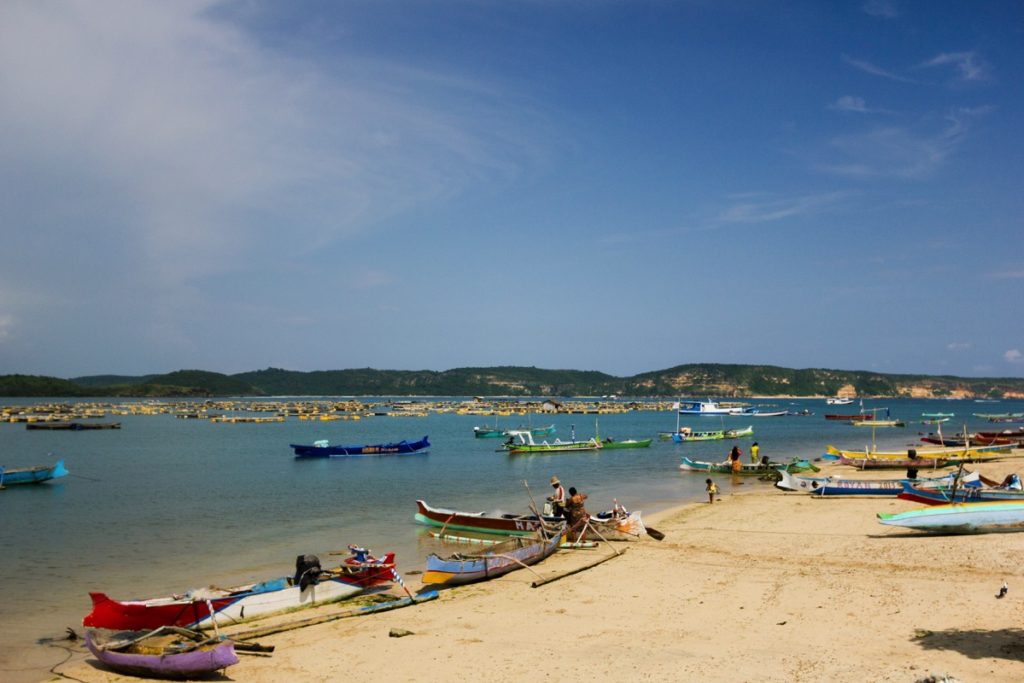 Right before you ride along the coast of the gulf of Awang, there is a small peninsula that you could explore. It's still very raw and roads are not asphalted.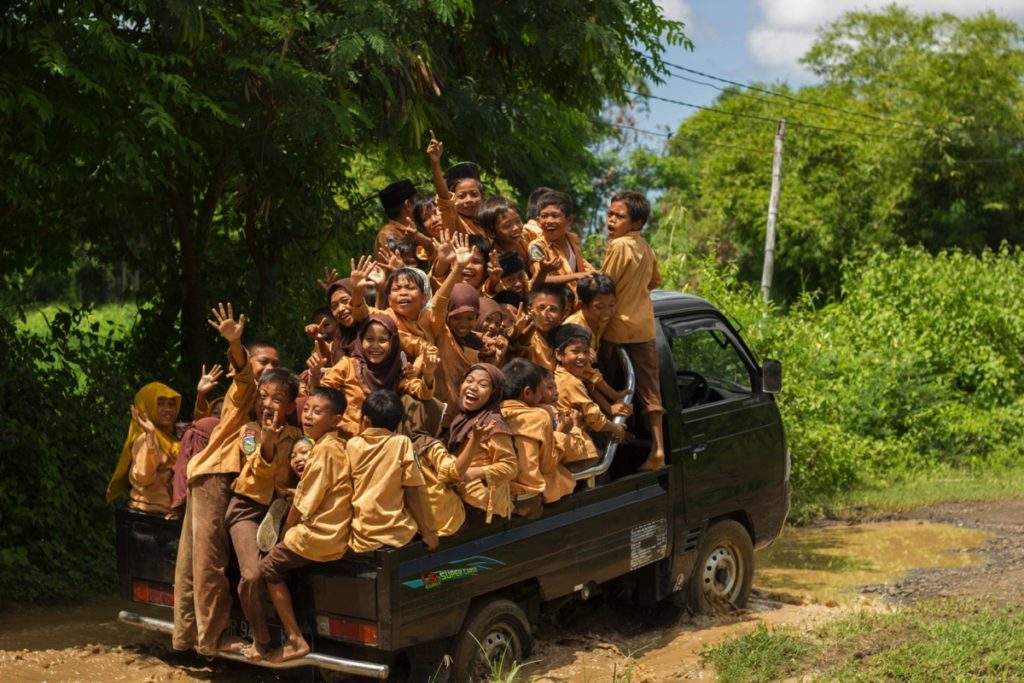 You eventually reach the peninsula of Ekas which is still rather preserved as of 2018 but most of the land have been sold already and many projects are in development. It's pretty popular among surfers and kitesurfers. Many virgin beaches are to be found.
The Ekas peninsula is full of virgin beaches and small islands. I found the Pink Beach rather disappointed personally.
Practical tips
Accomodation
I've always based myself in Kuta but it's not the only options available. I used to stay at Warung Segara on the beachfront but it has been demolished. There are tons of others options a few hundred meters from the beach, the distance is not very important because you are going to rent a scooter anyway.
Last time I've been to Kuta, I've stayed at Kuta Garden Homestay. 100'000Rp for a double fan room, breakfast included, 150'000Rp for AC. Scooter rental for 50'000Rp per day.
Transport
Kuta is not that far from Praya airport, the cheapest from the airport is probably to hire an online taxi using Grab or Gojek (about 70'000Rp). Plenty of drivers await in front of the arrival hall offering rides for 80-100'000Rp.
Several tourists shuttles can take you to other points of Lombok, including Labuan Kayangan (the harbor to Sumbawa) or Ampenan (the harbor to Bali). Public minibus to both harbors leave from Mataram, the island capital.
If you want to hike Mount Rinjani, operators almost always include transport to/from anypoint in Lombok before and after it.
Maps