Located in Lauli domain, Waikabubak is the main trading town in the middle of Sumba and the capital of West Sumba regency. It's a great base to explore the nearby traditional villages.
South of Waikabubak: Praijing, Bondomorroto and others
You can spend one or two days strolling the villages located South-East of the Waikabubak-Waingapu road.
Head out of town and take the road on your left right before Penginapan Ronita. You will soon pass by Pookapo. The villagers are very friendly, the traditional houses all have corrugated iron roof. This villages burnt in the 60s, in the 70s and a third time in 2009. The marapu faith is still majoritary here.
I kept walking more or less in the direction of Praijing. A crowd had gathered in an rather isolated house near Dedekadu. It was not obvious because they were chatting and playing cards but they were mourning. Someone has passed away the previous day. Surprisingly, the body was wrapped in fabrics and simply kept on the veranda.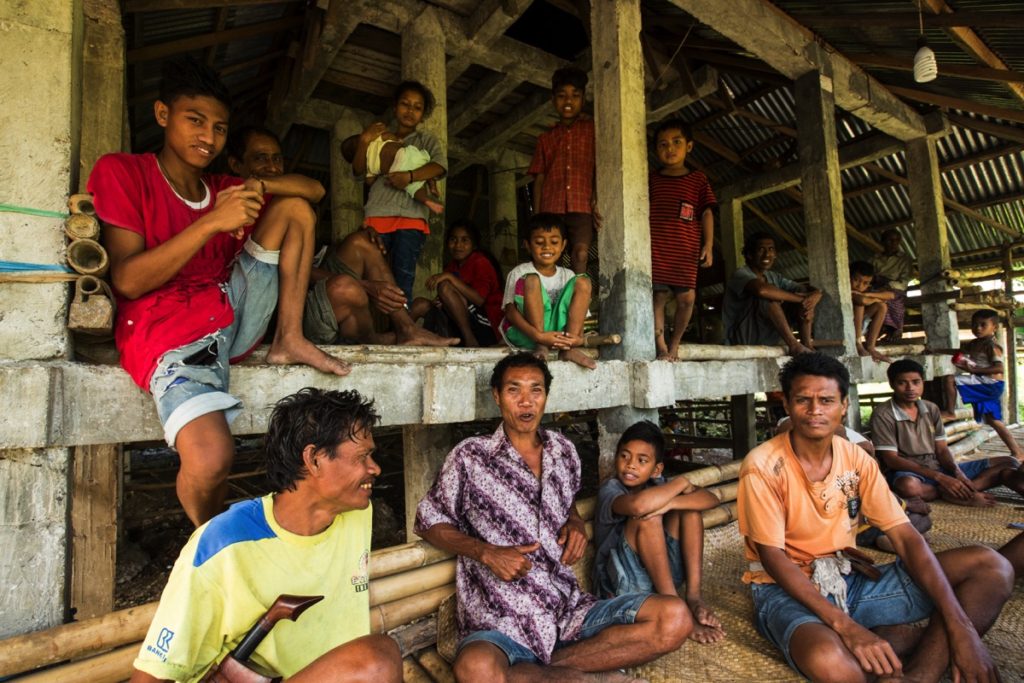 After another bit of walking I reached the traditional village of Praijing. No wonder it is systematically visited by tour operators, it's the most picturesque of the region. Villagers receive funds from the government to maintain the traditional architecture of the houses.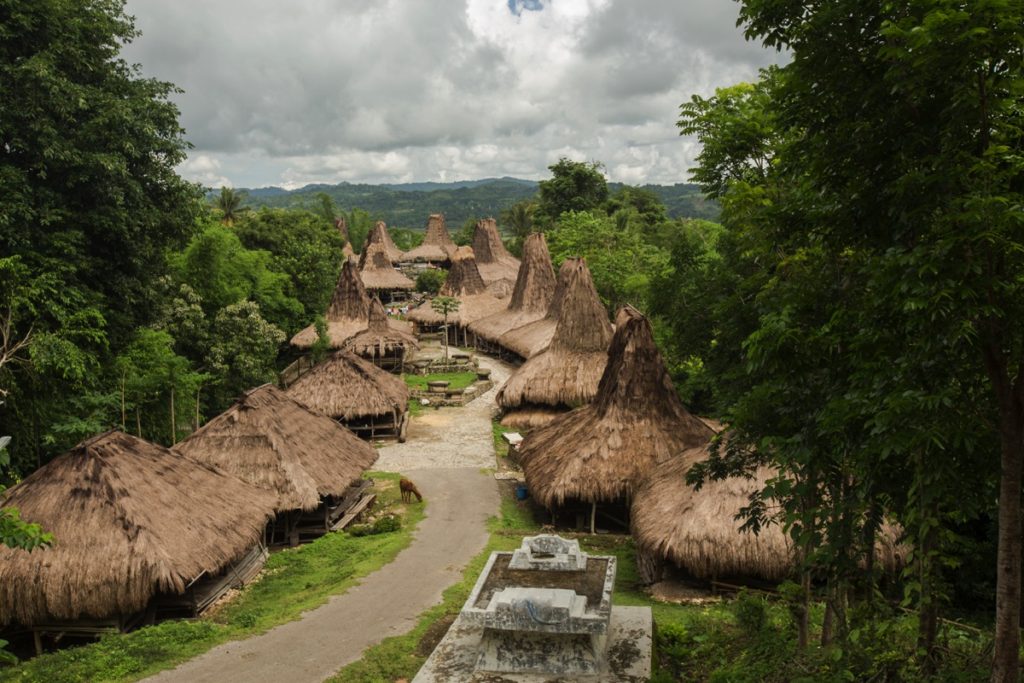 Unexpectedly, I haven't seen any guestbook in Praijing but the village was quite empty when I visited. Children have unfortunately taken on the bad habit of begging for candy and money. Give to the parents if you want to give something.
A bit further up of Praijing you have Primkateti. Inhabitants seem a bit more strict on traditions than the surrounding villages. They requested not to take any picture of the place but were still welcoming and happy to chat a bit.
Near Praijing you have the great village of Bondomarroto, maybe my favorite on in the area. Still completely dedicated to the marapu faith. Very friendly inhabitants, I went there a couple of times during my stay in Waikabubak.
Walking down from Bondomarroto, you have Gollu with some traditional houses and tombs.
Finally you have Elu village with is interesting with its mix of old and new.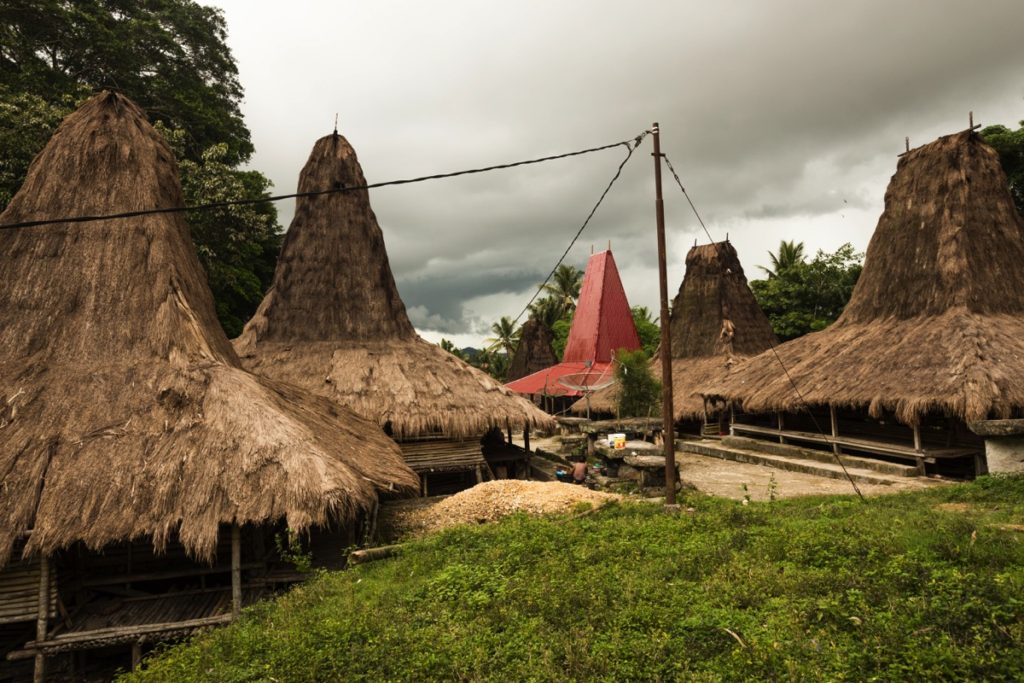 A Sumbanese funeral
One afternoon, I heard a gong being hit in a village near Praijing (I think it was Wanorugo but I'm not sure). I approached to have a look. People were mourning because a female elder of the village has passed away.
I think she was much richer than the one who passed away in Dedekadu because I could witness a flow of affines and guests coming to pay respect to the deceased family. Most brought a piece of cloth (mostly kain) or other gifts, everything being wrote down in a book in order for the gifts to be reciprocated in the future. This time the body was in a coffin. The funeral was scheduled a few days later and I promised to come.
So I went back at 3PM on the given day. A large crowd has gathered and 6 buffaloes had been slaughtered. The division of the meat took very long but the coffin could not be put in the grave before the completion of the distribution. It was actually quite similar to a Toraja funeral.
However, a external visitor is not common to such a ceremony. Everyone was quite friendly but I got constantly asked for cigarettes for instance. I don't smoke so I didn't have any. After 2 hours I bought one to share with a group I had a long conversation with. I think the content of the pack disapeared in 20 seconds and some people complained they didn't had any.
From my understanding, it would be very offending to leave before the end of the ceremony. Most people went home after they received their share of meat and even before the coffin was put in the grave.
As an external guests, I was offered a prime cut of red meat while some young people who worked the whole afternoon cutting meat were given only a piece of guts… It was a bit embarassing. Nonetheless you cannot turn away the meat or even worse return it to the family of the deceased. I ended up giving it to a guest I met during the afternoon away from the other guests and outside the village. Read this article for further information about funerals in Sumba.
North of Waikabubak: Tambera and Gollukoko
Less visited, those 2 villages are located a bit far from town and are best accessed by vehicle. The most convenient is to use the city ojek (check out for orange jackets). I've seen once a bemo on this road but the schedule seems very irregular.
Both were very interesting and rather isolated up a hill. Gollukoko is something like 10km away from town. For Tambera, turn right at Doka kaka. In both villages the population still adheres to the marapu faith.
Gollukoko
I spent hours in this village just hanging out on the outside veranda and chatting. Very friendly people. In the yard, one could see the characteristic dead tree planted at the onset on the rainy season (period of the bitter month or wollu podu).
Our talks were sometimes covered by the outcry of a domestic quarrel in the next house. Traditional Sumbanese house doesn't offer any protection against noise. We could hear everything going on like it was happening in front of us. Everyone seem to have a lots of fun hearing that. I got told that domestic fights were not uncommon and that villagers would take bet on who is gonna win.
Tambera
From Gollukoko you can either walk (a couple of km) or try to get a ride from someone passing by. Tambera is located above the village of Doka kaka, where the villagers who converted and have chosen to built a concrete house stay. Ties with the ancestral village are still strong and most have family members in the two villages.
Elders in Tambera were very keen on explaining their traditions as well as extremely welcoming.
By chance, a small ritual had to be carried out the day of my visit, I got told they had to gali tulang "dig the bones". An old woman has passed away down in Doka kaka. Given husband and wife have to be burried together (and separated from their adult children), a tomb in the middle of the village had to be opened to get the bones or her late husband.
As with any important event of the life cycle, the ancestors are consulted and informed of the project.
Once the stone slab was put away, the main issue was to find the right bones. Several people are buried inside a given grave so the elders have to remember based on the fabric used to wrap bones which one belongs to who. After some concertation, the remains were taken out.
The elder of the concerned clan who leads the ritual matters (called rato, here there is one for each of the 11 clan (suku) of the village) pronounced a speech in the ritual language that I don't understand in front of some offering of rice, areca nut and betel fruit. Then a young pig was killed and his liver taken to read the omens.
Festival Wai Humba
A rather young cultural festival which is held each year in a different place of Sumba. It aims at preserving the cultural heritage of Sumba (Humba in most Sumbanese languages). In 2017 it was held on the 1st, 2nd and 3rd of December in Tambera. I attended only the first day when all the delegations arrived, slept in Doka kaka and went back to Waingapu the second.
Once the delegation arrived, everyone went up to Tambera. Some ritual precautions had to be taken to let such a large amount of foreigners enter the village. It probably reflects what G.Forth reported in his 1981 book, in Rende "when a new bride, an important guest or someone who has been absent for a time enters the village, a priest must first place an offering outside the gate the ensure that any spirits which might accompany the person do not also gain entry". In the Sumbanese tradition, the land outside is populated by malevolent spirits which have to be warded off from the village (see this article if you are interest of the spirits in Sumba).
Tambera was crowded. At nigth I've witnesse an interesting scene: rato from all parts of Sumba talking together in a veranda. Something probably impossible a few decades ago when the use of Indonesian was not so widespread (Sumbanese dialects can be very different each one from another).
Anakalang
Anakalang is not really near Waingapu, and I've almost skipped this region. I stopped on my way from Waikabubak to Waingapu, asked for a warung to keep my backpack for a while to headed South to see the most impressive carved stone slabs of Sumba.
Ask to get dropped in front of Pasunga village. You can walk freely inside, they seem used to see tourists. There is a couple of interesting graves near the entrance, but you'll see other more impressive later.
An ojek to the spot below costs 10'000Rp but you can also walk it's not that far (a few km).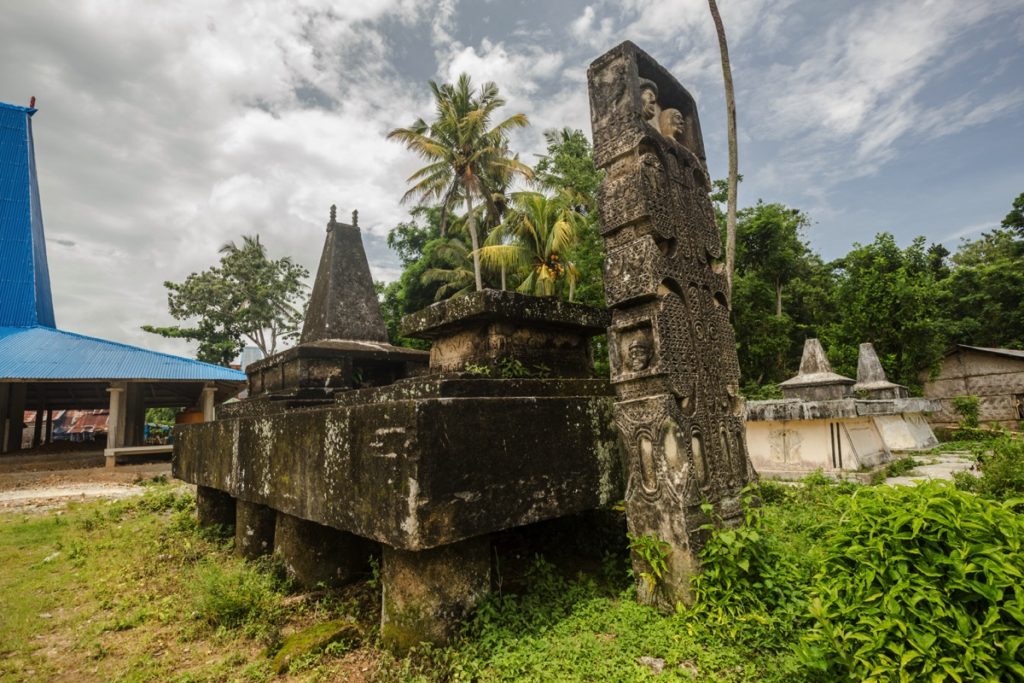 I cannot imagine the number of people needed to pull this stone. It's multiple time larger than the one I've seen being pulled in Kodi and there was already 50 people.
Keep walking 50 more meters and pass the small bamboo arch on your left. There is a traditionnal village there and at the end of it another very large tomb with impressive carving. I got told the owner brought a famous sculptor from Bali to make it. They wanted an exagerated price to let me take a picture of it (100'000Rp) so I gave up but having a look on it is of course free.
West of Waikabubak: Tarung and Weelewo
Tarung is on a hill in Waikabubak. Unfortunately it has burnt down in 2017. I don't know exactely where they stand in the reconstruction process. In Tarung you can find Juliana (she also goes by the name Mama something), a English and French speaking guide which I met by the time of my visit. I didn't hire her but from our discussions she seems very skilled. Her contact is in the Lonely Planet.
A bit more than 10 km west of town you can find the traditional village of Weelewo. A bemo there cost 5'000-10'000Rp (got different price in two rides), beware because lots of bemo head West from Waikabubak stops at KM3 or the public hospital (RSU), so ask first where they heading. From the main road you can walk or find an ojek for 5'000Rp.
In Weelewo most of the inhabitants have converted to Christianity, but the traditions are still strong so ask before taking any pictures because they don't want some ancestral houses to be photographed as well as the altars at the back of the villages. They have tourists staying overnight from times to times.
Nearby you have an interesting field full of tombs.
I met Agus' family not far from the last spot. At first I just wanted to ask to permission to take the picture of a colorful tomb in his garden and he was reluctant. A long conversation followed, he told me many were pissed by tourists stealing pictures (curi foto). According to him, the taboo on taking the pictures of tomb was applying only to a couple of very old tombs (he later let me take my picture), some of them they didn't even remember who was inside. But the oldest were inhabited by powerful spirits that should not be bothered or offensed.
Often outsiders would see large snakes or bold man lurking around those tombs while local could stroll the area without any danger.
Practical tips
Accomodation
In Waikabubak I stayed at hotel Aloha, 200'000Rp for a double room, cold bathroom, small breakfast. The owner is not very welcoming but the rest of the staff is nice.
There is not a lot of choice to eat in town. My favorite was a warung run by a Lombok immigrant (it's probably called warung sasak) that sells great ayam taliwang.
Transport
Regular buses run all day long between Tambolaka, Waikabubak and Waingapu. Shared taxi (travel) are also avaible for a premium.
5 hours and 75'000 from Waingapu to Waikabubak (I may have overpaid).
A bemo ride from Waikabubak to Angkalang is 10'000Rp.
There is a daily bus leaving from Wanokaka around 7AM and returning from Waingapu around 2PM. Fare is 10'000Rp.
Bus from Waikabubak to Tambolaka costs 25'000Rp.
Maps
I put most of the places mentioned on the map below, except some villages.
Other articles on Sumba
Start here before reading all the articles about Sumba