This a trip report of 4 days I spent visiting the Kinabatangan river in Sabah with KOPEL in the village of Batu Putih early September 2022.
Visit the Kinabatangan from Sukau or Batu Putih
Narrow stretches of riparian forests along the Kinabatangan river are protected and offer some of the best wildlife spotting opportunities in Sabah (the wildlife has just nowhere to hide). You have do both boat cruises and some nature walks.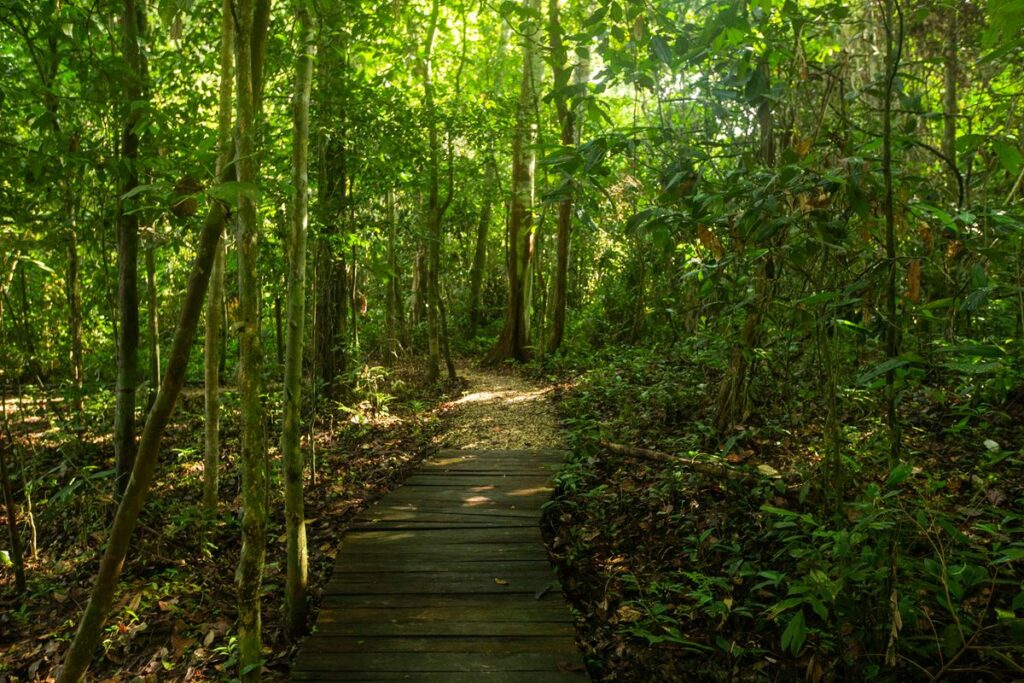 Most visitors based themselves from the village of Sukau. From the main road going from Sandakan (or Kota Kinabalu) to Lahad Datu you need to take a secondary road for about 40 km.
A few kilometers before Sukau I can see at least 2 other accommodations in Bilit village.
Another possible base is the village of Batu Putih.
I chose to visit from Batu Putih because it has excellent rating for its jungle camp (Tungog Lake Eco Camp on Google Map, they call it TREC themselves) and it's easier to access by public transport because it's located directly on the main road from Sandakan to Lahad Datu.
It was a great choice.
My stay with KOPEL
KOPEL (formerly) MESCOT is a tourism cooperative managed by the villagers of Batu Putih. They offer the same activities as in Sukau (river cruise, forest walks) and they have 2 options to sleep :
The Mandaa stay directly in the village (about 20 persons dorm for 45RM per person, private rooms for 120RM per person).
The jungle camp build around Tungog Lake that is reachable by boat only (about 10 minutes from Batu Putih).
You are allocated a guide for the duration of your stay. Mine was Budin and he was great. He put lots of effort to help me see what I wanted to see.
The river cruise
You just sit and enjoy. Binoculars are a must.
I saw tons of proboscis monkeys but also southern pig-tailed macaques and silver leafmonkeys (including a rare golden morph). And of course the usual macaques.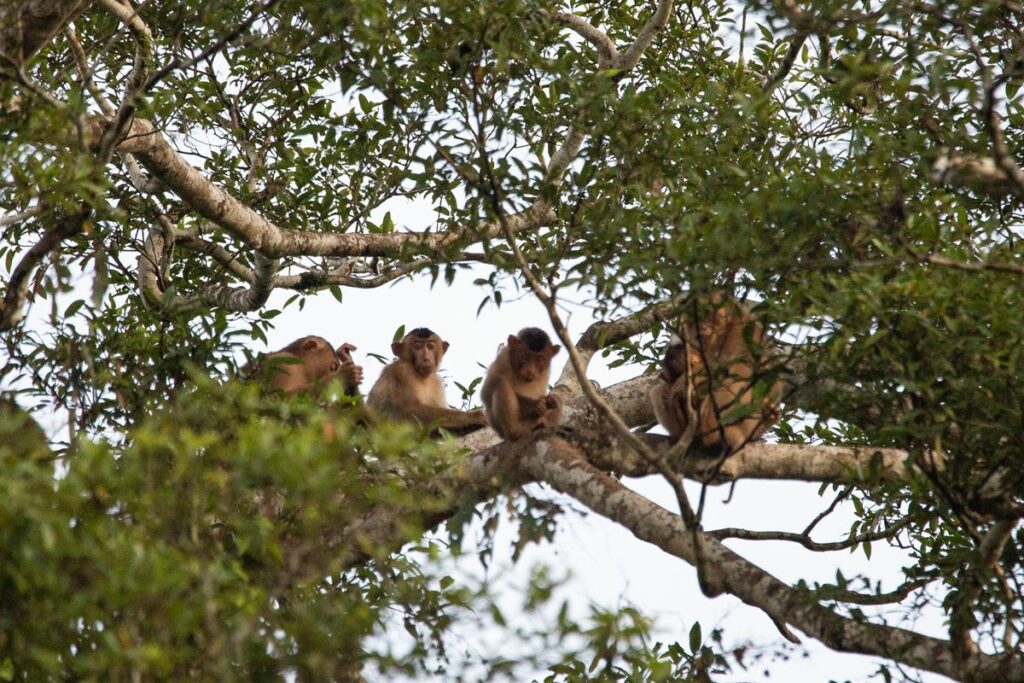 I had only a very short sighting of a female orangutan from the river.
I couldn't take the picture I dreamed of the the rhinoceros hornbill, but I did see 4 species of them (oriental pied, black, wrinkled and rhinoceros) :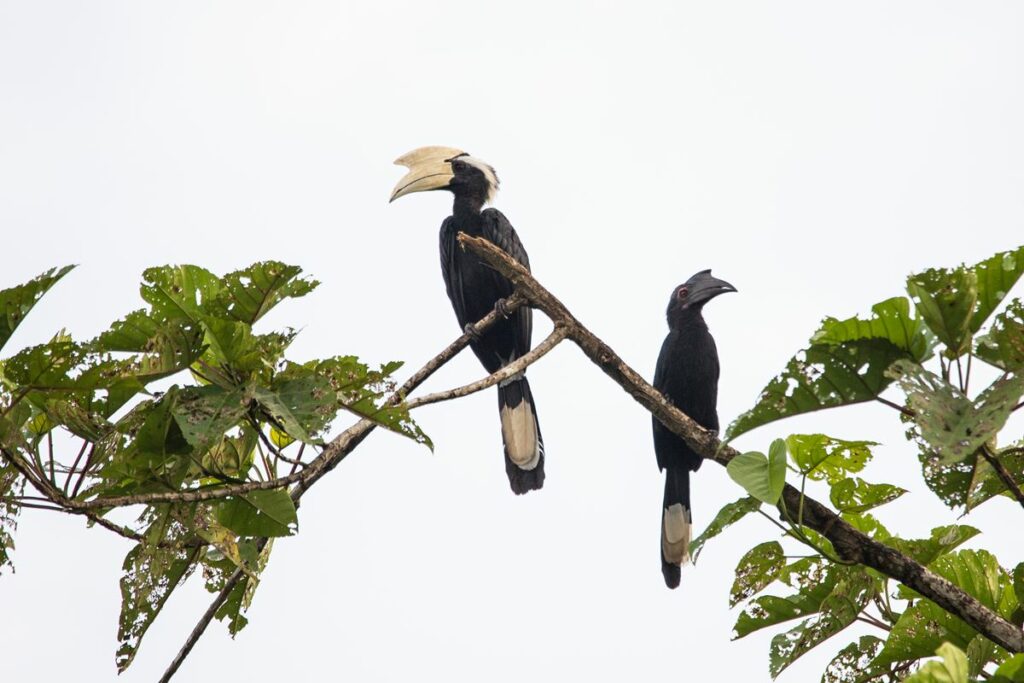 I also saw a couple of interesting birds.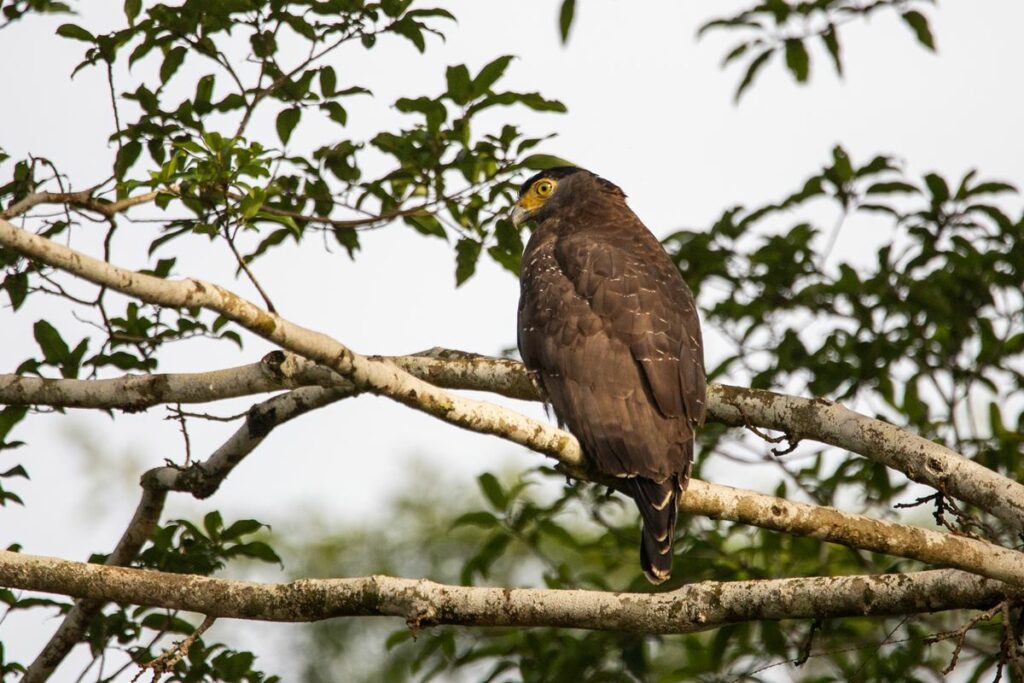 I did saw a crocodile on 2 occasions :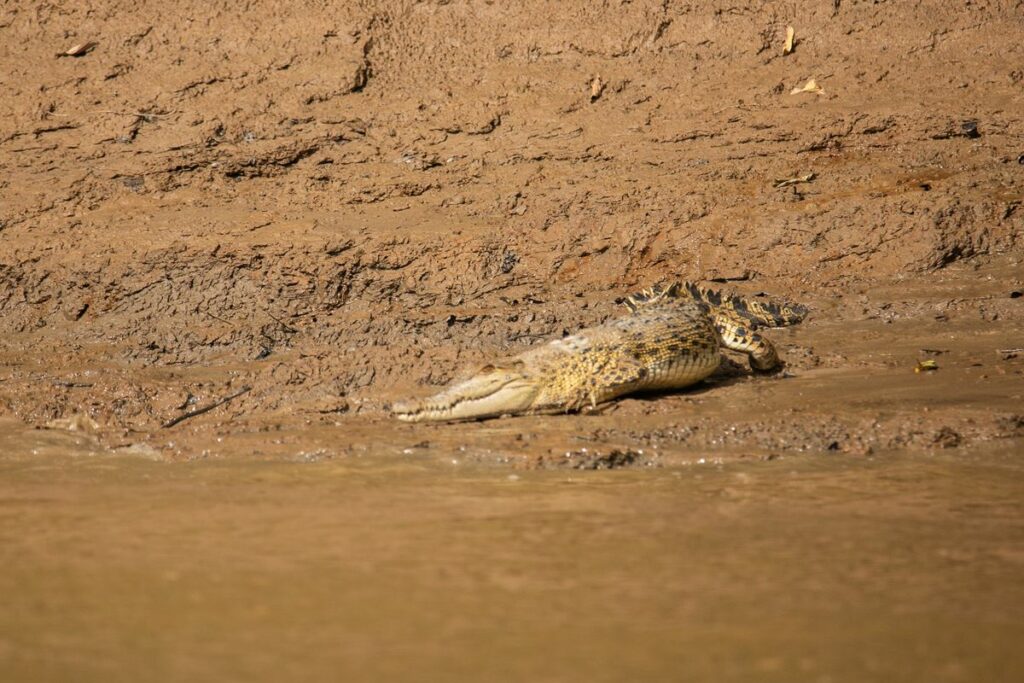 The forest walk
I did one forest walk with Budin on a morning. We didn't saw much wildlife but gibbons from afar.
Orangutans were seen by other guests on another day.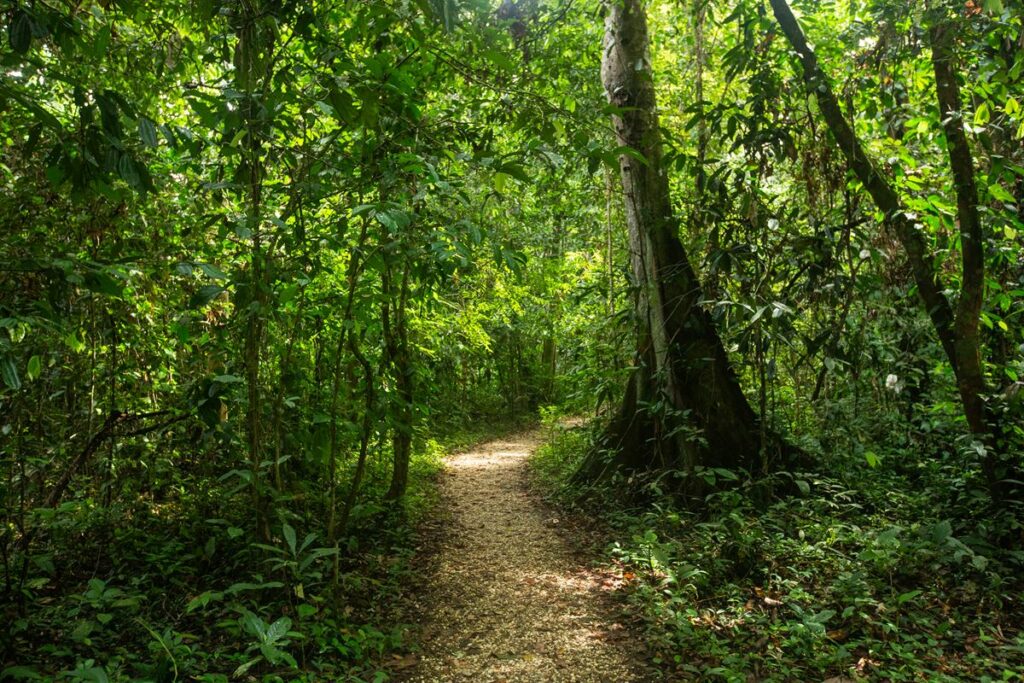 I also did with other guests 2 night walks that were quite interesting. I discovered luminescent fungus and it was a magical moment for me.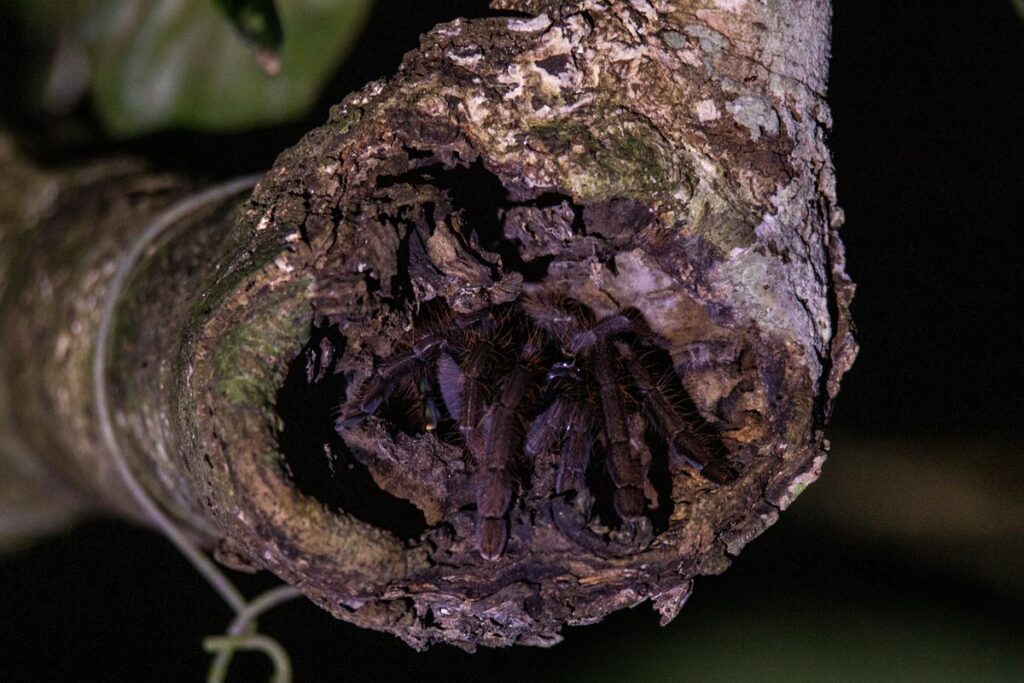 Other activities
In your package, KOPEL always include by default a visit to an old cliff burial site which accessible by road. It's quite interesting place reminiscent of other sites in Philippines or Indonesia.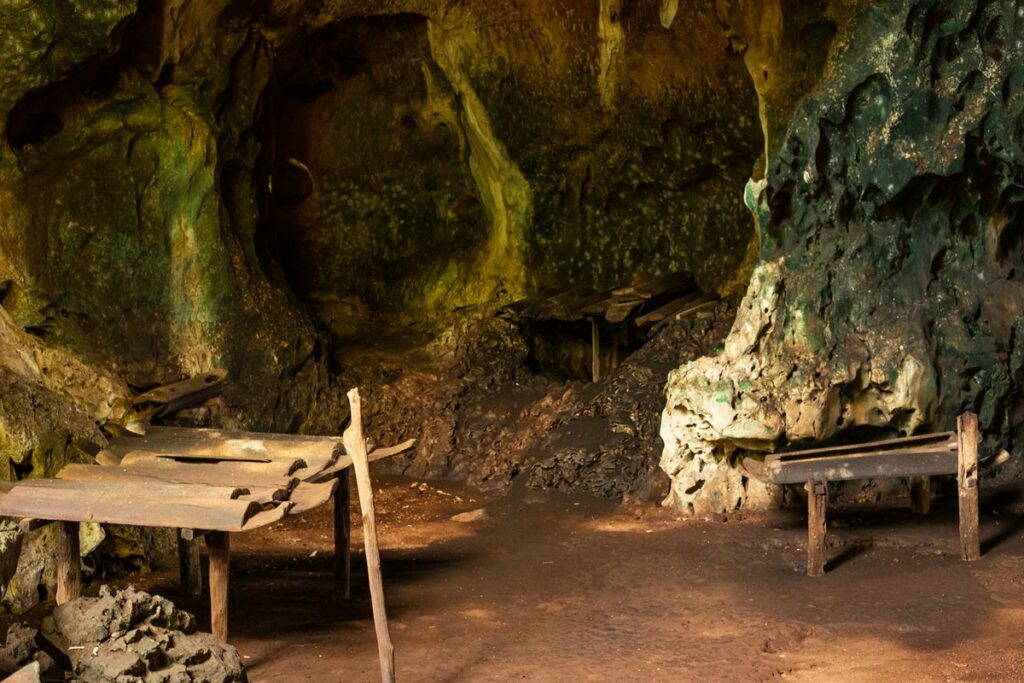 They also include a tree planting activity that I chose to skip. A visit to KOPEL's tree nursery is quite interesting though (but I've ever seen that many mosquitoes in one place).
Facilities
About 5 minutes away from the river, you have the common area of the camp : a large wooden deck by the lake and the dining area (your meals are brought every day by boat).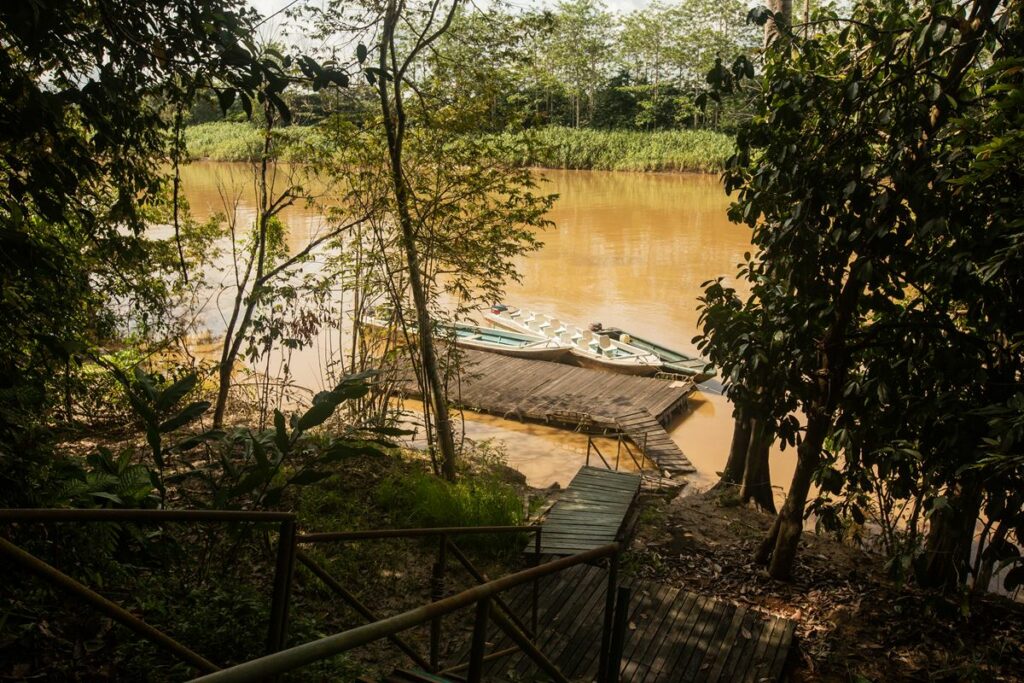 There is about 10 rooms. You sleep on a mat on the floor and you have toilets and cold showers downstairs.
Overall I enjoyed that place very much. Comfort is limited though if it's important for you.
Organize your stay with KOPEL
Booking & cost
I simply contacted them through their website. Their answer was quick and the communication efficient.
Don't really spend too much time on their proposed package. You can add or take out anything you want during your stay and they will update your bill on the go.
Overall my 4 days 4 nights stay costed me 887 RM (all included). So about 190€ for 4 days.
Detailed costs are :
Accommodation at TREC is 67 RM per person per day.
3 meals per days costs about 60RM per person per day (standard rate).
Boat cruises are charged about 50 RM per cruise (about 1,5 hours) to be divided among people in the boat.
Guiding fees are about 40RM per person per day.
Entrance fee for the forest is 15RM per person per day.
Burial cave fee is also 15 RM per person.
Coming to Batu Putih from Sandakan
I reached Batu Putih from Sandakan by public minivan. From the Sepilok RDC, I booked a Grab taxi (21 RM) to Sesien Letat Jaya.
From there i waited a bit less than 2 hours (it was 11AM when I arrived) for a minivan to depart to Lahad Datu. Just tell the driver you go to Batu Putih village at KOPEL they will know. It costed me 30RM.
For your information, the Grab driver told me he was usually taking the tourist to Sukau for 170RM per car (I guess you can bargained this down a little bit).
It took us about 2h to get there and the driver dropped me right in front of KOPEL office (under the bridge crossing the Kinabatangan river).
As Batu Putih is right on the main road of Sabah, any bus from Kota Kinabalu going to Lahad Datu or Semporna can drop you on the way (you will have to walk about 200m from the main road).
Going to Lahad Datu from Batu Putih
I spent my last night in Batu Putih in the village homestay (Mandaa stay). I set off around 10:30AM hoping to catch the morning buses that had left Kota Kinabalu in the morning.
There is no shade at the junction with the main road. Better wait about 15min walking further on the road near the Pertamina station. My guide from KOPEL was supposed to have arranged a short transfer with van there but there was no van available in the end so I just walked.
There were actually few buses passing by. I forgot if they just didn't stop when I flagged them down or if I thought a bus going to Semporna wouldn't want to take me only to Lahad Datu.
In the end I met again the same minivan and driver I had from Sandakan and he took me to Lahad Datu for 20RM.
Would have been smarter to take his phone number on the way in just to arrange a pick up.