Dieng is a moutainous plateau located near the town of Wonosobo in Central Java. It is thought to have been one of the oldest Hindu religious complex of Java, thriving in the first half of the 8th century, under the Sanjaya dynasty of Mataram kingdom.
The name Dieng is thought to originate from Old Javanese (Kawi) di (place, mountain) and Hyang (god), so roughly meaning "Abode of Gods". It is nowadays usually called Dataran tinggi Dieng in Indonesian.
Historians thinks that Dieng used to be dotted with dozens if not hundreds of temples, yet only few survived until these days. They were built at a time when the kingdoms of Central Java were less powerful than we they erected Borobodur and Prambanan about a century later.
As very popular destination, Dieng gets a constant flow of local tourists and it gets very crowded in the weekend. If you can, better get there on week days.
Dieng if one of the few villages in Indonesia which regularly experiences frost especially at the peak of the dry season in July and August. Frozen morning dew is a very singular sight for Indonesian and every year the cold weather of the area makes it to the national news.
Hiking Mount Prau
In my opinion, it may be the most beautiful moutain view of all Java and an easy hike. No wonder hundreds of camper get there every weekend.
There are several ways to get to the summit, all explained on the always useful Gunung Bagging. The most practical one starts directly from Dieng village. When you are at the crossroads, the wall with the word Dieng written in huge letters on it in behind you, get up the road to Wonosobo for 100m and take the road on your left. Follow it until the hiking post. Register for 10'000Rp and take the trail. It took me 1h30 to reach the true summit, but the best views over other Javanese peaks is to be found another 15m walking further.
The view in the morning is astonishing.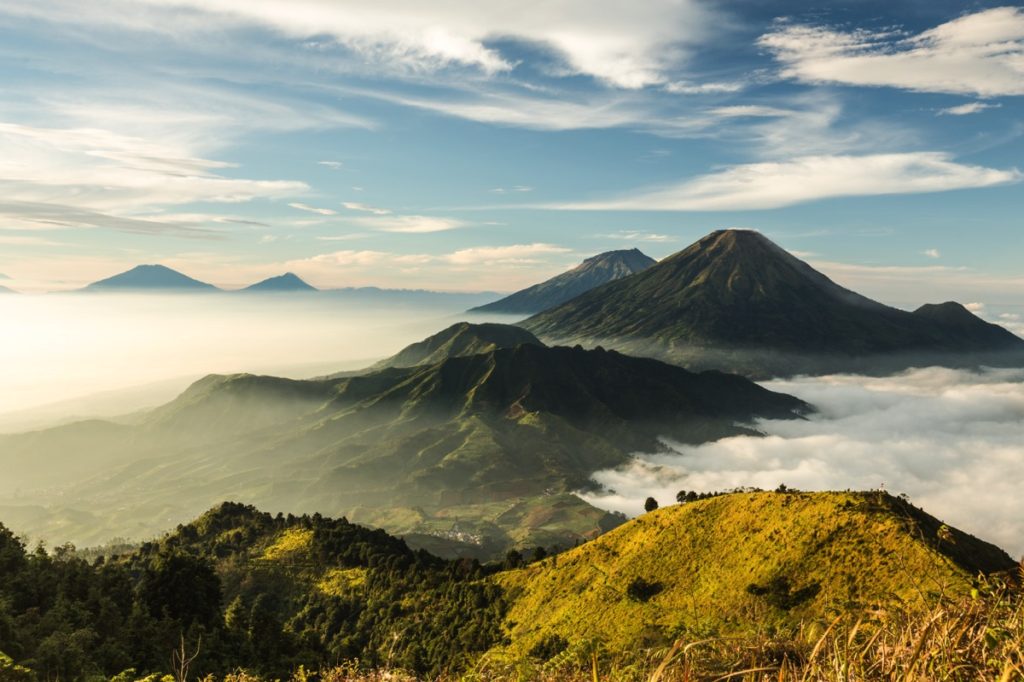 Mount Prau is the highest point of this moutain but you have a long and large ridge on both sides of the summit.
Those looking for calm and fresh air could easily camp away from the crowd.
Camping gear can be rented in Dieng, but if you just want to see the view, it is far from necessary to camp overnight (just wake up a bit early and climb before dawn).
Lakes, hills and craters
I will list below various spots that be visited within one day. Those are my highlights of the area.
Sikunir hill (Bukit Sikunir)
I visited once during public holiday, there were so many people coming down from the mountain after sunrise that I got stuck for 30 minutes on the hill. Better avoid weekends.
The road from Wonosobo makes a crossroad with Dieng main street at the entrance of the village. Turn left to go to Sikunir when coming from Wonosobo. The ride takes about 20-25min by motorbike, much more by car because of the traffic !
You pay 10,000Rp for entrance and 5,000Rp to park your motorbike. There is a camping ground next to the parking.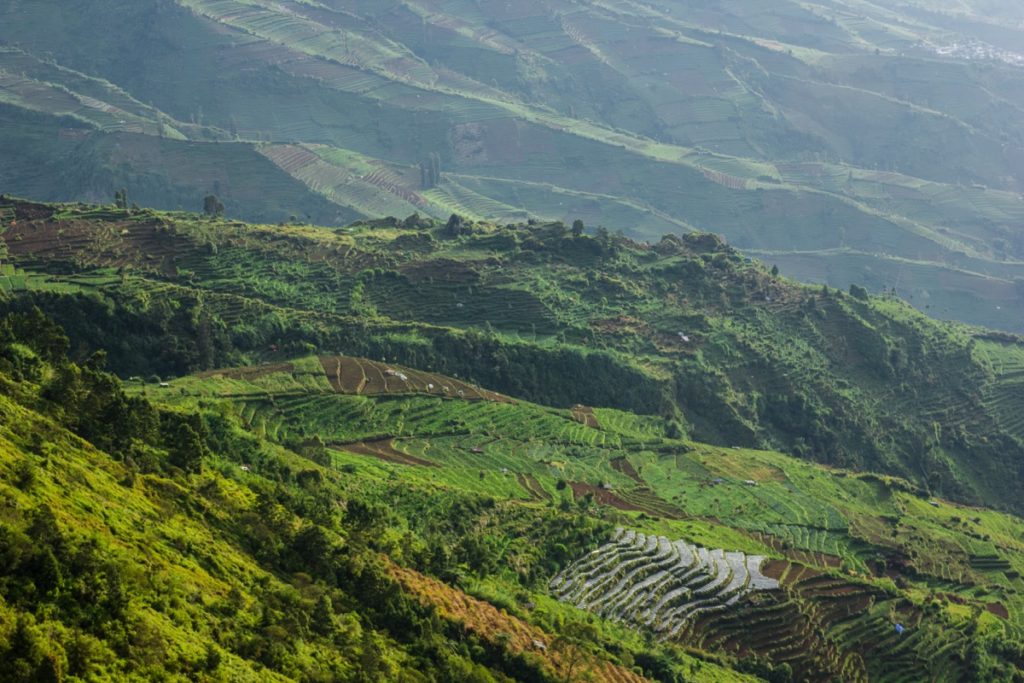 The hike to the top of Sikunir hill takes about 30min. Put on some warm clothes, it's windy up there.
From the top of the hill you can enjoy a large view over Dieng and Mount Sindoro. Behind the hill you are overlooking Telaga Cebon.
Sikidang crater (Kawah Sikidang)
After you enjoyed the sunrise over Dieng valley from Bukit Sikunir it's time to go down and to eat breakfast. Potatoes are highly popular in the area, probably because the climate is cold enough to grow them.
Get back to Dieng. After 15min you should see a track on the left that goes to Kawah [Crater] Sikidang.
If you have bought a ticket to Candi Arjuna, then it includes the entrance to Kawah Sikidang (15,000Rp for local/30,000Rp for foreigner). Otherwise you can buy a single entry ticket.
The crater looks like a large boiling cauldron, an interesting natural curiosity.
Local have created some attractions around the site: quad riding, photobooth with owls or snakes, souvenirs shops …
Telaga Warna & Telaga Pergilon
Near Sikidang and on the way back to Dieng you will pass by 2 lakes, but you can also see an entrance gate from the road. The two lakes are called Telaga Warna and Telaga Pergilon.
The pricing for foreigners is stupidly high (150'000Rp, 8'500Rp for locals) so you might want to skip this place even though the view from the top is quite nice. There is another trail leading to a higher viewpoint that is less expensive but I never went there.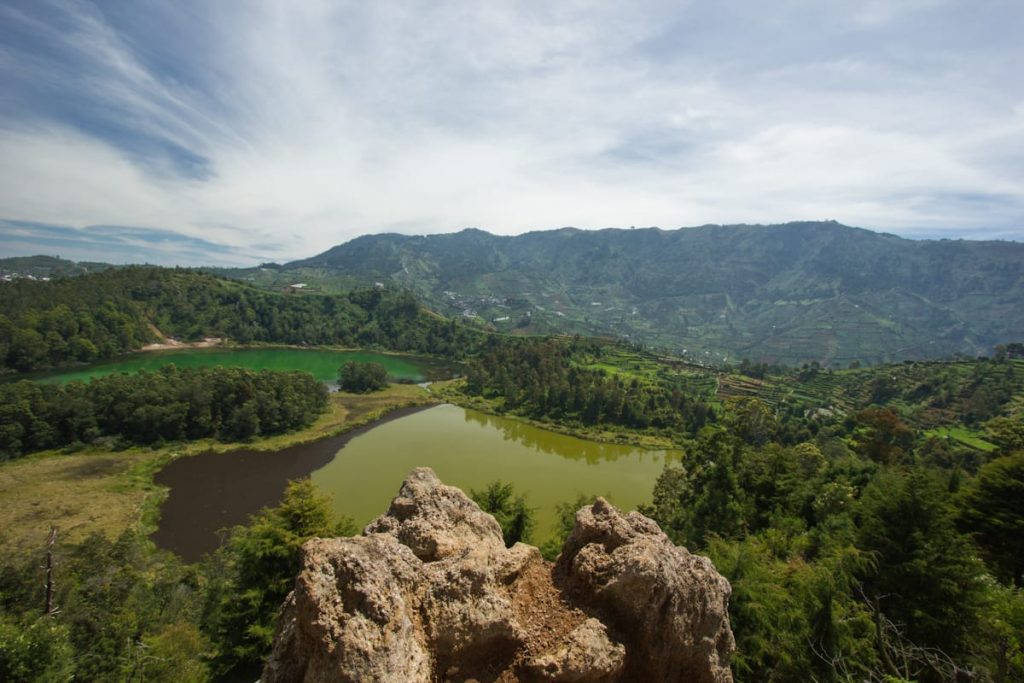 Like in Kawah Sikidang, local set up some attractions for tourists.
Telaga Merdada
It's a nice lake popular for fishing. After spending 15min there talking with fishermen a guy came up and told me I have to pay 5,000Rp for entrance. There is no booth but he handed me over a ticket that looked official.
If you wanna go there from Telaga Warna go back to Dieng, and follow the main road. Once you're out of the village take the first road on your left.
At this point, it should be 2 or 3pm and I guess you would get tired after waking up at 4am.
Wandering around
Dieng Plateau has very nice landscapes to offer and amazingly nice inhabitants to discuss with.
Exploring the area on foot or motorbike without any plan is actually an excellent plan. Remember that weather is usually way better in the morning.
Other points of interest
Tourist maps are available everywhere either in your homestay or on billboards in front of each site. There are other sites to visit than the few I listed before.
One important stuff: the weather easily cloudy in the afternoon. Better wake up early and see as much as possible in the morning.
There are a few hindu temples left in Dieng. The most preserved is called Candi Arjuna.
You will probably come to Dieng from Yogyakarta where you would have visited massives temples like Borobodur and Prambanan.
Dieng's temples are much more modest that its southern neighbours. Yet, if you appreciate history, you will probably be interested by their filiation with the more recent large temples near Yogyakarta.
Besides Kawah Sikidang, you can see two other craters : Kawah Candrimuka and Kawah Sileri. Sileri erupted in 2017. Honnestly I wasn't really thrilled by those 2 places but I made the mistake to visit them in the afternoon so the weather was poor as well as the view. Sikidang is more impressive.
The road to Kawah Candrimuka was really bad in September 2016. Don't go there if you don't trust your driving skills.
Dieng Theater that you can see on tourist maps is a theater with 60 seats that casts documentary film about Dieng.
How to come to Dieng Plateau ?
The 2 closest city with an easy access are Semarang or Yogjakarta. I never been to Dieng from Semerang but I would expect to take a bus to Wonosobo and then another one to Dieng.
From Yogyakarta
From Yogjakarta take a local bus from Jombor station to Magelang (15'000Rp). You could also take a bus heading to Semarang from Bawingan station but if it's an express (patas) then you will pay to full fare to Semarang even though you get off in Magelang (40'000Rp).
In Magelang you have regular buses to Wonosobo (25'000Rp).
From Wonosobo bus station, get on a yellow angkot (city minibus) and get off at Alun-Alun park (3'000Rp).
On Jl. Pemuda in front of the Great Mosque you have small buses leaving for Dieng until approximately 4PM. I paid 12'000Rp on the way up, on the way down the bus I got was more recent and the drivers asked for a little bit more (no more than 20'000Rp).
Otherwise you can book a shared taxi (travel) from Yogyakarta that will pick you up at your accomodation and take you to Dieng for 70'000Rp in 4 to 5 hours.
Last solution, rent a motorbike in Yogyakarta (or Semarang) and drive by yourself. Classical short-term motorbike rental in Yogya is charged in 2018 about 75'000Rp/day. The road to Dieng is not very scenic unless on the last kilometers, it takes 4 to 5 hours depending on how much trucks you have to pass.
Motorbike rental is also widely available and Dieng but the classic rate is around 150'000Rp per day. Distances are not huge and a keen hiker could visit all the sites on foot without trouble.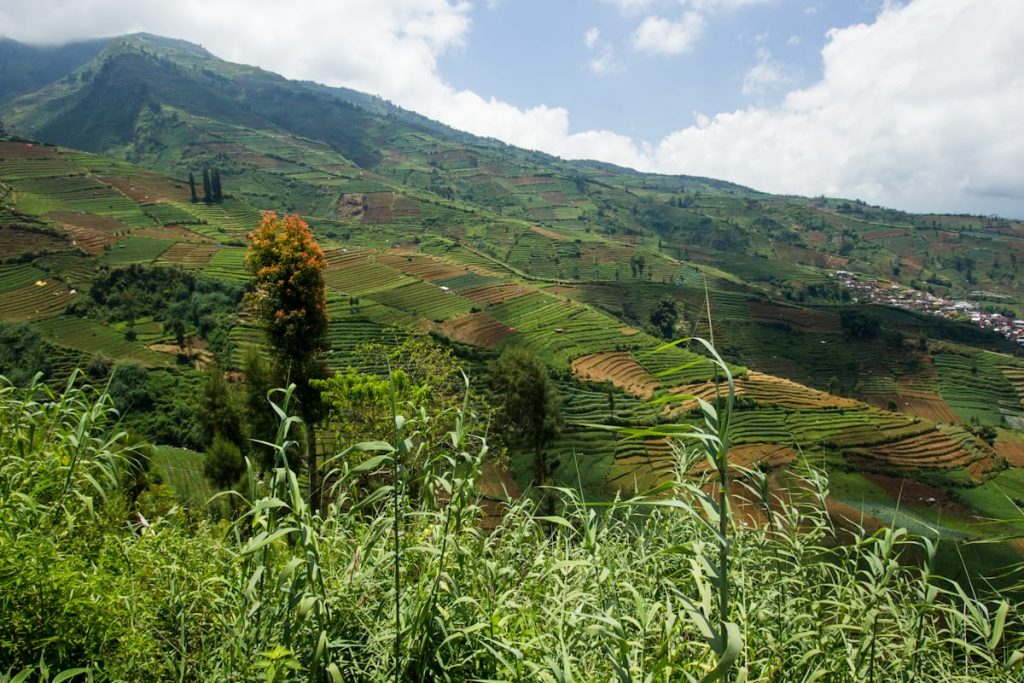 Accomodation in Dieng
There are tons of homestays in Dieng or Sembungan (the village located next to Bukit Sikunir). Room price ranges from 80'000 to 150'000Rp. There is no need to book in advance unless you go there on a bank holiday.