Mount Merbabu is a great hike in Central Java offering superb views over Mount Merapi.
Several routes exist to the summit, I chose to hike from Selo, which is the closest route from Solo or Yogyakarta.
Mount Merbabu is protected by a national park status, which involves special regulation that applies to hikers. In this article, I will explain how to work around them as a foreigner hiking independently.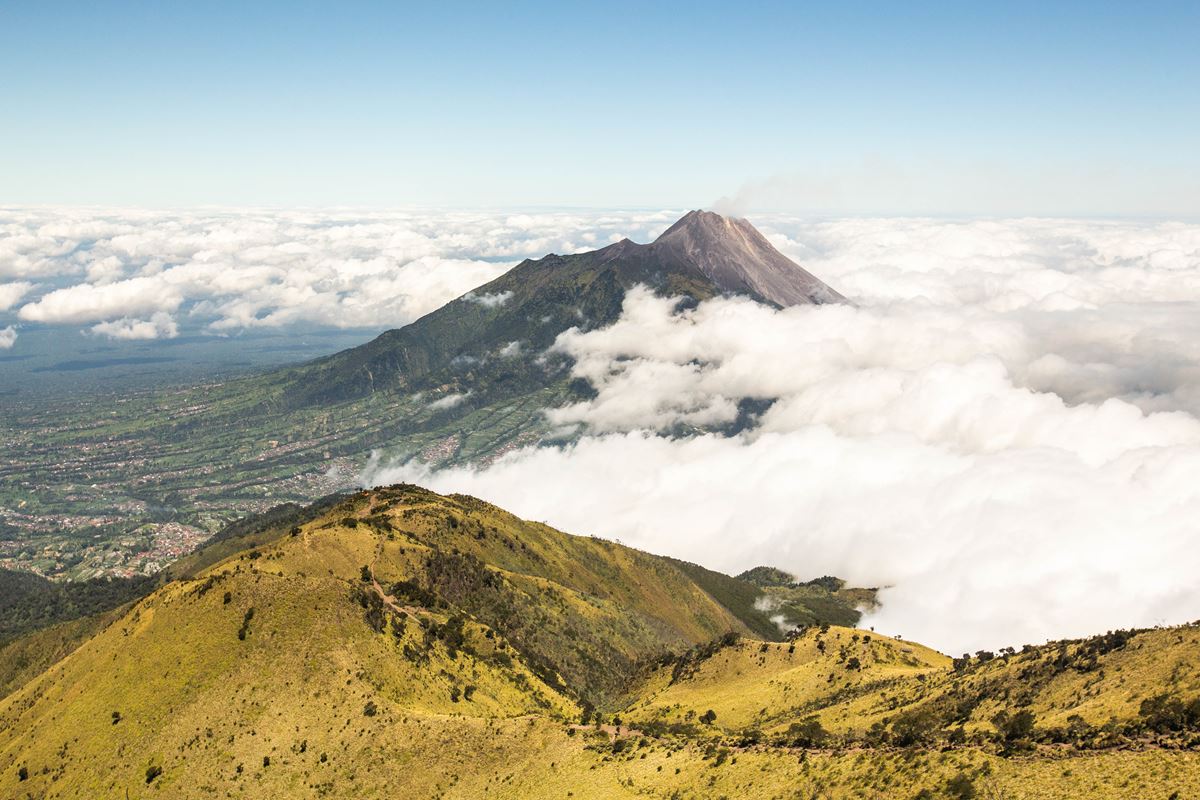 The hike from Selo
The hike is pleasant and not difficult, at least by the month of August which was quite dry. It took me 3h40 to reach Triangulasi summit from Selo basecamp. Spent one hour on the summit and descended in 1h40.
The track goes through 3 successive rest posts, then leaves the forest and reaches a first camping ground called Sabana 1. After a reasonably short bu steep hike you reach the second camping ground (Sabana 2) then another steep section and you reached Triangulasi summit at 3145m.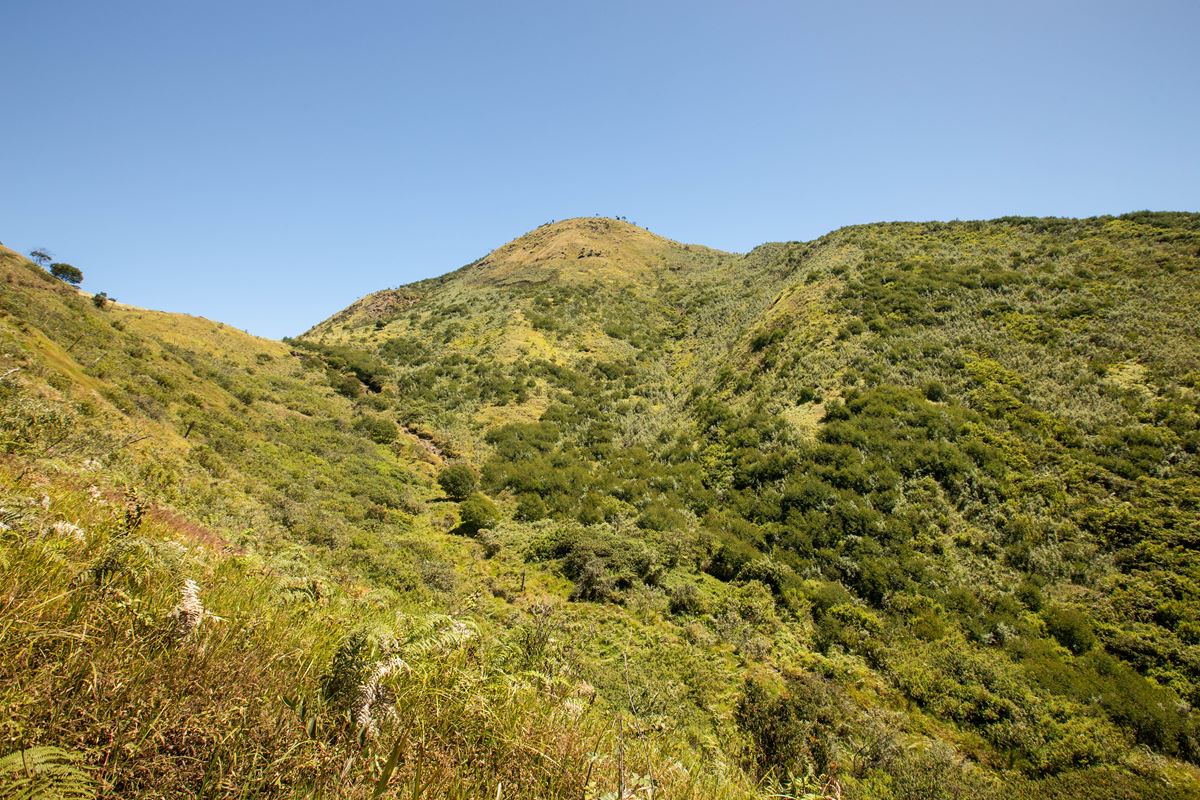 Despite setting off at 9AM (time to find companions and register), Merbabu remained clear of clouds throughout the day. Clouds got denser and denser around Mount Merapi as the day was advancing though.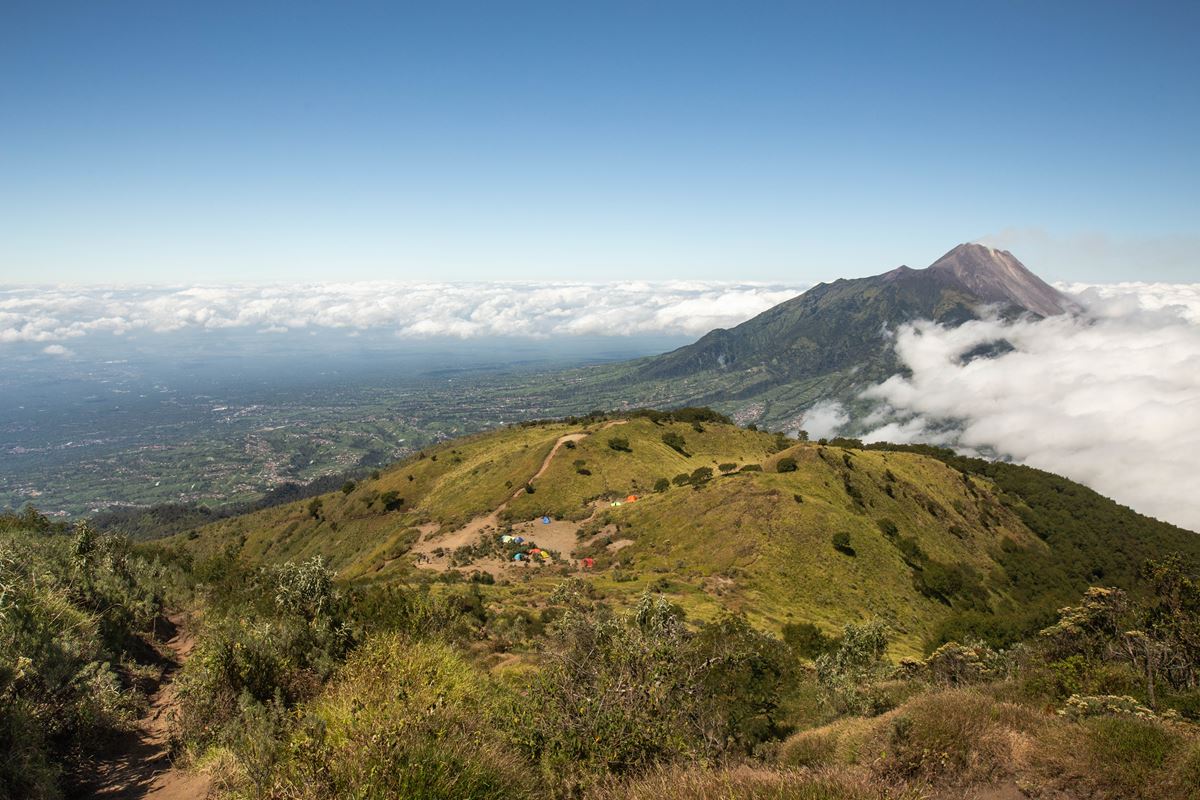 You can reasonably hope for perfectly clear views of Merapi around sunrise. As it is now not possible to hike at night, the only options for this is to camp (and so pays another day of NP entrance fee).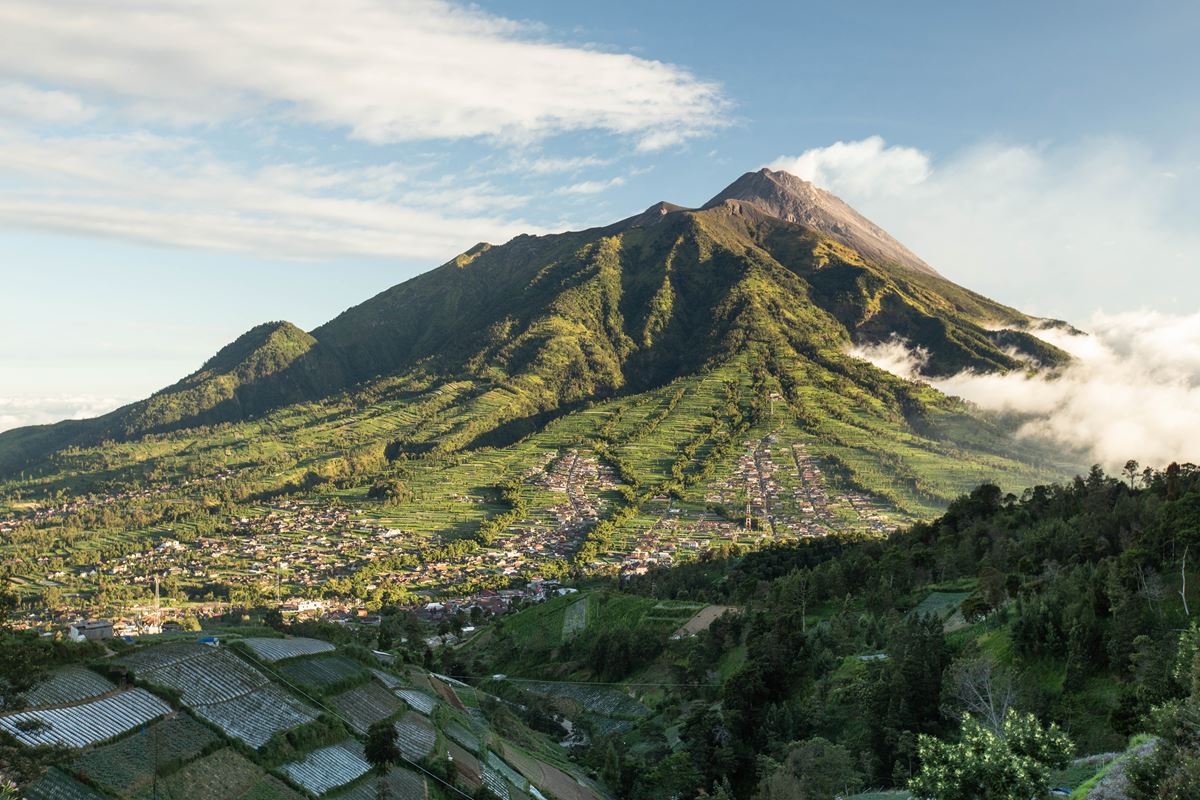 Also when I reached the summit I could barely see Mount Sumbing, Sindoro, Prau because of clouds.
Great information about the hike can be found on Gunung Bagging.
The hiking track from Selo is shown in Maps.Me.
Budget wrap-up
National Park permit : 150'000Rp for one day (weekday, increases to 225'000Rp on weekends and public holidays. You will likely want to avoid these days unless you enjoy crowds).
Flat fee for hiking and insurance : 5'000 + 2'000Rp.
Entrance ticket to basecamp : 5'000Rp.
Motorbike parking in basecamp : 5'000Rp.
Group one-time fee for ranger service in case of evacuation : 15'000Rp.
Packed lunch, biscuit and water bought at the basecamp : 26'000Rp.
Total cost of the hike itself (one day) : 208'000Rp.
To this, one should add :
Permits for my local companions : 34'000Rp.
Night in Selo Homestay : 200'000Rp.
Motorbike rental from Solo : 85'000Rp/day (+ gas).
How to register online to hike Mount Merbabu in 2022 ?
You cannot anymore just show up at the trailhead, register for hiking and hike. A mandatory registration online has been put in place since a few years.
Basically the most difficult part of this hike today is to register…
The issue is that no one really thought about the case of foreign tourists using that system (starting by translating the booking website in English !). My guess is that it was assumed that foreigners would mostly hike through travel agency.
Few rules to know
All hikers must register beforehand on the national park website. Registration shows up immediately on the rangers system so it's possible to register on site provided that the hikers cap has not been reached yet.
There is a daily cap on the number of hikers allowed. This cap is often reached in weekends and public holidays. The number of remaining spot can be checked (here, or go to the National Park website and click on CEK KUOTA link on the upper horizontal menu). There is not specific cap for foreign hikers as for Gunung Semeru for instance.
Hikers can only enter the trail (at least in Selo) between 8AM and 5PM. It is now impossible to hike in the middle of the night to enjoy the sunrise. Camping is mandatory to enjoy the sunrise from the mountain.
It is impossible to register online for 1 or 2 people. The booking must be done for 3 people minimum. Members of one group can nonetheless exit at different days or time.
Each group must report everything it brings up and it is checked when exiting. This is to make sure no trash is left on the trail.
Registering online to hike Merbabu
In this section, I will assume that you are already a party of 3 people or more. If you are alone or two, I'll explain how to work around the rule in the next section.
First step is to check that there are still spots available on your date to hike. Go to the NP website and look for CEK KUOTA link. At the time of this article's writing, the direct link is this.
Now go to the NP website homepage, click on the big 'BOOKING ONLINE' blue button.
On the next page click on 'BOOKING NOW'.
On the next page look for 'JALUR PENDAKIAN SELO' (Selo hiking route) and click on the orange button under the picture reading 'Lihat Detail'.
On the next page click on 'BOOKING SEKARANG'.
On the next page, tick the two boxes and click on the orange button 'DAFTAR' on the bottom.
Select on the calendar the date you want to hike, if it reads 'PENUH' in red it means that all spots have been taken already.
Then input each field from top to bottom as follows :

Jumlah Hari Pendakian (Number of hiking days) : select '1 Hari' (1 day) if you don't camp, '2 Hari' (2 days) if you camp.
Jalur Turun (Descending route) : it seems that you can only pick 'Jalur Pendakian Selo'.
Nama Ketua Rombongan : Full name as per ID of the group leader.
NIK Ketua Rombongan : your NIK if you are Indonesian. If you are foreigner, input 1360000000000001 (must be 16 digits, adjust on the number of 0 if necessary).
NO. Telepon : Phone Number.
NO. Telepon : Phone Number of the person to contact in case of emergency.
Email : an email. You need to have access to this email as booking code will be sent there.
Usia : age of the leader.
Berat Badan : weight of the leader.
Alamat : your adress.
Provinsi (sesuai KTP) : if you are a foreign tourist, pick Jawa Tengah.
Kota/Kabupaten (sesuai KTP) : if you are a foreign tourist, pick Kabupaten Boyolali.
Kota/Kabupaten Domisili : if you are a foreign tourist, pick Kabupaten Boyolali.
Jumlah Rombongan : pick 3 or more depending on the size of the group.
At this stage, you need now to enter the following information for all group members including the leader :
Nama (sesuai KTP) : full name as per ID.
NIK : for Indonesian input your NIK. For foreigners input 1360000000000001 for the first foreigner, 1360000000000002 for the second and so on.
Alamat sesuai KTP : your adress.
Kabupaten/Kota domisili : if you are a foreign tourist, look for Kabupaten Boyolali. It is sorted first by province, then by alphabetical order. If you are on your phone you need to go through all the kabupaten of Sumatra, then DKI Jakarta, then Banten, Jawa Barat and eventually Jawa Tengah. If on laptop you can search for Boyolali.
Usia : age.
BB (kg) : weight.
No. HP : phone number.
Once this is done, click on the button 'Hitung Biaya Tiket' in the bottom. This will be wrong as the website doesn't handle foreigners and their special pricing.
At this point, you may have to click on another button but you should received an email entitled : Kode OTP Konfirmasi Pemrosesan Data Booking.
You enter this OTP code to the platform and then you receive another email entitled Informasi Kode Booking Sementara. You enter this booking code to the platform and you shall receive a final email entitled Informasi Booking Objek Wisata Jalur Pendakian Selo.
You can now go to the trailhead to pay your tickets !
How to register if you are alone or 2
You have 2 options :
Hire a porter and/or a guide to make a 3 people party. Then register together as explained above.
Find other people at the trailhead to form a group of 3, then register together (assumes that the hiker cap is not reached !)

The best case would be to find 2 or 1 other people unregistered directly at the trailhead. That's what I did but I don't guarantee it will work every day.
Otherwise another possibility would be to find 1 or 2 people already registered, and have them re-register with you directly on site. People may not be very motivated to do that for 2 reasons :

Registering is quite annoying to do especially on a phone. People may not be willing to go through that again.
Each group is responsible for its own trash. People may be afraid of risking a fine by registering with you and then splitting ways.
As you can see, nothing is impossible (I'm the living proof of it) but the best options is definitely to form a 3 people group before registration. It's not an issue of you are all foreigners.
Practical tips
I reached Selo from Solo by rented motorbike but this can also be done from Yogyakarta. In Solo I fully recommend Arya Trans Solo to rent a bike (https://www.google.com/maps?cid=13377654472086663099).
Solo is closer than Yogyakarta and has much more relaxed traffic.
In Selo, I slept in Homestay Wijaya. The streets going from the main road to Selo basecamp is full of homestays. I picked this one because the owner was outside and smiled at me.
Price was 200'000Rp per night per room (2 people). Hot shower available, good mattress and blankets. I didn't compare prices, there are maybe cheaper options in the street.
Otherwise you can sleep at the basecamp in dormitory for way cheaper.
Map