Nias is one of the most popular surfing destination of Indonesia. It was also home to a distinctive tribal culture that has largely been modified under the influence of the Dutch and the church.
Practical details (transport, accomodation and map) can be found at the end of the article (click here to jump directly to this section)
This article is more about cultural sites of Nias island and owes a lot to the great website of Nias Heritage Museum.
Nias has much more to offer : surf breaks, beaches and beautiful offshore islands (like the Hinako and Telo archipelagos). This website is another great source of information.
South Nias : around Teluk Dalam
Bowömataluo
In Telukdalam, get to Simpang Lima (the main intersection when you arrive in town). A couple of pick up get back to Bowomataluo after dropping kids in school (I took one that left at 8:40AM, there was another one at 7:30AM), fare is 5'000Rp, feel free to give a little bit more.
Bowomataluo is for sure the largest of South Nias traditional villages. The one with the largest central street, the highest jumping stone, the most impressive chief house. Yet it's not my favorite.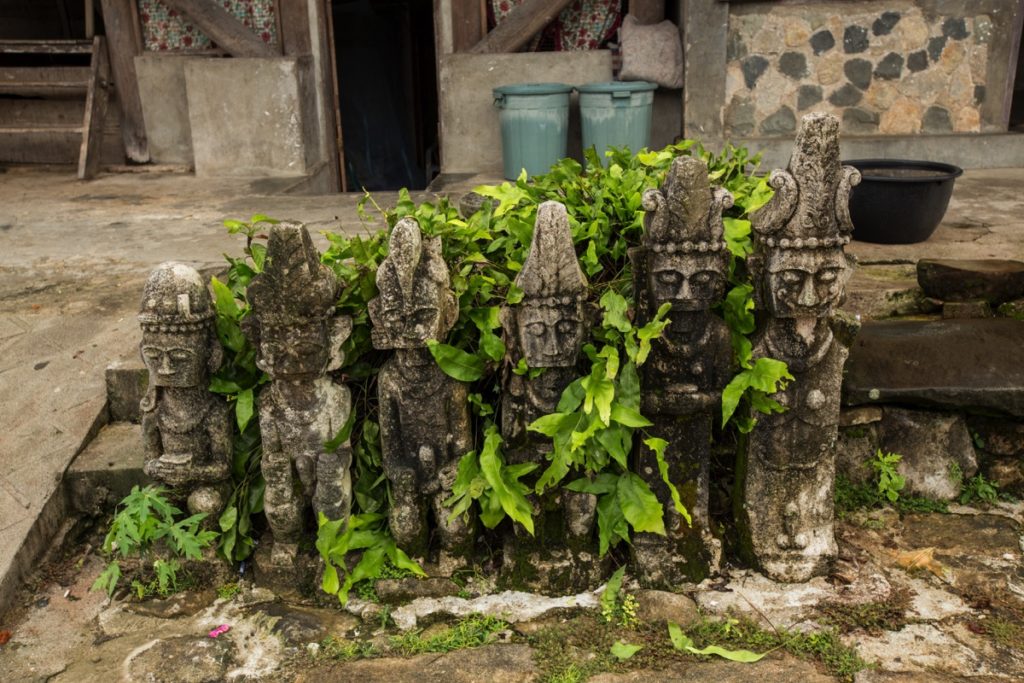 The chief house can be visited (leave a donation inside). Impressive building (especially the foundations)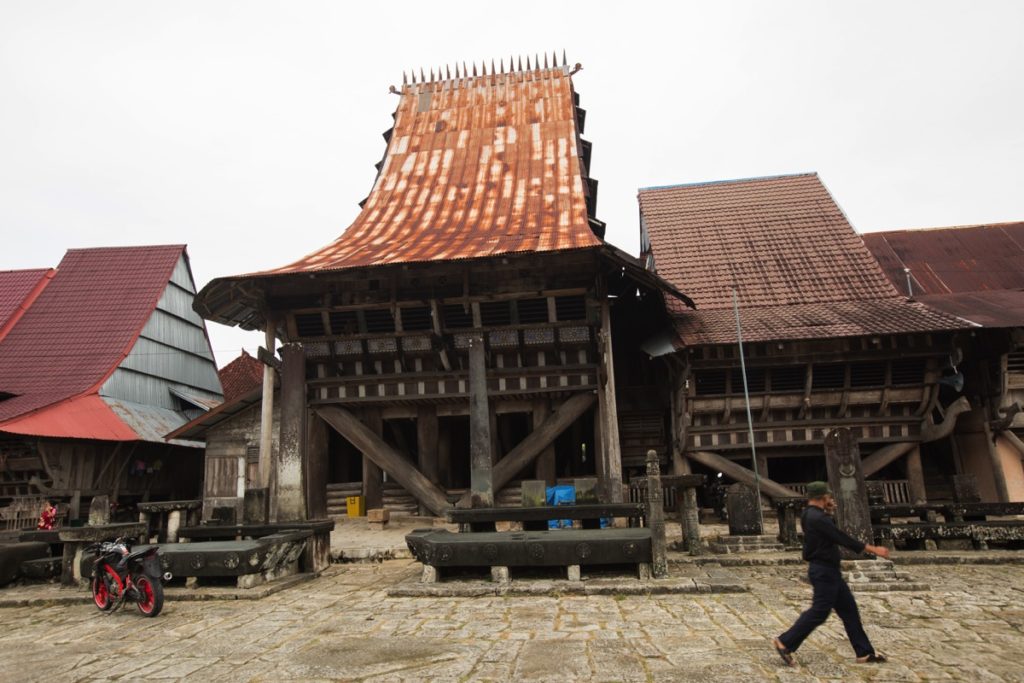 There is a annual cultural festival held in Bowomataluo every year in June where you can see traditional war attires of Nias as well as stone jumping performance.
Otherwise some people will for sure offer to arrange a paying performance.
A loop from Bowömataluo
From Bowomataluo, walk down slippery stairs to Orahili. Compared to Bowömataluo, Orahili feels much more intimate even though it lacks the grandeur and the different statues and carving found uphill.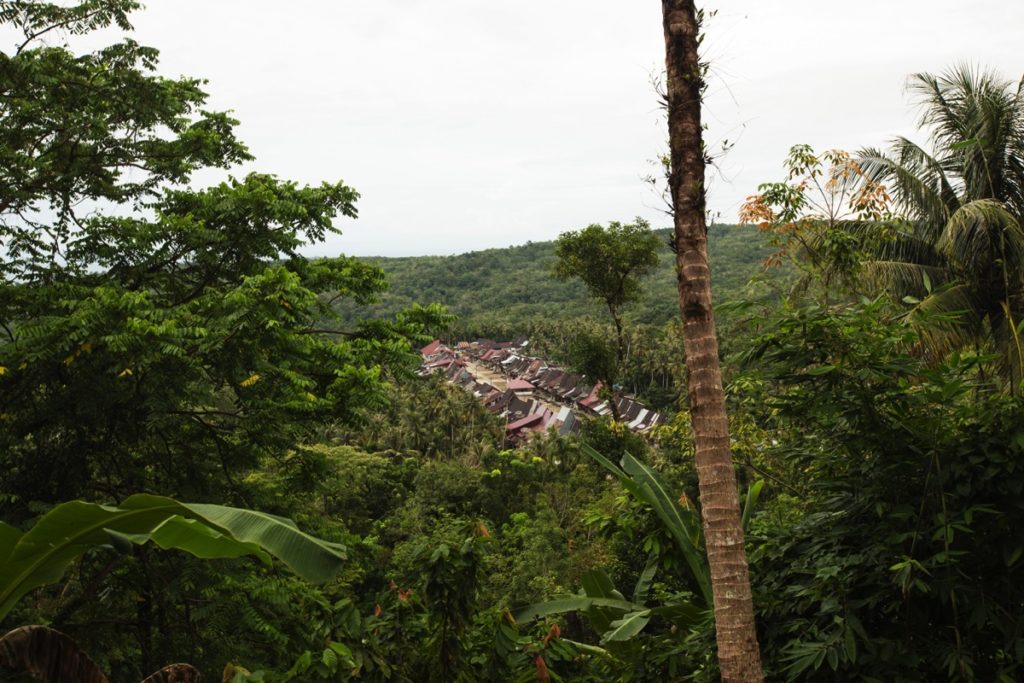 Behind Orahili, a well-worn trail takes you to Hili Simaetanö in about 40 minutes. The river is crossed on a concrete bridge. There is a small food stall catering to a school on your way where you can buy something for lunch.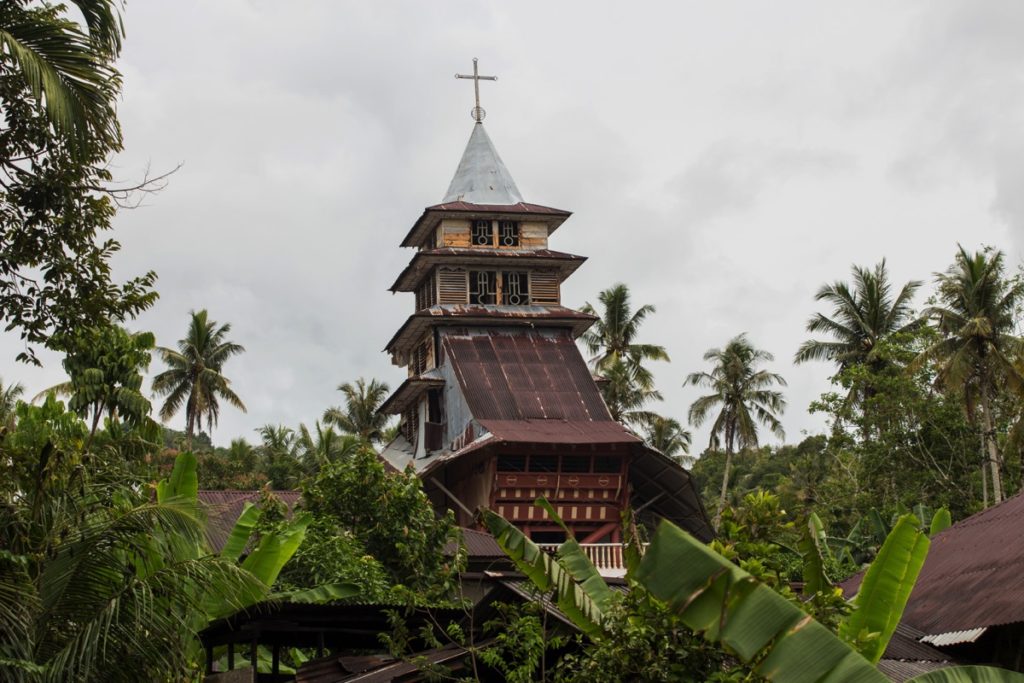 From Hili Simaetanö, a straightforward path takes you to Lahusa Fau in about 25 minutes.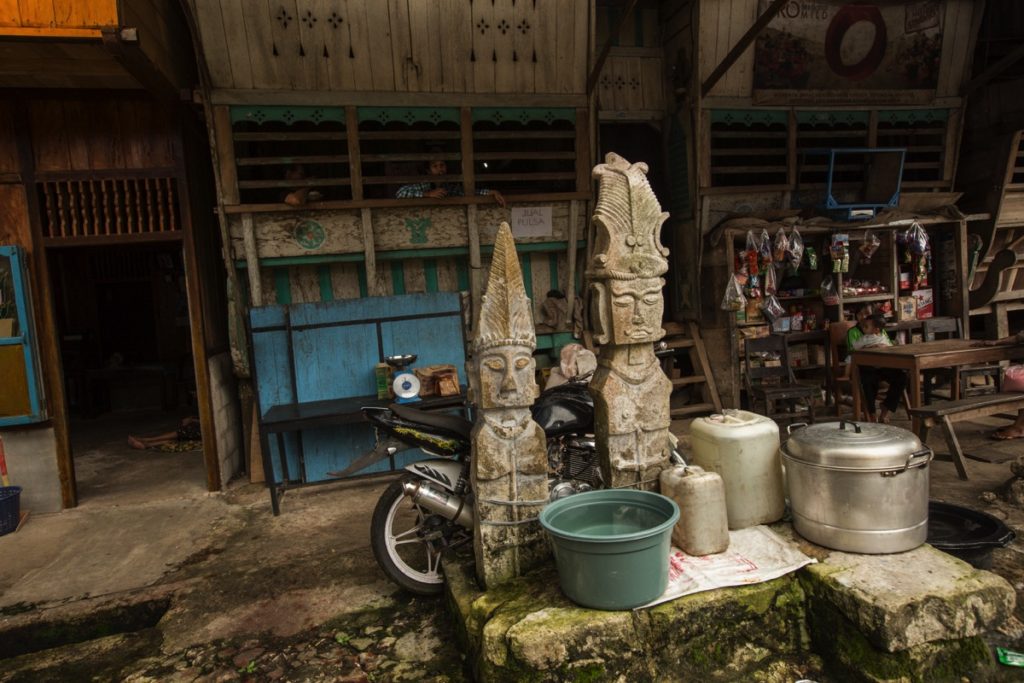 After Lahusa Fau, you have very slippery stone stairs and then a path. After a few minutes, another trail starts on your right : take it. The trail later splits into 3, take right ; then again in two, you have to take left if I remember well. Don't hesitate to ask your way to the villagers (in Indonesian). It shouldn't take more than 40 minutes.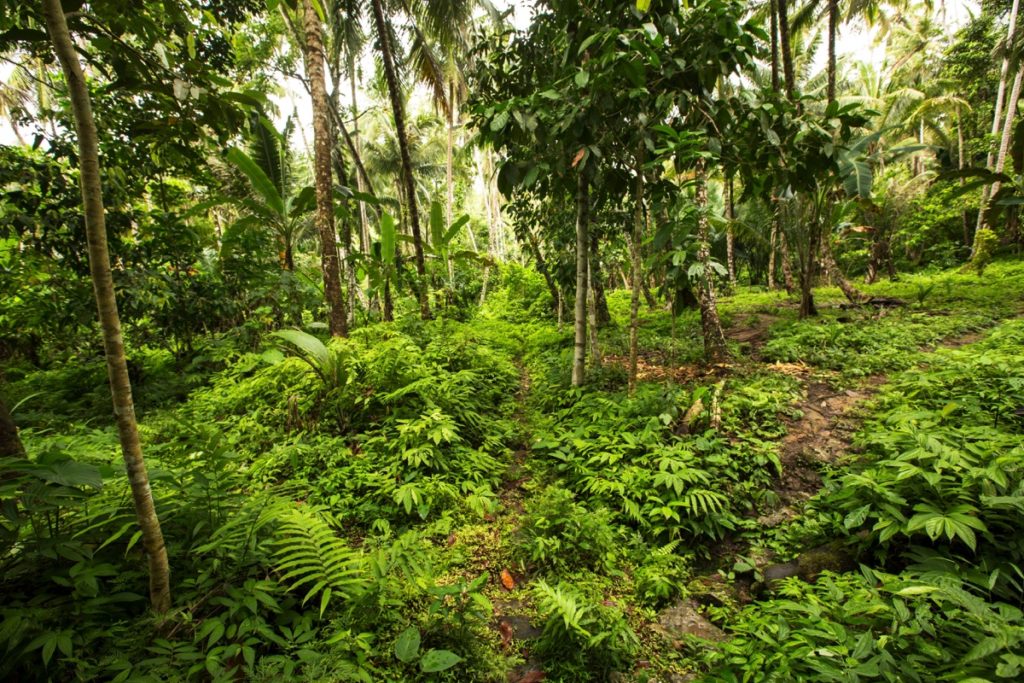 In Onohondrö you will find a chief house similar to the one from Bowomataluö yet smaller. Villagers are quite friendly, they tried to sell me some antics but whitout annoying pressure.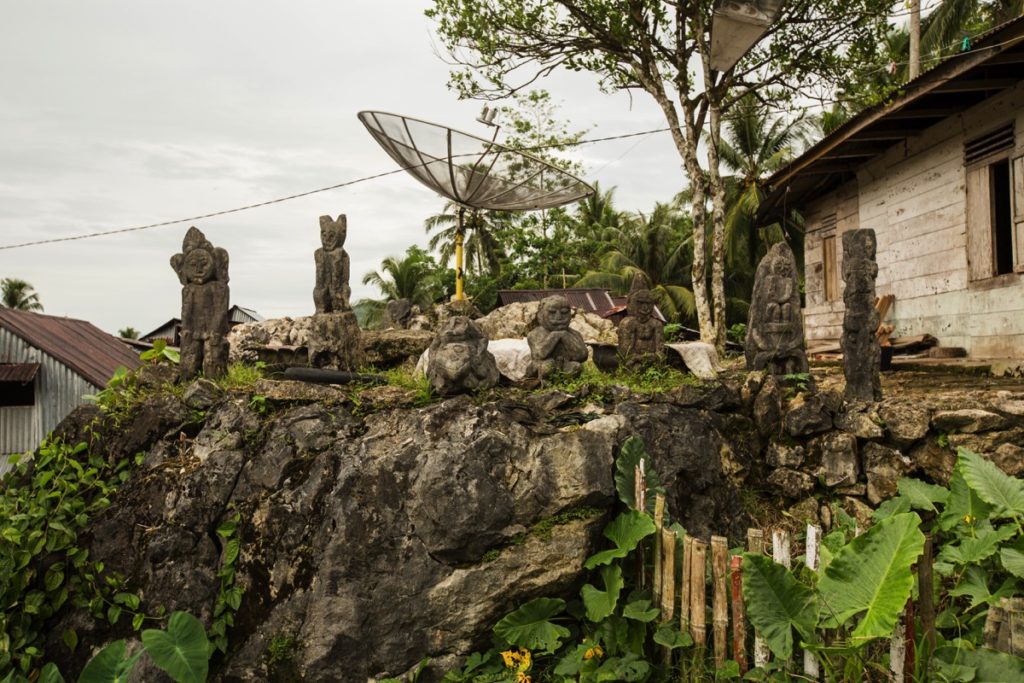 Very near you have the village of Hilinawälo Fau where you can see interesting tall megalith.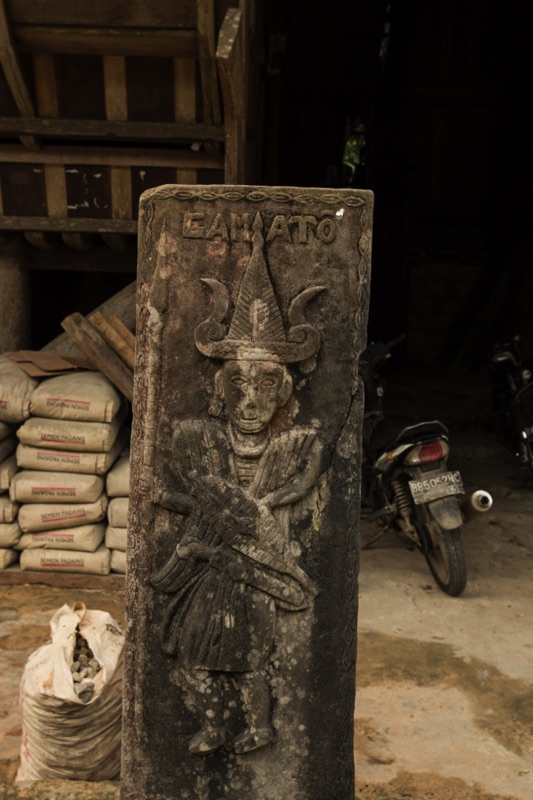 By now it should be late afternoon. An ojek from Hilinawälo to Teluk Dalam costs 50'000Rp but drivers are reluctant to get there at this time. Ask them to take you to the intersection with the main road (simpang, 20'000Rp). From there wait for a minibus to pass by (the fare from Lagundi to Teluk Dalam is 5'000Rp) ; a truck driver gave me a ride even though I wasn't hitchhiking but he assured me that an angkot would have passed by later.
This loop could be easily done over 2 days by adding a visit to some nearby waterfalls. I don't see any reason you don't manage to arrange a homestay in any village provided that you speak a bit of Indonesian. Don't abuse people's hospitality and pay your way (given I am likely to eat dinner and breakfast with your host, I usually give 100'000Rp when I leave).
From what I understood, an asphalt road exists between :
Hili Simaetanö and Hilinäwalo Fau (since 2010)
Bowomataluö and Lahusa Fau (since 2016)
Bowomataluö and Siwalawa (under construction as of 2018)

Hilimondregeraya and Hilinamözaua
Another two traditional villages near Teluk Dalam. I think Hilimondregeraya was my favorite one. An ojek from Teluk Dalam can be bargained to 20'000Rp.
Contrary to other traditional villages I visited, this one is build in U-shape.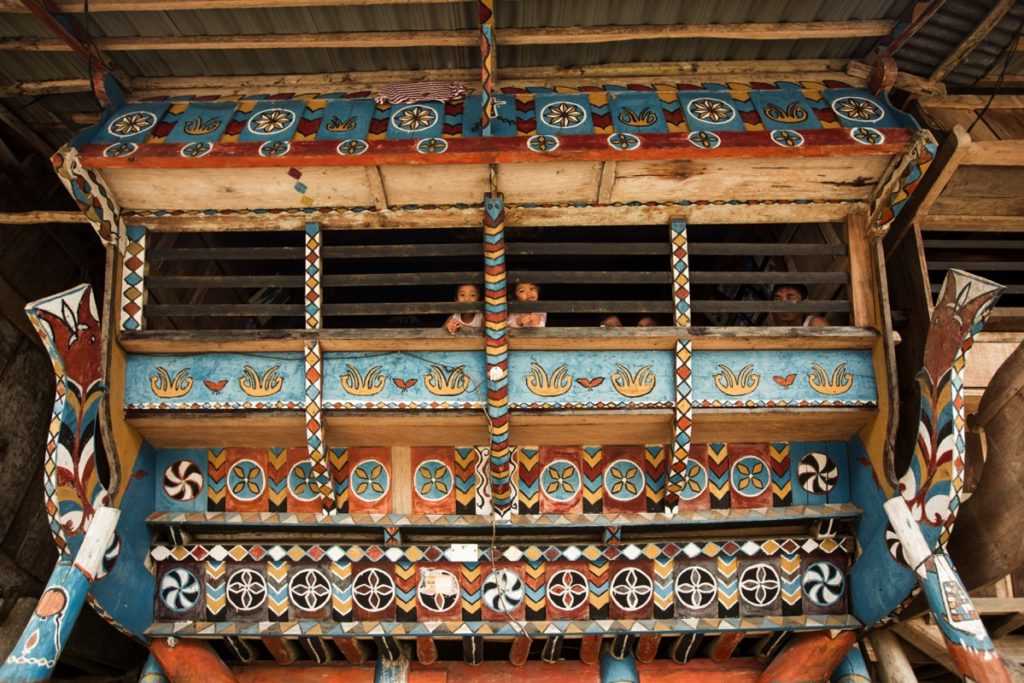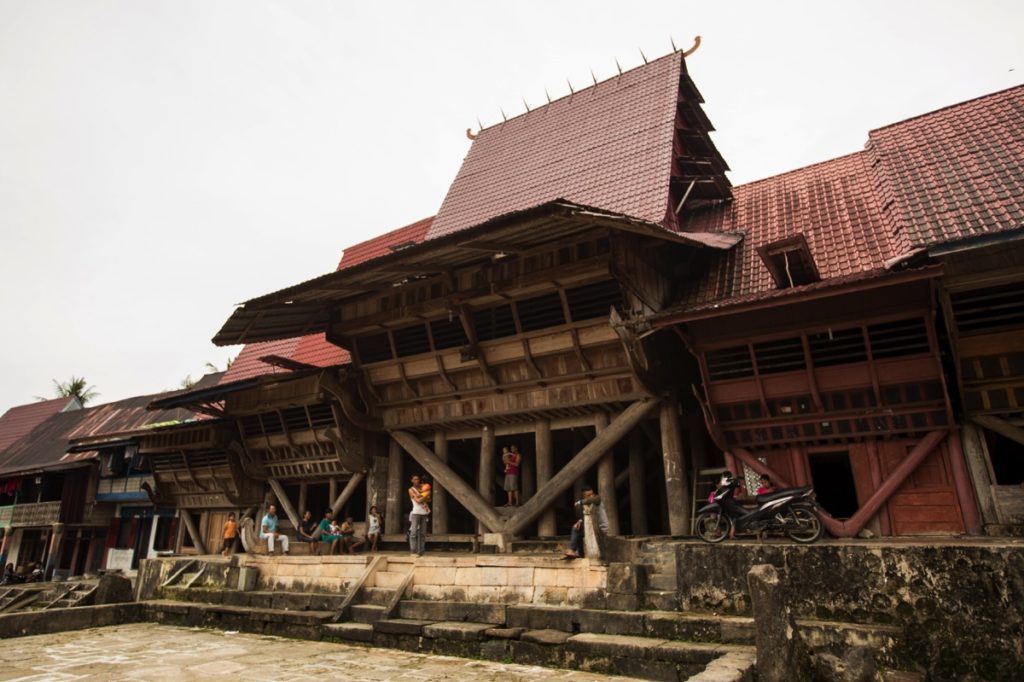 Hilinamozaua is 20 minutes away. When I visited, two weddings ceremonies were about to be closed and villagers were busy killing and hacking pigs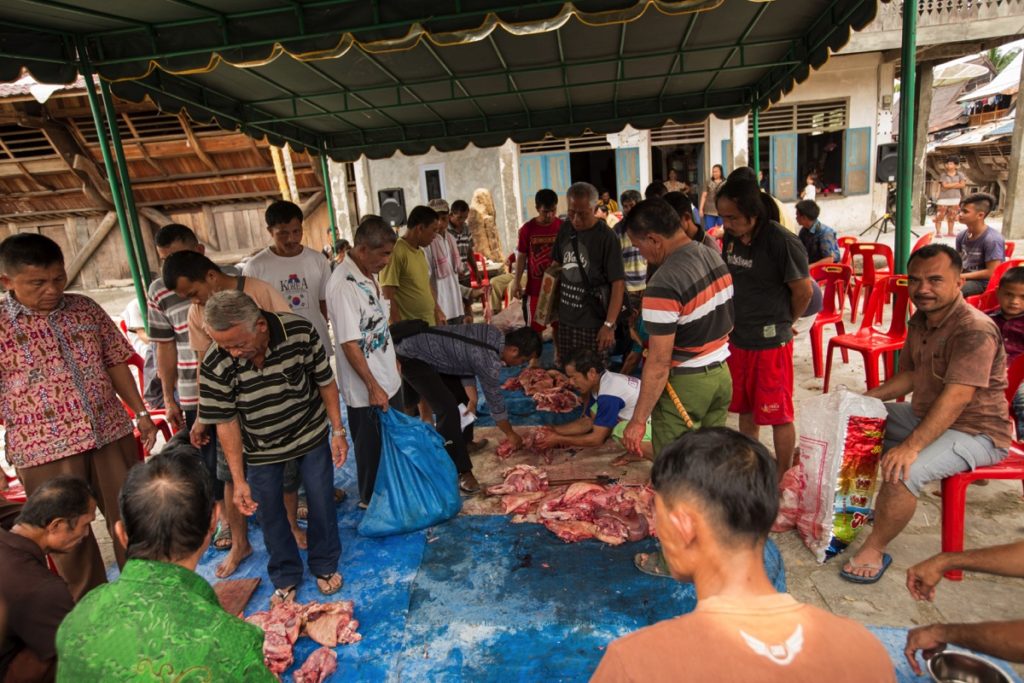 Central Nias : Gomo region
The Gomo region is rather isolated from the rest of the island. Yet you will find there many interesting stone carving.
Tetegewo
Tetegewo is an old site located about 1 hour walking away South of Gomo. It is located on a hill. At its foot, a villagers keeps a guestbook, sign it and leave 10'000Rp per person.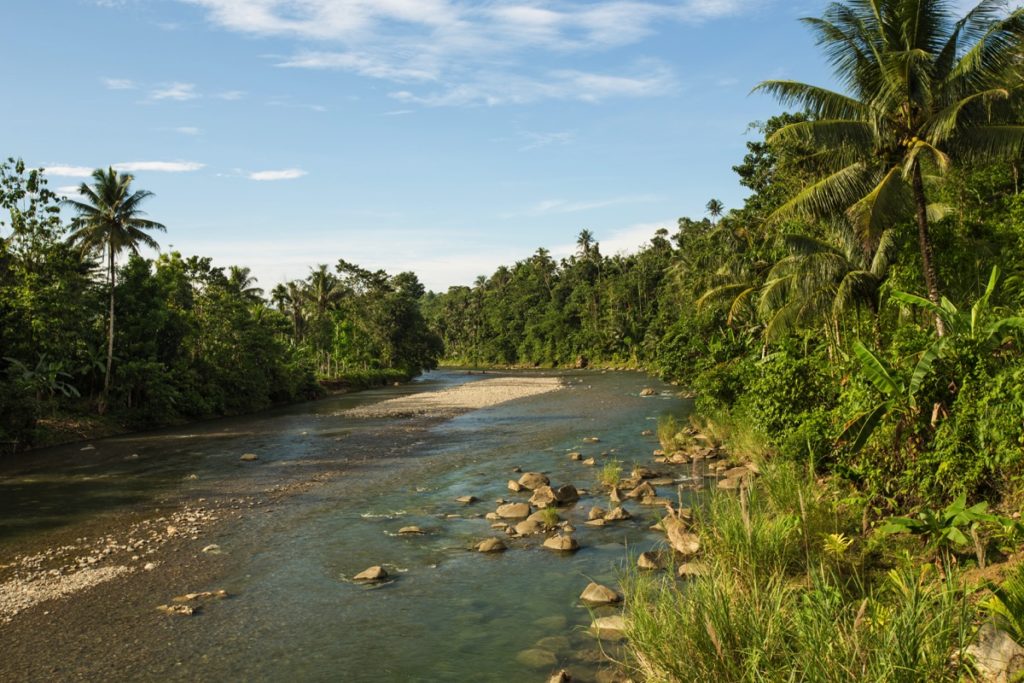 The site itself is a rectangular plateau with a lots of round stone table. Each table resonates with a distinctive tone when hit the correct way. This was a ritual place for the ancestors of the Gomo people, women would dance on each table and use them as a collective music instrument.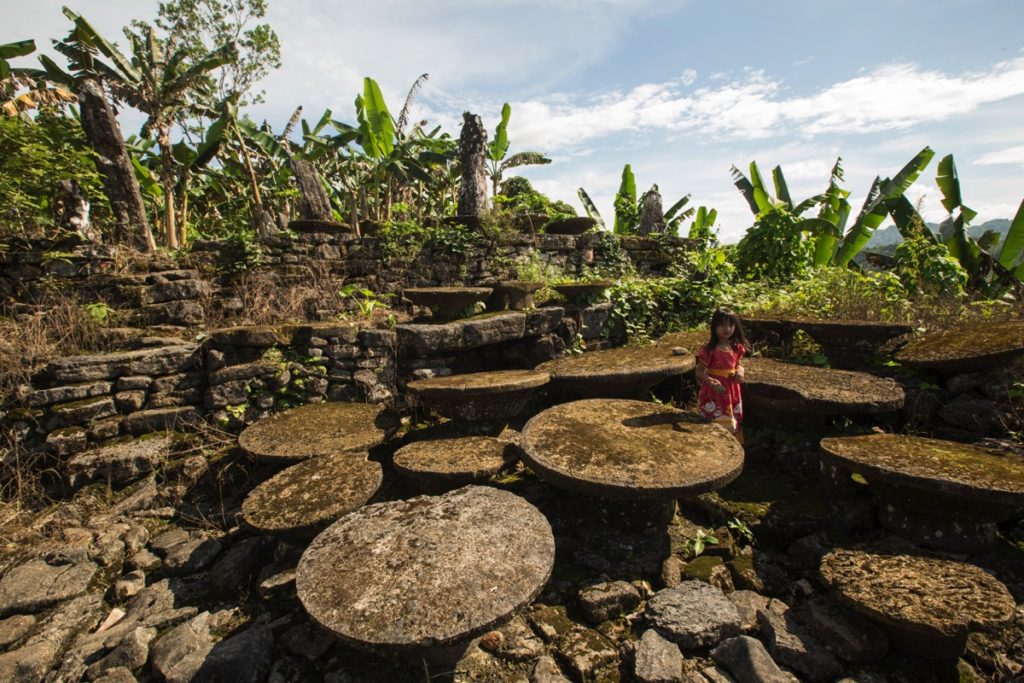 Tundrumbaho and Lahusa Satua
The old village of Tundrumbaho (which is a mere settlement nowadays) has a great collection of osa-osa statues. It's about a 1 hour walk from Gomo. Leave 10'000Rp in the guestbook per person.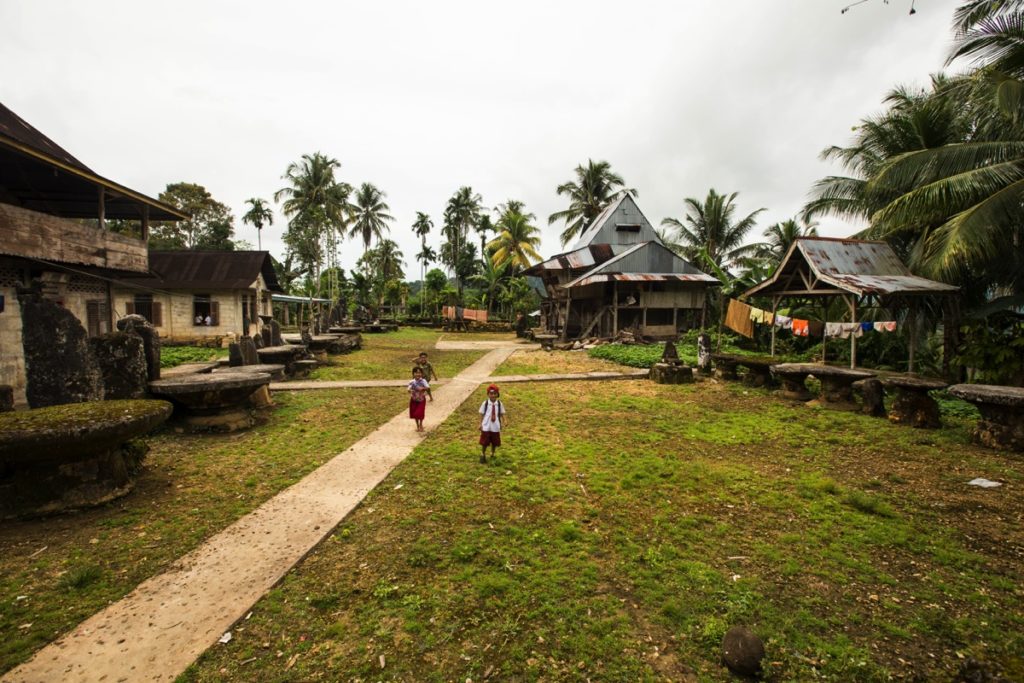 Back on the "main" road you have followed since Gomo, you will pass by Lahusa Satua and the nearby village of Lahusa Idamatoe where you can see many interesting stone carving. Give 10'000Rp to one house owner is someone ask for a contribution.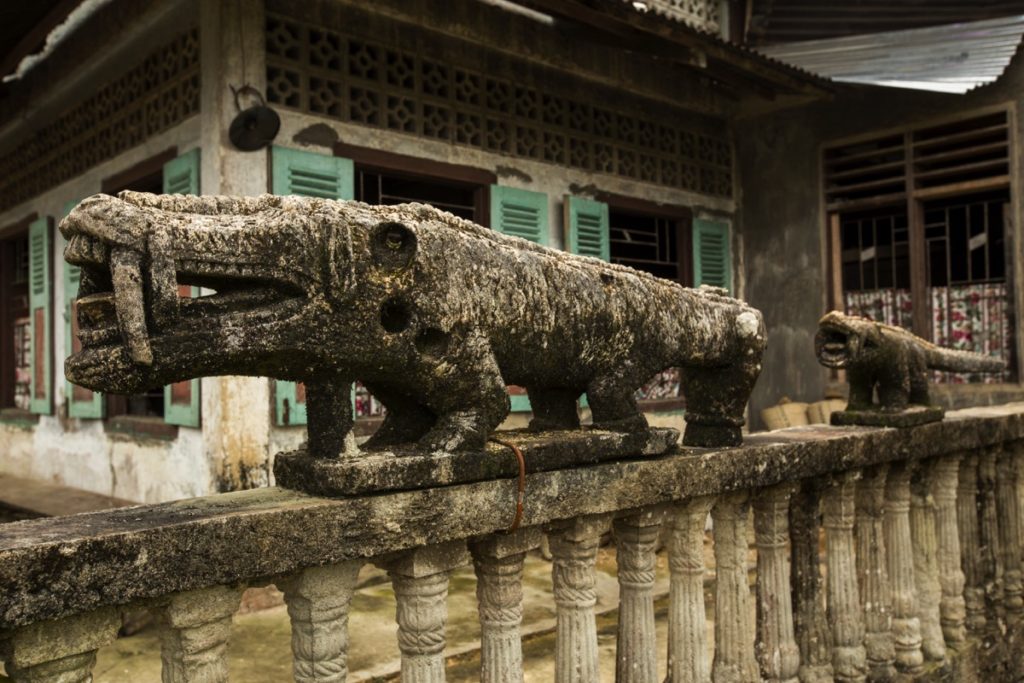 You could then continues to Hilisalo'o, Simandraolo …
Other possible hike from Gomo
By taking the North-East road from Gomo you could walk until Lawa Lawa Luo, Sinar Helaowo and then Tanonikao in about 1h30. The region gets rapidly barren.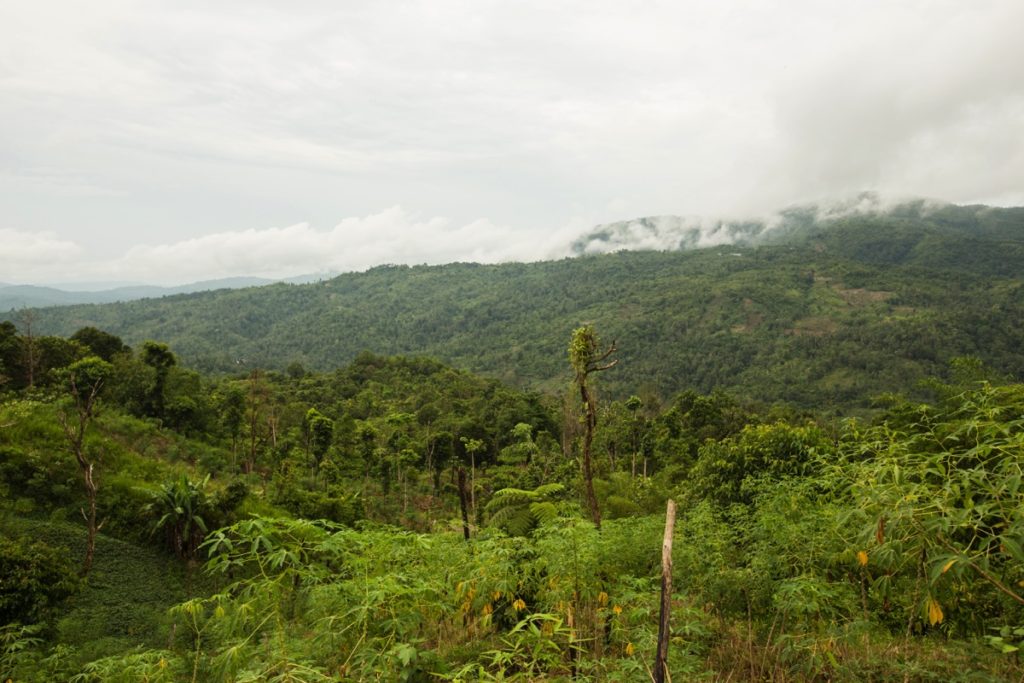 The most interesting thing to do is probably to swim in the waterfall in Sinar Helaowo (about 30 minutes from Lawa Lawa Luo). Give 10'000Rp to the locals, they'll give it to kids to buy snacks (jajanan).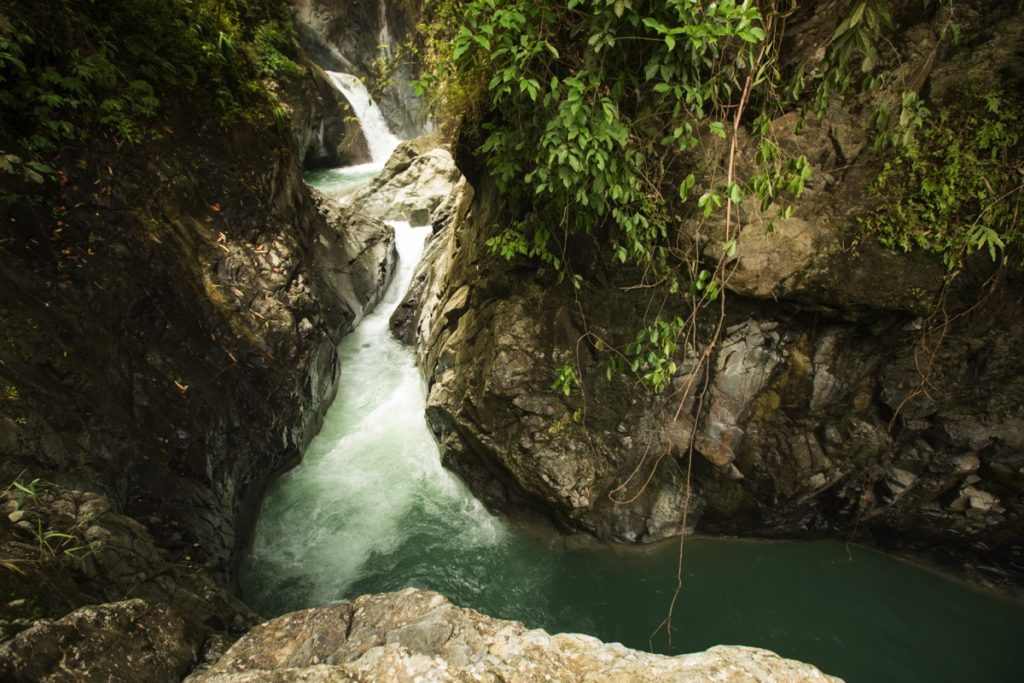 Otherwise don't miss the beautifulily carved house in Sifaorasi Gomo, a 30 minutes walk from Gomo. The owner don't want it to have it photographed but they will be happy to let you have a peek on it.
A bit further, a less finely decorated house can also be seen :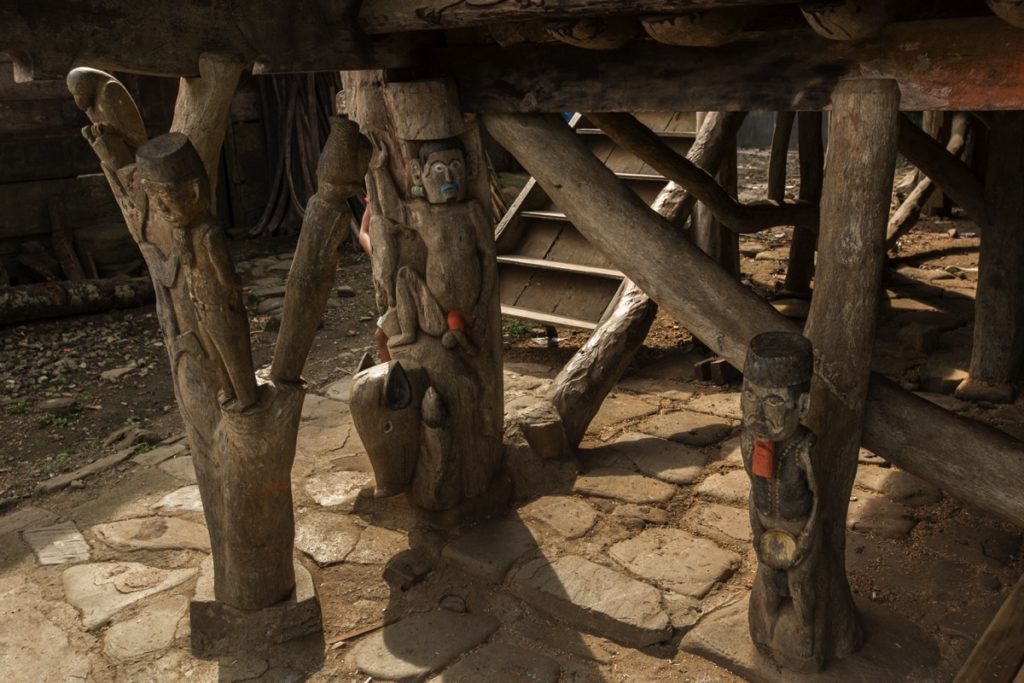 North Nias : around Gunungsitoli
In Gunungsitoli, you could start by the Nias Museum (20'000Rp) which has an extensive collection of traditional crafts and costumes as well as 3 replica of Nias houses. The museum played a central role in the preservation of Nias traditional houses.
There is also a homestay in the museum (but cheaper options available in town). The museum is only 10 minutes from the harbour by walk.
I didn't try very hard but it seems kinda hard to rent a motorbike in Gunungsitoli (but it is widey available near Sorake beach in the South). Yet it would be pretty useful to do some day trips to see some traditional villages typical of North Nias. Otherwise, there are a couple of angkot going back to the villages from mid-morning to noon ; and you would need to hitchback you way back to Gunungsitoli.
I started walking towards Lalai around 9AM. At 10:15 an angkot heading to Lolowau passed by and gave me a ride (15'000Rp). From Lalai, you have to walk about 20 minutes to reach the old village. There you have 2 traditional houses still standing and the remains of a third one.
Very friendly villagers who happily showed me the inside architecture. They thought at first that I was coming to do a survey ahead of allocating funds for renovation.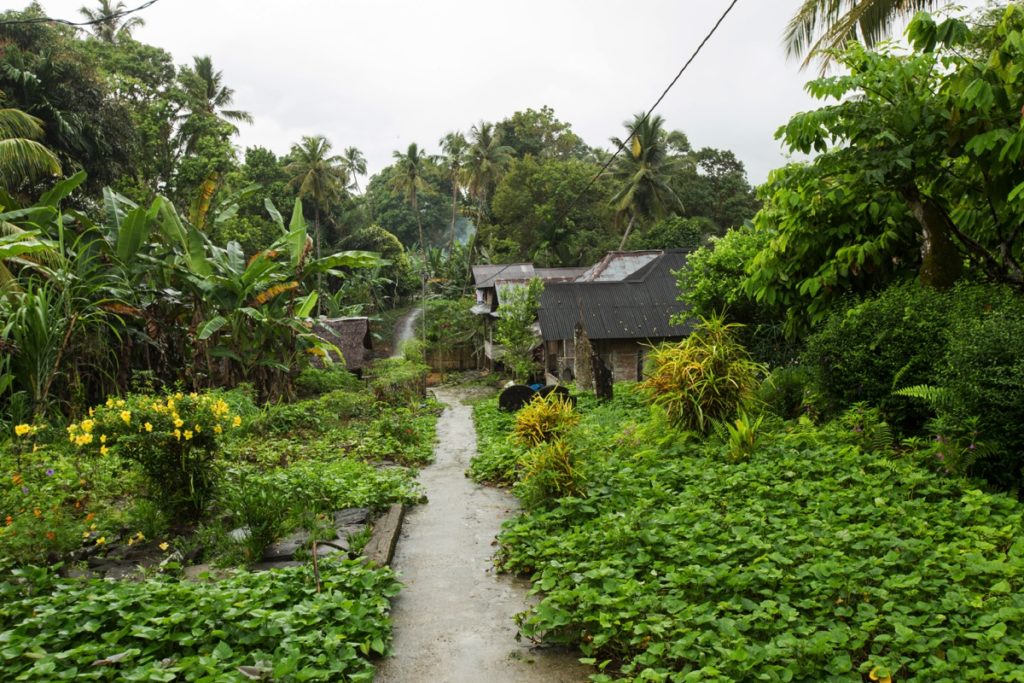 From Lalai I/II, you could walk in about 40 minutes (more if you don't walk bare foot in the river) to Mazinge. Walk down the hill behind the village, then go right and walk upriver until you find a trail on your left (see position on the map). A villager showed me the way, I gave him 15'000Rp.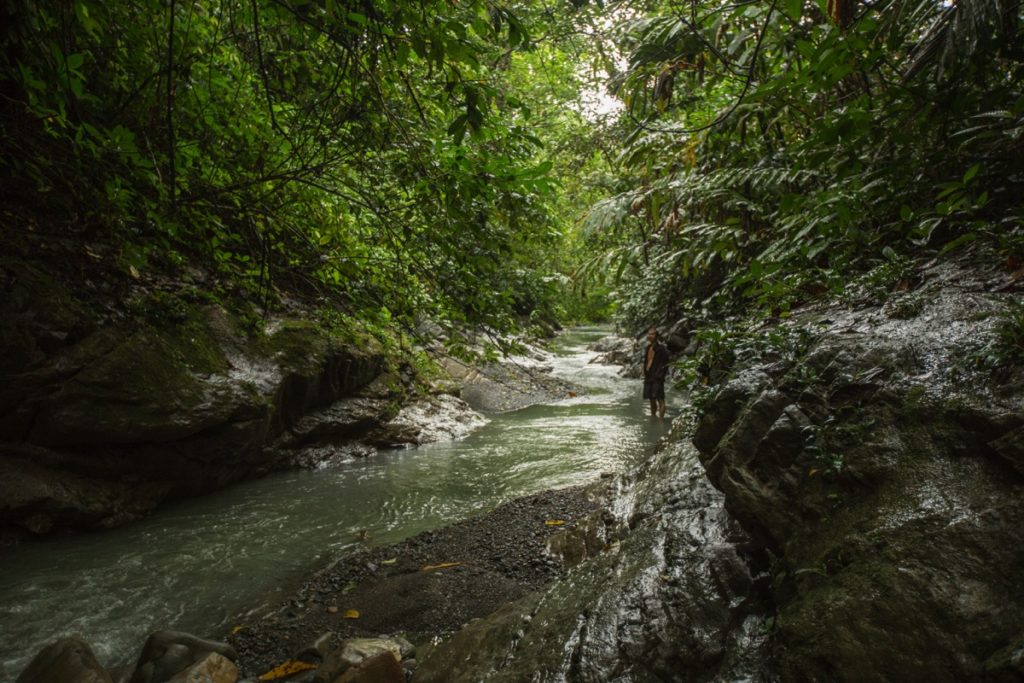 Once you arrive in Mazinge you'll see a traditional house on your right. It was renovated in 2007 but its inhabitants moved to a more modern concrete house built right next to it. They told me they thought the elevated house was dangerous for their young children ; and the roof was leaking again (and it's hard to repair).
At the junction take left and you will end up in Lololakha where you will find 5 traditional houses in a very good state. They were renovated recently, one house requires 20 millions IDR.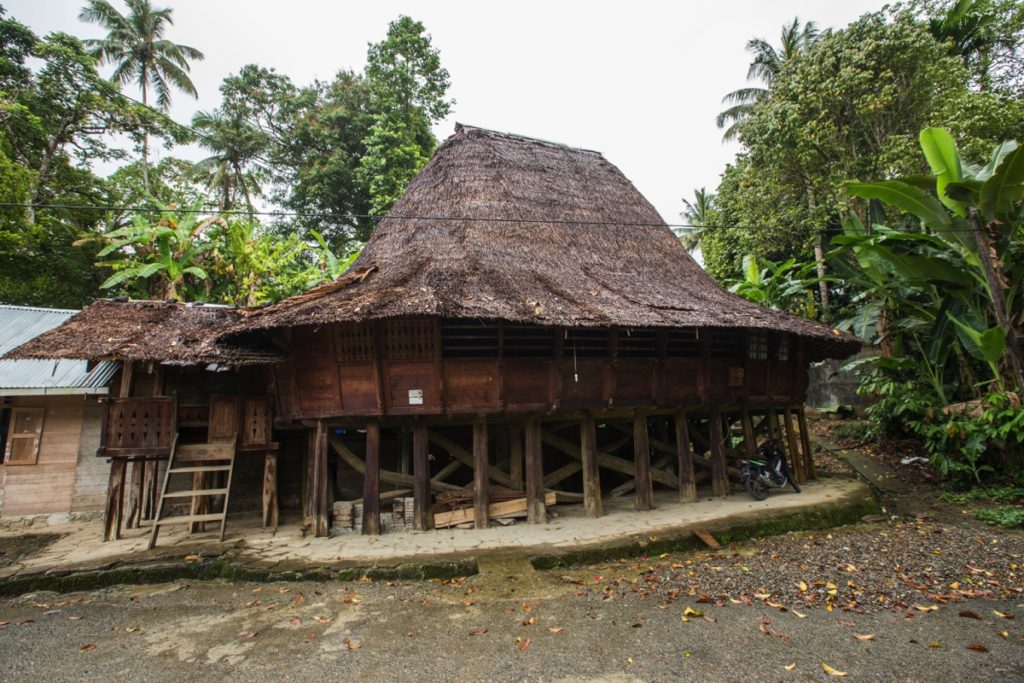 I was back on the main road around 4PM. I had to hitchhike my way back to Gunungsitoli.
You could also get a similar taste of North Nias architecture by visiting the village of Tumori, only a few kilometers from town.

Practical tips
Coming to Nias
There is an airport South of Gunungsitoli with daily flights to Sumatra and Java. Use an online flight comparator to find the best deal for you.
Otherwise you can also do it the old way. For instance starting from Balige (South of Lake Toba, explanations for transport from Parapat here) :
Take a bus for Taturung (1h40, 30'000Rp)
In Taturung take another bus to Sibolga (2h, 30'000Rp).
In Sibolga you have a daily night ferry leaving from the new harbour (Pelabuan Baru, see the map at the end). If I remember well it is operated by AWL, it costs 66'000RP (+4'000Rp of retribution of the harbour).
There was no mattress on board so people were sleeping either on the floor or the seats. Rough night.
The boat was supposed to leave at 8PM but eventually departed at 11PM. We were in Gunungsitoli at 7:30AM.
Local transport
In the harbour, you have shared taxi (travel) waiting for passengers for every parts of the island, as well as angkot taking you to Gunungsitoli (only 2'000Rp from the Museum which is near the harbour).
Between different regions, angkot are rather scarce and it's more reliable to board a shared taxi (travel). In Gununsitoli the meeting point is on Jl Diponegoro near Bank Mandiri. In Teluk Dalam at the main intersection (Simpang 5). Many are also waiting for passengers arriving from the daily ferry in the morning.
A significant of Nias foreign visitors are surfers paying their surfcamp in $. The English-speaking drivers almost systematically overcharge their customers while other drivers are often too shy to pick up foreigners. 2 different drivers told me they avoided picking up foreign tourist because they were afraid of the language barrier.
Travel from Gunungsitoli to Teluk Dalam charges 70'000Rp and leaves from morning to afternoon. From Teluk Dalam to the aiport, the rate is approximately 50'000Rp.

To go to Gomo, the best thing is to directly call those 2 drivers (from Gunungsitoli to Gomo 65'000Rp, Bahasa Indonesia only, departure around 8AM and then 2-3PM) :
08 13 7626 0522 : a very nice and honest guy that I recommend even though I forgot his name.
If he is not available, call his friend operating Travel Buaya 08 21 6683 0381
From Teluk Dalam, take a travel bound to Gunungsitoli and get dropped in Bawootalua village (also referred to as Lahusa because the office of Lahusa district is there), for 30'000Rp. Wait until 12AM for a travel from Gunungsitoli to pass by, 20'000Rp to Gomo.

Otherwise you have angkot from Teluk Dalam to Sorake Beach for 5'000Rp, ojek rate is 15'000Rp.
Ojek from Gunungsitoli to the airport is 30-40'000Rp.

Accomodation tips
In Gunungsitoli I've stayed at Penginapan Garuda (110'000 for a double single room, shared bathroom, fan no breakfast). Bed quality is variable from one room to another. In the same street you have a couple of other cheap homestays (for instance Penginapan Yosua starts at 80'000Rp).

In Telukdalam you can go to Penginapan Fanny. Front rooms are rented for 100'000Rp and the back one for 50'000Rp (you may have to insist a bit, fan, shared bathroom, no breakfast).
In Gomo you have Penginapan Alex which charges 50'000Rp for a double room. Located right next to the elementary school, his wife sells snacks for them and you can buy her a breakfast. A couple of warung can be found 100m further next to the football field.

Map