Malang has become a popular base to visit the Bromo caldera, or hiking Mont Semeru. I agree that it's definitely more attractive than Probbolingo.
In this article I will describe several side trips to do to explore this region of Java. No info will be given on Bromo as there is already lots of good things available online.
North of Malang : Hindu-Javanese ruins and amazing ricefields
Majapahit remains in Trowulan
This section will mostly interest you if you are into Javanese history or architecture. In the present-day city of Mokokerto, several remains of Trowulan city can be found near to each others.
Trowulan is believed to be the ancient capital of the Javanese Majapahit empire who reached its apogy in the 14th century. Many interesting sites can be visited, all built from characteristic red bricks.
Candi (the Javanese word for old Hindu/Buddhist temples) Brahu is the most impressive structure. The park around is kept, as all the other sites, spotless. Entrance is 5'000Rp + 3'000Rp for parking (motorbike).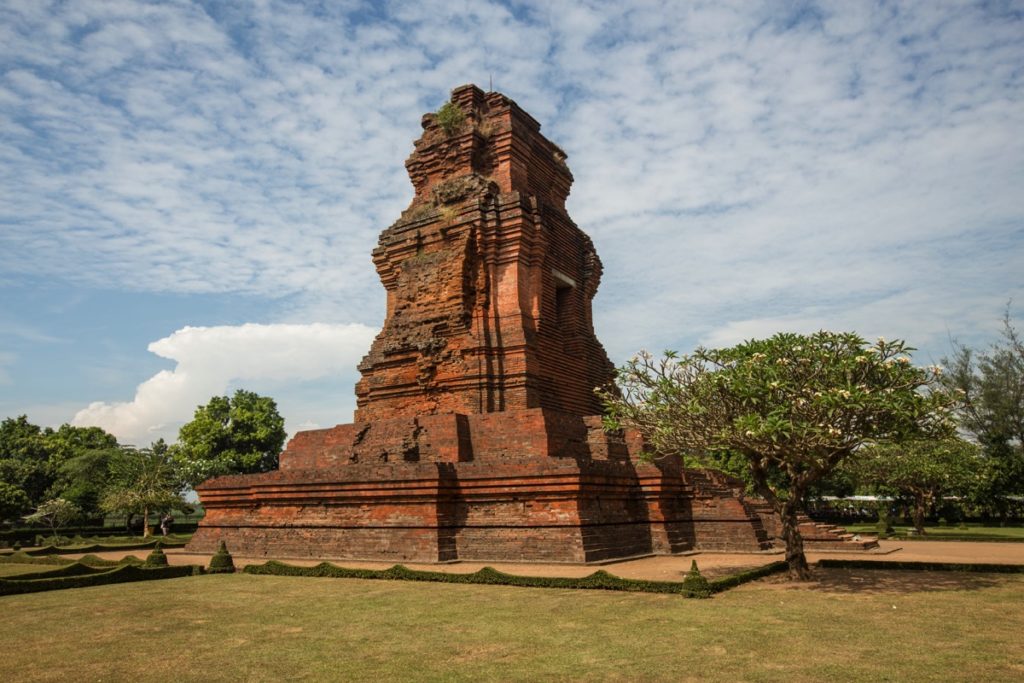 Candi Bajang Ratu is also worth a visit (again entrance is 5'000Rp and 3'000Rp for motorbike parking) :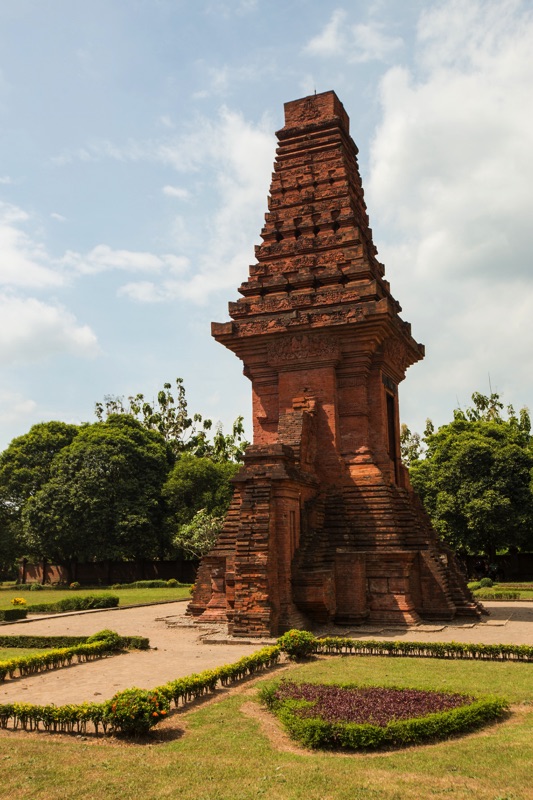 Eventually, Candi Wringi Lawang is also worth a visit. It seems to be free.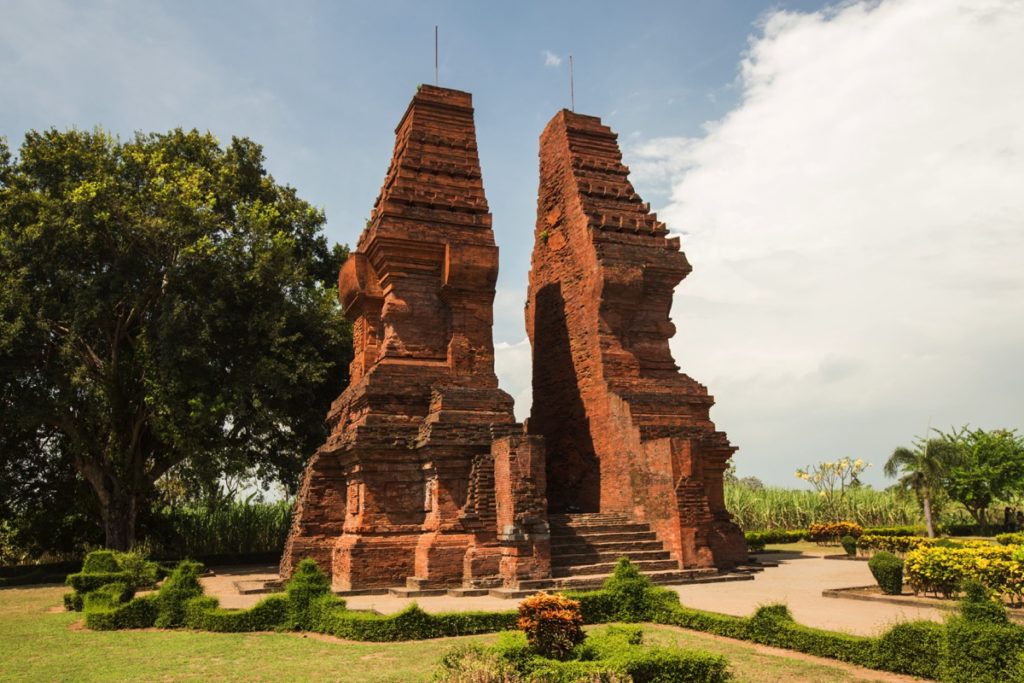 A couple of other sites
The Majapahit museum is worth a visit if you are into ancient Javanese culture. Some old archeological extractions field have been preserved for education ; plus many excavated artifacts.
Much information is also given about the other ancient sites of East Java. I found it the most interesting part. Entrance is 5'000Rp plus 3'000Rp for parking.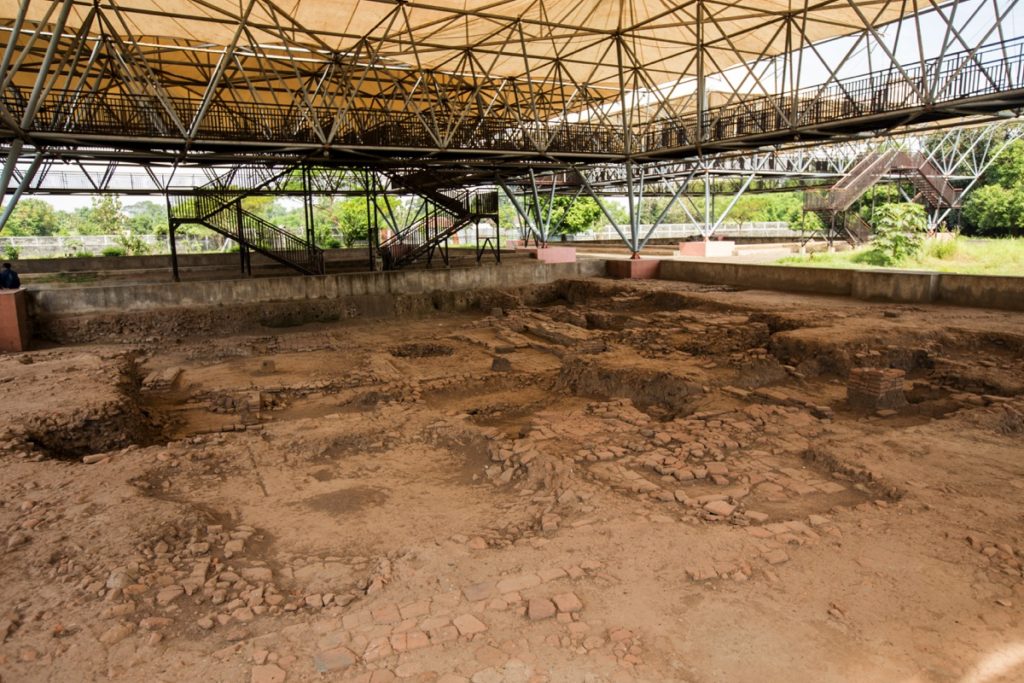 There is also a sleeping Buddha (5'000Rp + 3'000Rp) that can be visited, really nothing special about it, you can see tons like that for instance in Thailand. Yet it is a surprising sight in East Java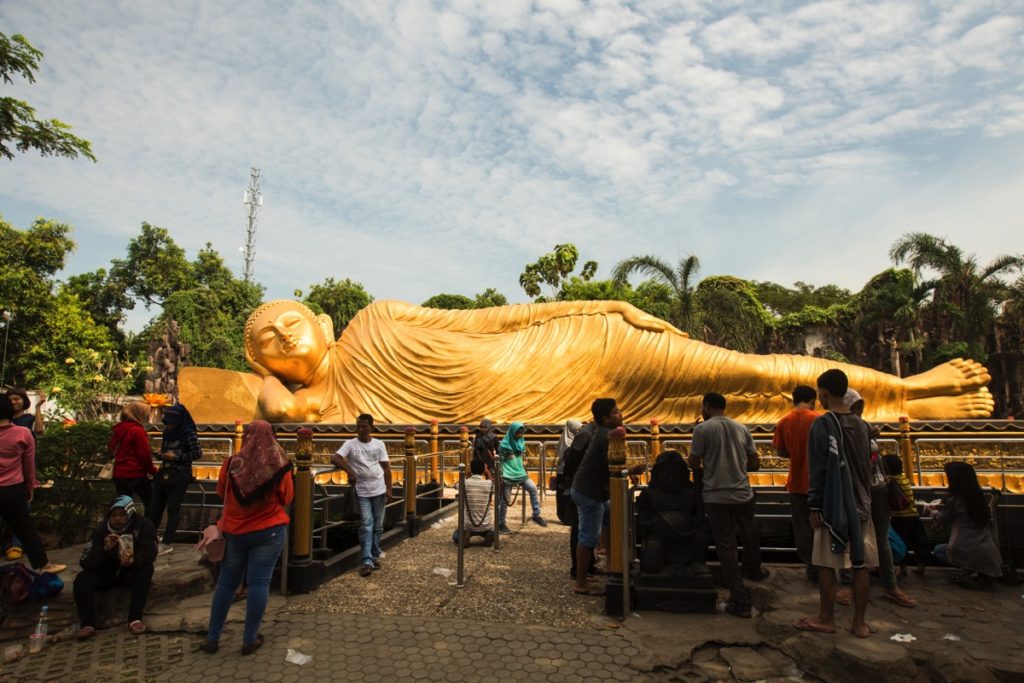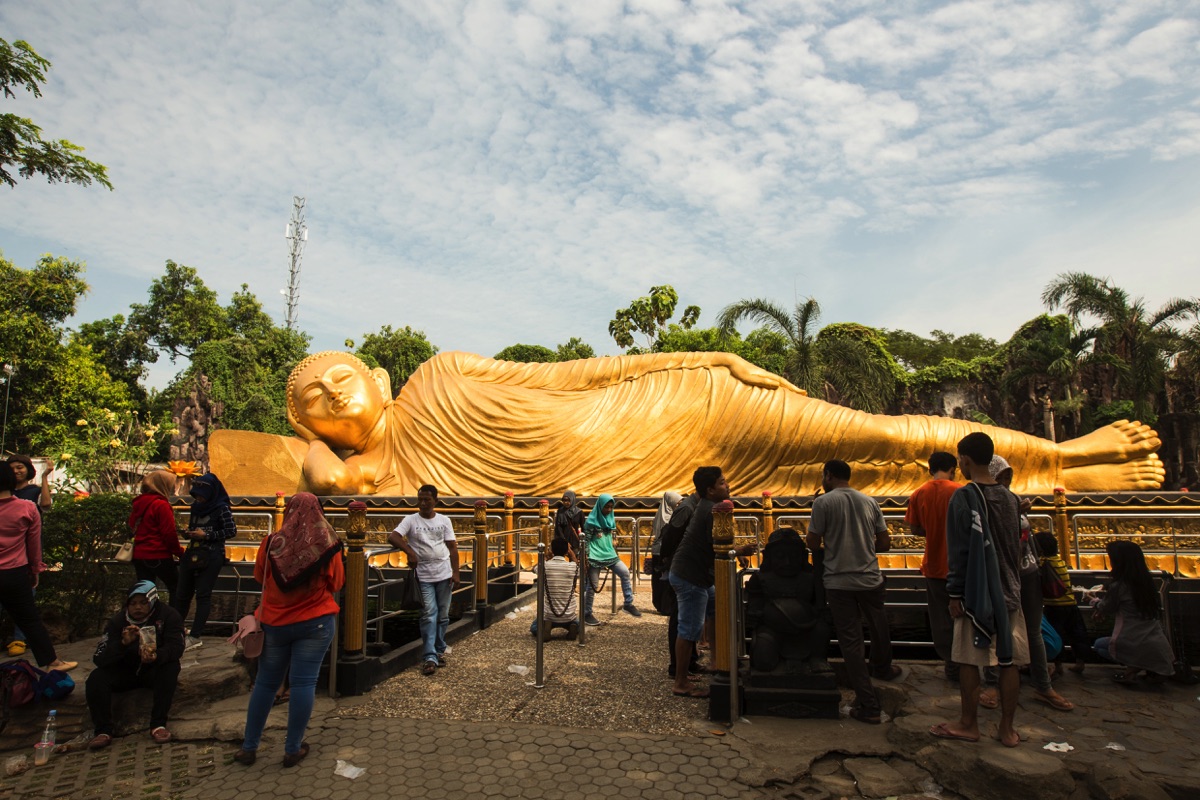 I've chosen to skip Candi Tikus. You can have a peek at it from the road and see if it's worth a visit by yourself.
Jolotundo holy bath
Not very far from Mojokerto, I strongly advise you to visit the holy bath of Jolotundo, on the foot on Mount Penanggungan.
This mountain was considered highly sacred before the advent of Islam in Java. Over 80 remains of terraced temples have been identified over the mountain, with inscriptions ranging from 977 AD to 1511 AD.
It is likely that the temples were connected by a pilgrimage route.
The oldest building remaining is the holy bath of Jalatundo, dated from 977AD based on the inscription carved on it.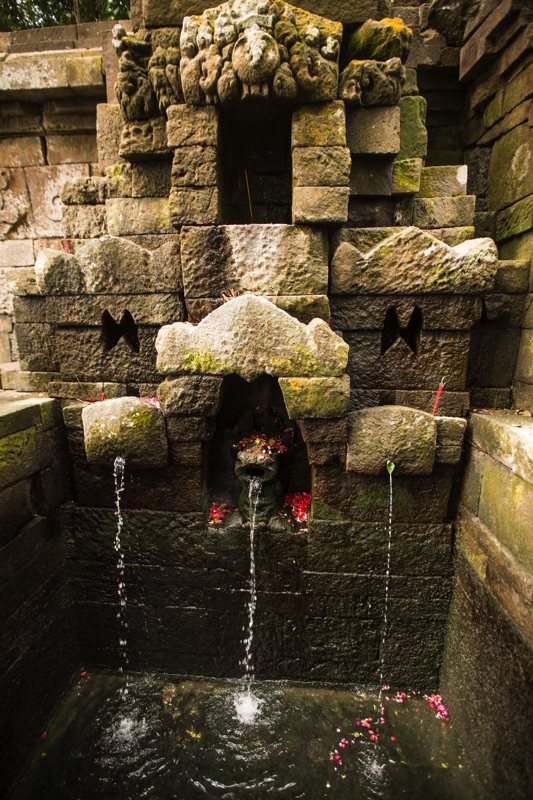 The entrance to Jolotundo is 10'000Rp (plus 5'000Rp for motorbike parking). The visitors are a a mix of family on vacation having a picnic and people coming to purify themselves in the bath.
Mount Penanggungan is a popular among local young hikers who usually camp at the summit for the weekend (useful information about that on Gunung Bagging).
Other pre-Islamic sites near mount Penangunggan
The site of Candi Balahan is nearby and is also a nice addition to a trip to Jolotundo (parking fee 5'000Rp). It probably served a similar function that Jolotundo.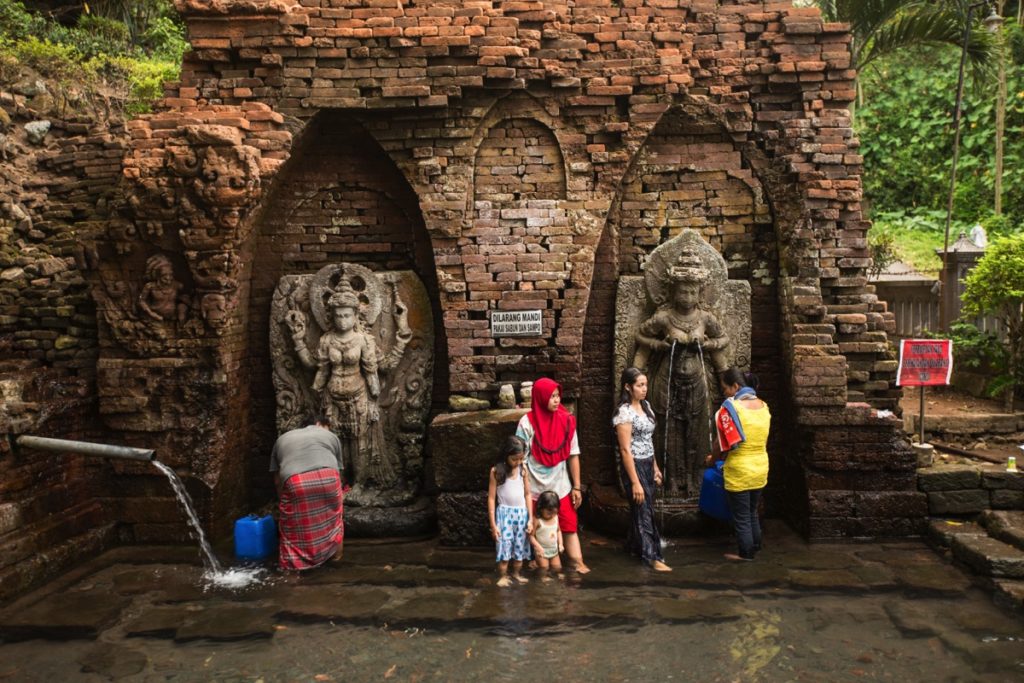 Near Jolotundo, you can also pay a visit to Candi Jawi (3'000Rp for motorbike parking) which is more recent as it goes back to the Singasari kingdom of East Java in the 13th century. It was built as a mortuary temple for the king Kertanegara (assassinated in 1292). So the temple is actually typical of 14th century Javanese architecture.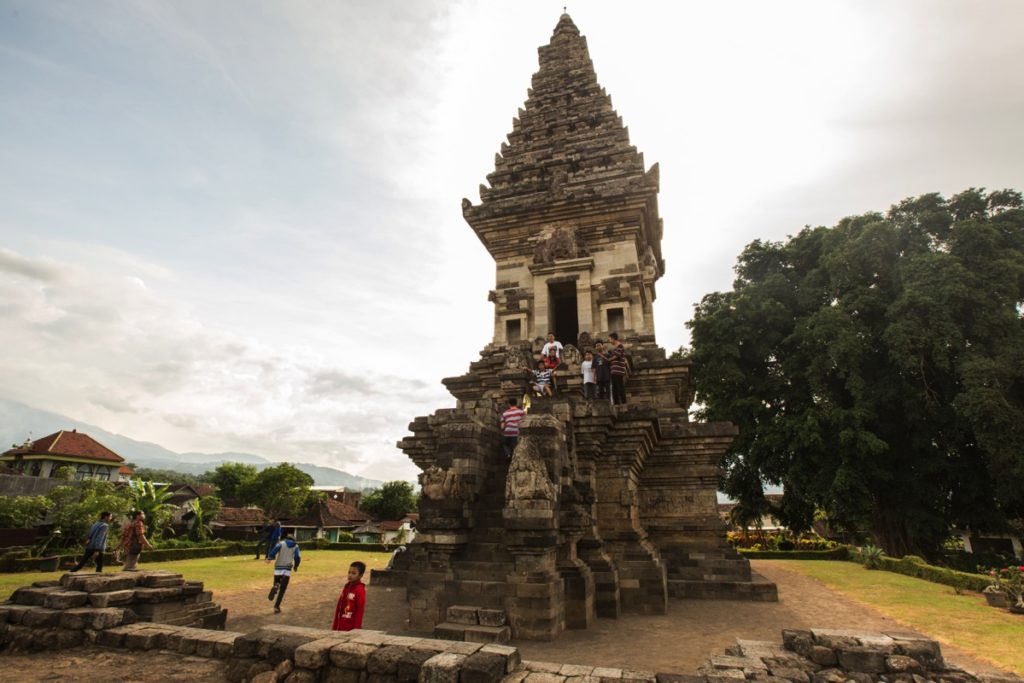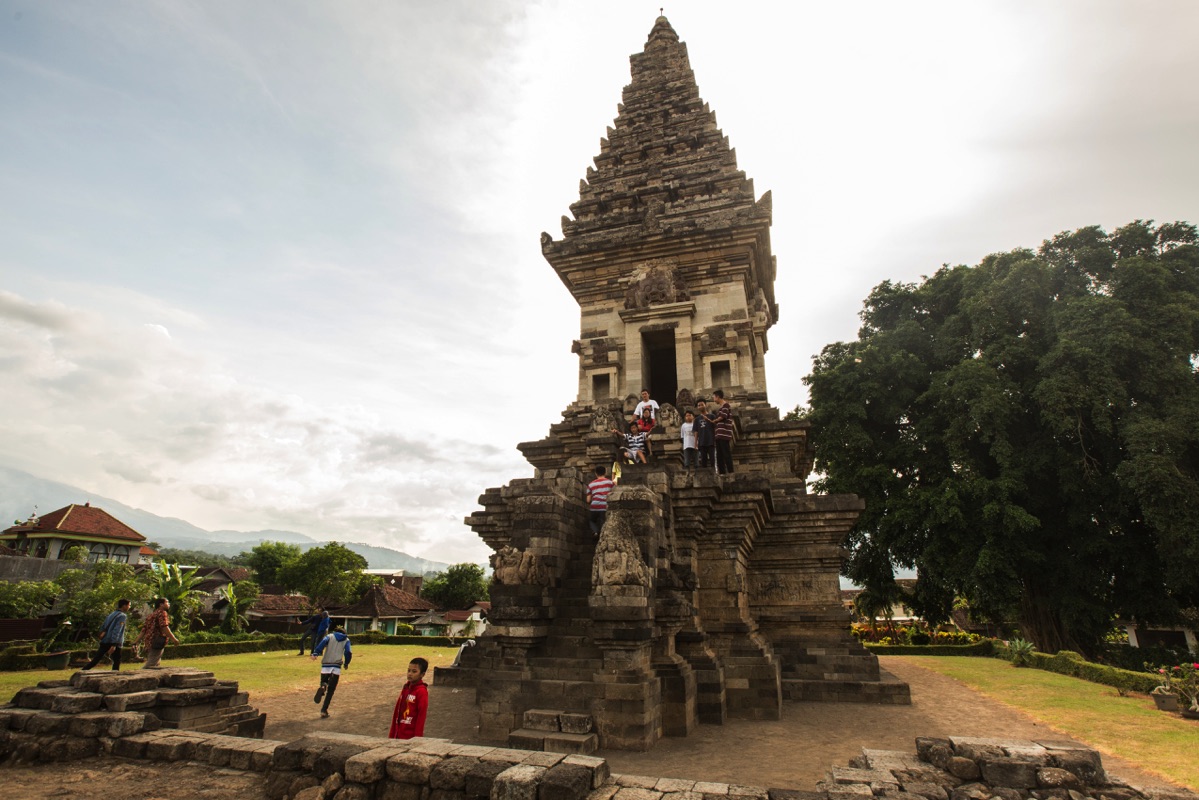 From Jolotundo to Selotapak villages
From Jolotundo to the village of Selotapak you will find huge terraced ricefields among the nicest in Java.
The agricultural schedule is different from each parcel but in average the area is at its best in September-October and probably April-May. In any case, it's best to visit before 9AM as the clouds are very common here (you are between Mount Penanggungan and Mount Arjuno).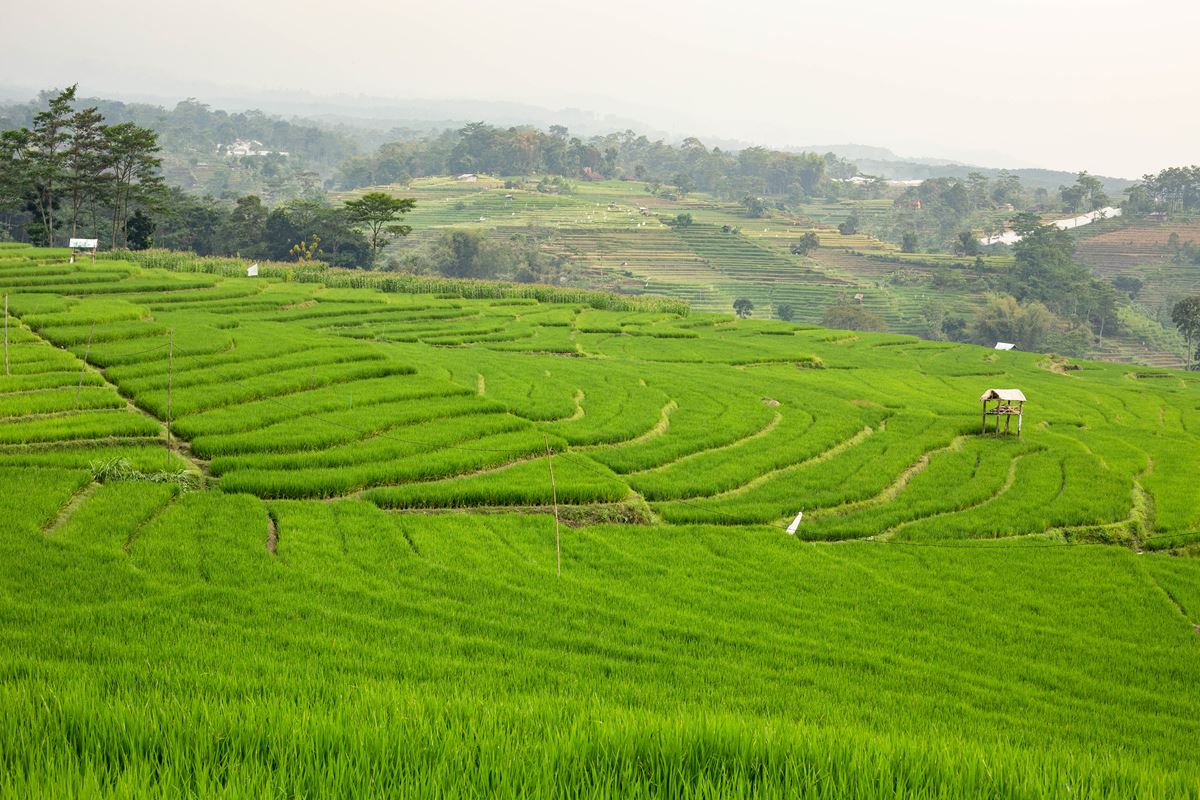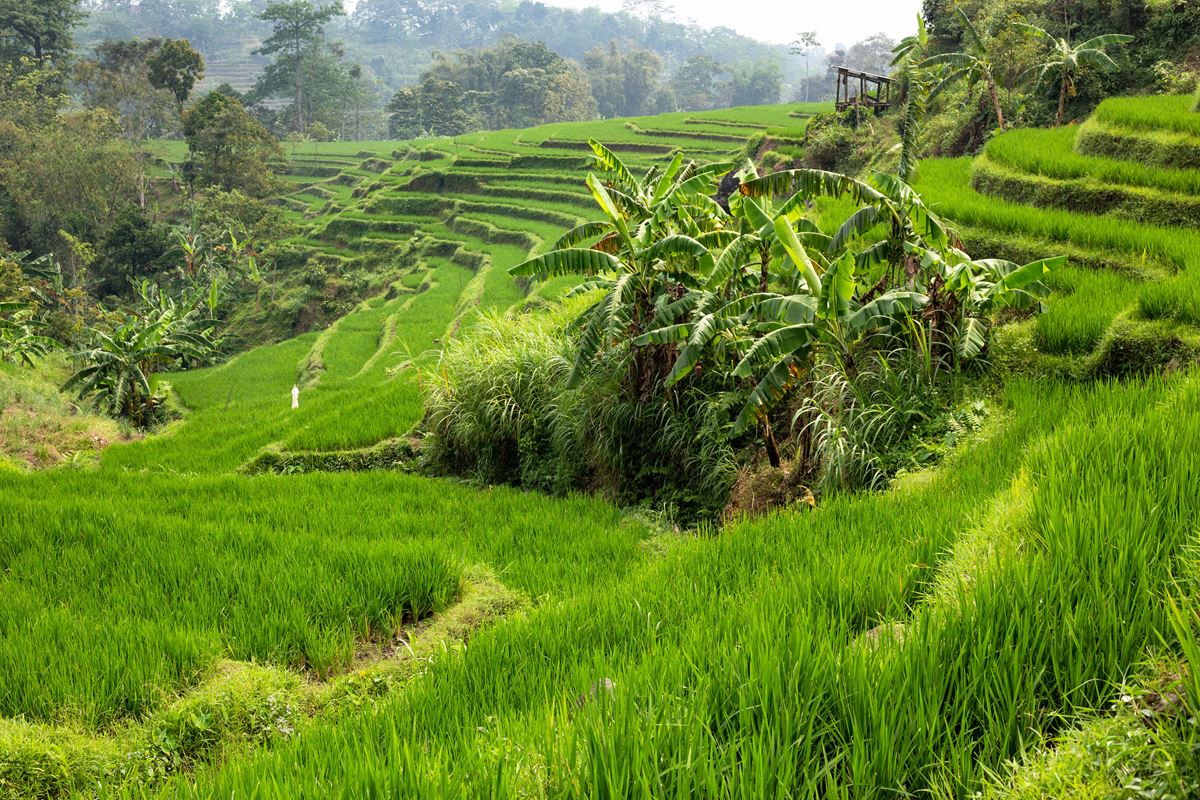 Selotapak village is probably the epicenter of this terraces area. Gets quite busy on weekends based on the number of warung there. Much quieter during the week.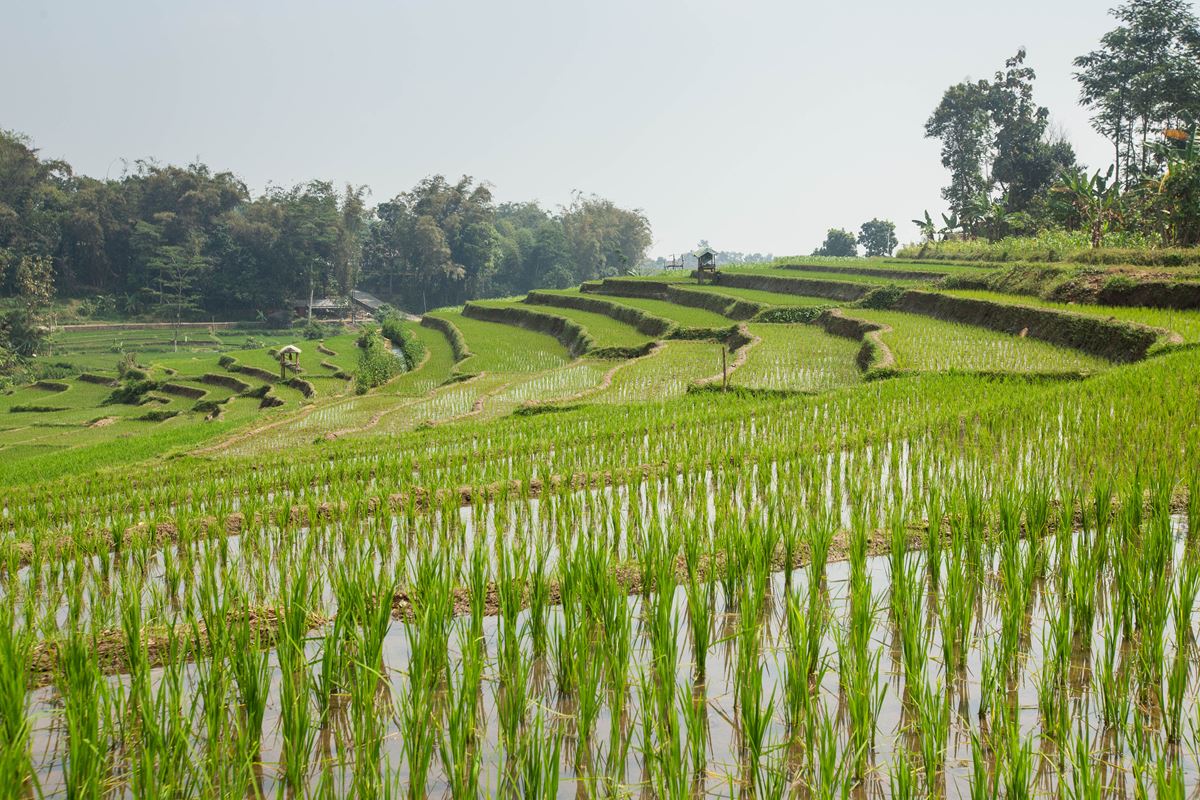 You can see another set of pictures taken in June instead of August :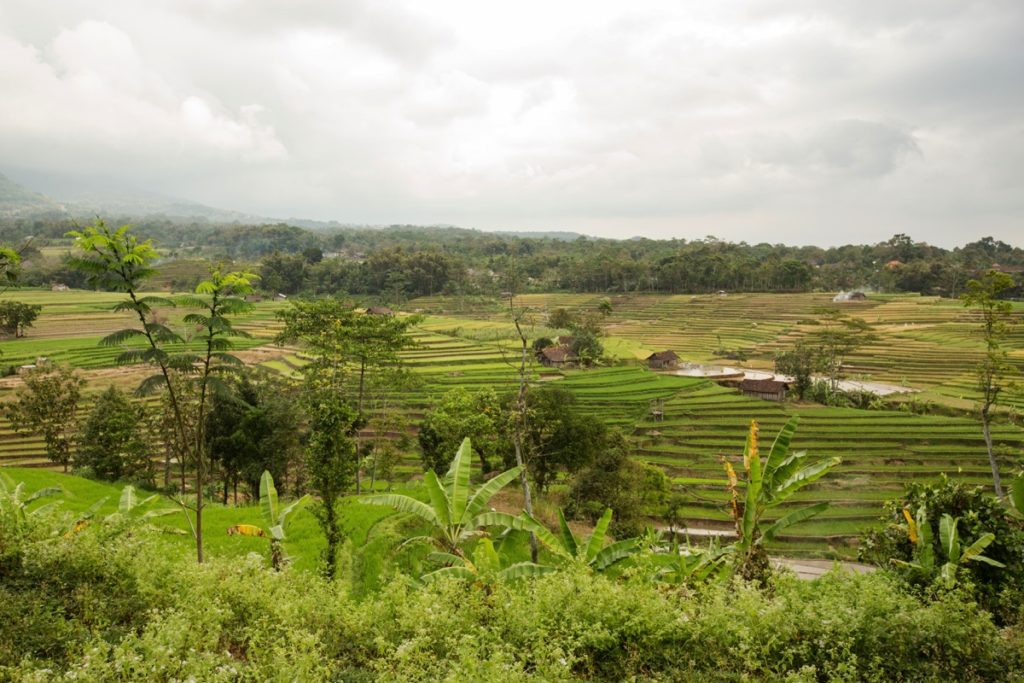 Singasari temple : remain of the court of Singasari kingdom
Not far from Malang you could also visit Candi Singasari. This Hindu temple with Buddhist elements also goes back to the Singasari kingdom in the 13th century. Actually it is thought that the kingdom court was located around this temple.
If you wan to visit by public transport : from town, take a angkot to Arjosari Terminal (5'000Rp), there wait for an angkot to Lawang and ask to get dropped on the way (4'000Rp).
A free donation is asked at the entrance of Singasari (or Singosari).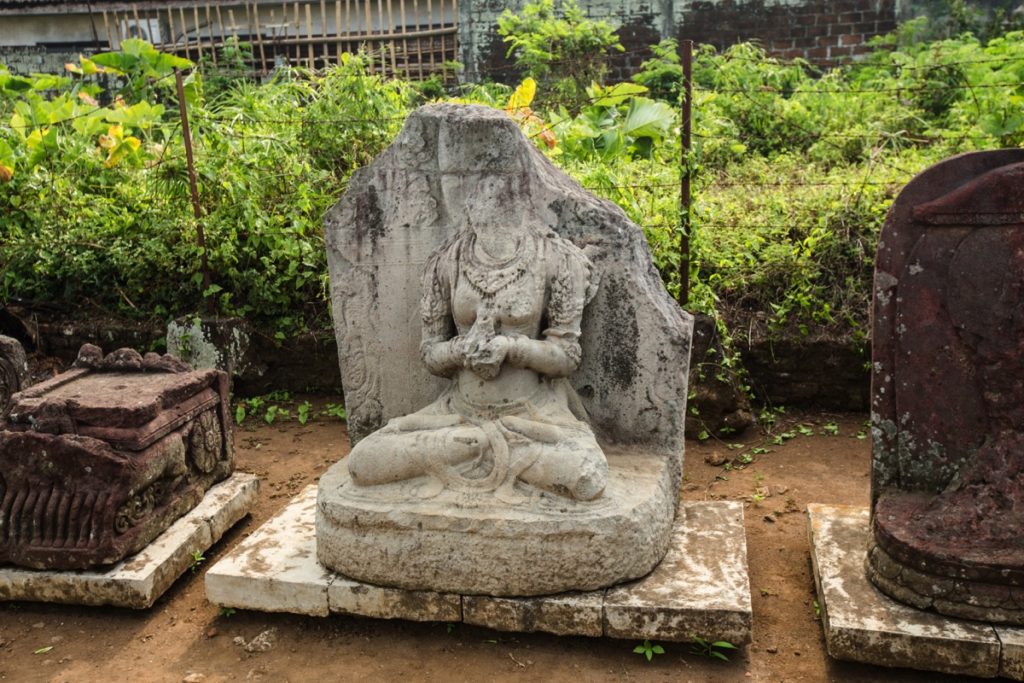 East of Malang : more temples, volcano view and waterfalls
Waterfalls on the southern flank of Mount Semeru
Air Terjun Tumpak Sewu has been a darling of Instagram since a few years but it is easy to understand why.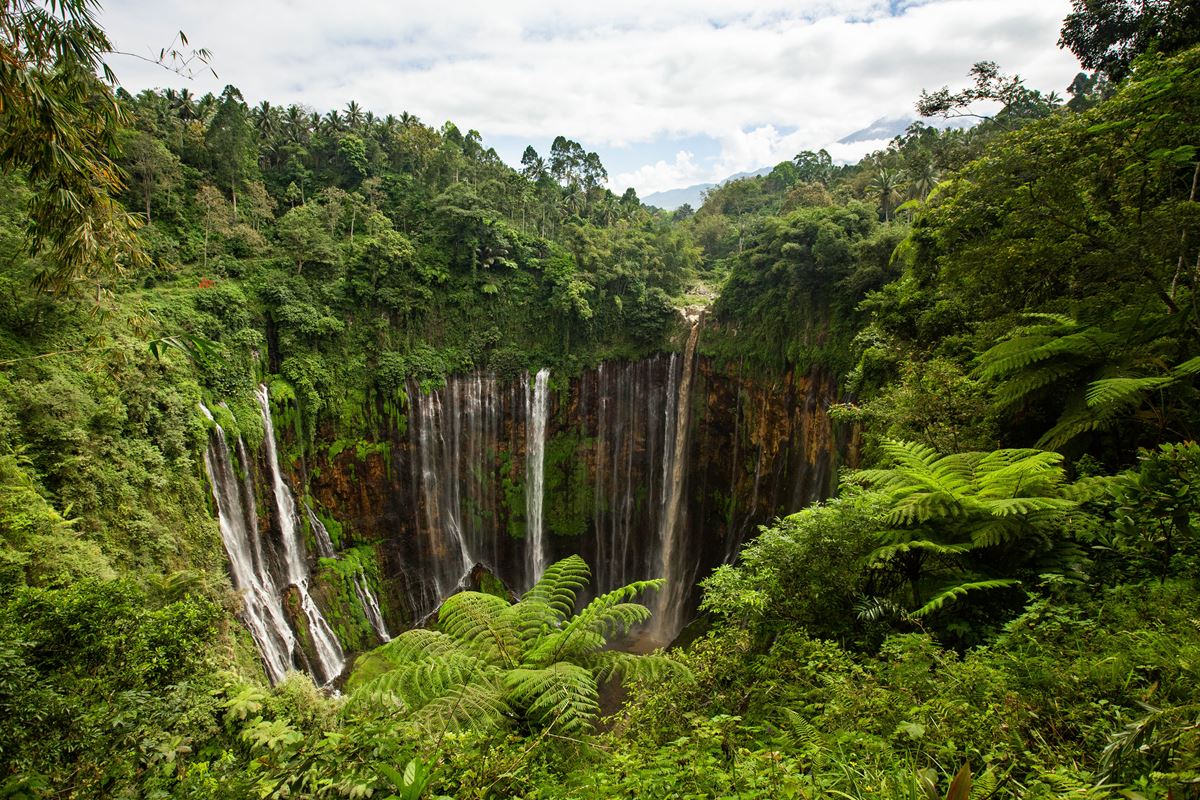 As of 2022, entrance is 20'000Rp (+ 5'000 for motorbike parking). If you want to get down to the bottom of the waterfall probably allow 1h30 and a additional fee of 10'000Rp must be paid.
It takes about 2 hours to drive to Tumpak Sewu from Malang (one way !) on a rather boring road with lots of trucks transporting rocks and sands on the way back. It's possible to stay near Tumpak Sewu for the night.
Pictures featuring the full Semeru volcano in the background must be taken with a drone.
A few kilometers from Tumpak Sewu, another waterfall seems to be popular. It's called Air Terjun Kapas Biru.
Splendid views on Mount Semeru from Oro-Oro Kombo village
Continuing for about 30 minutes after Tumpak Sewu, you can reach Oro-Oro Kombo village that is right on the foot of mount Semeru south flank. Great pictures can be taken there in the morning before clouds appear (same is true for Tumpak Sewu by the way).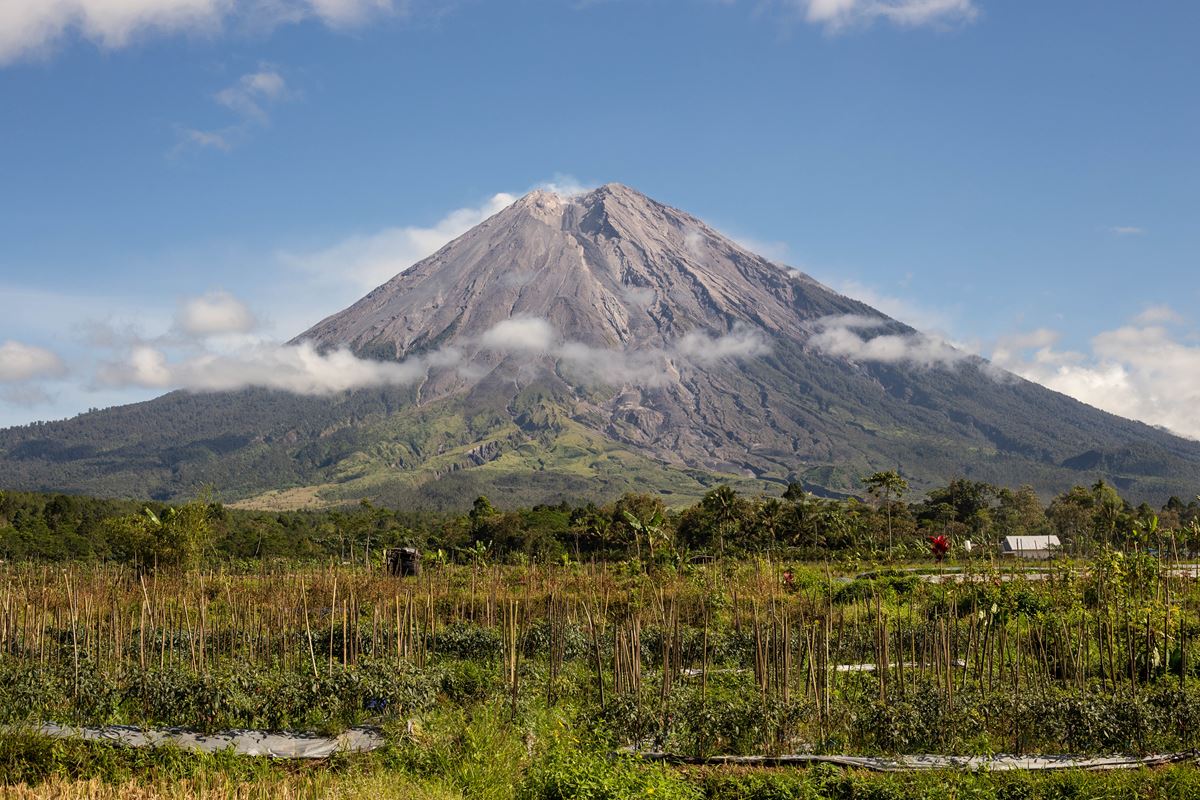 The disastrous December 2021 eruption left its marks near the village :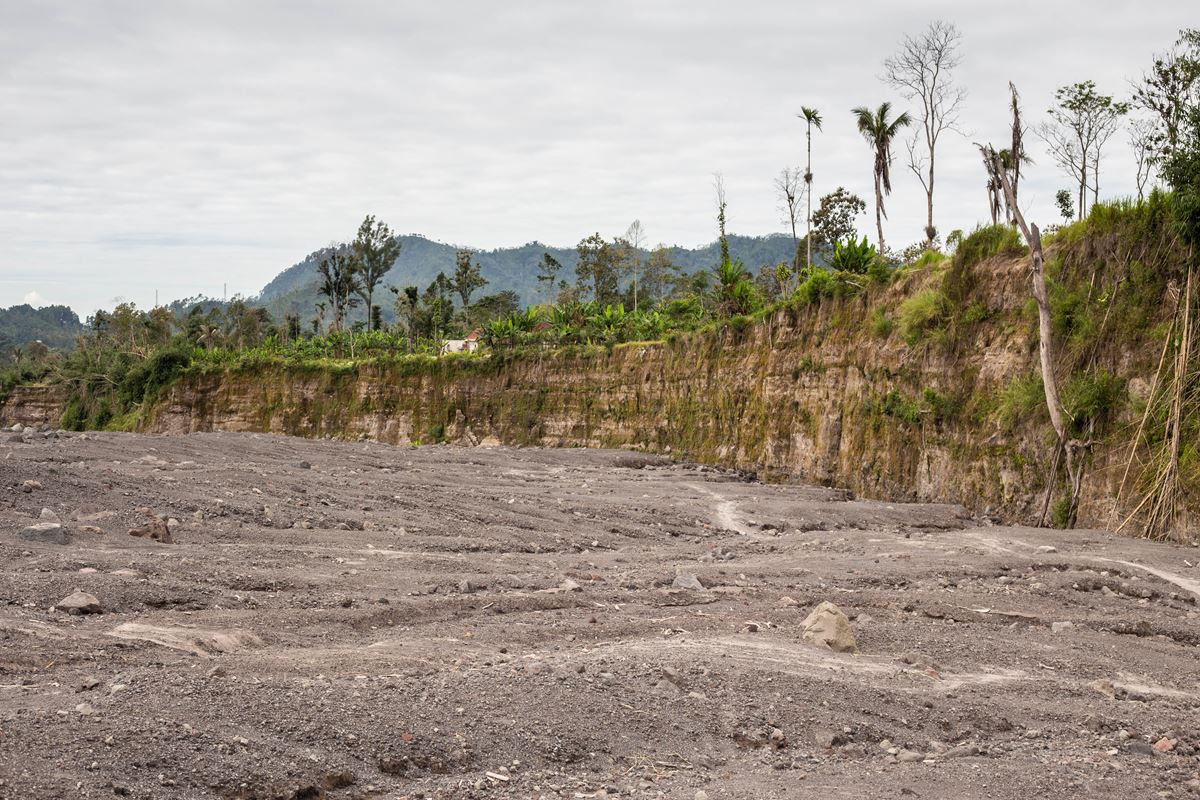 On the way back to Malang, keep an eye open to your left and you can find nice ricefields :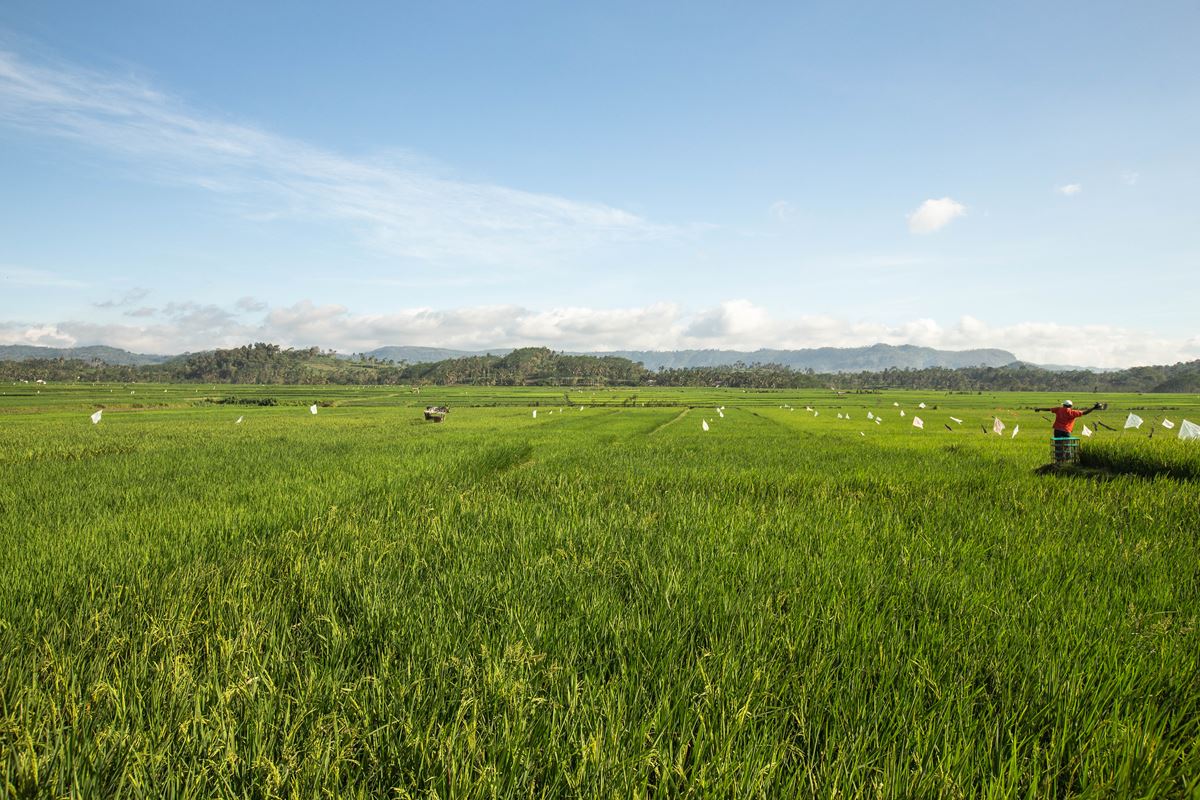 Looking for Candi Jawar
Browsing Google Maps I found trace of two Candi on the flank of Semeru : Candi Samudro and Candi Jawar. Finding them was another story.
First of all it seems that both are known by locals as Candi Jawar. Then Google Maps is completely wrong in its direction sending you on farmer trails that are not made for a motorbike. But it was nonetheless a great ride through mountain farming villages.
I ended up visiting only what Google knows as Candi Jawar.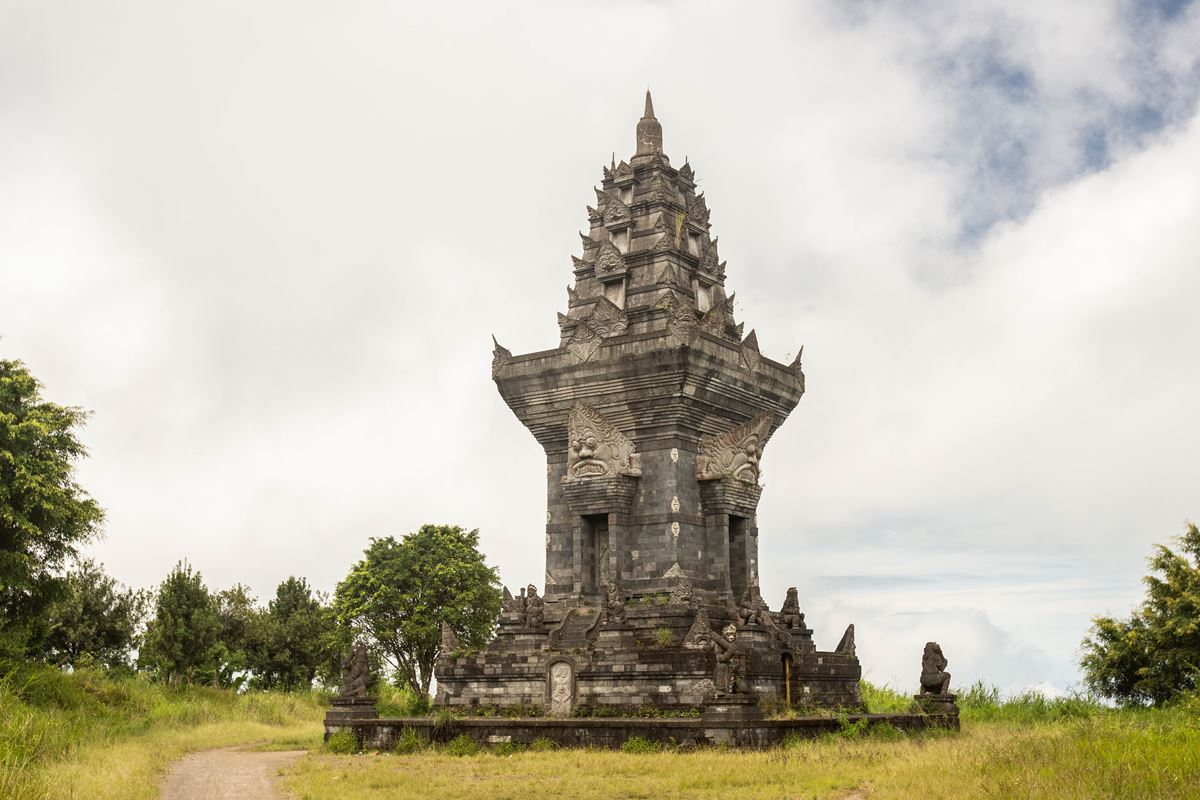 West of Malang towards Kediri : Candi Penataran and Kelud volcano
Candi Penataran
Near Blitar, you can visit Candi Penataran which is the largest pre-Islamic site of East Java. Entrance : 5'000Rp (2018).
It was built in the 2nd half of the 14th century. The terraced in the back that still features several relief from the Ramayana used to support a temple to Visnu now destroyed.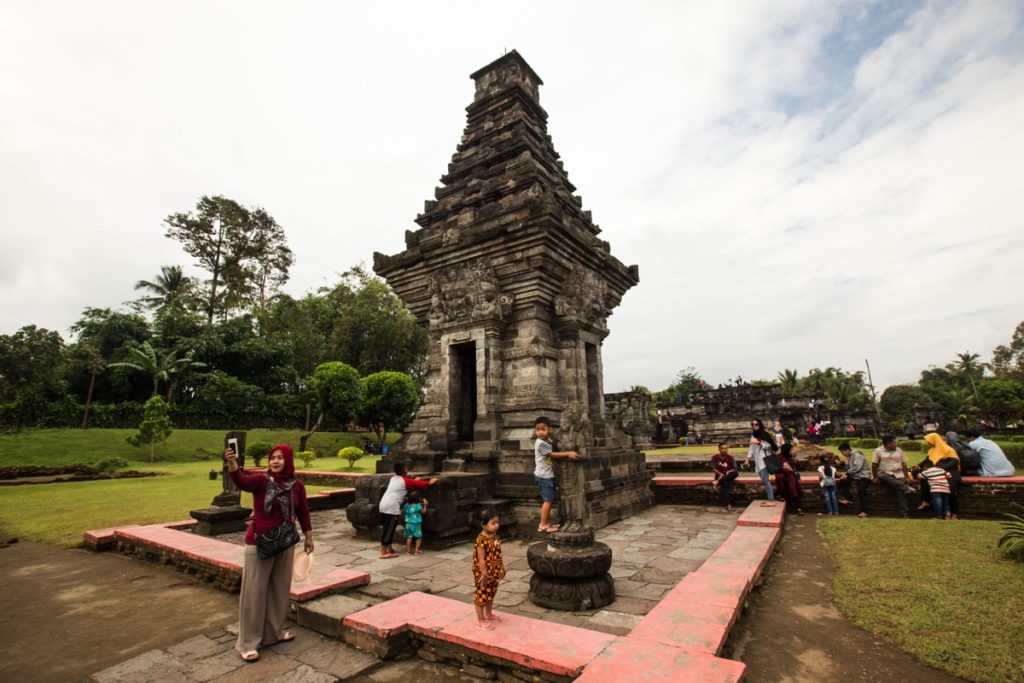 Gunung Kelud
The Kelud volcano is one of the most active volcano of Java, its last eruption were in 2007 and 2014.
Yet, there is a road that you drive almost until the crater, leaving you only 30 minutes to walk. Entrance is 8'000Rp, plus 3'000Rp per motorbike (2018).
If you want to have a clear view, come early. The landscapes have been deeply molded by the successive eruptions, quite interesting.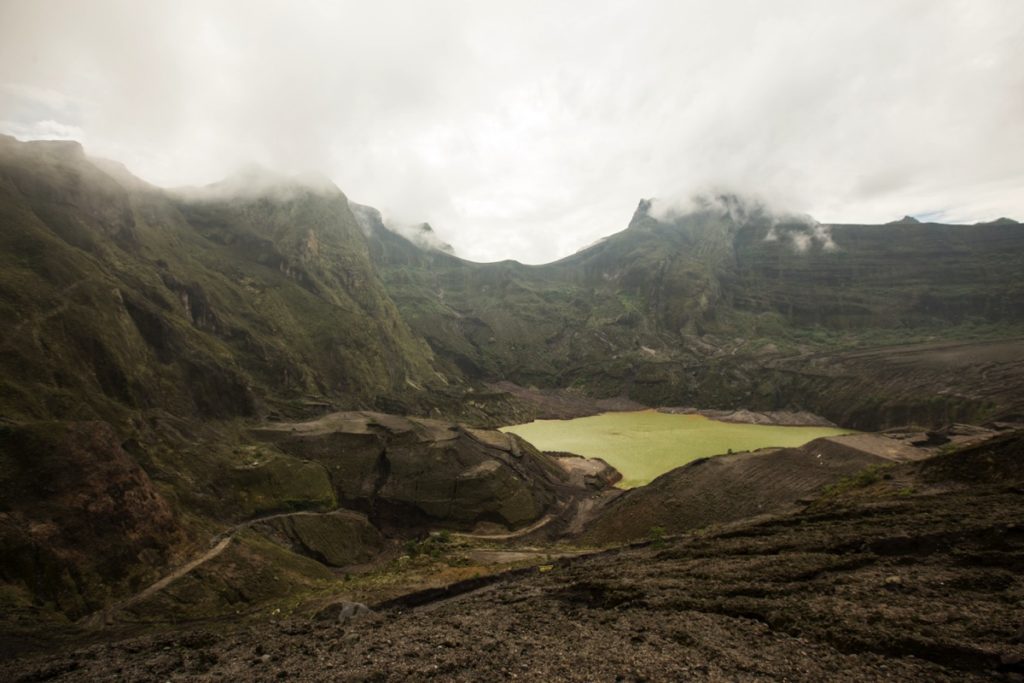 Practical tips
Malang is well connected by train to the cities of Yogyakarta, Solo and Semarang to the west and Banyuwangi / Ketapang to the east.
In 2022 I stayed at Shelter Hostel Malang which is cheap, clean, comfortable and have great staff.
Each time I wanted to rent a motorbike in Malang it demanded some efforts (2018 and 2022) as the supply was depleted. Most of the rental business operates on Instagram, based on my experience it's better to contact them a few days in advance. Prices are around 80'000Rp per day.
Even though I've never done it, I think that it is advisable to sleep one night either near Jolotundo or in Selopatak to enjoy the clearer morning weather rather than departing from Malang at 5. Homestays are available in both places.
Map