I've focused in this article on the area around Rantepao (Toraja Utara district). The Toraja cultural area also spans on Tana Toraja district around Makale but I don't know well this area. Most of the tourism is concentrated in Toraja Utara.
Your first stop in Rantepao should be the tourism office. It is located on Jl. Ahmad Yani between the local outlet of the National Statistics Agency (Badan Pusat Statistik) and an Indomaret store. It's facing the huge church of Gereja Toraja and maybe 100m after Elim hospital when coming from downtown.
The nice staff there can tip you about the upcoming schedule of funerary ceremonies and also give you a great map of Toraja (even though the coverage of the South around Makale is not as good as the surroundings of Rantepao). Otherwise have a look on it here.
I've written 2 long articles about the culture of the Toraja that you may be interested in :
From Rantapao to Pala'Tokke
This makes an easy day-trip by hiking. From Rantepao head South. You could stop by the megalithic site of Rante Karassik but there are better similar sites elsewhere.
Next you will pass the site of a large tongkonan in the village of Buntu Pune. The place is well-maintained and interesting. The 2 houses and the granaries still have their bamboo roof. Behind the compound, a trail takes you up a hill with a view on Rantepao. There is also a couple of hanging graves on the way.
You'll pass another tongkonan called To'Bubun, with 2 larges houses with rich carvings (but iron roof) and 6 granaries.
After about 1 hour walking from Rantepao you shall reach the village of Ke'te Kesu'. The village is quite large and every single house is still built in the traditional way (ie : with bamboo roof). The houses are finely carved, most of the granaries have quite old and half-erased carving.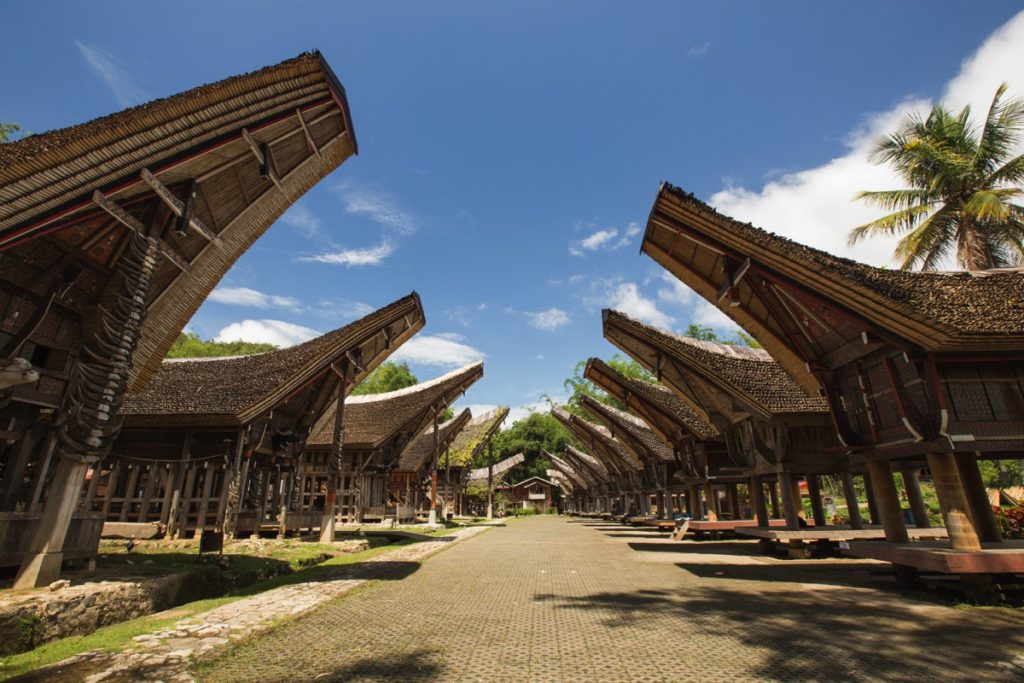 Ke'te Kesu' is arguably the finest remaining traditional village of North Toraja, given its proximity with Rantepao it receives several visitors every day. A bit further in Sesean area, Palawa is an alternative less populated.
You'll need to purchase a 20'000Rp entrance ticket to get to the village. You will find several souvenir stalls, you may want to know that the pieces of wood carving (similar to the one on the houses) for sell are of much better variety and quality than those sold in Rantepao.
One of the house has been converted into a museum, but the door is closed unless you ask the guardian. Another donation is expected to see the rather small but interesting collection (I gave 20'000Rp).
Behind the compound, a short trail leads to a cliff where you have a couple of hanging graves, caves filled with coffins and other concrete tombs.
You can keep walking until the hanging graves of Pala' Tokke' (about 30 minutes from Ke'te Kesu'). Views are great if you cut through the rice paddies (it's not a problem, ask politely the permission to pass if you meet someone).
The site of Pala' Tokke' is not the most impressive, the reward is rather on the way there.
Go back to the main road and just flag down a bemo to get a ride back (5'000Rp to Rantepao).
Around To Baruna
You could visit the following places as a day trip from Rantepao or include it in a 2 days hike from Batutumonga. You would start from Batutumonga, stop by Tinimbayo, walk to Palawa', sleep in To'Barana' (there is at least one lodge on Google Maps, I don't know about the price though) and go back to Batutumonga by Patongko and Limbonglangi.
I've hiked from Palawa to Batutumonga by Lempo and cutting through the ricefields in 2016. It's splendid.
If you want to do it from Rantepao, take any bemo in town to Bulu market (5'000Rp). From Bulu wait for a transport to Palawa' (8'000Rp), I had to wait until 10AM.
Palawa' is a less-visited alternative to Ke'te Kesu', you will find 10 tongkonan and 15 granaries, all with their bamboo roof. The entry is 20'000Rp.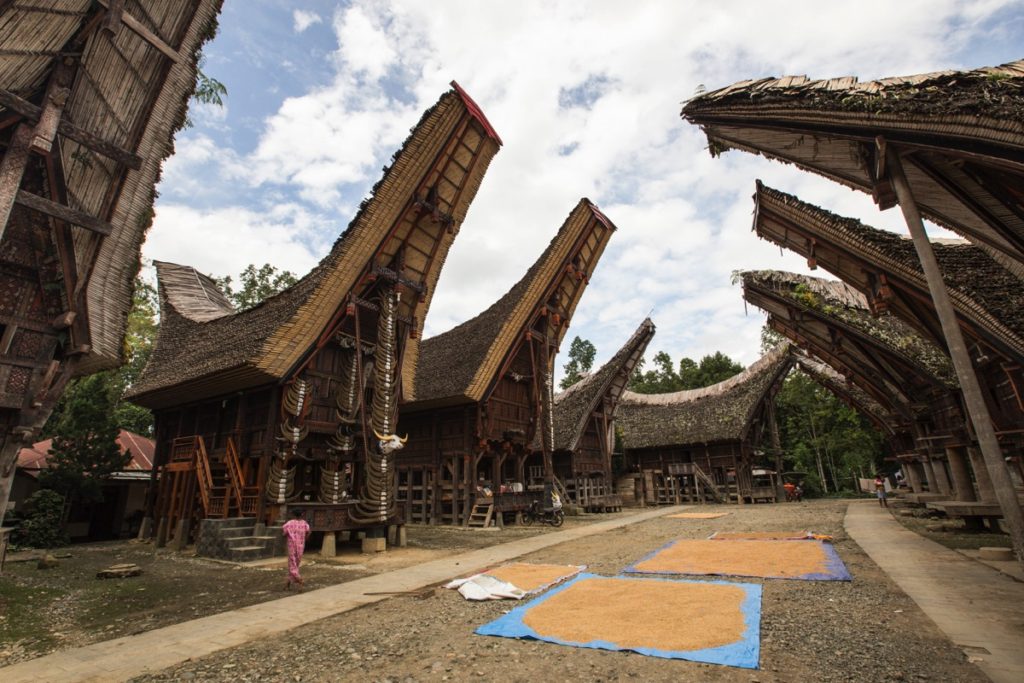 From Palawa' I walked to Songkombong where you have a couple of villager producing woven textiles. There are also 2 very old tongkonan. This is a nice hike by the Sa'dan river.
Besides that I prefered the atmosphere of To' Barana' which is also a center for weaving. If you plan to buy something, you will have plenty of choices (most of their production is sold in Rantepao anyway). If you don't buy anything but spend some time, leave a 10-20'000Rp donation in the guestbook.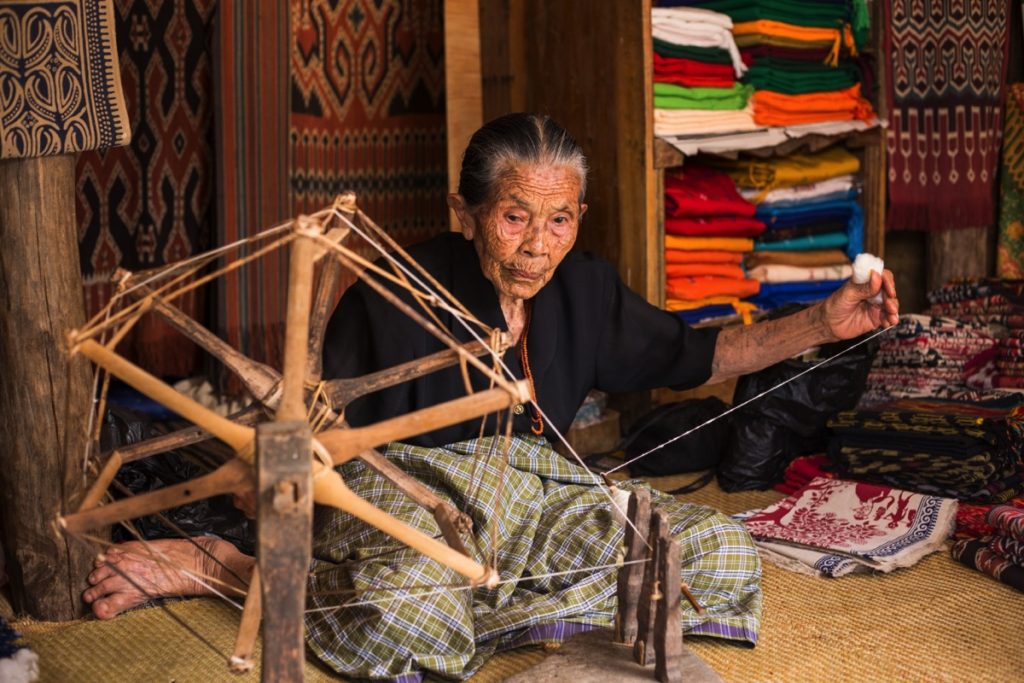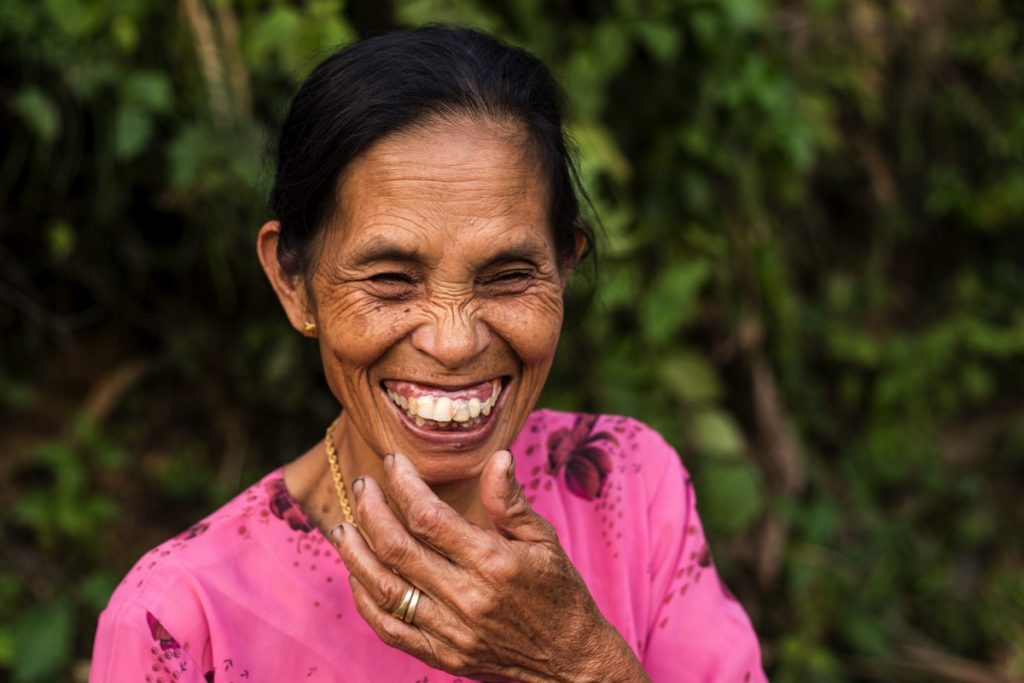 Going back to Rantepao in the afternoon might be a bit challenging, a pick-up gave me a ride and he dropped me when we met a minibus heading back to Rantepao (15'000Rp).
Around Batutumonga
I recommend everyone to stay at least one night in Batutumonga. It also makes sense to stay most of your time in Batutumonga instead of Rantepao. There is a couple of accomodations (starting at about 150'000Rp for a double room, most of them are charged 200'000Rp) also doing restaurants. They aim at group tour for lunch and are much calmer at night.
The region of Batutumonga might be one of the nicest of all Toraja. My advice would be to do a few day-trip (I made a subsections for each idea below) from your accomodation to simply enjoy the beautiful countryside. The 4 following pictures have been taken in August, I visited again in October, most of the rice had been harvested.
For those keen on hiking, you could get up Mount Sesean in about 1h from Batutumonga where you have a great view over the valley. I wasn't really fortunate about the weather. This is the view you have from almost every homestay in Batutumonga.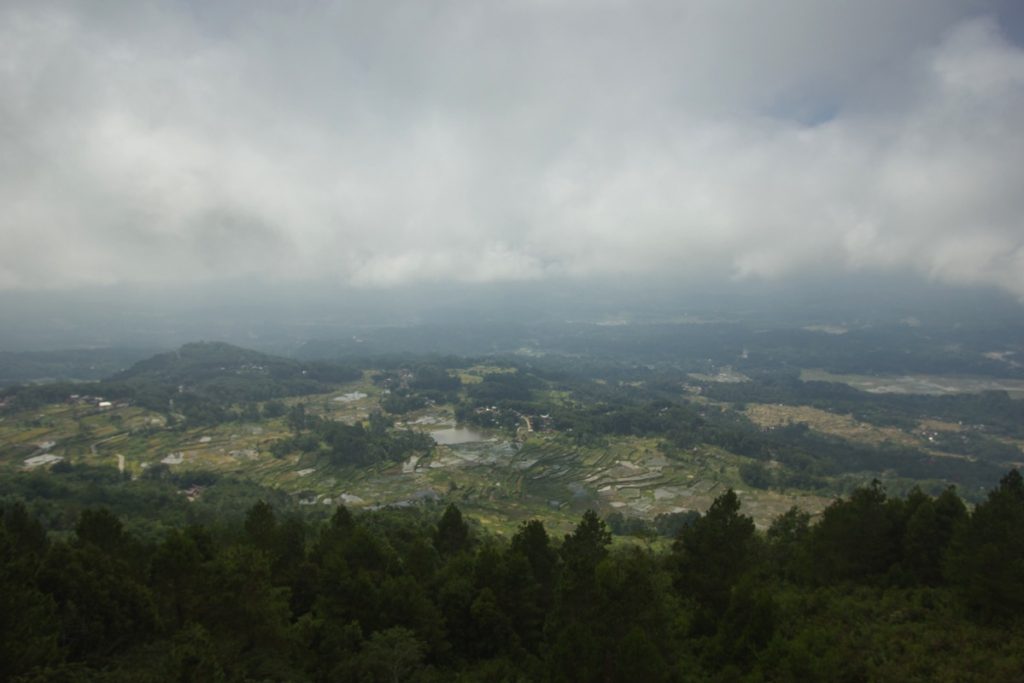 Not very far from Batutumonga you also have the splendid viewpoint of Tinimbayo, overlooking huge ricefields.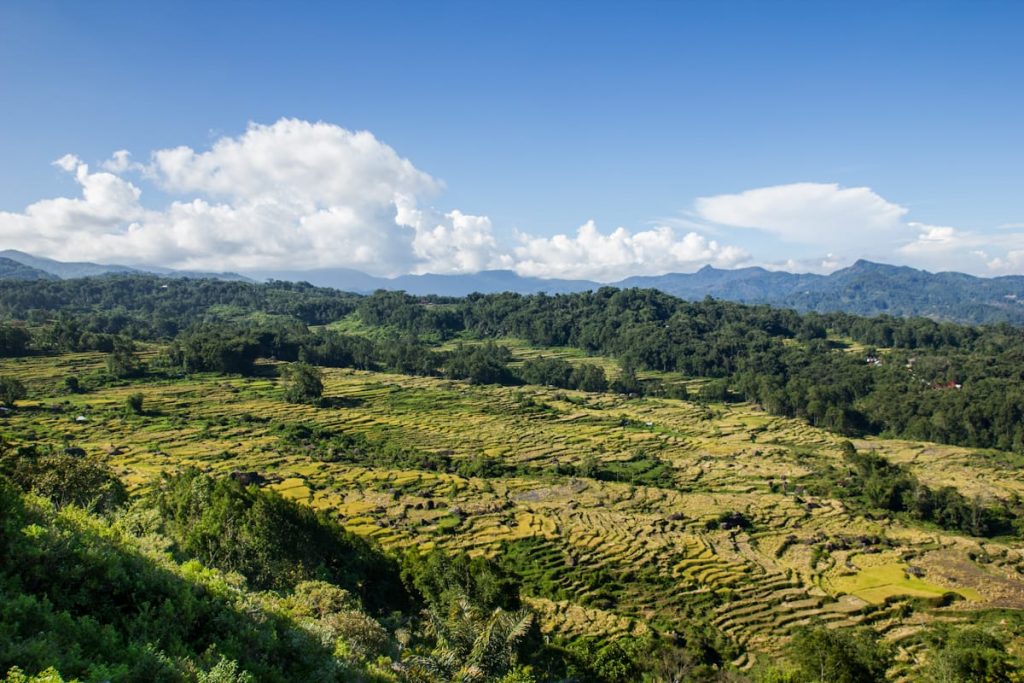 Lo'Ko Mata
The first one is the grave site (liang) of Loko Mata. Nothing unusual in Toraja, you will find plenty of similar sites on your way while exploring the area but I don't remember having seen such a large boulder elsewhere.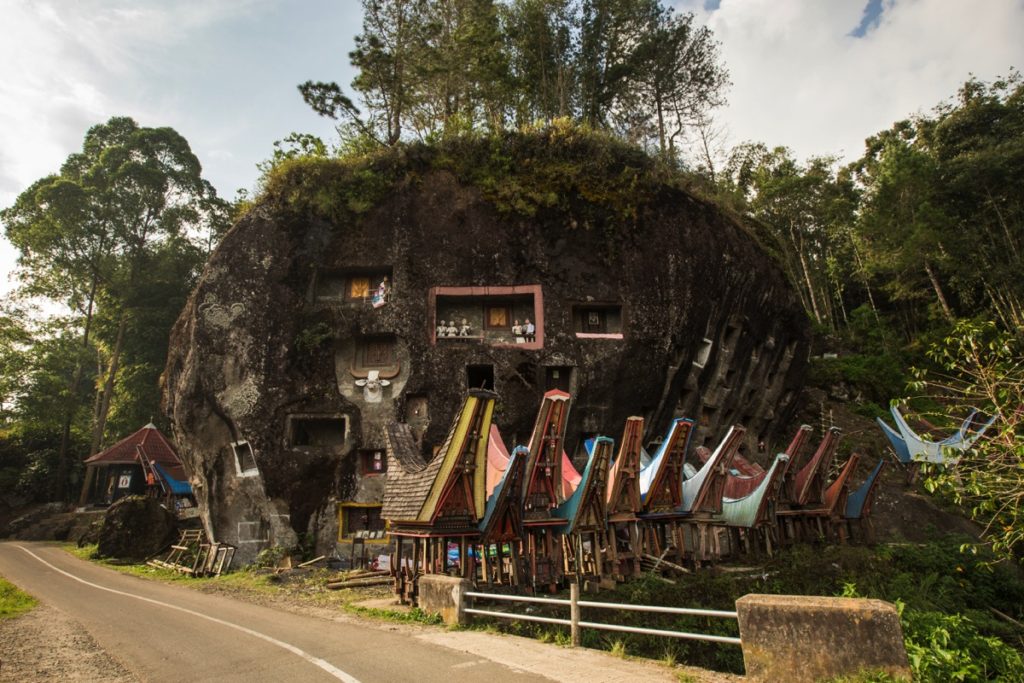 The site of Pana looks very close on the map but I've chosen to skip it. I had seen enough similar sites at the time of my visit in the area. Could make a nice addition though.
Bori' Kalimbuang and Lombok Parinding
It's about 2h30 walking to Bori' Kalimbuang and another 20 minutes to Lombok Parinding. Bori' is in my opinion the most impressive megalithic site that I've seen in Toraja. The entrance ticket is 20'000Rp. Behind you also have a couple of graves, a baby tree as well as the tongkonan displaying the most buffalo horns of the region.
Lombok Parinding is a Toraja cave burial site. The entrance is 20'000Rp, it's quite similar to the other than can be seen elsewhere.
An example of multi-day hike in the North (Pangala' – Baruppu' – Pulu' Pulu' – Sapan – Batutumonga)
I've tried the Northern hiking trail indicated by the map distributed by the tourism office. Get a shared taxi from Rantepao to Pangala. They don't leave from Bulu station but in town at the intersection between Jl. Emmy Saelan and Jl. Andi Mappanyukki. It leaves when full, I had to wait until 10h30. It's 40'000Rp to Pangala' for a bit more than 1h.
From Pangala' walk to Baruppu' (about 2h). In Pangala' you have a couple of warungs, a market and a homestay. From there until Sapan, there is no more shops or warung, you will have to bring your food or find it among the villagers. A homestay can be arranged (but it's likely that not a single word of English is spoken). Don't abuse people hospitality and pay your way, I usually give 100-150'000Rp per night, a bit more if you are 2 (in older versions of the Lonely Planet you could read some advices like bringing sugar or tea, this is stupid, everyone has a motorbike these days and can shop what he needs in town).
The surroundings of Baruppu' are quite nice. Otherwise the way is not very scenic from Pangala'.
From Baruppu' you will pass several villages for about an hour. I stopped in Gorang where I came accross the end of a funeral (we were already in October back then and I was a bit surprised). It was a rather small scale ceremony where 7 buffaloes had been slaughtered, hence no rante had been set up and everything was going on in front of the houses.
I ended up staying the night there, sharing a room with many other guests. If you have the occasion, spend the night with the family after a funeral. It's a rather nice moment, people play cards together, men drink ballo' (palm wine) kept in bamboo tubes, some sing. It's a moment where all the family gather together, cousins are reunited …
A amusing dialogue I had with a young guy of about my age :
– You do have zombies in the West (di barat), right ?
– Hell no ! Why do you think so ?
– Well, I've noticed that you don't have any ghost movies in your country. We do have a lot in Indonesia. But you do have zombie movie instead, so I thought there were like your ghosts [many Indonesian believe in ghosts or other jins, so given Indonesia ghosts movies are based on true stories, so must be Western zombie movies].
The next day I walked all the way to Pulu' Pulu' (2h40), Sapan (another 2h). The trail goes through a quite moutanous region with few villages and no ricefields. This is the very edge of Toraja territory to the North, to be honest you have much more scenic regions elsewhere.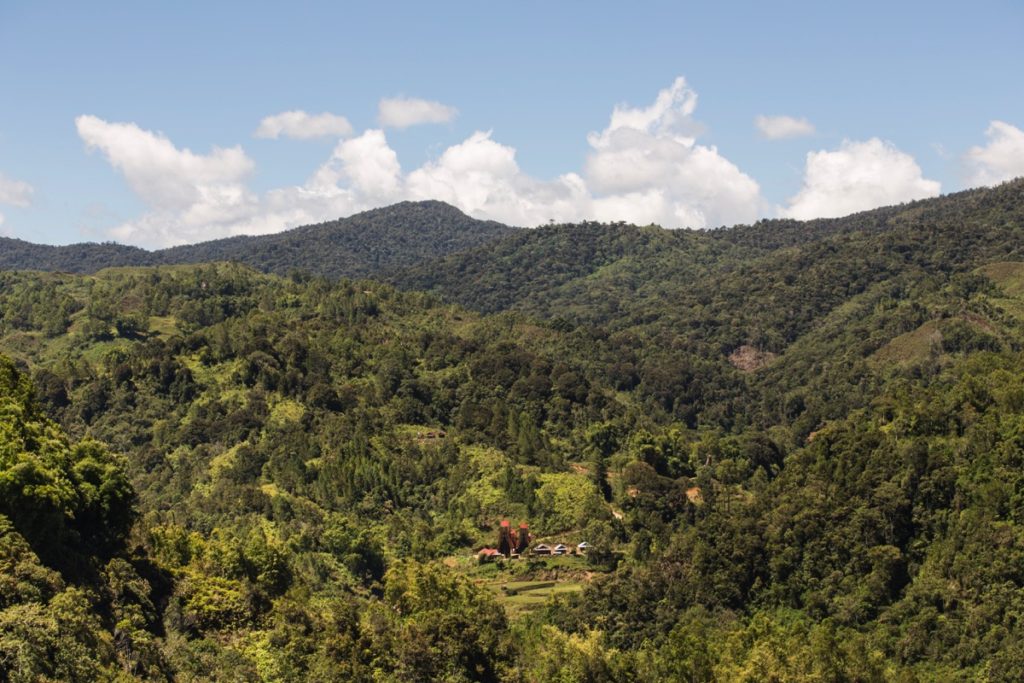 The carving style is a bit different from others areas though :
I reached the village of Sarambu in the end of the afternoon and arranged a homestay with some villagers. There were extremely nice. My host's husband had gone to Saudi Arabia to work on a ship, he makes 7 millions IDR a month, a way better salary that what he could get by staying in Toraja.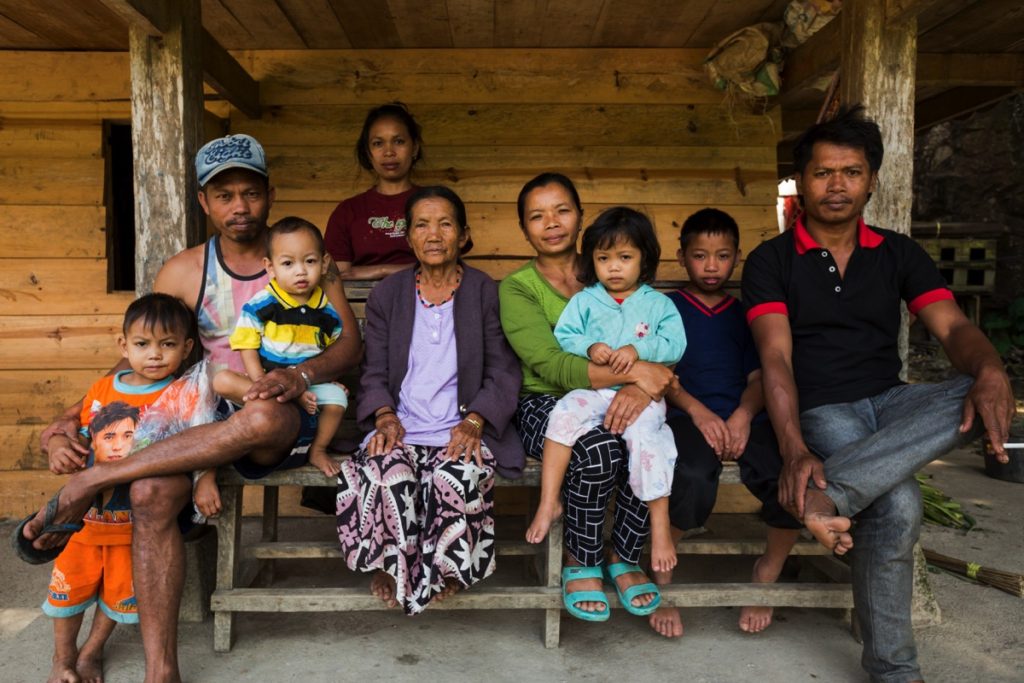 The surroundings of Sarambu are beautiful.
The next day I went to Bululangkan (didn't found the mummy, villagers didn't seem to know about that), Loko Lemo and finally in Buntulepong (where you have some houses litteraly lost in the middle of the ricefields). From there, villagers explained to me a way to cross the river and to get back to the road to Batutumonga, that I reached in the end of the afternoon.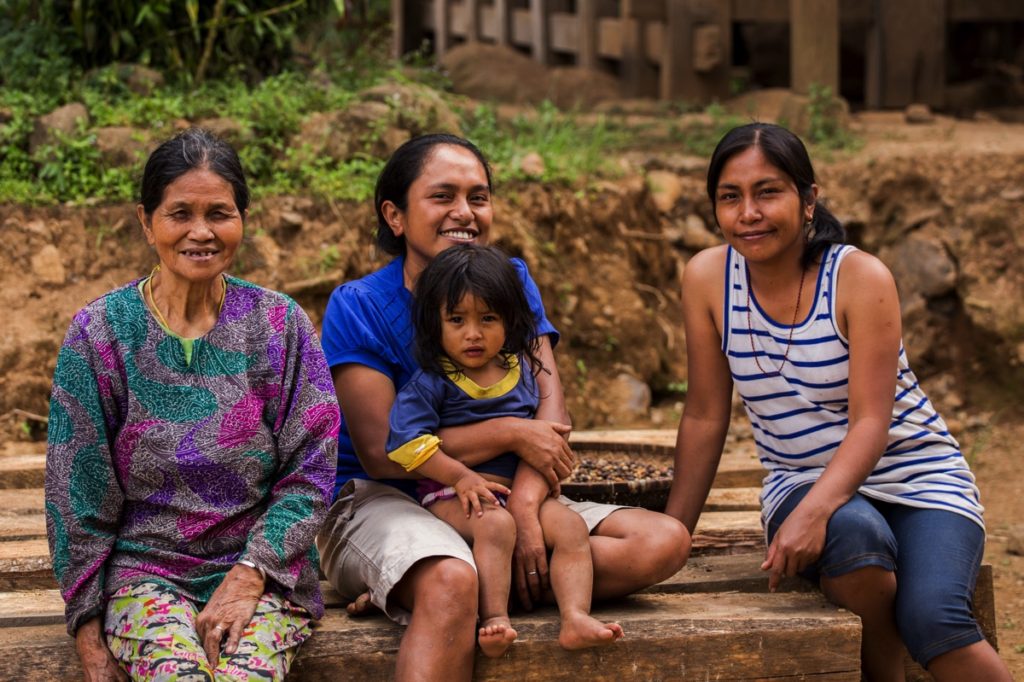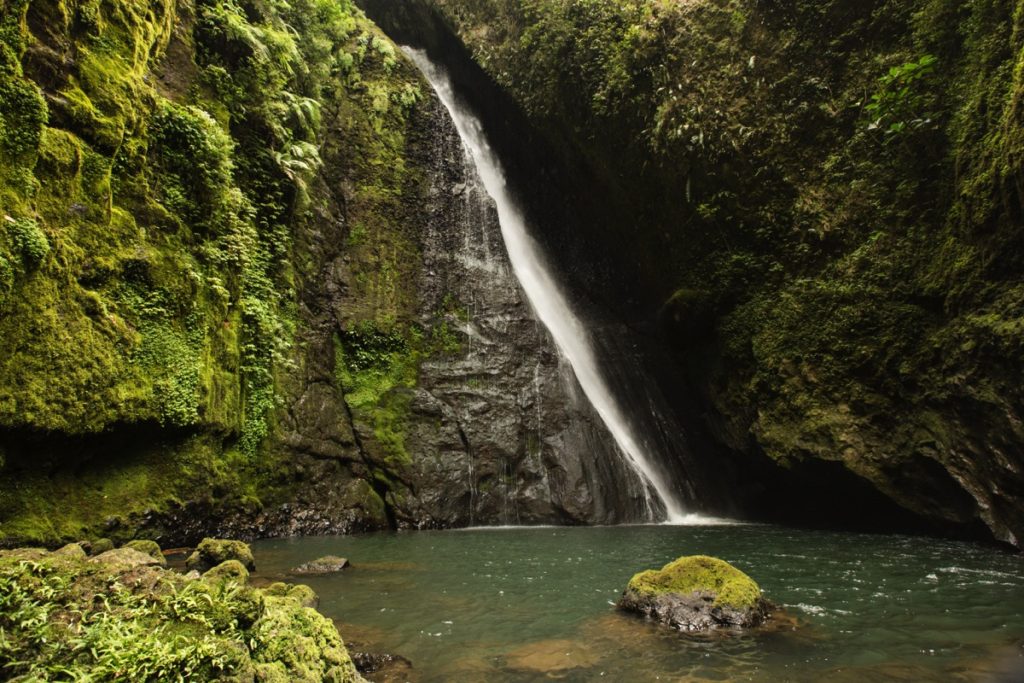 Lemo and Kambira
South of Rantepao (in the case of Kambira it's almost Makale) you have a couple of burial sites which are heavily promoted. Both charge 20'000Rp for entry and could be skipped in my opinion, you will see similar sites elsewhere in Toraja.
The site of Lemo has a rather impressive cliff which serves as a burial ground. The effigies are called tau-tau. In the early 1980s, all Lemo's tau-tau were stolen. Since then, they have been replaced with crudely carved replicas. Back 40 years ago, when a large part of the population was still animist, this was considered a major crime as the theft deprives the grave from its stored power.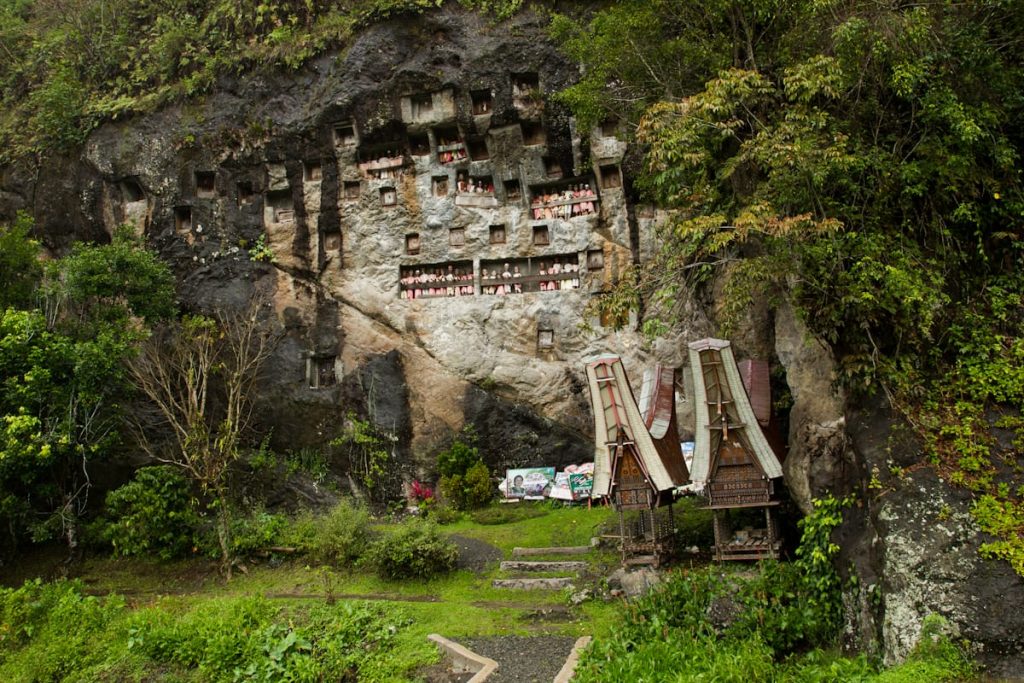 Another famous site is Kambira. Toraja used to bury deceased babies in a tree. It was believed that the baby would keep growing along the tree, hence reaching maturity and from this point be able to reach the underworld.
Kambira is the most famous site but you have alternatives in Pana' or Bori' Kalimbuang for instance.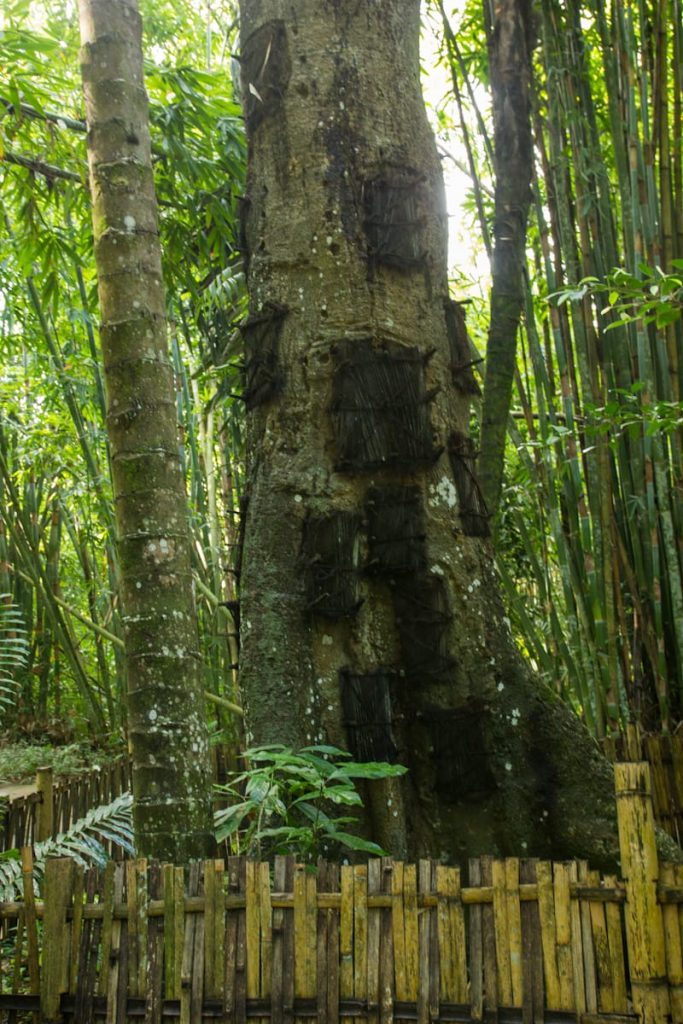 Practical tips
Accomodation
Accomodation in Toraja are rather expensive for the quality. One of the cheapest place is Wisma Maria I near the Bakti square (lapangan bakti). Outdate single room, cold water, breakfast for 140'000Rp. The first time I went to Rantepao I've stayed at
Another very good option is to stay in Batutumonga. You could do a lots of daily hikes or 2-days hikes from there, away from the noise of town with a beautiful view over the ricefields. I've stayed a couple of times at an accomodation, but I forgot the name and the exact position (I need to see the road to remember where it is), there is an old tongkonan in the garden and you can sleep inside. Price is 150'000Rp for a double room, they also have a restaurant. Other options in town are slightly more expensive from my understanding.
Many other simple accomodation can be found in various villages. For those with a bit of knowledge in Indonesian, a improvised homestay can be arranged almost everywhere (leave a minimum of 100'000Rp per person for the food and the accomodation).
Transport
Coming to Toraja
You can take a bus from Makassar or Enrekang. In Makassar, take the bus from Terminal Daya. From the airport, take a DAMRI bus (every hour from 08:30AM to 00:00AM, 25'000Rp to town, probably less to the terminal which is on the way, more info in Indonesian here).
Buses come in various levels of comfort, it starts around 150'000Rp for a simple to bus up to 300'000Rp for a sleeper bus. The ride takes a minimum of 9 hours. You have bus departing all day long from 9AM to 9PM. Many buses leave at night from 7PM to 9PM. Shared taxis (travel) are also available.
In the airport you have plenty of drivers offering to take you to Toraja in their car.
Transnusa also operates small airplanes from Makassar to Rantepao like 3 times a week. Not possible to book online.
Local transport
The standard rental rate for motorbike in Toraja is about 80'000Rp. I personnaly consider that the region is best explored on foot but you might want to rent a motorbike to explore some more remote areas.
There are plenty of transports to villages leaving from Bolu terminal in the morning (around 10AM). To get to Bolu, take any bemo heading North in Rantepao (5'000Rp). For some more remote villages, bemo from Bolu might be irregular, taking a shared taxi slightly more expensive is an options then. Most of them don't leave from Bolu but directly in town.
When to go ?
In the highlands of Toraja, rain starts from November and last through January. There is usually a secoundary rainy season in March and April. On occasions, rains may be early or late.
The funeral season lasts from July to September. But it doesn't mean that there is no funerals outside thoses months. I've seen funerals in October for instance.