Tangkoko is one of the most popular Indonesian nature destination. Why ?
Sightings of 3 endemic and photogenic species are very likely : Celebes crested macaques, knobbed hornbills and spectral tarsius.
It's easily reachable from Manado.
The forest is easy to walk, reasonably flat and you get back to your room every night.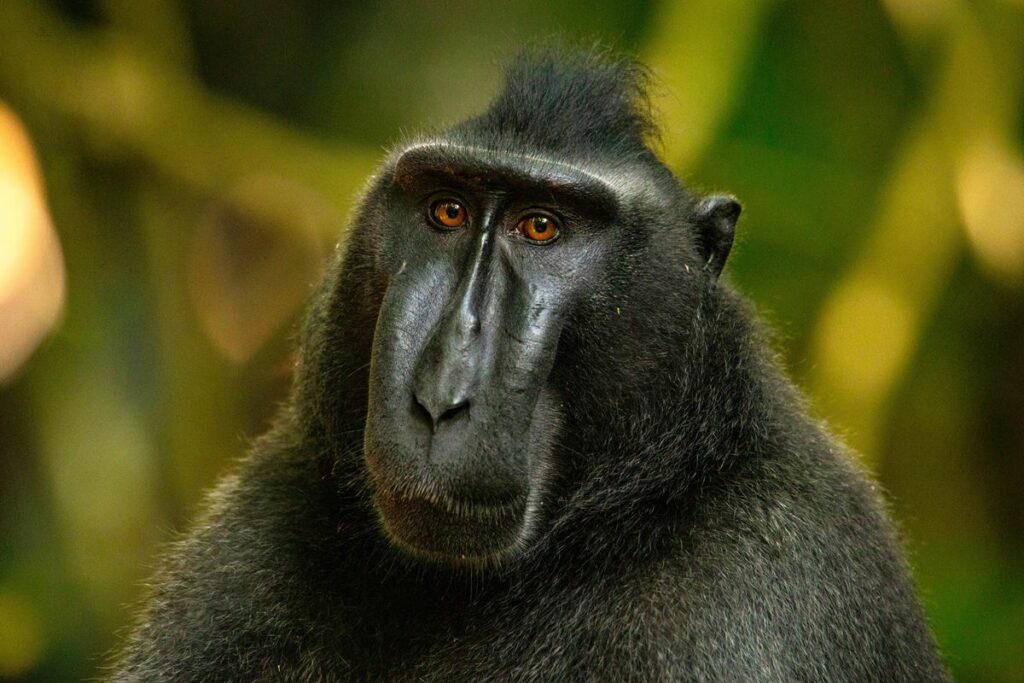 You may remember the famous "monkey selfie" that was taken by David Slater (or is it the monkey ?) in 2007. It was taken there.
What wildlife can you see in Tangkoko ?
In October 2022, I spent 3 days in the forest primarily looking for pictures of Celebes crested macaque (called Yaki by locals) as well as the 2 endemic species of hornbills : the knobbed hornbill and the Sulawesi hornbill (second one was a failure).
Celebes crested macaque (macaca nigra)
This is one of Sulawesi 6 endemic subspecies of macaque, and the most photogenic.
Macaques are most easily seen in the morning after they wake up. I encountered them in very large groups but also smaller ones (depending on the luck of the day). They are very used to human and you can get pretty close to them.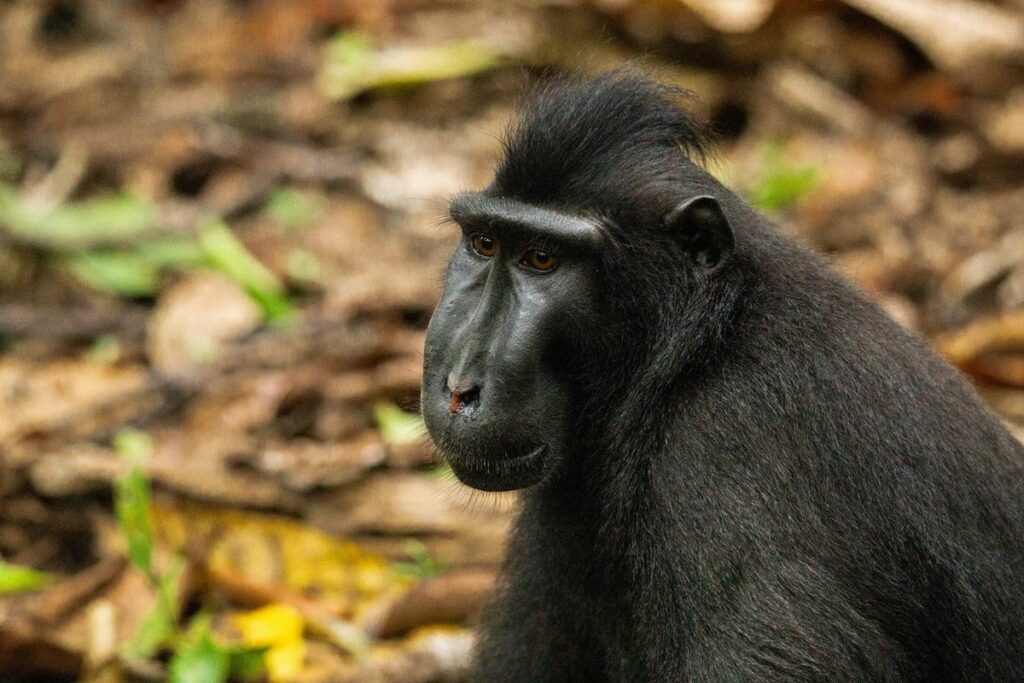 I saw them going to the beach only one day and only a few individuals actually made it to the beach.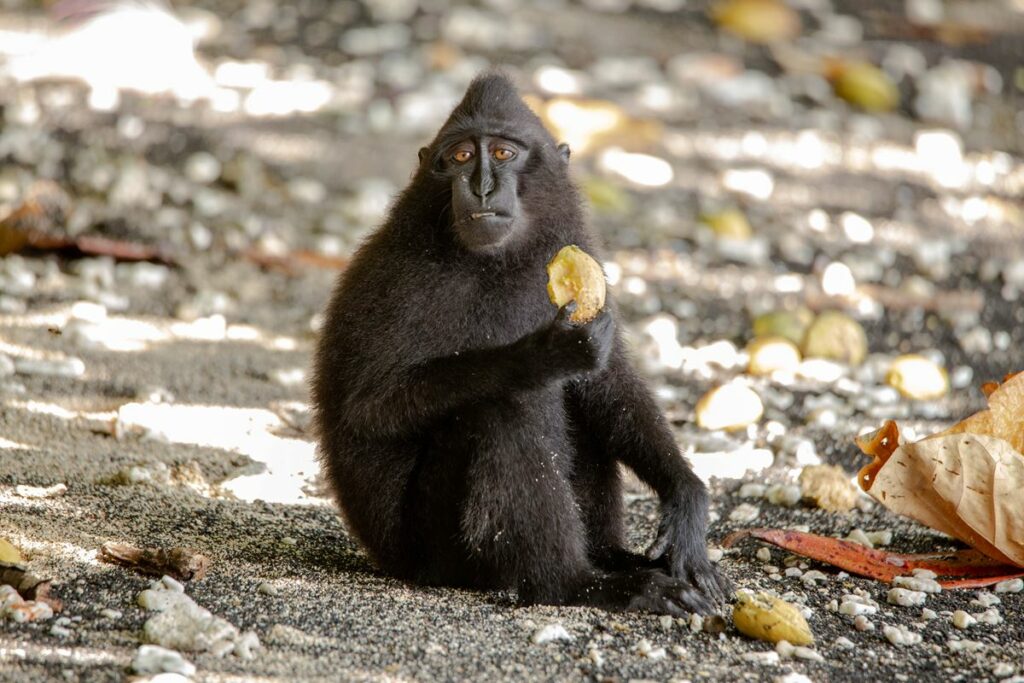 You usually have plenty of chance to see them interacting (youth playing, male fighting, couple mating …)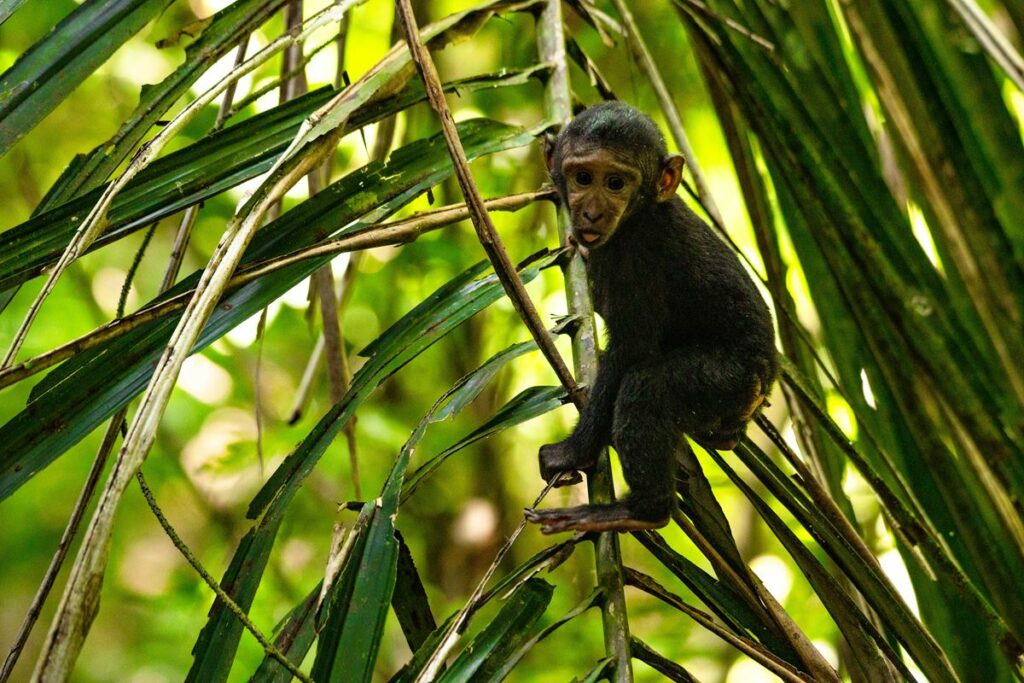 Spectral tarsius
I saw tarsius twice during daylight. The guides knows the trees they use to sleep but the only moment you are pretty sure to see them outside is at sunset.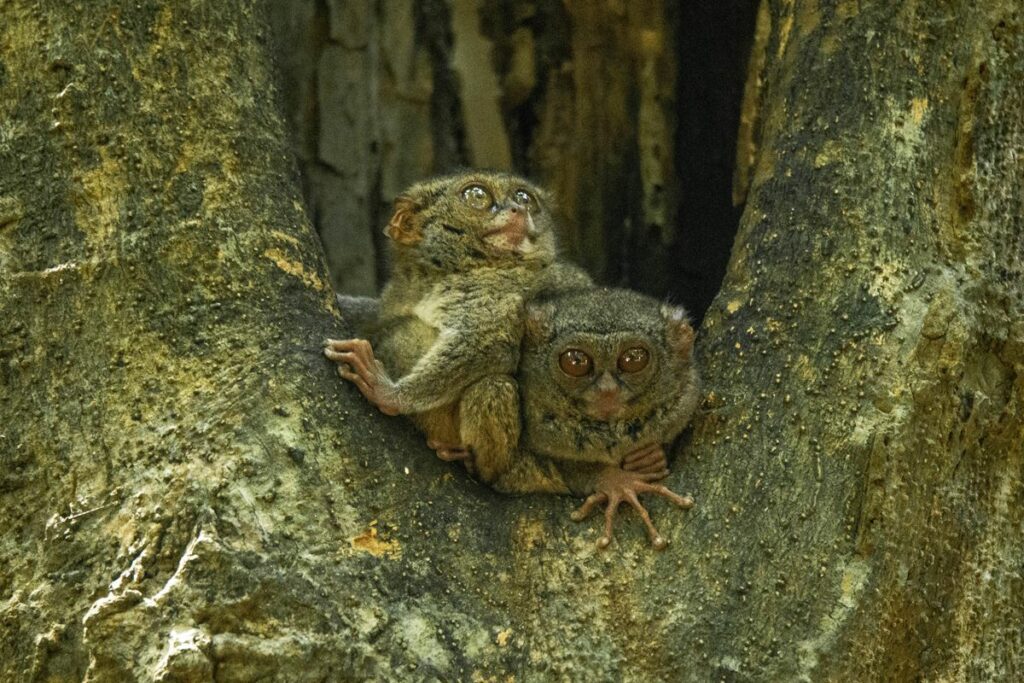 Knobbed hornbill
We had daily encounters with a knobbed hornbill (which is the best looking of the whole family in my eyes). As the female was nesting, getting a sighting of the male is just a matter of patience.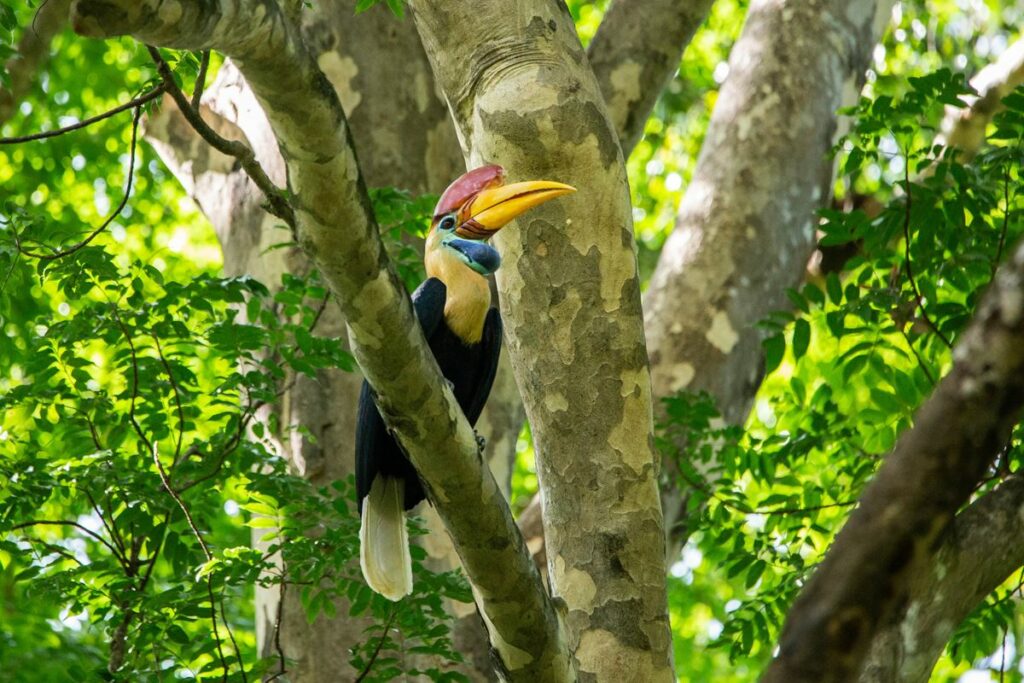 Other nice things I saw
Tangkoko is a popular birding destination. I'm a poor birder and even worst bird photographer so I missed several species (including a blue-backed parrot).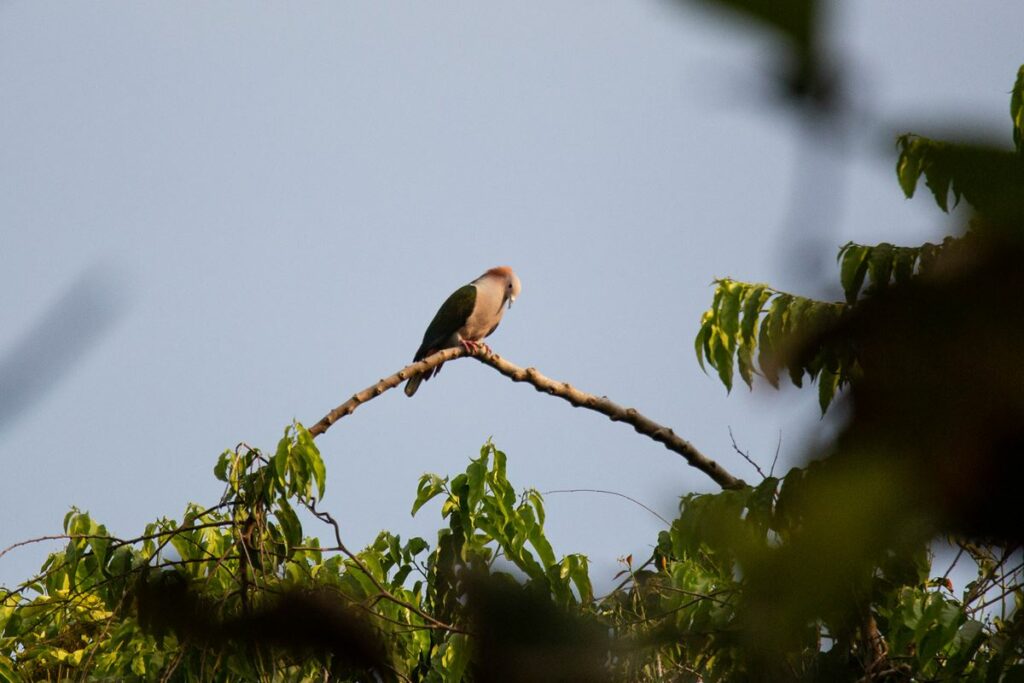 We encountered bear cuscus on a few occasions :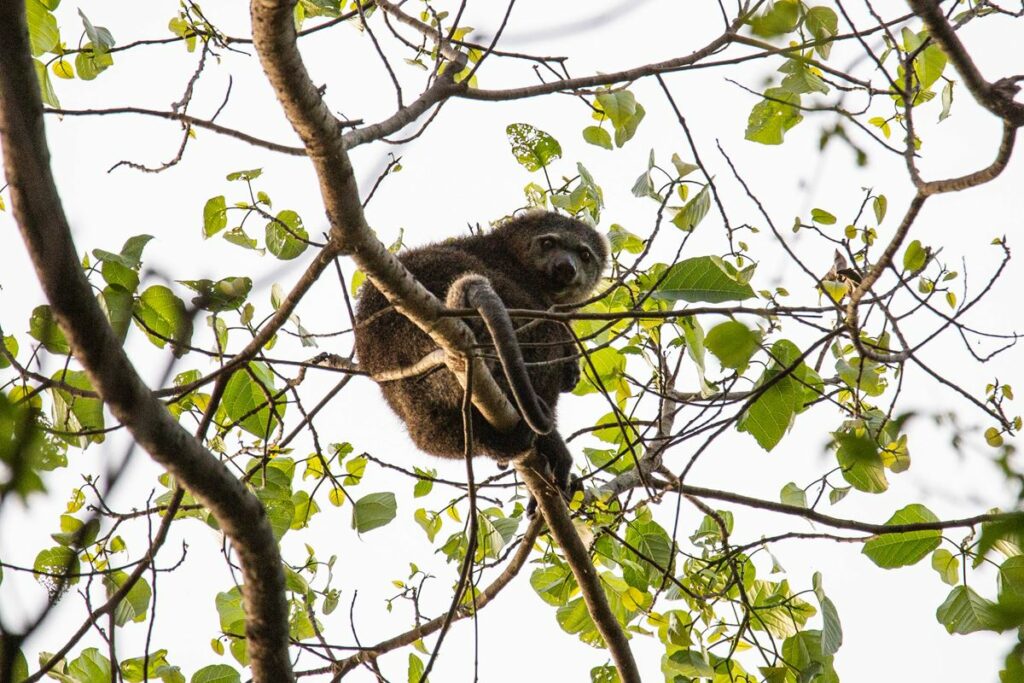 Night is good to see tarsius hunting (and jumping from trees to trees) and tarantula.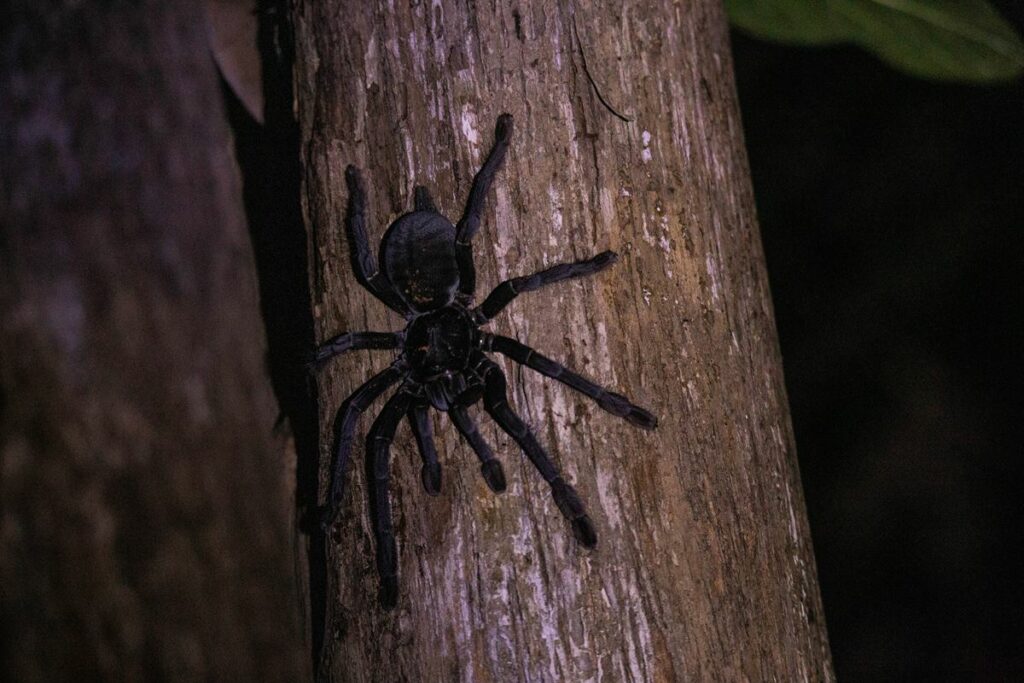 The forest is not very dense but you will nonetheless see some very nice trees :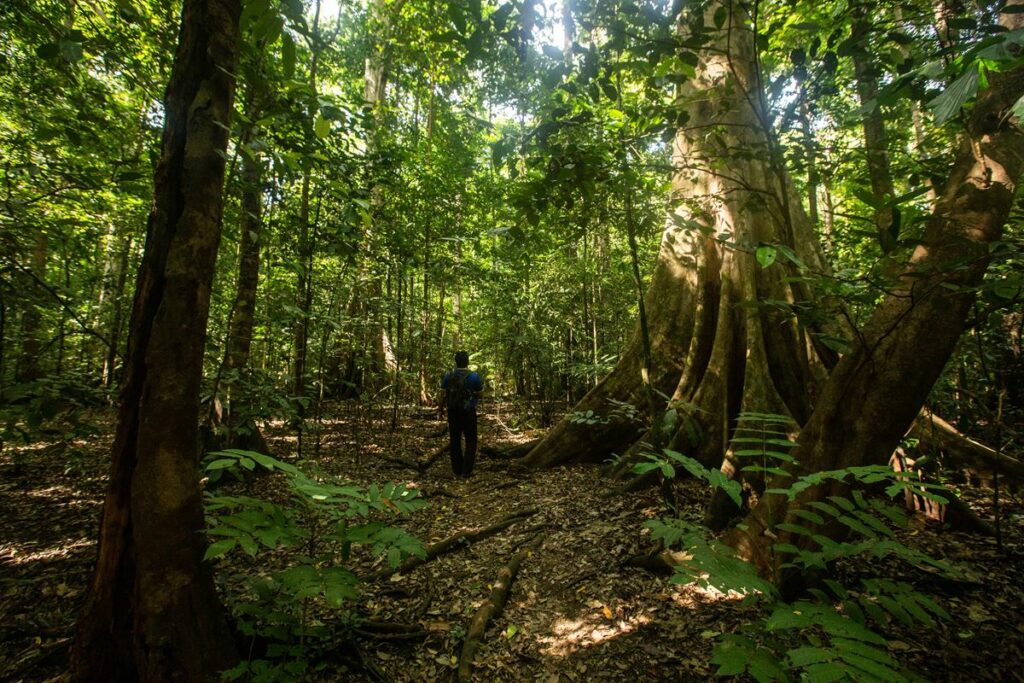 Birding outside the nature reserve
My guide took me birding from the side of the main road with his car. Very nice views on Mount Tangkoko and some good bird activity but usually very far from us.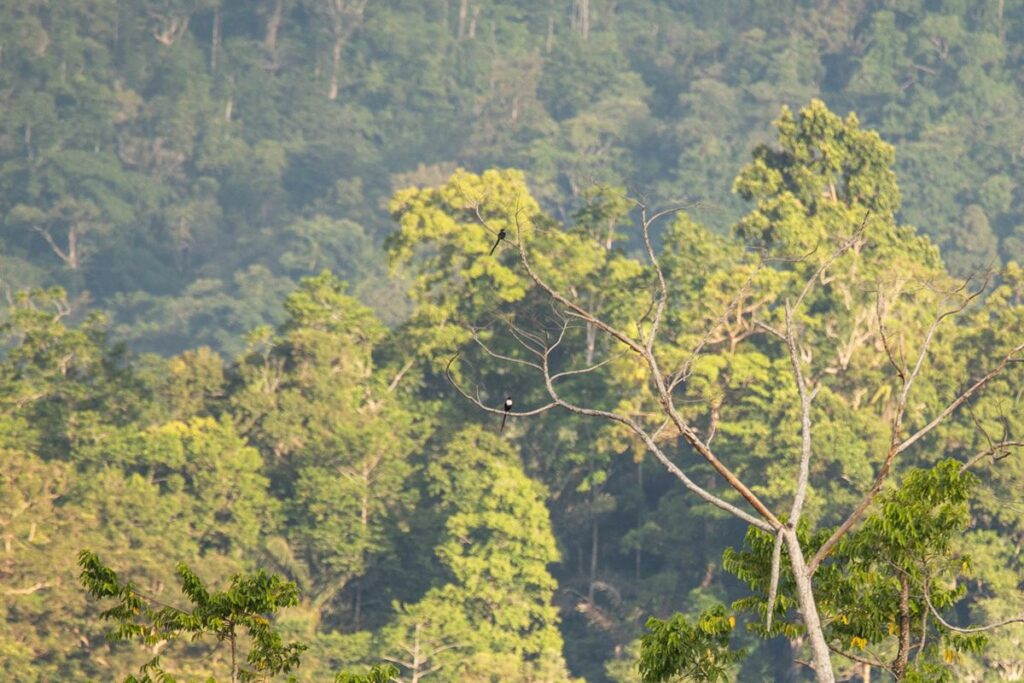 On one night he took me to look for endemic species of owls. He was so enthusiastic he refused to go home despite me asking for me before I took a fair shot of a specific owl.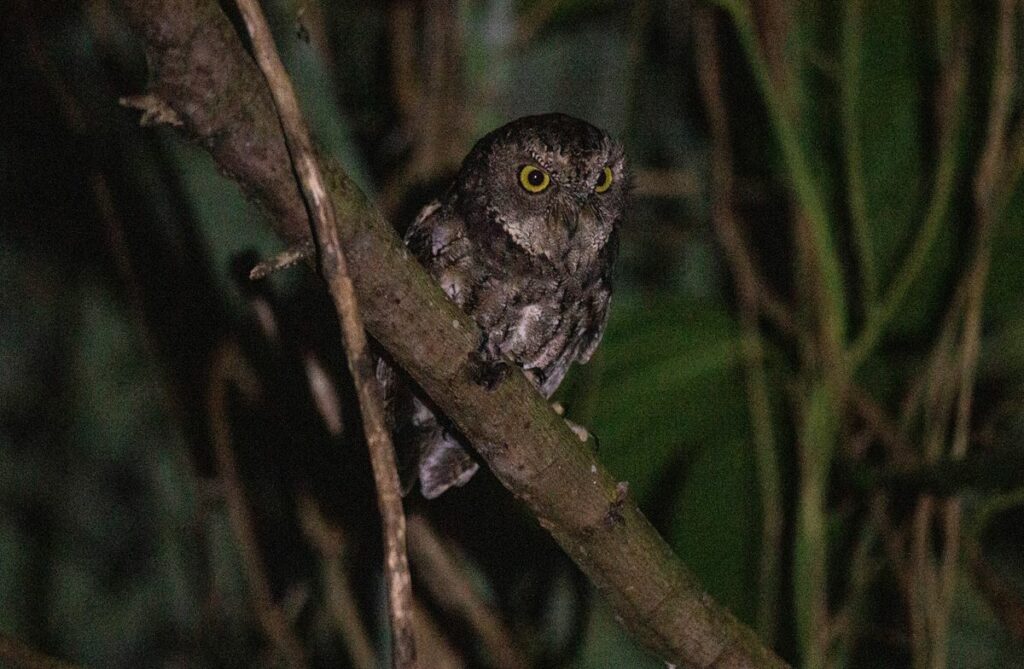 Practical details
Transport in and out
From Manado airport, lots of drivers are available to take you to Tangkoko. Got offered 350'000Rp for the car, and we settled for 300'000Rp. Very friendly driver.
Your exact destination is Batuputih village which lies on the fringes of TWA Batuputih (a patch of forest connected to CA Tangkoko Batuangus).
On the way back, the host of my homestay took me to Bitung harbor (I was going to Lembeh) for 150'000Rp.
There are lots of bus going from Paal 2 terminal in Manado to Tangkoko terminal in Bitung all day. Price is 20'000Rp/person and it takes about 2 hours.
There is no regular public transportation going from Bitung to Batuputih.
About the area
From the village of Batuputih, you (as well as 99% of visitors) will visit Taman Wisata Alam Batuputih (Batuputih Nature Tourism Park). Hence the name on the entry ticket.
This patch of forest is adjacent to Cagar Alam Tangkoko Batuangus with encompasses the two nearby volcanoes.
Batuputih is located right next to a black sand beach :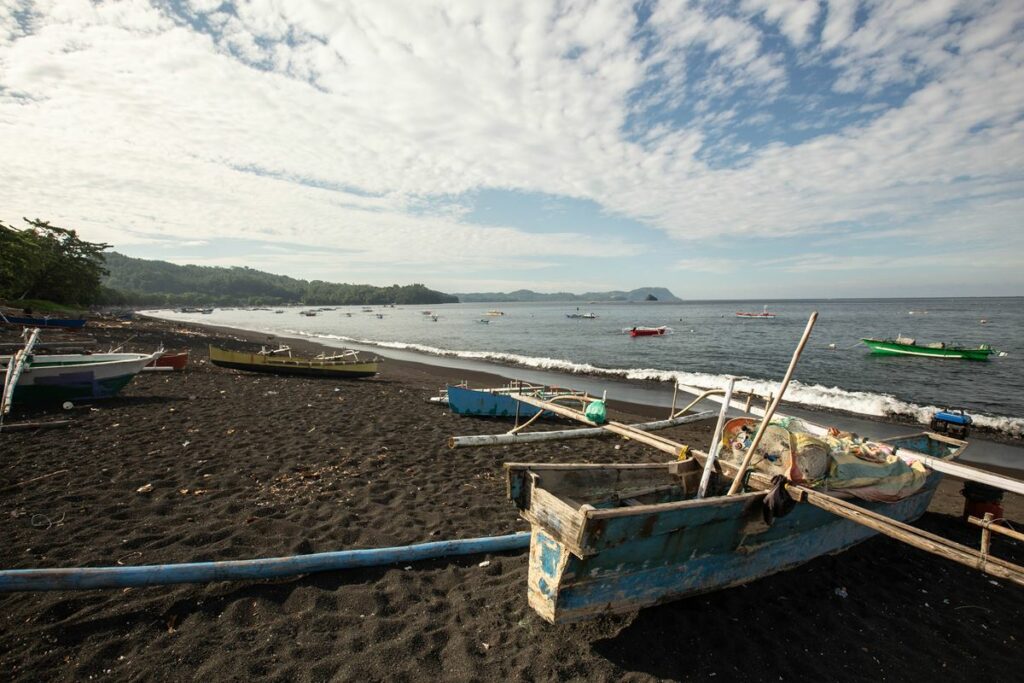 Guiding & entrance fees
As a foreigner, you need to pay a daily entrance fee for the nature park which is 100'000Rp per person on weekdays and 150'000Rp per person on weekends and national holidays (prices are way cheaper for Indonesian nationals).
You cannot go without a guide. The owner of Tangkoko Jungle Homestay was my guide and I was very satisfied with his service (he is also very knowledgeable about birds).
You typically do a morning walk (from 5:30 to 10 or 11AM) that is charged 200'000 per person and an afternoon walk that from 4PM to 6:30PM that is charged 100'000 per person.
So budget 400'000Rp per person on weekdays and 450'000Rp per person on weekends.
If you want to save money, better arrive from Sunday to Thursday in Batuputih, sleep there, make one morning walk and one afternoon walk the next day and pay only one day of entrance fees.
It's nature so sightings are not guaranteed. By doing so it's between you and your luck.
Food & accommodation
I picked Tangkoko Jungle Homestay on Booking.com. Price was very cheap (85'000 per night) for a double bed with AC and hot shower. Keep in mind that you have not really food option nearby so you will most likely eat at the Homestay.
Other homestays (like Tangkoko Rangers, Tarsisus Homestay) are located near each others (and also near the entrance of the forest)
They charge 50'000 per meal (breakfast to dinner) which are quite good and very large servings. So take into account that on top on the room you will pay 150'000 per day for meals, 100'000Rp if you skip breakfast (like me).
I went once eating at another homestay that has a restaurant : prices are exactly the same.
I you go on to the part of the village which is down the beach you may find eating options. I haven't tried.
There is a small supermarket 500 meters away from the main homestays.
Budget wrap-up
4 nights accommodation : 283'000Rp (via Booking.com)
7 lunch & dinners : 350'000Rp (in Tangkoko Jungle homestay)
3 days entry fees TWA Batuputih : 150'000×2 + 100'000 = 400'000Rp
Guiding fees : 300'000 x 3 = 900'000Rp
Taxi Manado-Batuputih : 300'000Rp
Taxi Batuputih-Bitung : 150'000Rp
Total : about 2'300'000Rp (traveling solo) for 4 days starting in Manado airport and finishing in Bitung (going to Lembeh).
With companions I could have shared transportation and accommodation.