A 4-hours drive from Labuan Bajo or Bajawa, Ruteng is the usually the first stop on your way towards eastern Flores. Located up the hills of the Manggarai country, the city itself is not very interesting.
Cancar's spiderweb ricefields
Hurried visitors would only take a break in Cancar village to check up the amazing spiderweb ricefields before hitting the road again.
There is a small booth just before the stairs that lead to the best viewpoint. If there is someone in the booth he will request a donation of 15,000Rp per person.
Slower travelers would probably enjoy the surrounding countryside. But the true gem of the area is undoubtedly the traditional village of Wae Rebo.
The traditional village of Wae Rebo
It's a traditional Manggarai village that has been renovated a few years ago. It's totally lost in the mountain and you will have to hike for 2 hours to get there.
The government has really been pushing to increase the flow of tourists. Now the village can accommodate 200 people every night. From my discussions with inhabitants, it's very common to have between 30 and 80 people sleeping there. Most visitors are local tourists who generaly travel with a large party (in order to lower costs).
From my discussions with some villagers, they seem generally happy with this rather new situation. It brings fresh money to the village, that they can use to send children to university for instance.
Houses are shared by up to 10 families (I don't remember the exact number honestly) that all have a private area but share a kitchen in the middle.
The first house on the left when facing the house cluster is dedicated to guests. It's the only one with an additional building behind. In order to lower the amount of smoke in the house, the kitchen has been relocated to the back of the house.
If you are into architecture, those large huts with thatched roofs are pretty amazing. If you pay close attention you can notice that the structure is absolutely nail-free.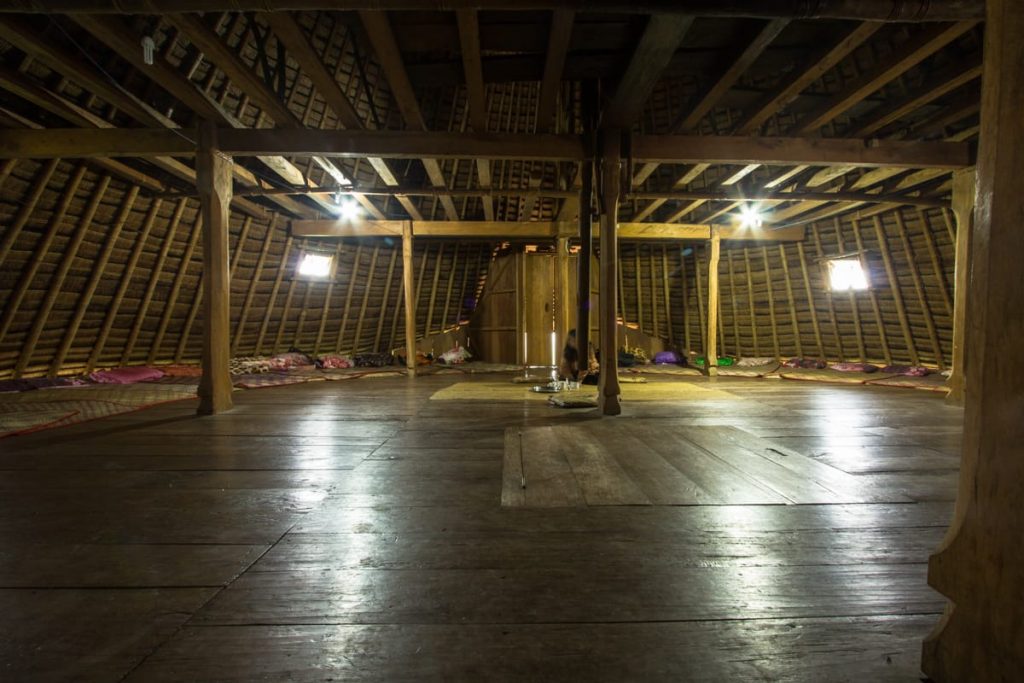 How to organize my trip ?
It takes a minimum of 2 days to make the round trip from Ruteng (even though one day would be technically enough, I don't see the point). I've chosen to leave in the morning from Ruteng, to stay overnight in the village and to go back to town the next day.
The overnight rate is fixed: 325,000Rp per person including dinner and breakfast on the next day. It's also possible to stay in Denge village down the mountain but I have no idea of the price.
Upon your arrival, you are requested to report yourself so that an elder of the village can proceed to a short welcoming ceremony. A donation will be asked, about 20,000Rp for 2 people.
How to go from Ruteng to Denge ?
You will need to go first to Denge village that is located about 3 hours South of Ruteng. Just ask Google Maps to show you the way. On my phone it looks like this :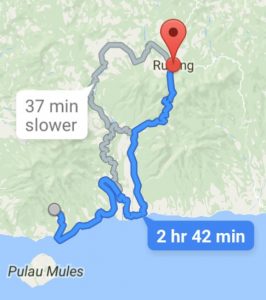 The road in blue is in much better condition that the grey one. I especially think about a portion of 5 km on the grey one featuring a steep slope, no asphalt but only large sharp rocks.
If you go to Cancar in the morning before heading to Denge, it's better to go back to Ruteng first even though Cancar is located on the grey road.
If you are coming from Labuan Bajo you will see a road sign to turn left for Wae Rebo. This is the grey road, you have to enter Ruteng first to take the blue road.
According to Flores Tourism official website, it's possible to charter a boat from Labuan Bajo to Dintor in front of Pulau Mules. This is the last fishing village you will pass, before the road goes up to Denge. There would be also a truck picking passengers from Ruteng to Denge.
Motorbike is your best option in my option. It can be rented in Ruteng. The time estimation of Google featuring of the picture are rather correct.
Hiking from Denge to Wae Rebo
From Denge, you can drive an additional 15 minutes to reach the so called Pos I. You can park your motorbikes there overnight with the helmet. It's safe. I don't see the point of hiring a guide to follow the trail given it's pretty straighforward. Villagers down the trailhead were very nice and not pushy at all to hire someone when I visited.
I haven't heard anyone speaking English up there so be prepared if you go alone.
From there just follow the path for 2 hours to reach Wae Rebo. I did it in the afternoon, the air was full of fog it was pretty nice.
An alternative to Wae Rebo : Pu'u village
If you fancy seeing some example of traditional Manggarai architecture but don't want to go to Wae Rebo (which is the undebated nicest village of the region) you can try to get to Pu'u village, only 4km of Ruteng.
Flores Tourism Board give some informations and pictures on their website.
Transport and accomodation in Ruteng
Ruteng doesn't offer the best range of accomodation. I have stayed there once in 2015 in a then under-renovation hotel who offered a double room with cold shower for 150'000Rp. In 2017, I went to Hotel Rima. A room for 3 people with hot shower was priced at 250,000Rp. Cheaper rooms were available.
Hotel Rima rents motorbikes for 75'000Rp a day but will ask for 125'000 if you intend to go far from the city (eg: Wae Rebo village).
As of 2017/2018, shared taxi from/to Labuan Bajo costs 100'000Rp/person. Buses to Labuan Bajo or Bajawa costs 60,000Rp per person. Both can pick you up at your accomodation if you call ahead. It's a 4h drive to Labuan Bajo and 3h30 to Bajawa but bus are slightly slower. Easiest way to book them is to ask your accomodation to call for you. There are different companies operating.
Maps
All the articles about Flores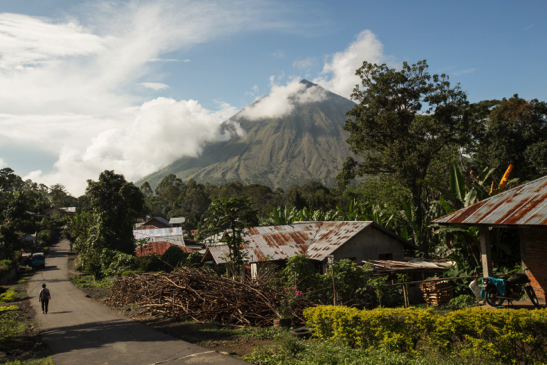 A nice and easy hike overlooking Ngada traditional villages near Bajawa.