The national park
Gunung Leuser is the second largest national park of Sumatra (after Kerinci Seblat) and definitely Indonesia's most famous.
Started as a nature reserve of about 150'000ha in 1934, the protected area nowadays covers an area larger than 1'000'000ha. Most of it belongs to Aceh province but it overlaps with North Sumatra too.
This is the last known place on Earth where orangutans, tigers, rhinos and elephants coexist in the wild.
In 1998, an area known as the 'Leuser Ecosystem' 2 times larger than the national park has been recognized by the government who acknowledged that the park alone wasn't sufficient to protect all the biodiversity of the area.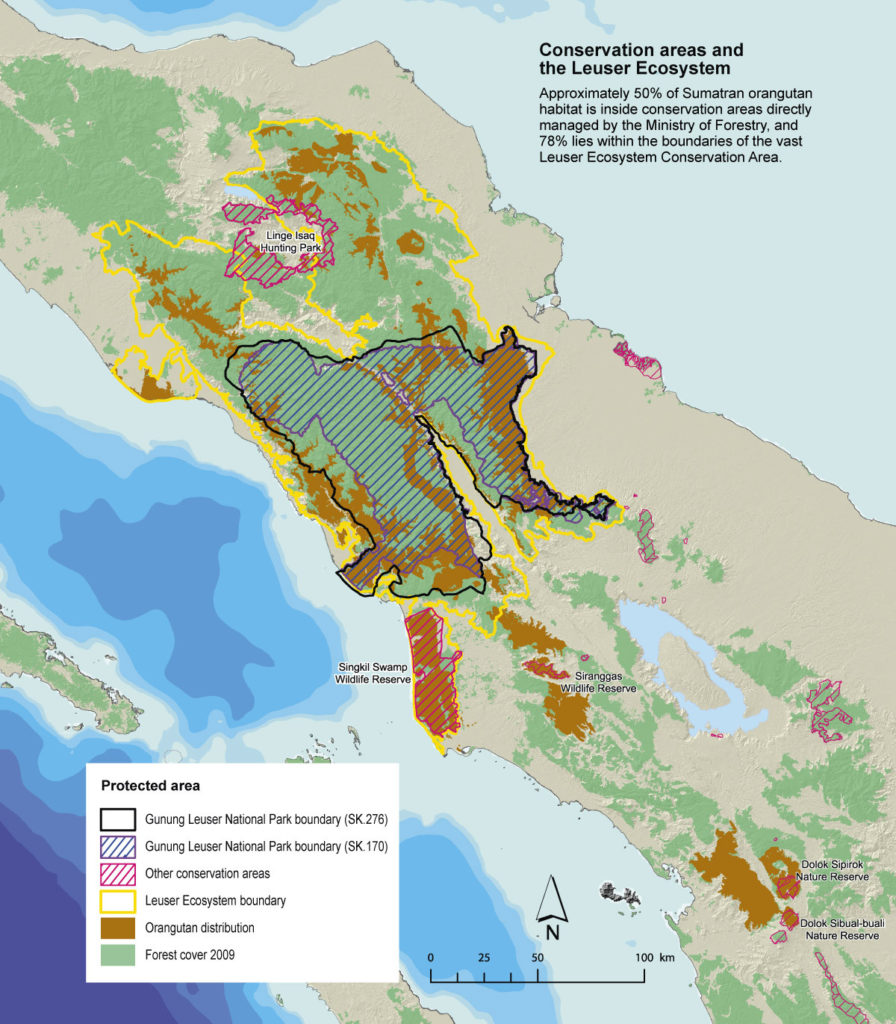 Getting in the park requires the purchase of a daily entry ticket. Price is 150'000Rp per day for foreigner and 5'000Rp for locals. On weekends and national holidays, the tarif is supposed to increase to 225'000Rp/7'500Rp but it doesn't seem to be enforced.
Tickets can be obtained through your guesthouse, insist to get an official ticket from the park in return (it must bear a visitor number on it).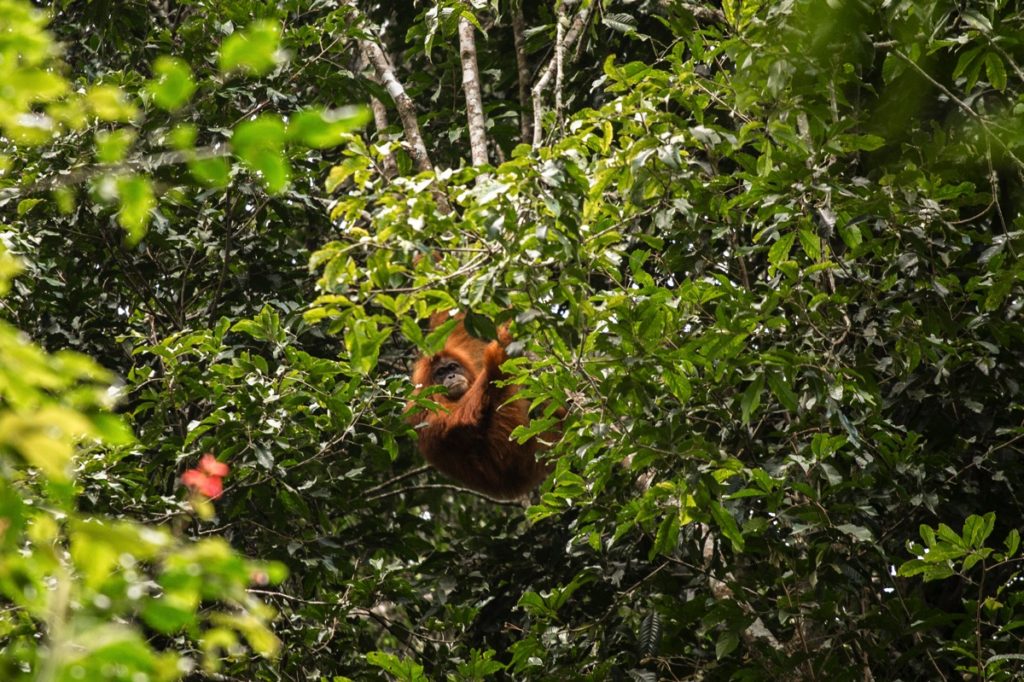 Leuser's wildlife
The park is home to 350 birds species, 194 reptile species and 129 types of mamals. Still, orangutans are the main draw here. Males, especially flanged one are scarcer, which is logical given they occupy a much larger territory than females.
Don't get hyped on tigers and rhinos, both are elusive species mostly seen by camera traps. The situation of the Sumatran rhino is especially dire.
A visit to Gunung Leuser National Park would be very judicially organized when the trees are full of fruits.
The most reliable period is between December and January but November and February are not bad either. Groups of several (up to 10) orangutans are often reported feasting on fruiting ficus trees at this time for instance.
Visiting from Ketambe
The patch of forest opened to tourism is located on the eastern bank of the river. The western bank of the river is closed to visitors and fully dedicated to research. Unfortunately, the conditions of the forest on the West bank is immensily better than the one on the East which is not that large as you can see on Google Maps' satellite images.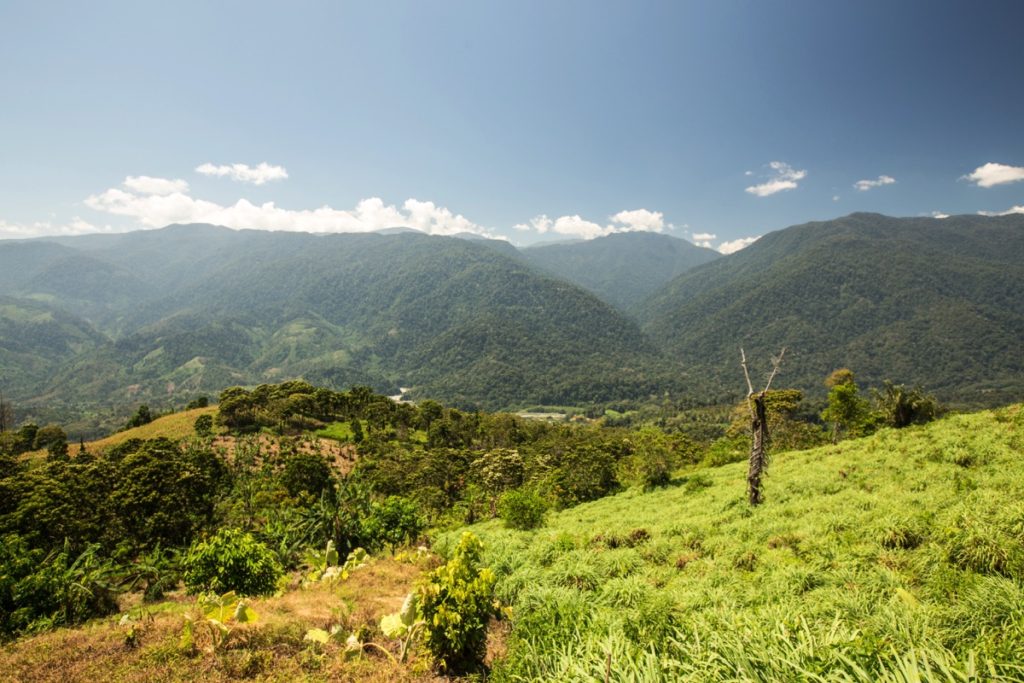 Still, I found Ketambe to be a great place thanks to its well-developped trail system. An experienced forest trekker could explore a large part of it on its own.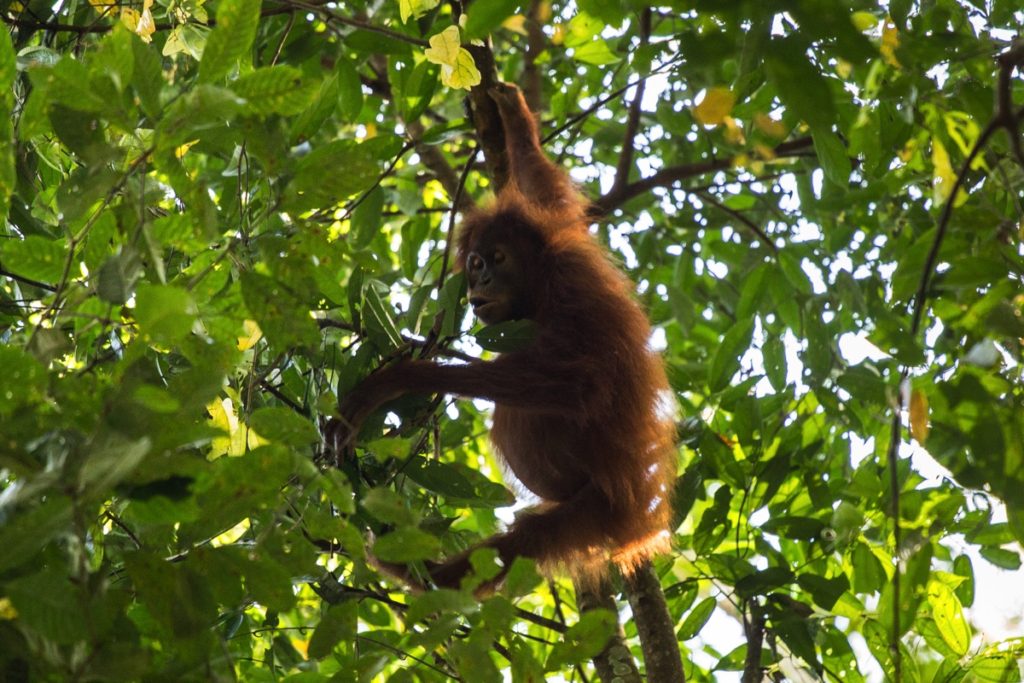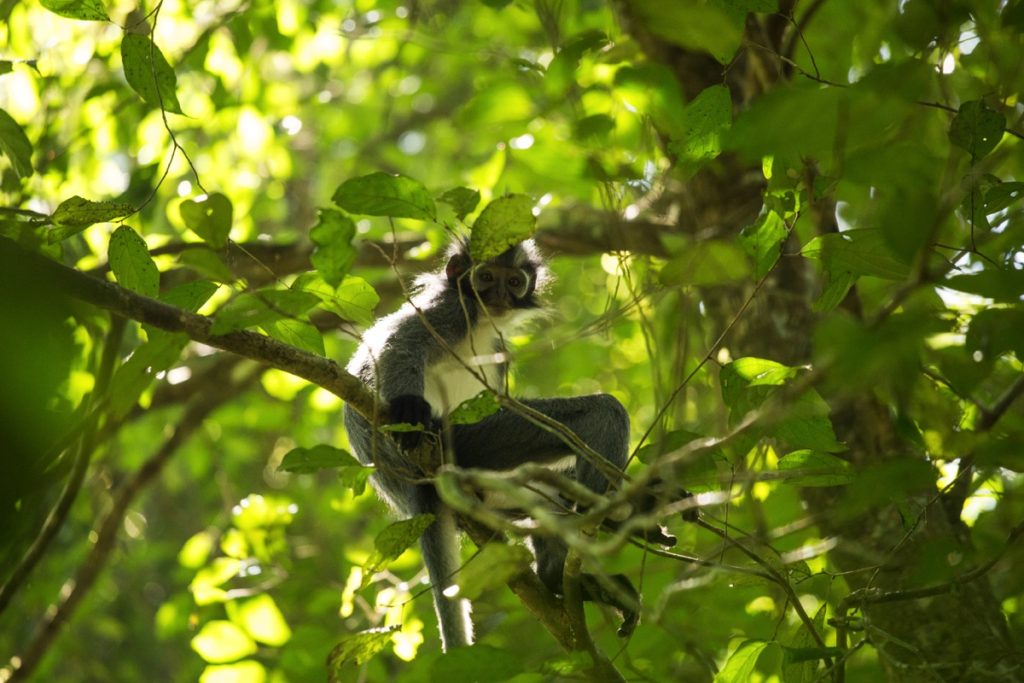 Leeches are an issue in Ketambe. But I found that tucking my pants in my socks and clearing them regularly from those who still try to go through was enough.
Spotting orangutan was not as easy as I thought, I found several nests but besides a young one that I was lucky enough to spot from very close on the second day it was quite hard. I came back on the same spot on the third day to find maybe the same orangutan but it was very high in the canopea.
The area between the road and the first camp by the river is allegedly the best for orangutan spotting, even though vehicles from the road can be heard all over the place. From the moment you reach the river, the noise gets covered.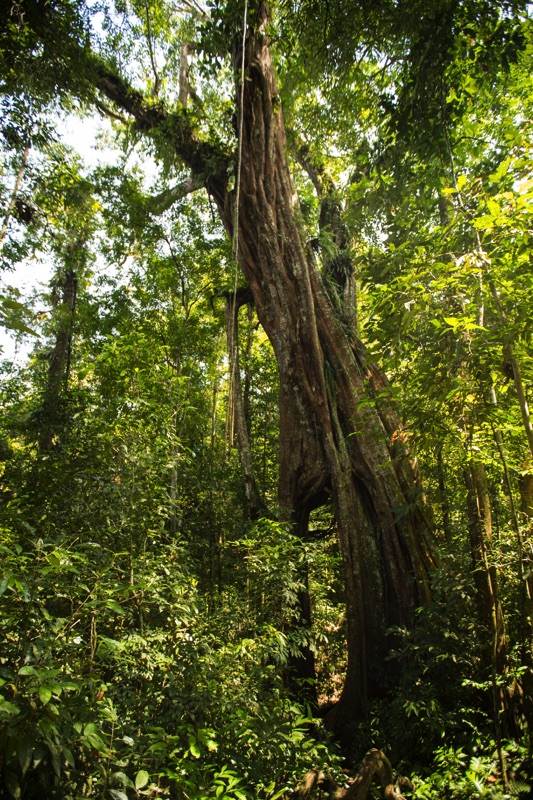 Overall I found the forest of Ketambe to be slightly less pristine that in Kedah, huge tree beeings less common.
I stayed at Friendship Guesthouse (check their great website) . 70'000Rp per night for a double room with cold shower. The staff is very nice and not pushy. They have a restaurant but I eventually took all my meals outside in a local restaurant 500m away that serves food not arranged for Western tastebuds (also cheaper and larger serving).
If I were to come back to Ketambe, I may decide to stay a bit further in Gurah village. Accomodations right in the middle of a small patch of forest are available which should be great for bird spotting.
Visiting from Kedah
My stay in Kedah owes much to Mr Jali's Kedah Rainforest Guesthouse. The full-board rate is 150'000Rp per person per day. No roads, no sound of motorbike, only you and the nature. Guided treks are charged 500'000Rp per day. The staff is quite nice, food is simple but good. Of course the shower is cold and there is barely any phone signal there.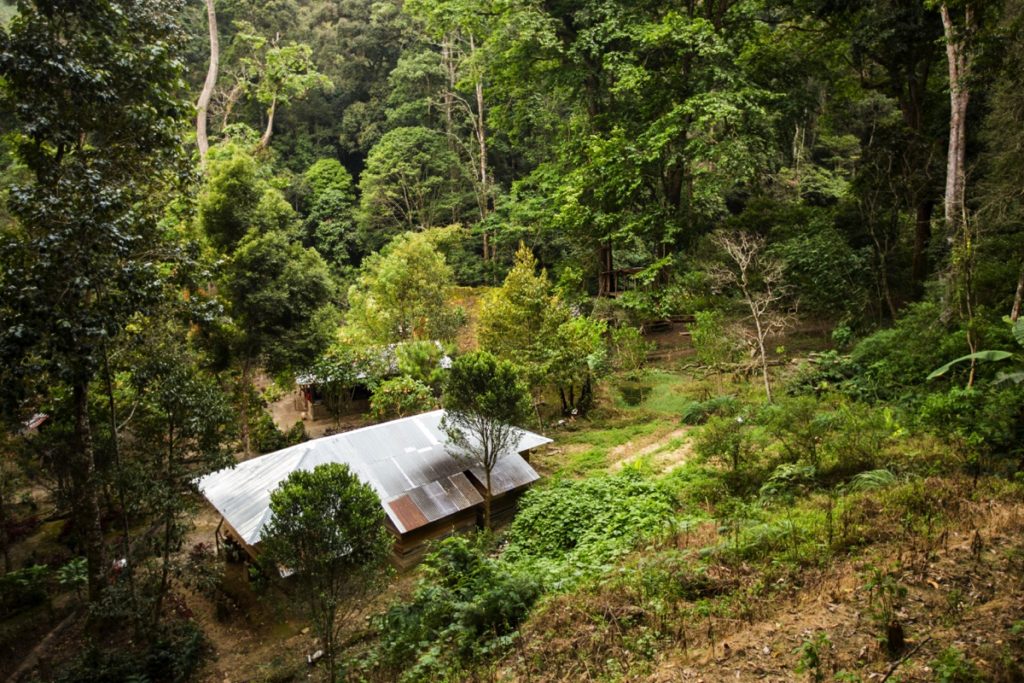 The immediate surroundings of the lodge are already very rich in wildlife.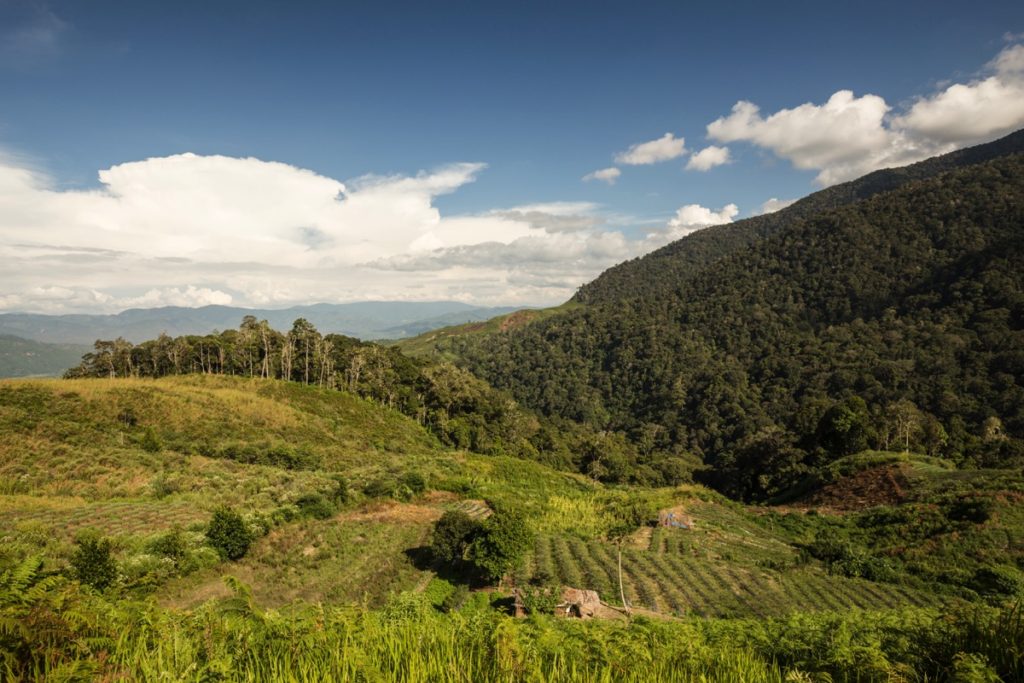 Over the 3 days spent hiking, I've seen a higher variety of primates than anywhere else in the park :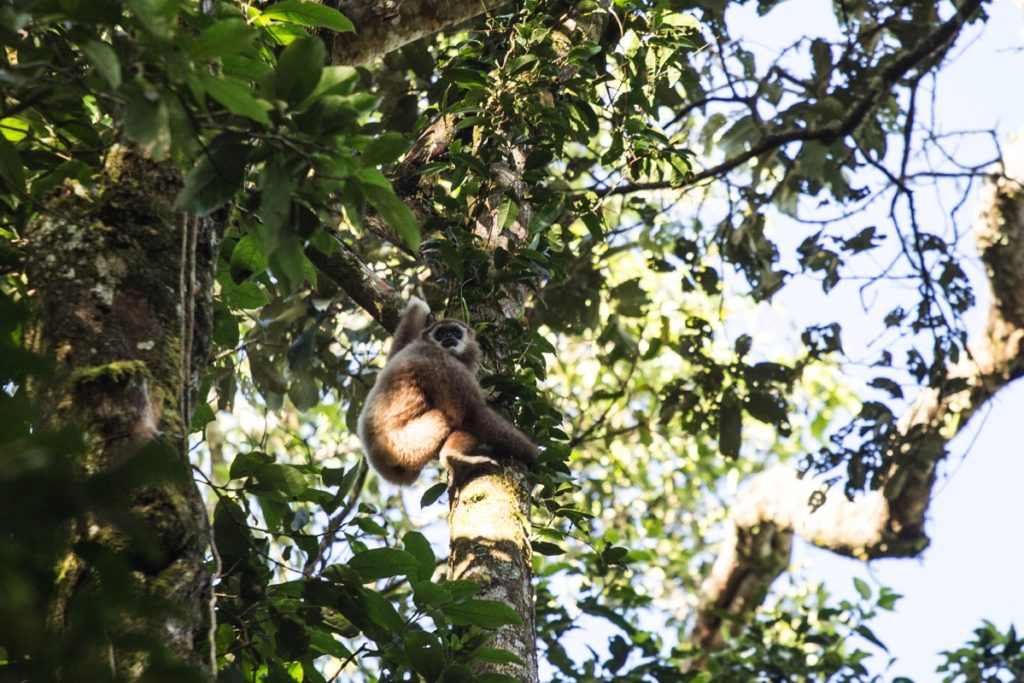 Groups of Thomas leaf monkeys were rather easily seen. Siamang can be heard every morning and the pictures shown above has been taken right from the lodge. I was lucky enough to spot orangutan on 2 days, which might not be the standard. Outside fruit season (which peaked in December-January) they might be hard to spot.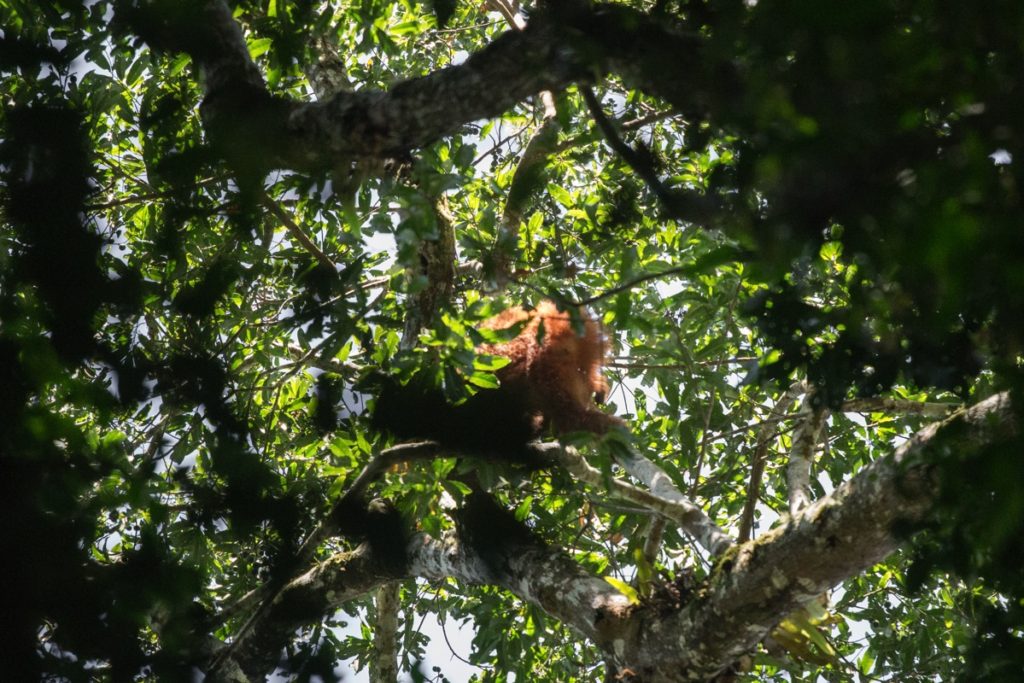 The trail system is quite good especially in the small patch of forest around the lodge. The other bank of the river can be explored after crossing on a log but progressing through the forest is much more difficult.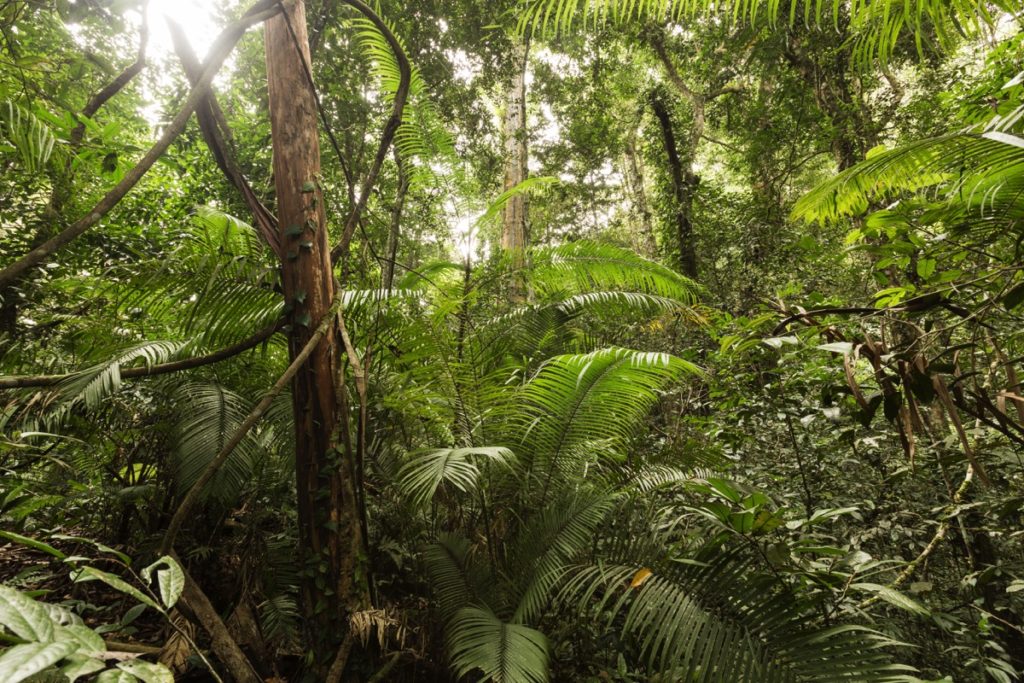 Plenty of insects to be seen. The lodge itself and the riverbanks are a good place to check for butterflies.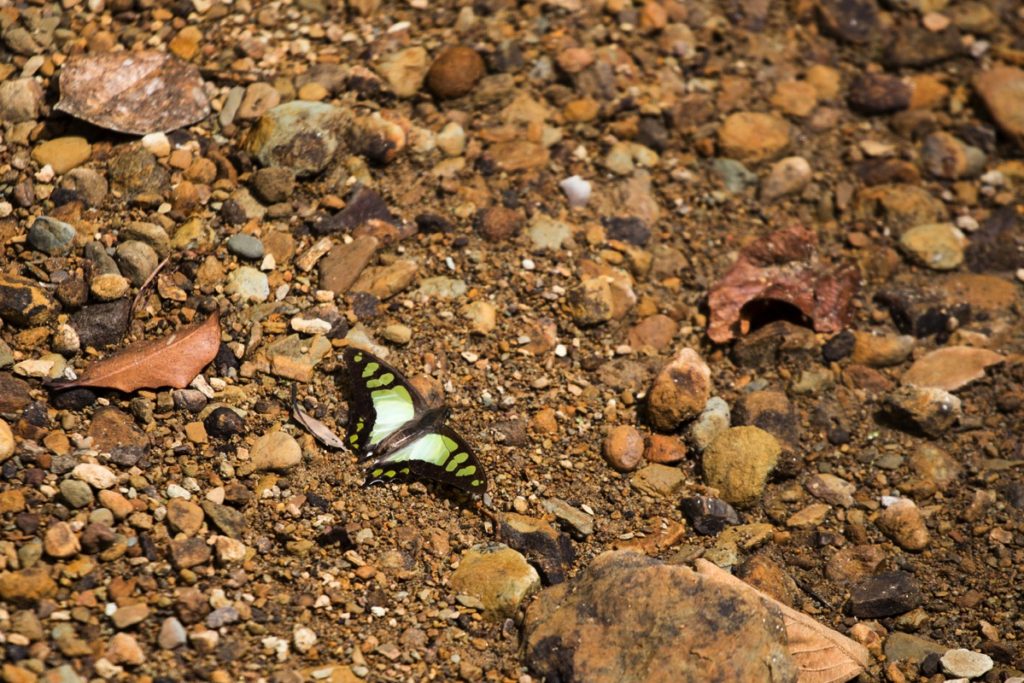 On the 3rd day I took a guy from the lodge with me to take me to the moss forest. This is actually the beginning of the trek to Mount Leuser summit. I found this area to be better for bird spotting. The change of vegetation is also very interesting to observe.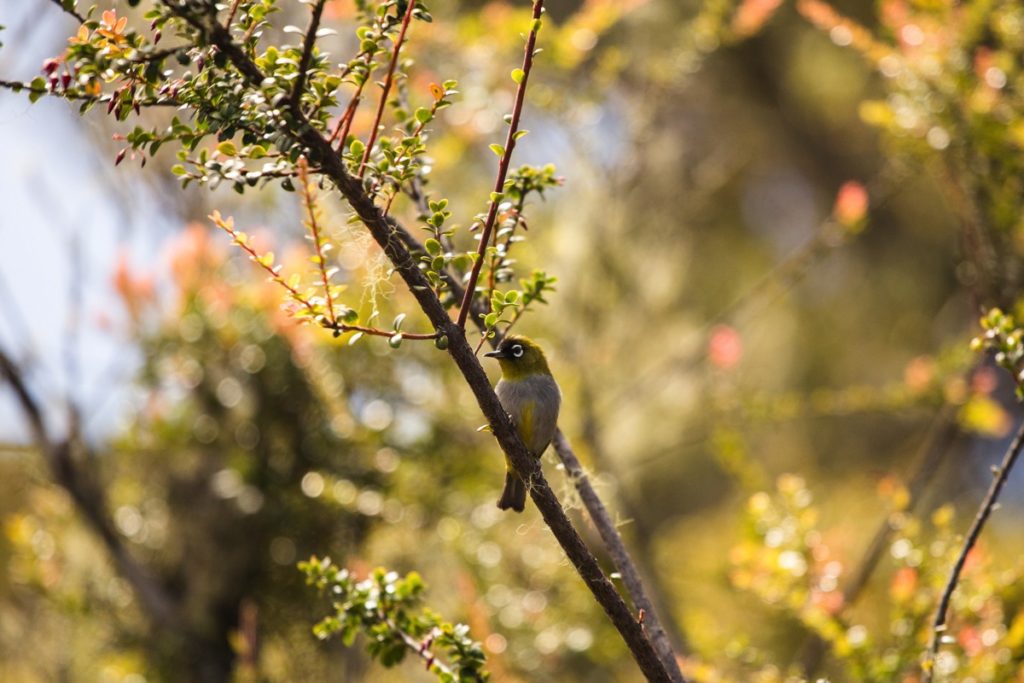 We also saw interesting vegetation, including pitcher plants. Finally we spotted some civet, squirrel, eagles and 2 wild chicken.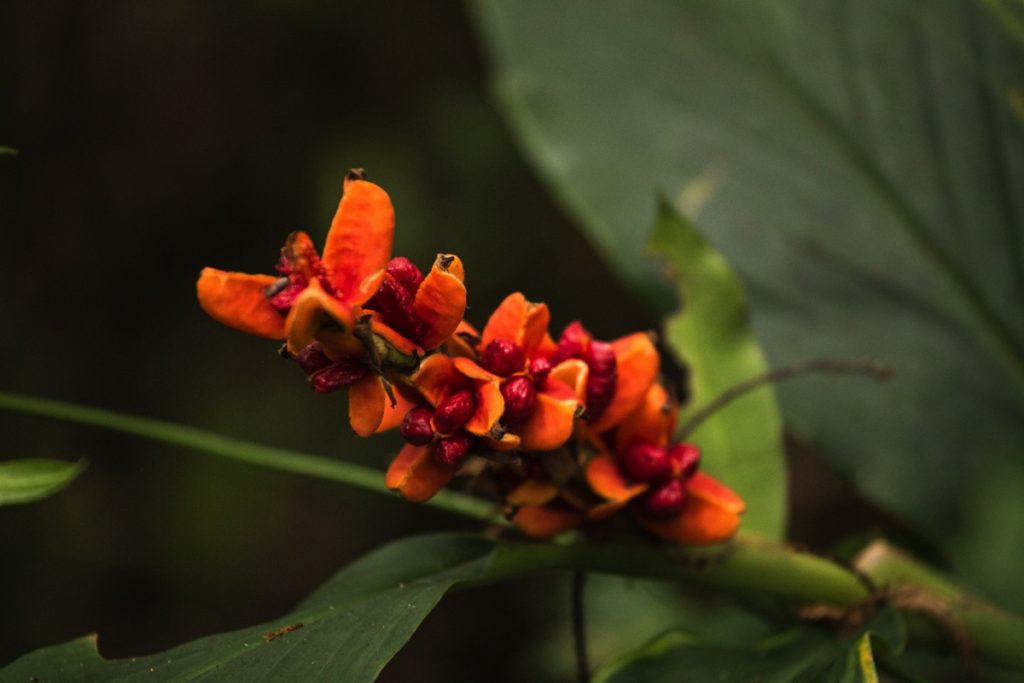 Visiting from Bukit Lawang
Bukit Lawang became a rehabilitation center in 1978 when it was decided that Ketambe would be fully dedicated to researchers. The government ordered the termination of rehabilitation operations in Bukit Lawang in 1991 given the mixed result of the original approach. Since then, the place serves only as a viewing center for tourists. The released population is dependent on daily feeding consisting of banana and milk.
Bukit Lawang is located on the edge of wild orangutans habitats but most visitors end up seeing orangutan regularly fed. They're free, but definetely not wild.
That's the closest park entrance gate from an airport (here Medan) and also the most popular.
I visited this place in 2013 with limited interests in wildlife and booked a classic 2D1N tour. It wasn't bad but I don't remember seeing any other wildlife but the couple of orangutans roaming near the entrance to get fed. Our groups were way too large and hence noisy.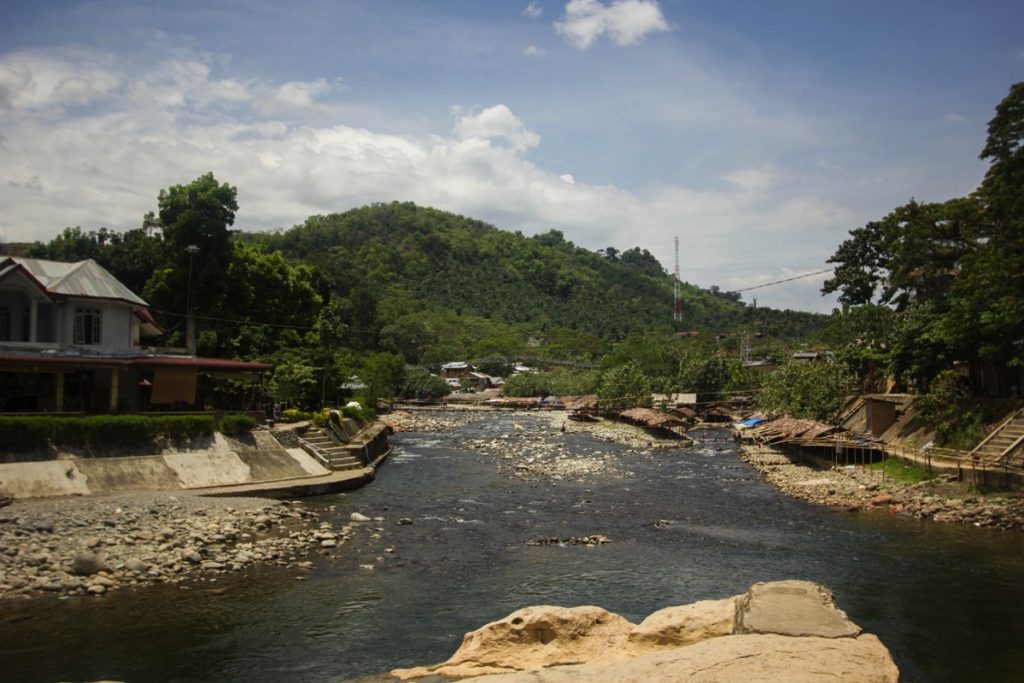 Unfortunately wildlife feeding by most guides seems to be a common practice in Bukit Lawang. Given that some orangutans are very familiar to humans, I found it possible to get much closer to the apes in Bukit Lawang. Getting such conditions in Ketambe or Kedah requires more luck.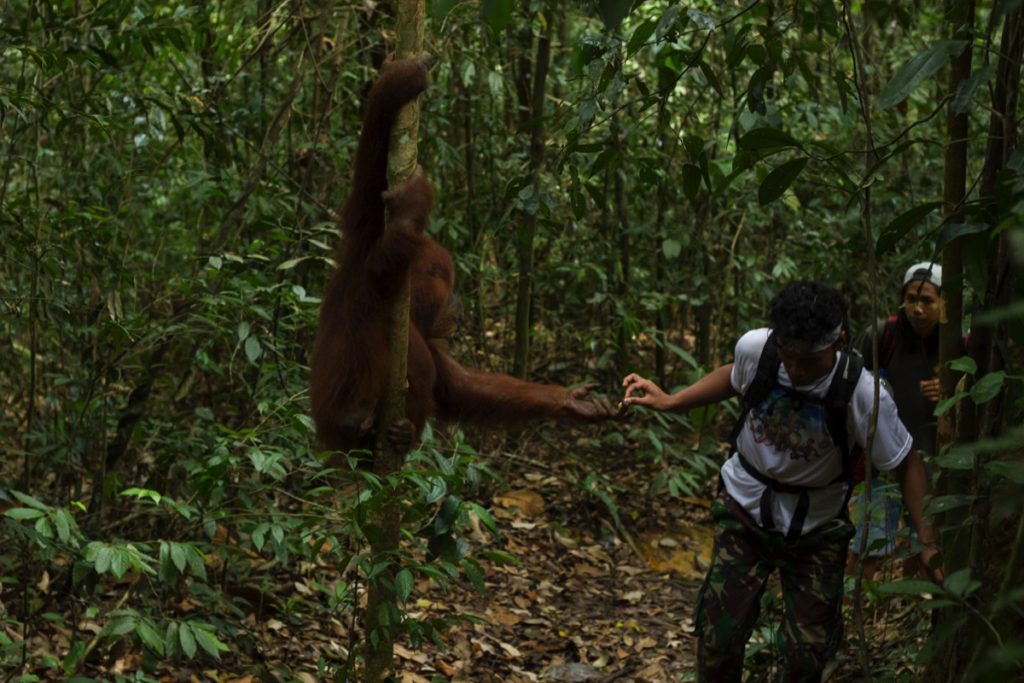 The population of "semi-wild" orangutans in Bukit Lawang shows clear signs of disturbance, including very unusual behaviour (such as mother-infant cannibalism) as well as a dramatically high rate of infant mortality. Please read this study for in-depth analysis.
Additionaly, Sumatran orangutan are very seldomly spotted near the ground in the wild which is obviously not what's happening in Bukit Lawang.
I believe that a responsible traveller should make the extra effort to visit places where the apes are actually wild. Despite its status, the park is facing a significant number of threats. Better bring revenue to areas actually supporting wild animals which are the ones that need to be preserved in priority.
Transportation guide to Kedah and Ketambe
Kedah is reached from the town of Blangkejeren, itself reachable by bus from Takengon, Aceh and Lhokseumawe from the North, or Kutacane from the South.
Ketambe is a short ride from Kutacane but is also on the way from Kutacane to Blangkejeren.
I tried to put all the places quoted below in my general map of Sumatra.
All prices given below are from 2018.
Coming from Medan
Get from Medan Kualanamu airport to town
Medan has an international airport with cheap connections to Kuala Lumpur thanks to Air Asia, as well as flight to Bangkok, Singapore and Penang. Locally it is well connected with most cities in Sumatra as well as Jakarta, Surabaya and Yogjakarta.
From the airport, touts will definetly offer taxi ride to any destination you want (including Bukit Lawang, Lake Toba or even Ketambe). Price might be interesting if you share it with a large group
From the airport a train takes you to Medan train station in about 40min for 100'000Rp. Otherwise follow the signs for buses (check the airport website for updated information about frequency and fares) :
DAMRI takes you near the Independance square in town and then to Amplas bus terminal where you can take bus to lake Toba. Fare is 15'000 for the square and 20'000 for Amplas as of 2018.
ALS takes you to directly to Binjai (from where you can reach Bukit Lawang) for 40'000Rp. A ride to town is charged 20'000Rp.
If you want to go straight to Ketambe with no connection, the recommended solution seems to be catching a minibus or a collective taxi in Padang Bulan.
Direct transport from Medan to Kutacane
Different companies offering transportation to destinations west of Medan are gathered on Jamin Ginting Street (Jl. Jamin Ginting). Departures are from morning to late afternoon, the car or the minibus leaves when it's full. Shared taxis are likely to go pick up other passengers in town
Friendship Guesthouse gives detailed informations on their website, I'm goint to rely on it given I never did it that way. To put in a nutshell, minibuses cost 70'000Rp and shared taxi 130'000Rp for about a 7 hours ride.
The most convenient way to reach Padang Bulan from Medan train station or DAMRI bus stop near Independance Square is most likely to use online taxis (car or motorbikes) operated by Grab or Gojek. It requires an Indonesian SIM card though. Rickshaws (becak), regular motorbike taxis (ojek) or taxis are also availabe but they will probably be more expensive. City minibus (angkot) are very likely to be helpful too but they can be confusing to navigate, try to ask around for help about directions.
From Medan to Berastagi / Kabanjahe

If you plan to stop en route in Berastagi or at least the Karo regency, do as following :
From the airport board ALS bus and ask to be dropped at Simpang Pos. 20'000Rp, 1h15 because of the traffic.
From here you have regular minibus heading to Kabanjahe (Berastagi is on the way). They leave when full until night, costs 10'000Rp. It's a 1h15 ride to Berastagi and 1h30 to Kabanjahe.
From Berastagi's main road, almost every bemo is heading to Kabanjahe. Fare is 5'000Rp for a 20 minutes ride. Cheap accomodation are easier to find in Berastagi.
Get from Kabanjahe to Ketambe

From Kabanjahe you need to go to Kutacane first. Minibus leaves from behind Terminal Bawah Tigabaru on Jl. Mariam Ginting. If I remember well there was 2 companies available, the fare was 60'000Rp or 80'000Rp for a more comfortable minibus dubbed 'royal'. Took us 3h30 (plus the waiting time of the minibus in Kabanjahe) and an additional 30min for the lunch break.
From Kabanjahe, you need to take a form of collective transport which looks like a pick-up with a roof and benches on the side. It's called labi-labi. Ask the driver of your minibus from Kabanjahe to drop you at the right place in town. The 30min labi-labi ride costs 20'000Rp (official price seems to be 15'000Rp though).
Get from Kutacane / Ketambe to Blangkejeren / Kedah
There is a bus terminal in Kutacane. When we arrived mid-afternoon, my driver from Kabanjahe advised me to head to another place in town on Jl. Ahmad Yani because bus would be scarce at this time. He dropped me there. Soon we left in a shared regular car if I remember well, fare was 60'000Rp and it took us 3h. This road going right through the middle of the park is beautiful, even though low-scale deforestation can be observed: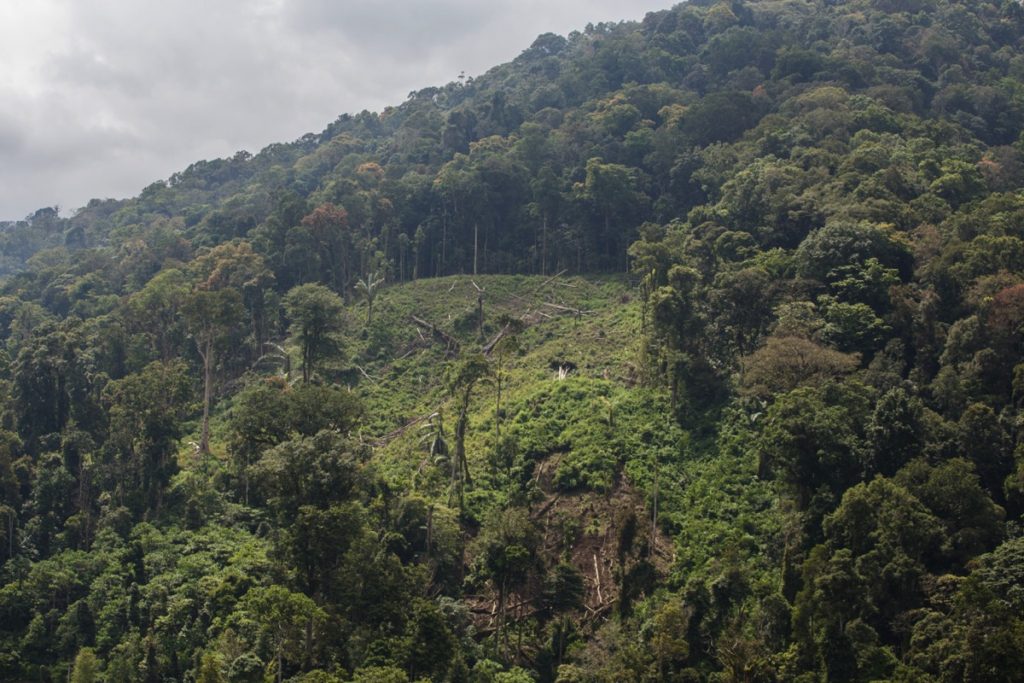 Kedah is about 30min away from Blangkejeren, my minibus driver was ok to drop me for no extra cost there given there was another passenger heading in the same direction. Otherwise, ask Mr Jali to arrange a pick-up. He charged me 50'000Rp for an ojek ride from the lodge to Blangkejeren bus station.
On the way back, take a minibus from Blangkjeren to Kutacane. Ketambe is on the way, just asked to be dropped. Fare is 50'000Rp for that portion.
Direct transport from Medan to Blangkejeren
According to Gayo Lues regency tourism department, a few companies operate shared taxis from Medan to Blangkejeren. The companies are CV Kursima, CV Raja World Travel and CV Trans 88. Their office in Medan can be found on Google Maps.
Collective taxis usually offer pick up, including at the airport. Call them for schedule and price, they usually have a WA number. You might need to get assisted by someone speaking Indonesian.
Coming from the North : Bandah Aceh and Takengon
Blangkejeren is served by bus leaving from Banda Aceh and passing Takengon.
Please note that Wings Air now operates direct flights from Medan to Takengon. It you aim at minimizing the driving time, this would be the fastest solution leaving only the bus from Takengon to Blangkjeren that should take about 3 hours.
Susi Air operates small airplanes twice a week between Bandah Aceh and Blangkejeren (the destination is refered to as Gayo Lues) and 3 times a week between Bandah Aceh and Kutacane. According to undated information I got, price should be around 400'000-500'000Rp. The issue is that you cannot book those flights online but only through a travel agency.
Online ressources