Around Waingapu
The town of Waingapu was founded in 1843 by an Arab horse trader called Sharif Abdulrahman. As the major harbor of the region, the city became the center of the horse trade, exporting mounts to Java, Flores and Sumbawa. The city belongs to the cultural domain of Kambera.
Today, Waingapu is the district capital of East Sumba and is connected to the nearby islands both by plane and boat. The town itself is neither large nor very interesting. North of town you have a couple of shops selling good quality traditionnal ikat (expect to pay 1-5M IDR for a piece).
Bukit persaudaraan
Located almost right in front of the airport, the "brotherhood hill" offers a nice panorama on fields. From Waingapu main East-West axis (Jl Ahmad Yani) flag down a bemo heading to the villages to the East (5'000Rp), otherwise find an ojek (10'000Rp).
On your way back to Waingapu, you can stop at the traditional village of Prailiu. There you have 8 traditional houses and 2 large decorated megalithic tombs. A noble from the village was chosen by the Dutch to become a raja during their colonial administration.
In 2018, the villagers were optimistic on their progress to gather the necessary offerings for mama raja's (which should be the mother of the raja but also potentially his wife) funeral. She passed away a few years ago and her body was kept until everything is ready: 8 buffalos ("with horns as long as an adult arm"), 20 horses, 30 cows and 300 pigs…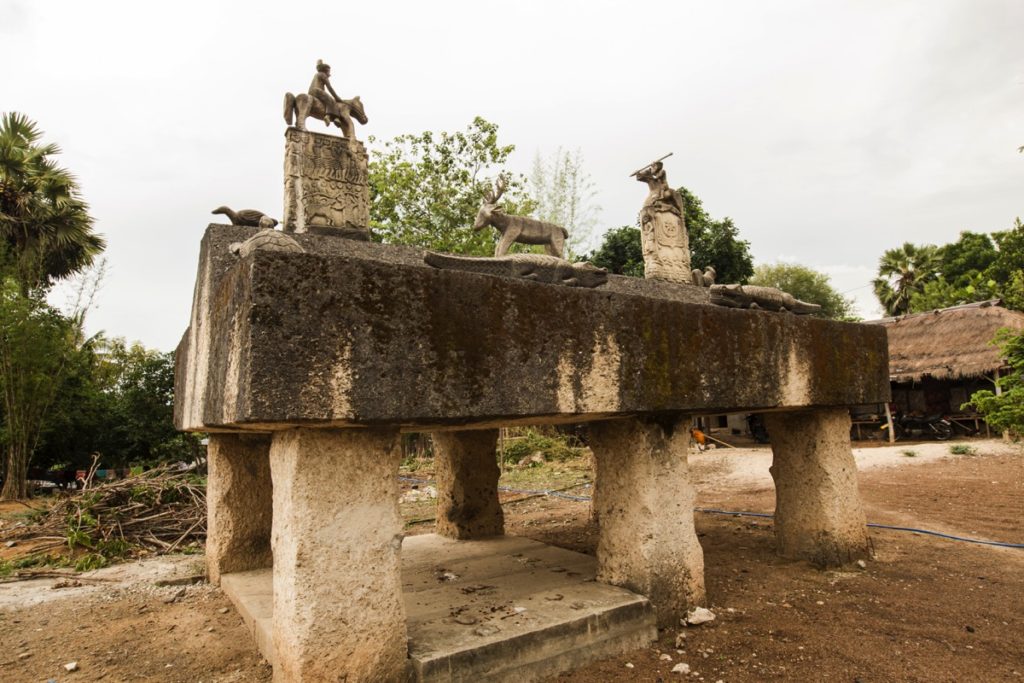 Bukit Wairinding
Located on the Waingapu-Waikabubak road, a bit less than 20km from Waingapu, you have Wairinding hill. It is a very famous landscape of Sumba. The guy who owns the shop right before the short trail ask for 5'000Rp to park your motorbike.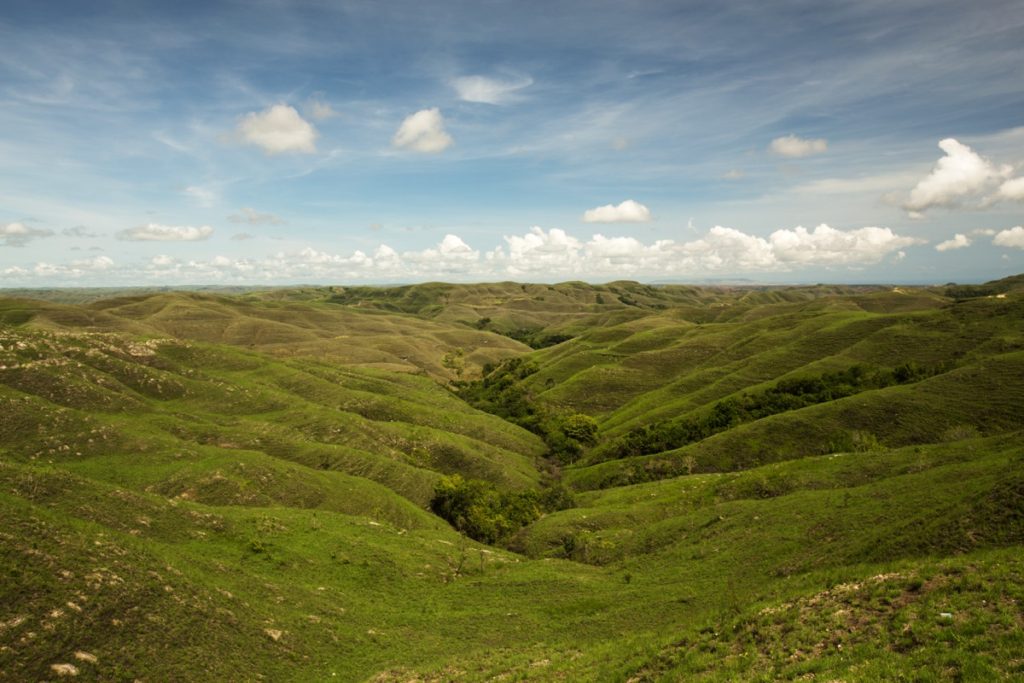 Other similar spots are Bukit Merdeka (Independence hill) in Tanarara region, or Bukit Tanau in Mauliru.
Towards Cape Sasar
I wanted to see Tanjung Sasar (Cape Sasar), the place where all the mythical traditions agree to say that the original inhabitants of Sumba arrived. I rented a motorbike in town and drove following the North coast to the West.
You will pass by a place called Puru Kambera often nicknamed "Sumba savanna" by tour operators.
On the way, you have several beaches. You will also pass near Prainatang traditional village. It was almost empty when I visited (If I remember well everyone was away attending a ceremony elsewhere). The elder I met there explained that most of the inhabitants were still adhering to the marapu faith. They proposed me to take a picture with the domain traditional outfit for a donation of 50'000Rp.
A bit after Puru Kambera, you can turn left to head for Tanggedu waterfall. As virtually any waterfall in Sumba, the water color is not gonna be great during the rainy season. Still the way there shows you how dry can be the landscape in Sumba, with only a few patches of lush vegetation.
I kept going along the North coast. This region is almost barren. Very few settlements. It might be the result of constant raids by slaver from Ende (Flores) during the 18th and 19th century. Eventually I never reached the Cape because I was short on gas. I'd love to follow this road further in the future. I was able to see the coast of Flores from there.
Walakiri beach
A spot that is always included by local tour operators because it makes a great background for Instagram pictures. See by yourself if you think it is interesting or not:
Around Melolo
Melolo is an old settlement of Savunese who goes back to the 18th century. It belongs to the traditional domain of Umalulu.
Praiyawang
From 7AM to 8AM you have several buses passing by in Melololo main street and heading East. Hop on one and ask to get dropped on the hill after Praiyawang (5'000Rp) to enjoy the view:
Then get back to Praiyawang by the road, on your left you will pass a secoundary settlements with interesting carving on top of a large tomb.
Then you get to Praiyawang after another 10 minutes walking.
Praiyawang (Parai Yawangu in Rindi language) is main village of Rindi domain. Besides the very large traditional houses you have quite impressive megalithic graves in the yard all topped by richly carved statues.
I was lucky enough to visit Praiyawang on a ceremony day. 2 renewal rites had to be carried out on altars located outside the village. One to request for a good weather for crops, the other one to prevent rain from bringing diseases and parasites. I joined one group.
We took the car and drove for a moment to reach a remote settlement. From there we had to walk again, cross a river and finally get to a hill.
The first task was to dig the ground to unearth a piece of gold that had been burried there the previous year. Unfortunately after half an hour of digging, no one was able to locate it. It didn't seem to be a problem, I got told the piece had already got lost in the past or stolen. But it eventually re-appears. A thieves would be cursed by an invisible and uncurable disease. A trusted person is normally tasked to bury the gold after the yearly ceremony in a secret place near the altar.
The elder then proceeded to prepare offerings of areca nuts (pinang) and betel fruits (sirih). He brought everything to the altar and added two eggs. He then sang an omen in ritual Rindi language while dedicating some fragments of precious metal (not sure it was gold) he had brought with him.
Meanwhile, others lit up a fire to cook rice and later the meat of the 7 chickens the priest sacrificed. Omens were read in one of the chicken intestine.
Then we ate. Back to the village, we met another group who had also finished to carry out its part of the ritual. Then a pig as well as 4 chickens were sacrificed (to learn more about the marapu faith, click here).
The people from Praiyawang were very nice and welcoming. We had a very long and interesting talk about their culture. One thing I remember very well is that there is no words for "thank you" in eastern Sumba dialects : everything given will be returned one day.
I returned late at night in my room in Melolo. The leader of the house I had spent the afternoon at asked someone to give me a ride by car. I gave the guys 20'000Rp so they could buy a pack of cigarette each.
Umbarara
You have a couple of villages within walking distance from Melolo. Just head South. I found Umbara was the most interesting with great carvings over megalithic tombs.
If you follow the road further and hike a bit up the hills you have great views over the valley:
Practical tips
Transport
Waingapu has one of Sumba's two airports (the second one being in Tambolaka in Southwest Sumba district).
From the airport, either wait for unregular bemo (5'000Rp) or hire an ojek for 10'000Rp.
Regular buses leave for Waikabubak (75'000Rp, maybe this one is cheaper) and Tambolaka from Matawai market. Buses to Melolo and other towns in the East are also available. The safest moment to get one is in the morning but I'm almost sure there are others later in the day. The fare is 20'000Rp to Melolo and it takes a bit more than 2 hours.
If you plan to take the ferry, the harbor depends on the company. Pelni is quite close from the city center but ASDP harbor is much farther. An ojek to ASDP harbor costs 20'000Rp.
Accomodation
In town I've stayed at Hotel Jemmy. A double room with cold shower, fan and breakfast for 132'000Rp (that's the actual price). Very nice staff. They rent motorbike but you have to deal with the manager for that, when I needed it she had gone to Church so I looked for another solution instead.
You can get them from Hotel Merlyn for 100'000Rp/day. Be cautious about those bikes because the one I got could keep running without the key, and the key fell by itself while I was driving, with the STNK (vehicle registration) attached. Fortunately for me, I realized that soon enough, turned around and got the key back from a very nice fellow driver who had just picked them up right in the middle of the road…
In Melolo I've stayed at the homestay right before Purnama Kasih Shop (when coming from Waingapu) and almost in front of the shop of Sumba Indah cooperative. The rate is 200'000 for a double room with AC. I got it at 150'000Rp against the promise of not using the AC. A bit before, right after the bridge you have also a Kos that should also have rooms.
Maps
I put most of the places mentioned on the map below, except some villages.
Other articles on Sumba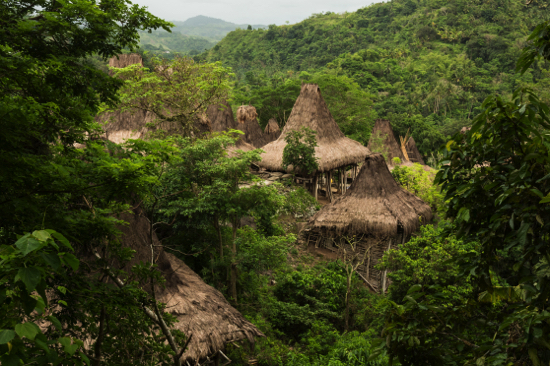 Start here before reading all the articles about Sumba