West Sumatra is one of my favorite region of Indonesia. The highlands are full of beautiful ricefields and volcanoes, the traditional architecture is stunning and the local culture vibrant and interesting.
On top of that, transportation is easy and tourism quite modest.
Padang might be the regional capital, but the most interesting part of the region is definetly the highlands. My advise is to base yourself in Bukittinggi.
Lake Maninjau
The most scenic of all West Sumatra's lakes. Can be explored as a day trip from Bukittinggi but accomodations are also available by the lake.
Starting from Bukittingi, enjoy the very scenic road to the lake:
Great sceneries to be seen:
A couple of paying viewpoint have been built along the road to enjoy the view the on lake. The most famous is Puncak Lawang who even offers some family attractions like zipline.
The entrance for this one is 10'000Rp but you can find equivalent views for free from the road.
The best view over the lake and the rice terraces on its slopes are to be found on secoundary roads.
You can drive all around the lake but I found the western bank to be less scenic than the area closer to the Bukkittinggi 50-hairpin-turns road.
I also heard about some trails connecting the lake shore to the upper plateau passing by at least one waterfall, but I haven't tried them personally.
The pacu jawi cow races
This is a traditional form of entertainment for the region's farmers who enjoy racing behind their cattle in the weekend. The event takes place almost every Saturday in different places of the region. Lin from Hello Guesthouse is very well informed about that and can tip you off.
I went to Batusangkar for that in March 18. A donation is now requested for foreign visitors at least in this place. The girl at the parking asked for 50'000Rp (which is ridiculous for a public event), I gave 10'000Rp which were accepted without any fuss.
During the couple of hours I spent by the field, I never saw two jockeys managing to do a proper race. Having 2 cows to run in the same directions is already quite hard. Having 4 of them departing at the same time is a nightmare !
It's more about the fun of riding. All the crowd cheers up every time someone falls.
In 2016 I had seen a more modest version of this event in a village near Harau (and never heard about donation back then). The jockeys were not riding a platform attached to the cows but actually running behind. They did manage to make an actual race though.
The event usually starts at noon but the actual races rarely start before 1PM or 2PM. You wait a lot between each departure.
Another regional rural game is pacu itik (duck race). I never had the chance to see it though.
The Padang Panjang – Batusangkar road
This is a very scenic road, cutting through nice ricefields.
The village of Nagari Pariangan is not to be missed. In the Minangkabau mythology, it was the very first settlements of men when they arrived in the region.
For those into architecture, there is an old and interesting balai (free donation, I gave 5'000Rp) on the way.
In the traditional Minangkabau culture, villages were leaded by a council of clan leaders called penghulu that deliberated together at the balai.
My article about the Minangkabau culture is much more detailed about Minangkabau history, mythology and traditional government.
Hiking Mount Marapi
This an easy volcano hike, it took me 2h50 to reach the summit and 1h40 to descend. Check Gunung Bagging website for more info and GPS track. The trail is very straightforward and I don't see how you could get lost.
To avoid the summit being covered by clouds when you reach it (like I did), start hiking at dawn. When I went there, the summit got covered from 9:30AM.
To get to the Pos Pendakian (the trailhead), the easiest is to order an ojek through Go-Jek or Grab app. The rate was only 20k in March 18.
Otherwise take a red angkot to Pasar Padang Luar (2k) and from there hop on a blue angkot going to Koto Baru (5k). You'll still need to cover another 2,5km to Pos Pendakian at foot. If you want to get there in the early morning, I guess it's better to arrange the transport the previous day.
In the post, register and pay the hiking fee. It is 10'000Rp, I got asked 25'000Rp but didn't have to bargain much to get the real rate.
You can easily spend 1h at the summit, it's a large area, the view is supposed to be great if cloud-free. Hike early.
Nice drone shot from the summit area :
The nearby Mount Singgalang can also be hiked, check Gunung Bagging for info.
Spotting the rafflesia in Batang Palupuh reserve
Rafflesia flowers can be observed in the Batang Palupuh nature reserve, a few kilometers North of Bukittinggi.
To get there, the easiest way is to wait on the intersection between Jl. Soekarno Hatta and Jl. Bypass and to hop on a bus bound to Palembang or Medan. I paid 10'000Rp to get there and 5'000Rp to come back.
Blooming is a temporary state, inquire first at Hello Guesthouse about the situation there.
There is a couple of known blooming sites for rafflesia close from the village (no more than 20min walking) but they might be hard to find by yourself. I went on my own but to be honest if I hadn't followed a group I would never have found the flower.
Traditional Minang architecture
The town of Batusangkar is home to the palace of the former King of Pagaruyung. This building might be a replica (it was destroyed by fire in 1966 and 2007 and now serves solely as a museum/tourist attraction given the Kingdom has been disbanded almost 2 centuries ago), this is still a very impressive and well maintained building.
The entrance ticket is 25'000Rp as of 2018. It's very crowded in the weekend.
The interior is richely decorated and aim at replicating the living condition of the former king. It you are invited one day to a Minang wedding, the reception room will be decorated a similar way.
Many other similar buildings can be found between the cattle market (Pasar Ternak) and the former King Palace:
Another less known site is Rumah Godang Sungai Baringin, near Harau, entrance is 5'000Rp:
Harau valley
Harau valley is a scenic area surrounded by cliffs. The whole valley is filled with rice paddies hence the overwhelming green color (even though it probably depends of the time of the year).
You are requested to buy a 5'000Rp entry ticket to enter the area. I stayed twice at Abdi Homestay who charges now 150'000Rp per night (for a double room), the setting of this homestay is awesome. Between 2016 and 2018, the number of accomodation has exploded in the valley.
There is a secondary valley. Drive like if you'd want to leave the area, take the first road on your right after passing the post selling the entry ticket, then follow it.
It is also possible to climb up the cliff at the other end of the main valley. I tried to find the way by myself but either it has been covered by vegetation or I missed it but I never managed to get to the top. Ask for guide in the accomodations.
A couple of other places
The Padang – Pariaman – Tiku – Maninjau road
Rode it once in 2016. Not a very scenic road, better go straight from Padang to Bukittinggi by bus in my opinion.
The Bukittinggi – Solok road
Again rode it once in 2016. I remember this very nice place near Singkarak lake
In the town of Solok, you have a neighborhood called Koto Baru with a high concentration of traditional private Minang houses (rumah gadang):
Don't get confused because you have another area called nagari saribu rumah gadang (the thousand Gadang house village) in Koto Baru village in Sungai Pagu subdistrict (Kecamatan Sungai Pagu), part of South Solok subdistrict (Kabupaten Solok Selatan). This is two hours away from Solok city on the road towards Kerinci.

Bukittinggi
The hilly town (bukit means hill and tinggi high) of Bukittinggi makes a nice central base but I never got really thrilled by its landmark attractions.
Bukittinggi stands on one flank of Sianok Canyon [Ngarai Sianok]. This is a natural canyon about 100m high surrounding a 15km long valley. I visited the so-called panorama park in 2016 and found the view to be average. By 2018 the entrance ticket has hiked fourfold and now reaches 20'000Rp (it includes a visit to nearby caves built by the Japanese during the war).
Another popular touristic attraction is the so-called Great Wall of Koto Gadang [Tembok Koto Gadang] which is a kind of wall like the Chinese Great Wall but on a much smaller scale. I don't even know where is the entrance exactly.
You can also go visit an old Dutch fort called Fort de Kock. It is built on a hill and is connected on another hill by a bridge with Minang architecture called Limpapeh Bridge. On this other hill, you have Bukittinggi zoo which is infamous even for Indonesian horrible standards. In 2016 4 tiger cubs died in the zoo because of a birth defects.
Padang
As the capital of West Sumatra, this city is handy because it has an airport with connection to many places in Indonesia as well as Kuala Lumpur and Singapore.
There is also an immigration office (as well as another one near Bukittinggi) which processes visa extension in a rather standard time (3 working days). This is also the gateway to the Mentawai islands.
Things to see in Padang
Near the immigration office, the great mosque of West Sumatra (Masjid raya Sumatera Barat) offers an interesting mix between Islamic and Minang architectures.
Besides that, most of the popular accomodations among tourists are located near the small Chinatown (kampung Cina). If you happen to be around 15 days after Chinese New Year (called Imlek in Indonesian), don't miss the huge parade called Cap Go Meh.
Additionaly, the provincial museum Adityawarma is very cheap (3'000Rp) and interesting :
The room dedicated to Minang culture is surprinsingly the poorest. The most interesting part is the display of regional variants of bride attires.
The room dedicated to Mentawai is nice. Mostly pictures as well as tools.
The room dedicated to Minang architecture is the best. Lenghty explanations, unfortunately mostly in Indonesian.
The last room is a photo exhibition covering the aftermath of the 2009 earthquake.
A day trip from Padang to the twin lakes
Rent a motorbike in Padang and ride until the twin lakes located South-East of Padang (refered to as danau diatas "upper lake" et danau dibawah "lower lake" individually and danau kembar "twin lakes" together).
On the way you will pass nice tea plantations around Mount Talang, that is a very popular spot among local hikers (very crowded during the weekend) :
You can also visit the old mosque of on the way. The mix of Islamic and Minang elements in the architecture is quite interesting:
I've seen at least one cheap accomodation by the lakes (look for penginapan signs). The lower lake is surrounded by fields. The upper lake is a bit more scenic in my opinion, thanks to a darker water color. In the middle you have a viewpoint from which you can see both lakes.
Itinerary suggestions
October to December are usually quite rainy. I've been to West Sumatra in February and had quite good weather.
For those short on time
Skip Padang and spend all your time in Bukittinggi. Rent a motorbike
One day exploring lake Maninjau
One day driving from Bukittingi to Nagari Pariangan to Batusangkar (for the palace) and then back to Bukittinggi
2 days one night to go to Harau valley and then back to Bukittinggi.
For those keen on exploring
You could spend a relaxed day in Padang seeing the different places I recommended
A day trip from Padang to the twin lakes and tea plantations South of town
Spend more time exploring Lake Maninjau (you won't find all the nice spots immediately).
Going from Padang to Bukittinggi by public transport takes half a day
Hiking Mount Marapi takes a full day (as well as Mount Singgalang I guess)
The trip to Batang Palupuh reserve takes half a day.
Pacu Jawi races will keep you busy one afternoon.
I would advise to allow yourself 10 days to explore the area. Some beach homestays South of Padang are popular among foreign tourists. Some island hopping is also available. I have never been there and I'm not really interested but some will probably enjoy those places.
Practical tips
Accomodation
In Padang, I recommend to stay at Brigitte Homestay. They offer single room with fan from 100'000Rp, shared bathroom and breakfast. Dorm (AC, shared bathroom, breakfast) is 95'000Rp. Motorbike rental for 75'000Rp. They also offer immigration agent services and can process your visa extension for 900'000Rp.
I also stayed at Yani's Homestay on Jl Nipah. In 2016 a room for 2 people (bunk beds), AC and shared bathroom was charged 150'000Rp. Motorbike rental for 60'000Rp. I prefer Brigitte though.

In Bukittinggi I've always slept in Hello Guesthouse. In 2018, a bed in a dorm was charged 75'000Rp (with breakfast) and motorbikes can be rented for 65'000Rp. Lin, the owner, is very helpful. The nearby mosques are unbelievably noisy, but I'm afraid that the situation is the same in other parts of town.
Transportation
From Padang to Minangkabau International Airport
To get from the airport to town, you have 2 regular buses operated by DAMRI and TRAMEX. As of 2018 they cost 24'000Rp and run until 6PM. Very recently a train has been inaugurated by President Jokowi, linking the aiport and Simpang Haru station in town. Price is only 10'000Rp with, for now, 5 departures a day each way from 6AM to 17PM.
Once in town, it's possible to ride public minibus (angkot) but it might be confusing. The most convenient solution is as usual online taxi (Grab & Gojek).
If you arrive too late for public transportation, a taxi ride costed 100'000Rp in 2016 (+15'000Rp of airport surcharge). Check online taxi rate first, it's probably cheaper.
From Padang to Bukittinggi
To reach Bukittinggi from Padang, minibuses leave all day long when full from Padang state university (Universitas Negeri Padang) and cost 20'000Rp as of 2018. Shared taxi (or shared minibus) called travel also offer slightly more expensive door-to-door service.
From my understanding all buses coming from North Sumatra stop in Bukittinggi before heading to Padang.
You have some old train lines between Padang and Pariaman or Padang and Solok but nothing from Padang to Bukittinggi.

Map
Other articles on West Sumatra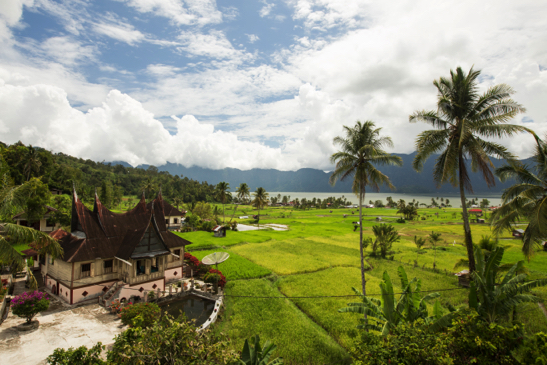 [Travel Guide] One of my favorite place in Indonesia. Beautiful sceneries and strong regional traditions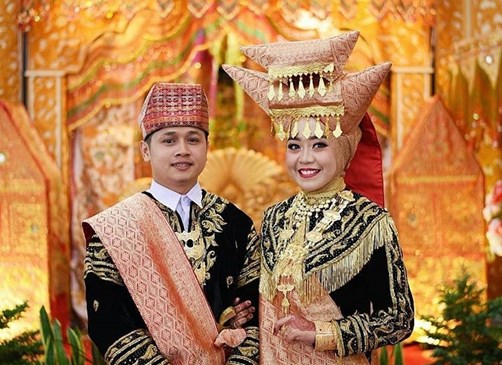 Notes on the matrilineal nature of the Minang society and its evolution to the present…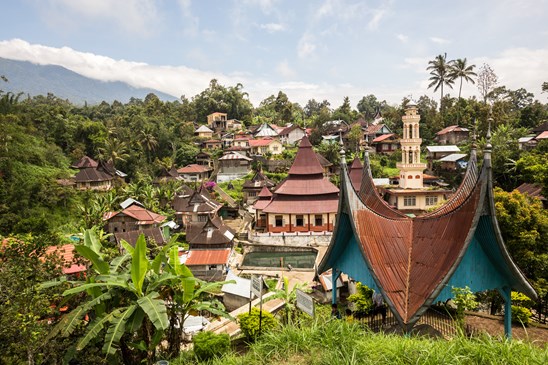 History, traditional society and its evolution through the ages