Raja Ampat is a group of islands located off the very west of the island of New Guinea, in Indonesia. It has grown into a world-class diving destination since the 90s.
It also offers stunning sceneries of karstic rocks emerging in the middle of lagoons and great birding opportunities.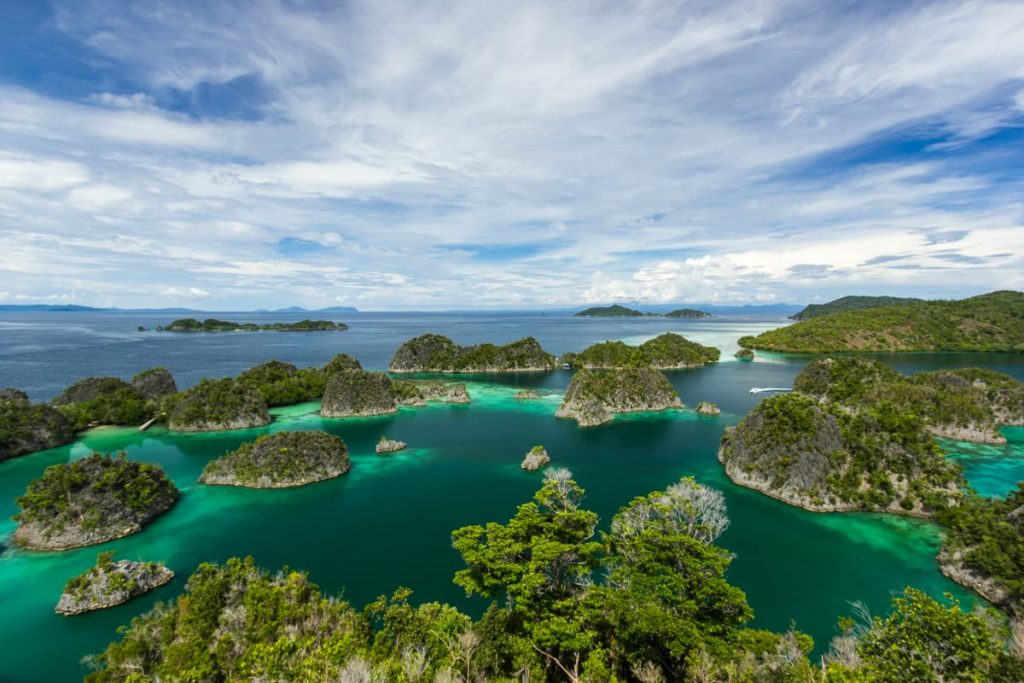 The local population has long maintained ties both to Biak to the east (many Biak dialects are spoken daily in Raja Ampat) and the Maluku to the west (especially the kingdoms of Bacan and later Tidore).
The name Raja Ampat is a deformation of Indonesian Raja Empat (Four Kings) itself translated from the local language Kalana Fat referring to the fours kings that used to dominate the area : one in Waigeo, one in Salawati, the king of Misool in the west of Misool island and the king of Waigama in east Misool.
Understanding Raja Ampat
From an administrative point of view, Raja Ampat is a really large area that encompasses many islands off Sorong.
Only a small part of Raja Ampat has significant infrastructures to host visitors :
North Raja Ampat : the area around the Dampier strait : South coast of Waigeo, Gam, Mansuar and Kri.
South Raja Ampat : the area around Misool.
95% of accommodation in Raja Ampat are located within the yellow area on the map above. In this article I'm going to focus on this part of Raja. It doesn't mean it's the best one, it's just the only one I know.
I visited Raja Ampat twice, first time in July 2017, second time in October 2022, staying in homestays both times.
Diving (or snorkeling in Raja Ampat)
This is what brings most visitors here. The diving in Raja Ampat has historically been spearheaded by expensive resorts but it is also possible to dive for much cheaper with local operators.
Raja Ampat is hands down in my top 3 diving destination in Indonesia. It has lots of arguments : good walls, good reefs, manta rays …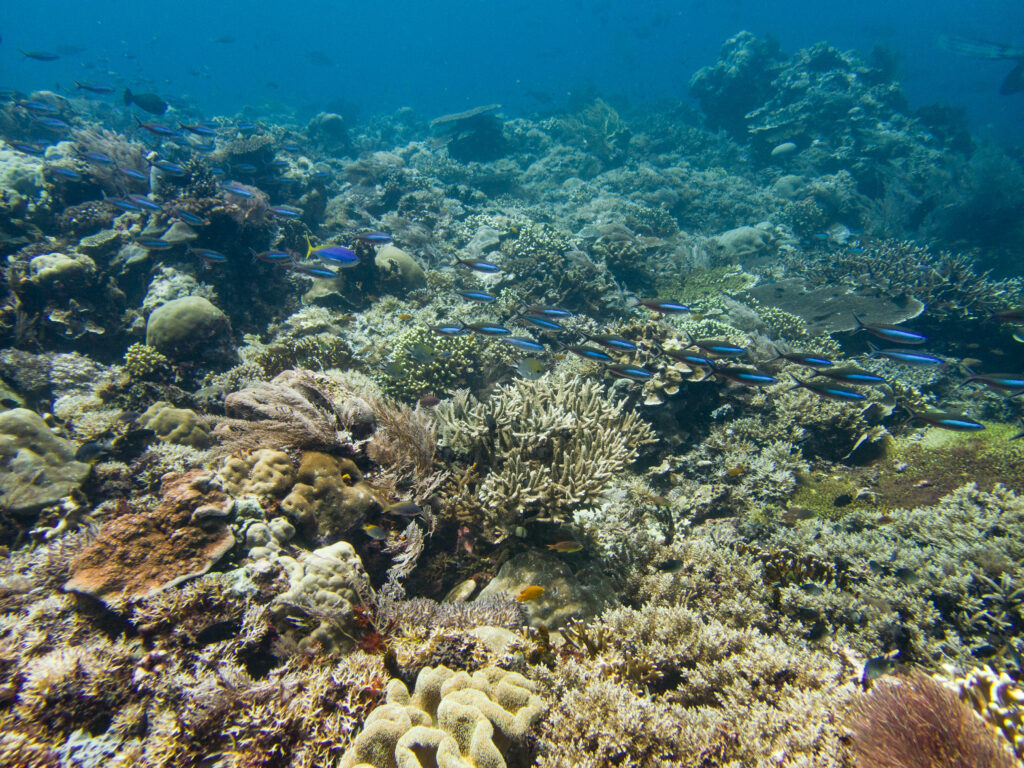 But for me Raja Ampat stands out because of the diversity of fish you find there. You see so many species of butterflyfish, angelfish or parrotfish.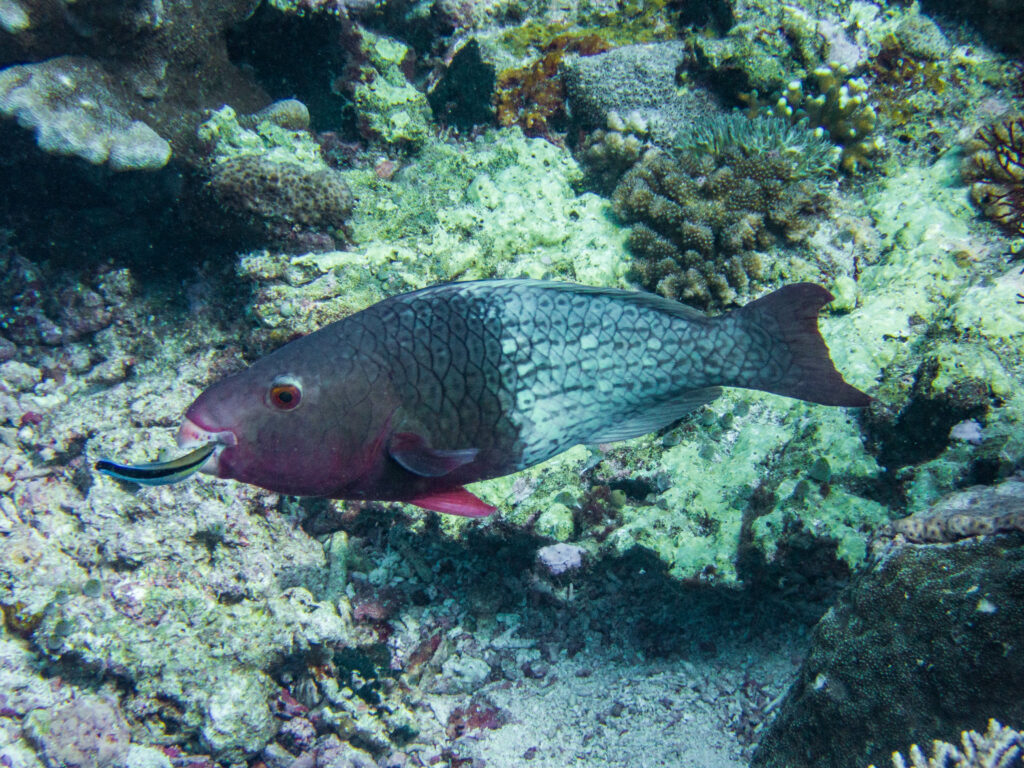 The common Indonesian reef fishes, they are of course all there but in Raja Ampat you see them schooling all the time : schooling jacks, barracudas, moorish idols, sweetlips, batfish, fusillier, redtooth triggerfish …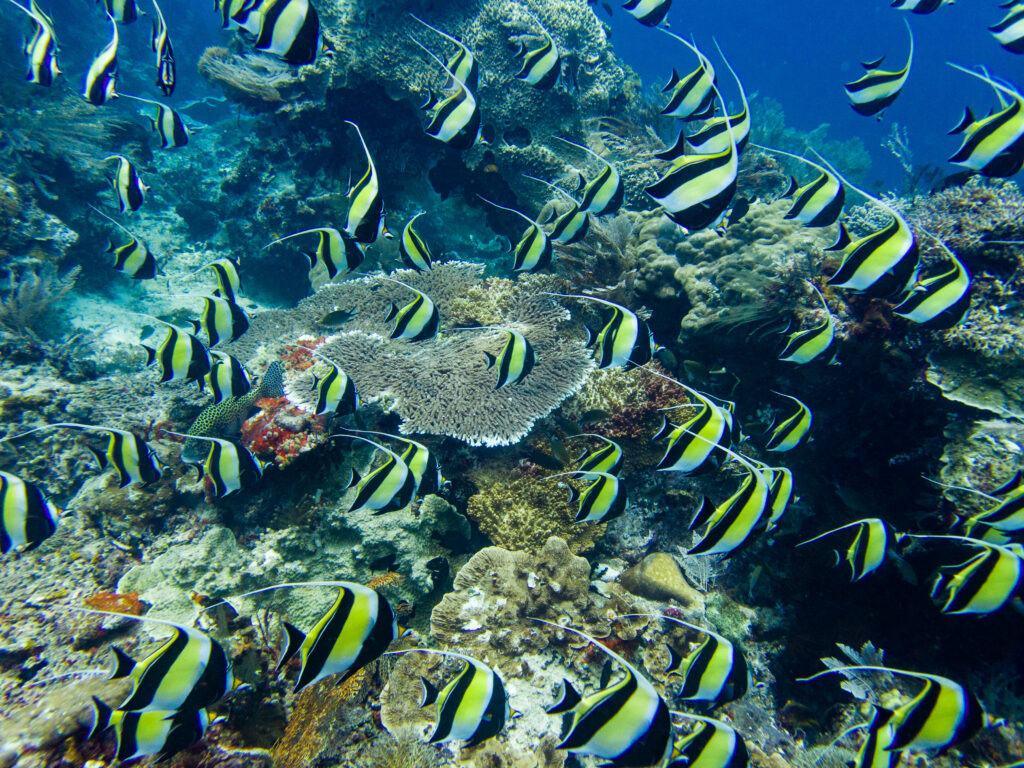 Snorkeling is also pretty good. Actually I do think that the snorkeling of Raja Ampat easily beats diving in many parts of the world.
I snorkeled only a little bit in front of Corepen Homestay in 2017 (and it was good).
Otherwise you usually see snorkelers near the jetties (Cape Kri, Yenbuba Jetty, Arborek Jetty …).
Where to dive in Raja Ampat ?
You can dive in both Misool and North Raja Ampat (Dampier Strait). I will talk only about what I know, ie diving the Dampier Strait. As far as I know, there is no cheaper alternative to dive Misool but expensive resorts and liveaboards (update 2022 : it's worth making further research as I sometimes hear about homestays in Misool).
The beating heart of north Raja Ampat diving is northeast of Kri island (sites like Blue Magic, Sardine, Chicken Reef) … It's there that I both times really experienced the typical fish explosion of Raja Ampat.
Between Mansuar and Arborek, you have 2 sites good for manta rays : Manta Sandy and Manta Reach.
Other sites can be dived near Fam islands (Melissa's Garden for instance) or west of Gam. I tried them a few times and found them less impressive than northeast Kri's (but still pretty good).
Liveaboards can take you diving even near Wayag, not the land-based operators.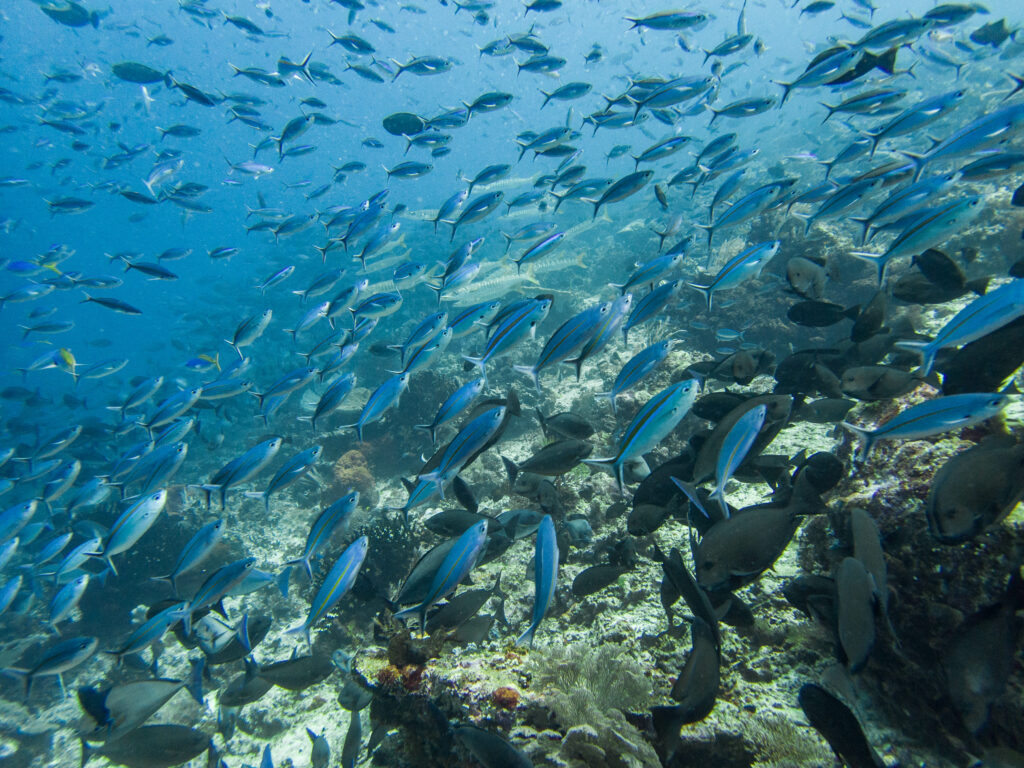 All diving shops / resorts based anywhere between south Gam, Waigea, Kri or Arborek will take you diving to northeast Kri and the Manta's during the season.
When to come to Raja Ampat ?
You can come pretty much year round. I came first time in July, stayed on Gam and had great conditions for both overland weather and diving.
During my second visit in October, I got sometimes not so good visibility (especially around Arborek) or too little current near Kri.
I understand that Manta Ray are usually around from October to March. Liveaboards are more numerous at this time of the year too.
Diving with homestays in Raja Ampat
I dived both times with small local operators. They were good and I saved significantly compared to resorts.
Diving with Corepen Homestay on Gam
I dived in 2017 with Maria that was operating from Corepen Homestay on Gam. She was great. Back then prices were 450'000Rp per dive (400'000Rp if more than 10 dives) and 150'000Rp per day for full equipment rental (not including computer).
I couldn't reach her or Corepen Homestay on the phone number I had in 2022 and wanted to try diving on Arborek anyway. From Gita at Arborek Dive Shop I understood that she had split ways with Corepen but recents comments on stayrajaampat.com seems to say otherwise.
Update June 2023 : someone confirmed in the comments that Maria is back offering diving at Corepen. You can reach her by WA at +62 853-9904-0888.
Diving with Arborek Dive Shop on Arborek
I dived with Arborek Dive Shop (run by Gita and Marcel) in October 2022. They really know what they are doing. We did lots of interesting dives around Arborek and Gam but visibility was sometimes not great.
Prices was 3'300'000 IDR per 6 dives (equipment rental included) so 550'000Rp per dive. They usually charge an additional 500'000 per boat to go diving around Kri (to be split between all the divers of the day). You can pay by credit card at Arborek Dive Shop as of October 2022.
Gita can be reached by Whatsapp on (+62 8 22 3873 4552).
As I find the dive sites of northeast Kri the most impressive, I will definetly stay near Corepen or Kri for my third stay. Either with Corepen again if Maria is confirmed to be back or maybe with Warahnus Dive Homestay behind Kri (haven't tried them myself but like the setting of the homestay).
You can find other homestays offering diving through stayrajaampat.com.
Typically Arborek Dive Shop charges a surcharge to go diving near Kri and operators near Kri charges a surcharge to take you diving with the Manta near Arborek (unless the boat has enough divers to make the trip profitable for them anyway).
Diving with resorts or liveaboards
I don't have experience with both options. If you are not familiar with the area, here are the resorts that comes on top of my mind :
Expect to pay at least 2000 USD per week per person.
If I was to splurge, I guess I would be more inclined to dive with a liveboard and explore more remote areas like Misool or Wayag. Trips are usually 7 to 10 days starting and ending directly in Sorong.
Sightseeings in Raja Ampat
The postcard views : Pianemo & Wayag
By far the most famous views of Raja Ampat feature those impressive karstic rocks sprouting out of the pristine water.
There are actually 2 sites :
Pianemo in Fam islands (closer to accommodations)
Wayag (far off Gam, more impressive but expensive to reach)
Pianemo viewpoint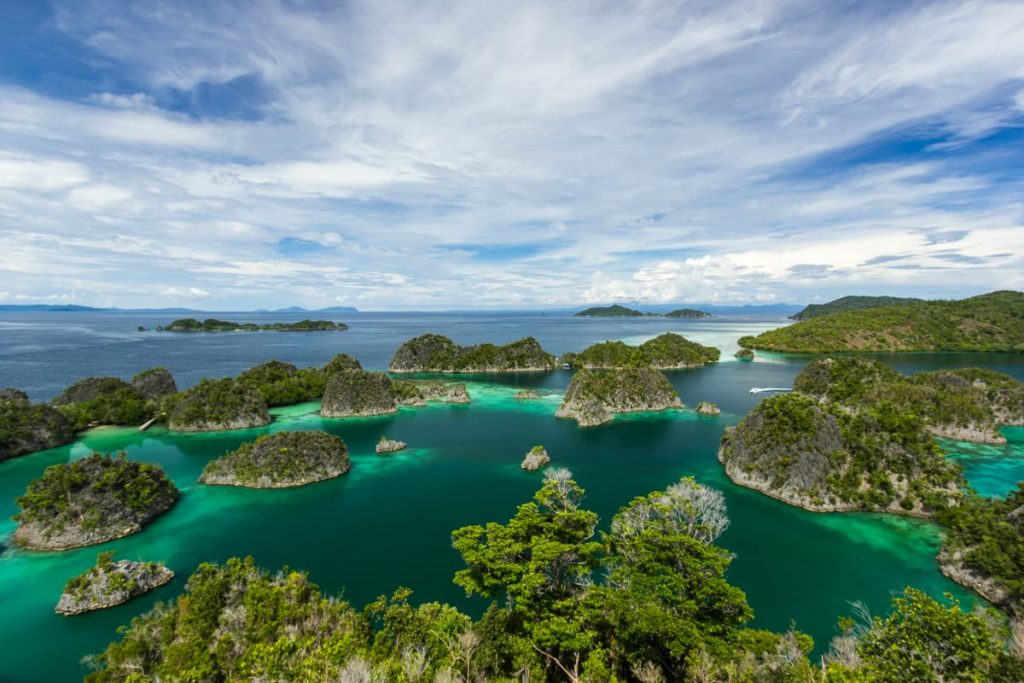 Pianemo makes a good day trip (which I did in 2017, combined with 2 dives nearby). Back in 2017, boats from Kri/Gam to Pianemo were charged somewhere between 3 and 6 millions IDR.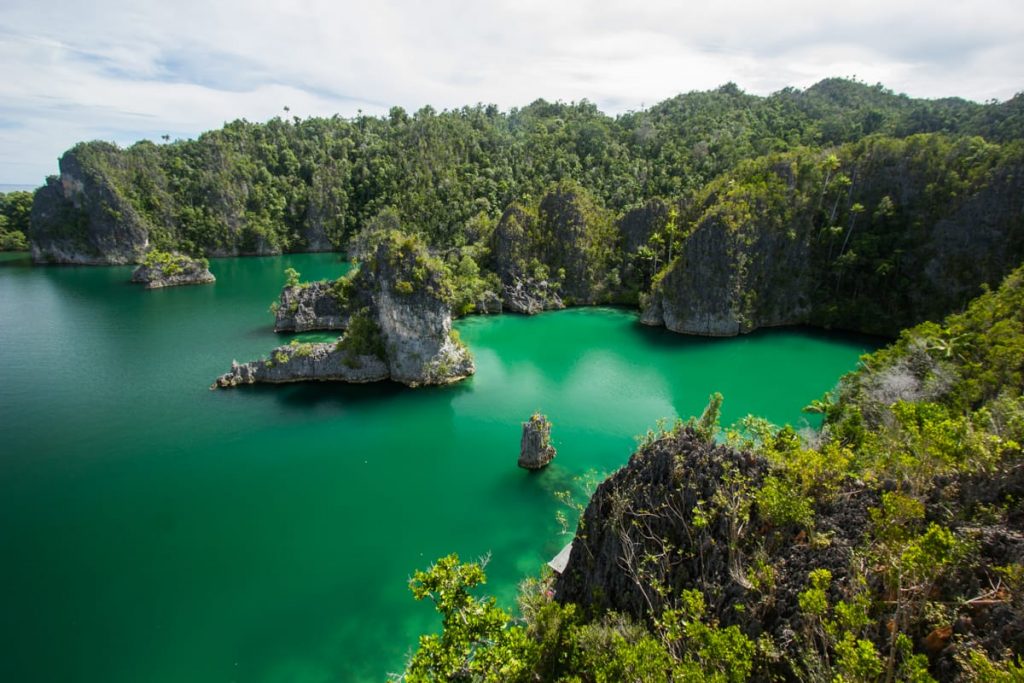 Near Pianemo, Rufas island has grown in popularity on Instagram. You can stay in a homestay in the lagoon (look for Rufas island on stayrajaampat) :
Wayag viewpoint
This is the view that you see all the time on official campaigns by the Ministry of Tourism. It's taken by drone :
The actual view you get from the reachable view point is something like this :
If you really want to visit Wayag (and is not visiting with a liveaboard) some 4 days trip by speedboat exists. Search for 'Open Trip Raja Ampat' for options geared towards Indonesian tourists.
To give you an idea, chartering a boat to Wayag was charged 7 to 20 millions in 2017 for a day trip.
Other notable places
A fairly large sandbank is revealed at low tide in front of Kri. Usually referred to as Pasir Timbul and popular with photographers. Also often used for lunch breaks and surface intervals by dive boats.
A very deep blue river flow near Waisai in Waigeo and is also popular with photographers (look for Kali Biru)
The Kabui Bay is also often visited by open trip, especially for spots Batu Pensil & Batu Wajah
Best way to get to know the popular spots is to google 'Open Trip Raja Ampat' and check the program (results will most likely be in Indonesian).
Birdwatching in Raja Ampat
Raja Ampat is a popular birdwatching destination, especially to look for the two local endemic species of bird of paradise : the red bird of paradise (found on Waigeo & Gam) and the Wilson bird of paradise (found only in Waigeo).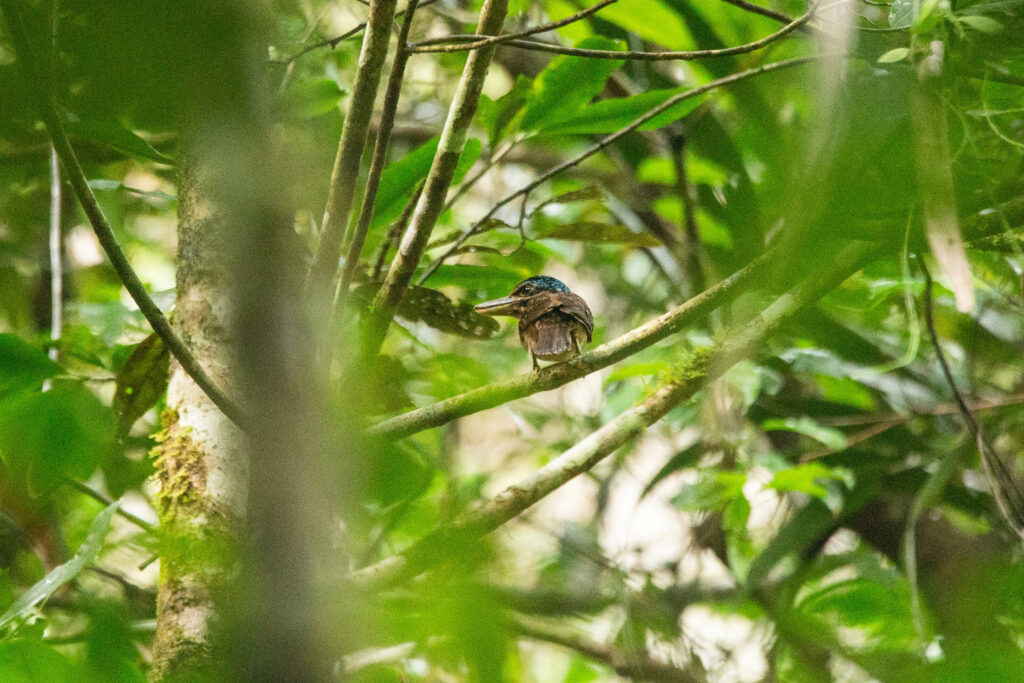 If you check birding reports from 10 years ago, people were visiting Batanta & Salawati islands looking for birds of paradise. This is because transport had to be chartered from Sorong and both islands are closer.
Nowadays, as infrastructure greatly improve especially in Waigeo, birder come here instead.
I stayed 3 nights in Yengkankanes Homestay (+62 8 52 4458 7691, 400'000Rp per night full board), about 20 minutes away walking from Saporkren village and 30 minutes away by car from Waisai on Waigeo island. Just by birding by the road you can see Blyth's hornbill, eclectus parrots, palm cuckatoos or sulfur-crested cuckatoos.
Then get in touch with Pak Benny (+62 8 52 4417 1708) that owns one hide for Wilson Bird of Paradise and another one for Red Bird of Paradise. You can either walk 1 hour to the place but it's also reachable by vehicle. Sightings are almost guaranteed in the morning.
You pay 300'000Rp to see the Wilson BoP and 250'000Rp for the Red one (I guess per person). Benny and his partner are very knowledgeable (they guided Tim Laman & Ed Scholes for their book and also the shootings for BBC Earth) about birding.
I asked them to look for Victoria Western Crown Pigeon but we failed at seeing it. They explained to me that they are usually paid on sighting : they find the bird for you you pay them 200'000Rp, if not you don't owe them anything.
Transfer to Waisai (by road) are charged 100'000Rp (ojek, one person) or 250'000Rp for a car, one way. Takes about 1 hour from/to the harbor.
On which island I should stay in Raja Ampat ?
Find the right accomodation
You can either stay in expensive resorts (most of them dive resorts) or homestays. To find a homestay, your best friend is the website http://stayrajaampat.com.
Since October 2019, stayrajaampat.com is not anymore a informative blog sharing contact details of homestays but a platform that takes a commission on booking. It's still a very informative website.
If you have the phone number of your homestay, you can bypass them easily.
I give you an example based on my last stay :
I stayed at Kalabia Homestay in October 2022 in Arborek. Price listed on stayrajaampat is 470'000Rp per night (full board).
I contacted them directly by Whatsapp : price asked in 400'000Rp (probably what they get after the cut of stayrajaampat).
I'm going to stay one week, ask if I can get a discount : price is down to 350'000Rp. So a 25% discount versus stayrajaampat.
Full board prices are more or less standards, it was about 350'000Rp in 2017, in 2022 400'000Rp.
I stayed for 1 week at Corepen Homestay on Gam in July 2017. I had booked my room by phone but I met a couple in Sorong and convinced them to join me to share costs. The family gave us a 300,000Rp rate instead of 350,000Rp (it was low season).
Next thing you want to check with your homestay is the price of transfer from Waigeo (see transportation section below) and price of eventual excursions.
Comfort is going to be simple in any case (cold shower, no AC, mattress often on the floor).
As of my last visit in October 2022, many homestays were still in renovation after being left abandoned for 2 years during COVID.
My thoughts about some islands
Kri
Kri is the historical center of tourism in Raja Ampat. The northern shore is just one large beach with resorts and homestays. There is no villages on the island as far as I know.
The northern tip of the island hosts both Max Aamer's pioneer resorts (Sorido & Kri Eco Resort).
I guess that it's a good pick if you want to meet other people or share excursions. It may get crowded during high season (as of late 2022 Raja Ampat is still pretty quiet).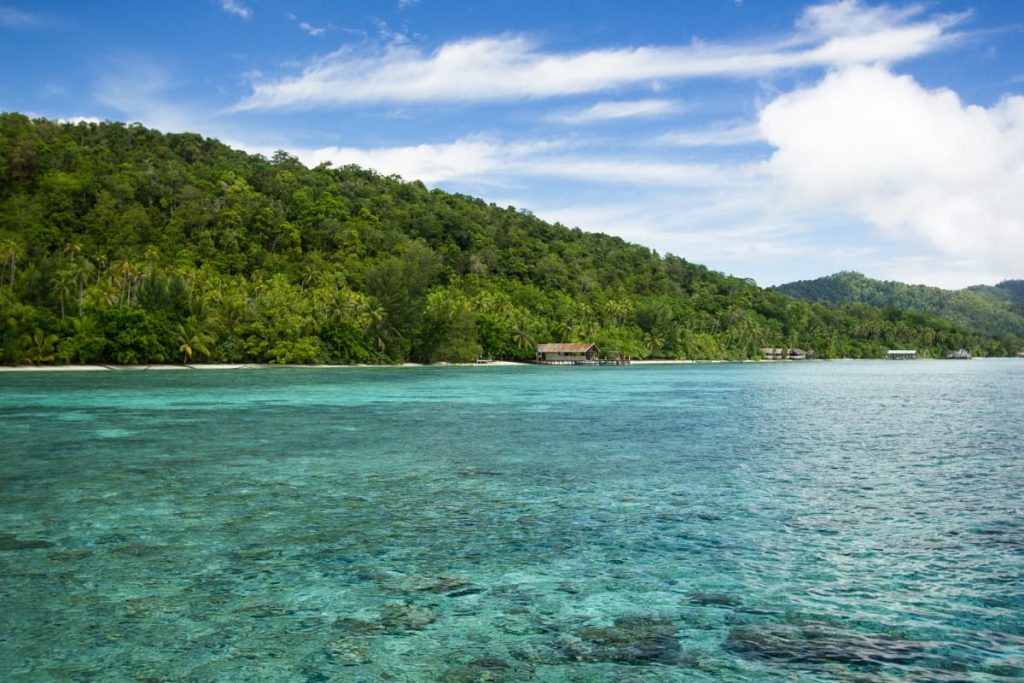 Gam
Gam is a much larger island. You find a few villages and accommodations scattered all along the southern coast.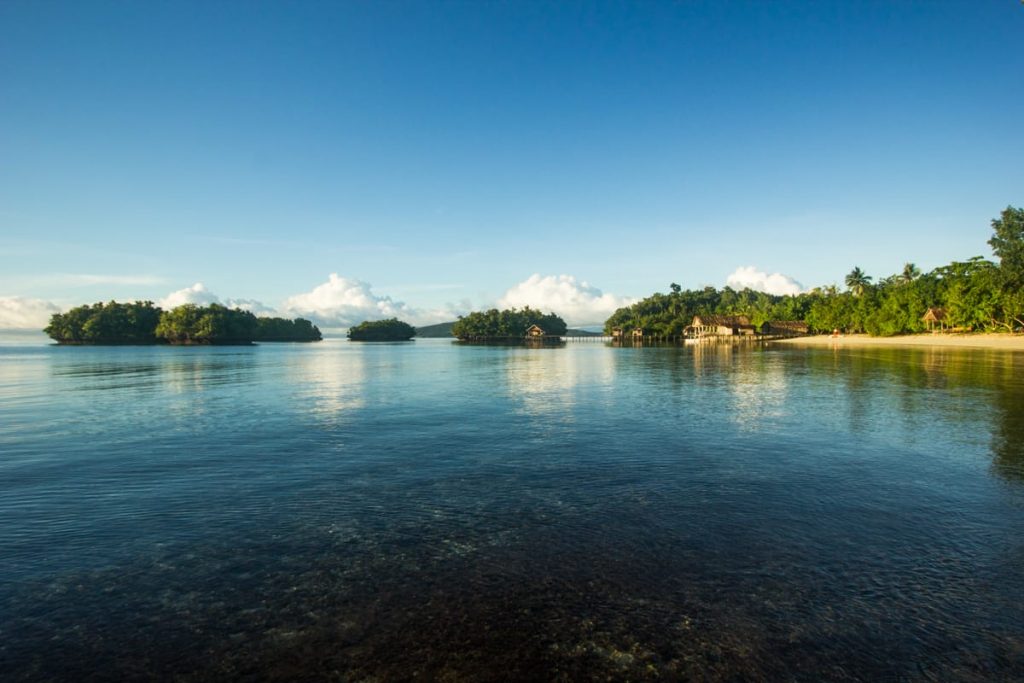 I stayed at Corepen Homestay in July 2017. It seems that I don't have their phone number anymore.
Corepen was really a nice pick for me. Not too crowded, friendly family and a good snorkeling spot in front of the resort. Everyday I spotted sharks and turtles, once an eagle ray about 15-18m down. Dugong allegedly sometimes roam the grassy area just in front of the beach.
Maria that managed the diving lent me a torch and let you go on a night snorkel. It's a good occasion to see big crabs, lobsters, shrimps, phosphorescent plancton …
I prefer Gam to Kri because it's more forested and birds more abundant.
Friwen
Friwen is a small island off Gam with a few homestays and a village. Boats going to Fam or Wayag on a day trip from Sorong often stop under the huge trees on the beach.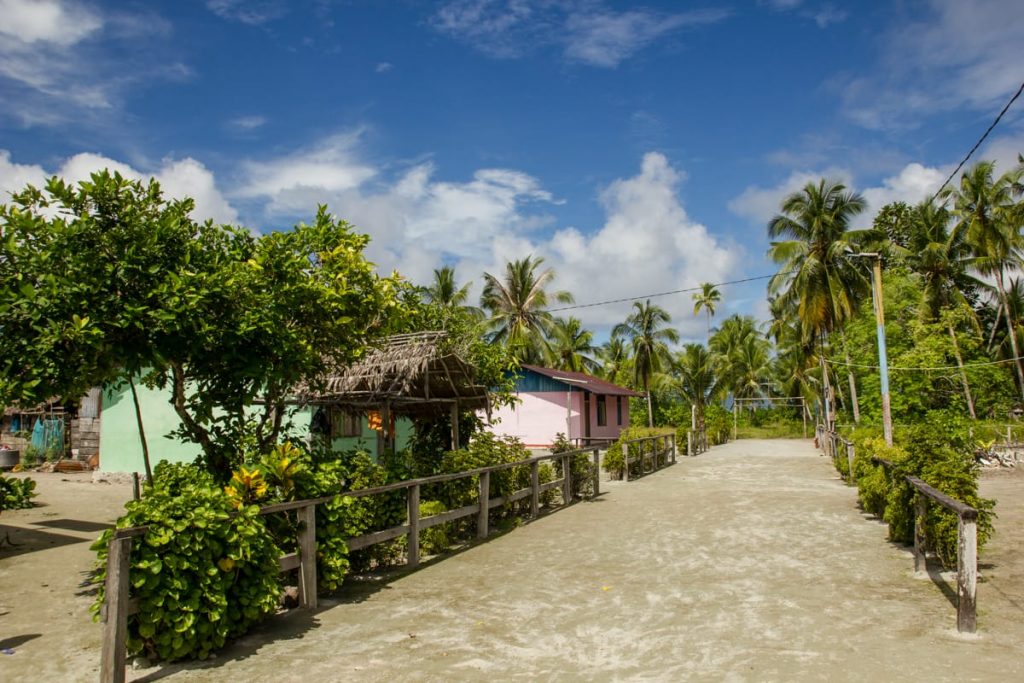 Arborek
Arborek is more isolated. It's a small island that is mostly one large village.
The main interest of the islands is its proximity with Manta-spotting area. Please note that Manta season is from October until February. Good snorkeling by the jetty too.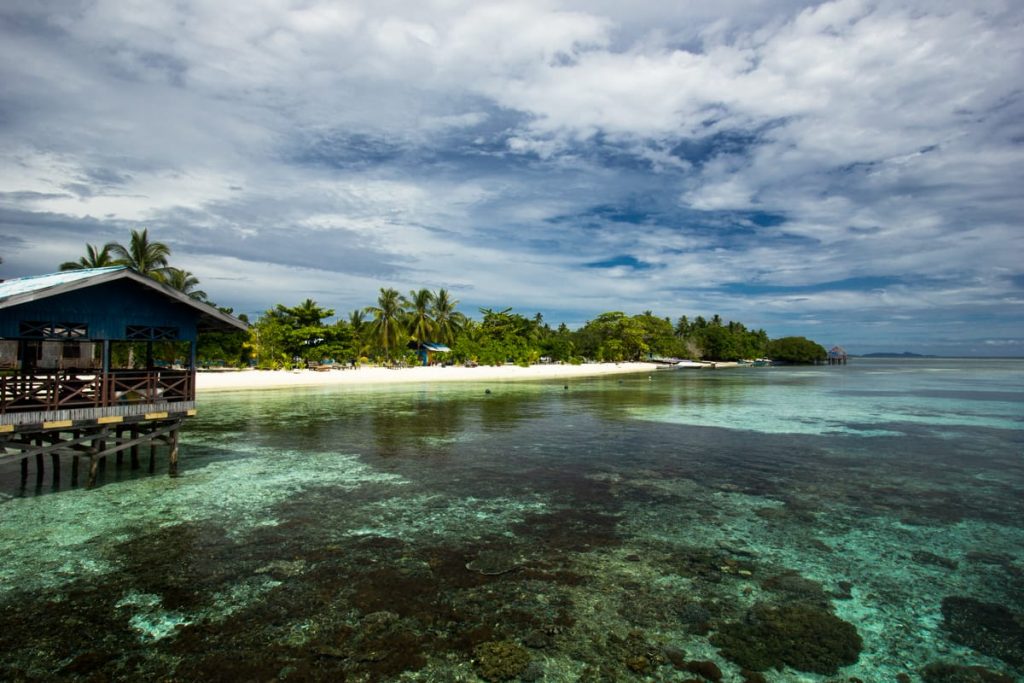 I spend one week in Arborek in October 2022, staying at Kalabia Homestay (contact James by WA: +62 8 13 5404 3920), diving with Arborek Dive Shop (Gita by WA : +62 8 22 3873 4552).
People from Kalabia are nice, James strums the guitar nicely some nights. Juvenile black tip sharks and walking sharks often visited the jetty at night. The bungalows are simple but directly facing the see and Gam island. Food is fair (a bit too much deep-fried fish maybe).
Waigeo
You can definitely stay on Waigeo, there are plenty accommodations south of Waisai, including resorts offering diving.
I stayed on Waigeo specifically for birdwatching (which is very good). Check this section for more details.
Budgeting my stay in Raja Ampat
Staying in Raja Ampat means :
Going to Sorong and leaving Sorong.
Taking the speedboat from Sorong to Waisai (or fly if available).
Pay the Raja Ampat entry tag (1'000'000Rp if foreigner, 500'000Rp if Indonesian nationals, valid for 365 days).
Arrange transfers by boat from Waisai to your homestay
Pay your accommodation (always full board)
Pay for your activities
There are ATM in Sorong (including the airport) and Waisai (near the market). Besides Arborek Dive Shop I don't know if anyone take credit card (but resorts of course). Most likely you need to bring enough cash with you once leaving Waisai.
It's more convenient to draw most of the cash you need before flying to Sorong. As of October 2022 ATM in Sorong airport were giving only 50'000Rp bill and each withdrawal was limited to 1'350'000Rp.
If you are short of cash on the islands, ask your homestay when they go to Sorong to buy supplies (they go at least twice a week) and join them. There is a BNI ATM 500 meters away from the market (they will take their boat directly there).
Reaching and leaving Sorong
Most visitors will fly either from Jakarta, Makassar, Manado or Ambon.
Cheapest and shortest flight are from Manado (which itself has direct and fairly priced flight to Singapore via Scoot).
Expect to pay around 1,2 or 1,3 million IDR one way from Manado to Sorong. From Jakarta to Sorong it's at least 2 millions.
Cheaper option is to take the Pelni ferries, but it will literally take days. Check this article for more details.
From Sorong to Waisai
There are 2 daily passenger speedboats from Sorong to Waisai each way, one leaving at 9AM and the second one at 1PM. Price is 135'000 per person.
The boats need about 2 hours to complete their trip.
It's possible to avoid sleeping in Sorong both ways.
If you need to, I recommend to stay at Rumah Marianne in Sorong, available on Booking. It was 225'000Rp per room (double bed, very clean and comfortable, AC) as of October 2022.
Cheap options were available near the harbor in 2015, they are not on Booking but you can check it out.
Gojek and Grab app are available in Sorong. An ojek from the airport to the harbor costed me 15'000Rp.
No Gojek/Grab ojek will pick you up inside the airport or the harbor out of fear or regular ojek (ojek pangkalan). Just walk 200m to the main road and you are good to go.
In Sorong, I ate a great rahang tuna (tuna jaw) in RM Rasa Dulu on Jl. Basuki Rahmat as well as good sop konro (beef rib soup from Makassar) in front of the airport at Warung Pangkep Sop Saudara.
Once in Waisai
Once you disembark from the speedboat in Waisai, you have to walk to the smaller jetty which is on your left (with the speedboat behind you), but you must walk to the right first because of the barrier. If you haven't booked any homestay, people will offer you to take you to a homestay.
Right before the smaller jetty, you have a booth where you pay your Raja Ampat entry tag (1'000'000Rp for foreigner). In 2015 it was really straightforward. In 2022 it seems that they splitted the ticket (but the total is still 1'000'000) and they are trying to implement online payment for one part of it.
Just go and pay what you are asked at the booth.
Boat transfer are what makes Raja Ampat expensive. Always negotiate them because locals are sometimes exagerating. A few prices I paid for reference :
500'000Rp per boat from Waisai to Corepen one way (enough space for 4, 5 passengers at least) in July 2017.
800'000Rp per boat one way from Waisai to Arborek in October 2022.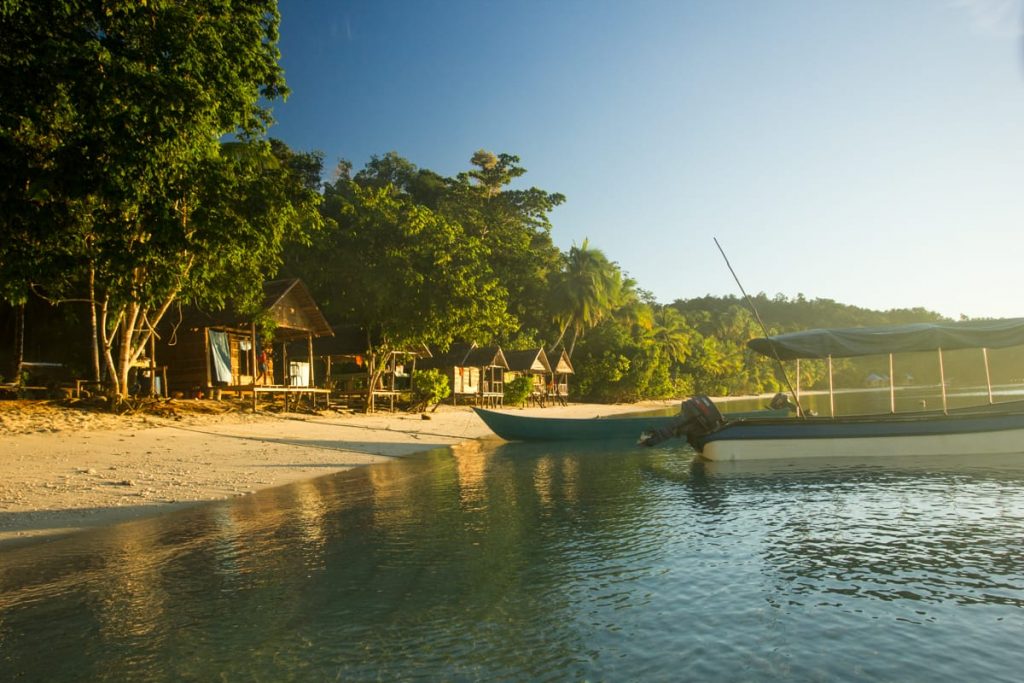 Minimal budget
I would budget the following :
About 3'000'000Rp for the return flight to Sorong from Manado, Ambon or Makassar. More if you are connecting. Per person. Pelni ferries are cheaper but takes days.
270'000Rp for the return speedboat from Sorong to Waisai.
1'000'000Rp for the entry tag. Per Person.
1'000'000Rp for the return transfer from Waisai to Kri/Gam. To be shared among passengers.
400'000Rp per person per day for food and accomodation. Can be bargained a bit down if you are a group / stay longer. I would be surprised to get below 300'000 Rp/day.
So without any activities, landing in Sorong on Day 1 and flying back on Day 7 around 7'500'000 minimum spent for a single traveler, 7'000'000 per person for a couple (but excepting boat transfers, no expenses is shared).