As you would expect from the largest archipelago in the world, boats are ubiquitous in Indonesia and are a great and inexpensive way to explore the country if you have time.
Pelni : cross-provinces ferries
Pelni (PT Pelni) is a public company providing cross-province transportation services. It's the most known boat company in Indonesia but far from being the only one. Pelni only take passengers on board (and a little bit of cargo), no vehicle.
As of 2018, Pelni have 25 ships who focus on the East part of the country. In Sumatra, besides a couple of ships visiting islands of Riau and the outer Riau islands (up to Natuna) there is not much options. Same goes for Java, who serves as a starting point for many ferries from Jakarta and Surabaya.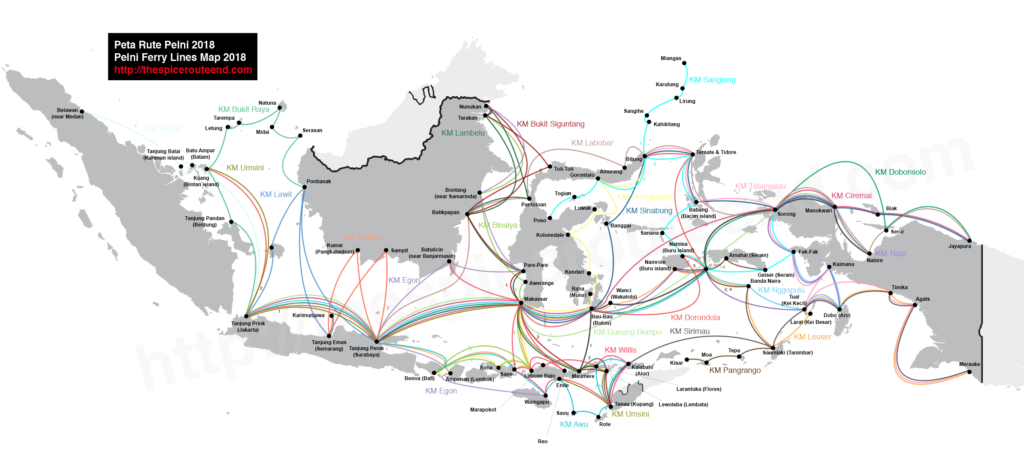 Get schedules and buy tickets
Pelni has a great website providing accurate information about the schedule in the coming weeks (usually no more than a month ahead, sometimes less). From my experience, the schedules are reliable.
You can book ticket online but you will probably need an Indonesian credit card. It's pretty useless to do it anyway because ticket are not numbered, it's up to you to find a spot onboard. Get to Pelni office before departure and buy your ticket directly.
Beware because ferries often stop during the night (like 2AM, 5AM…) and Pelni office will likely be closed (this goes also for the weekend). Sometimes you can buy the ticket on the spot, sometimes not, so anticipate a bit. Besides Pelni official office, there are always plenty of 3rd party sellers near the harbour in travel agency who can issue a ticket for a small fee (and are open during weekends)
Pelni officials issue a new schedule for every ship every month, sometimes they twitch it a bit from month to month, so, again, don't take informations below for granted. In case you want to have a general view on the full schedule of a particular boat for the month, check this website.
At the end of the article, I centralized the routes served by all 25 ships as well as their frequency.
What is included ?
3 (very simple) meals a day including water. You usually got rice, a tiny bit of fish and a spoon of boiled vegetables. There is an announcement in Indonesian and then you will see everyone getting up. You need to show your ticket every time you pick up your meal.
Noodles, fried chicken and other stuffs can be bought on the upper deck. Sellers climb up the ship at every harbor and sell packaged meals (nasi bungkus), cigarettes …
On most ship, you have many power sockets available.
The cleanliness of the toilets and bathroom is variable but it's never very neat.
There is usually 2 or 3 passengers decks, the lower you get, the hotter it gets. Decks are normally non-smoking but the rules is not enforced very strictly. There is no numbers on tickets so you have to find your own spot. Ferries can be overloaded as well as half empty depending on the period of the year and the harbor you get in.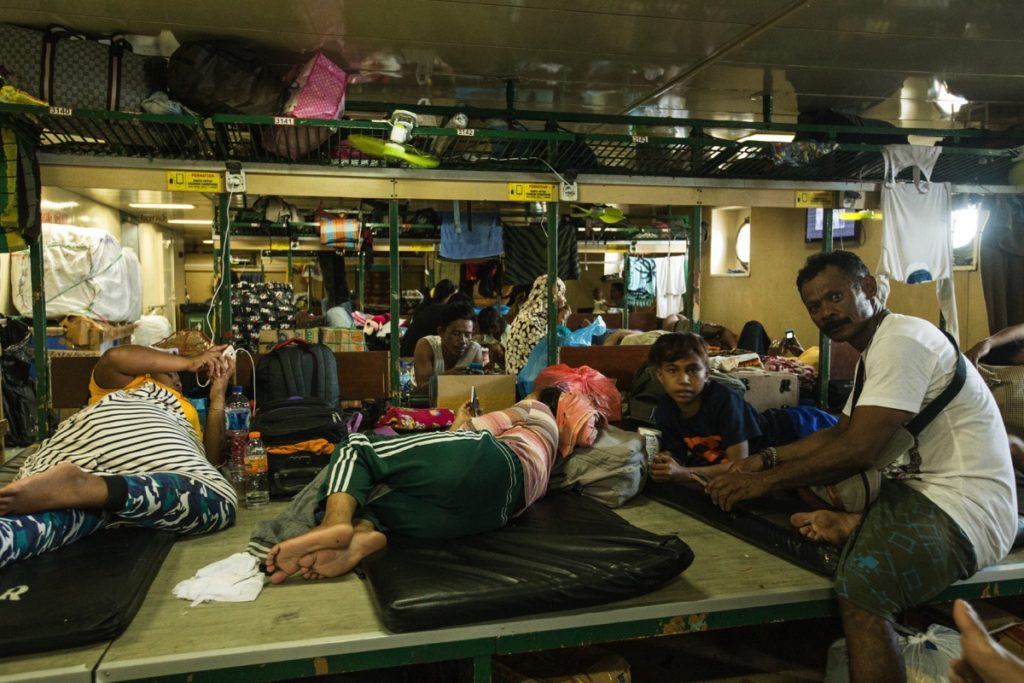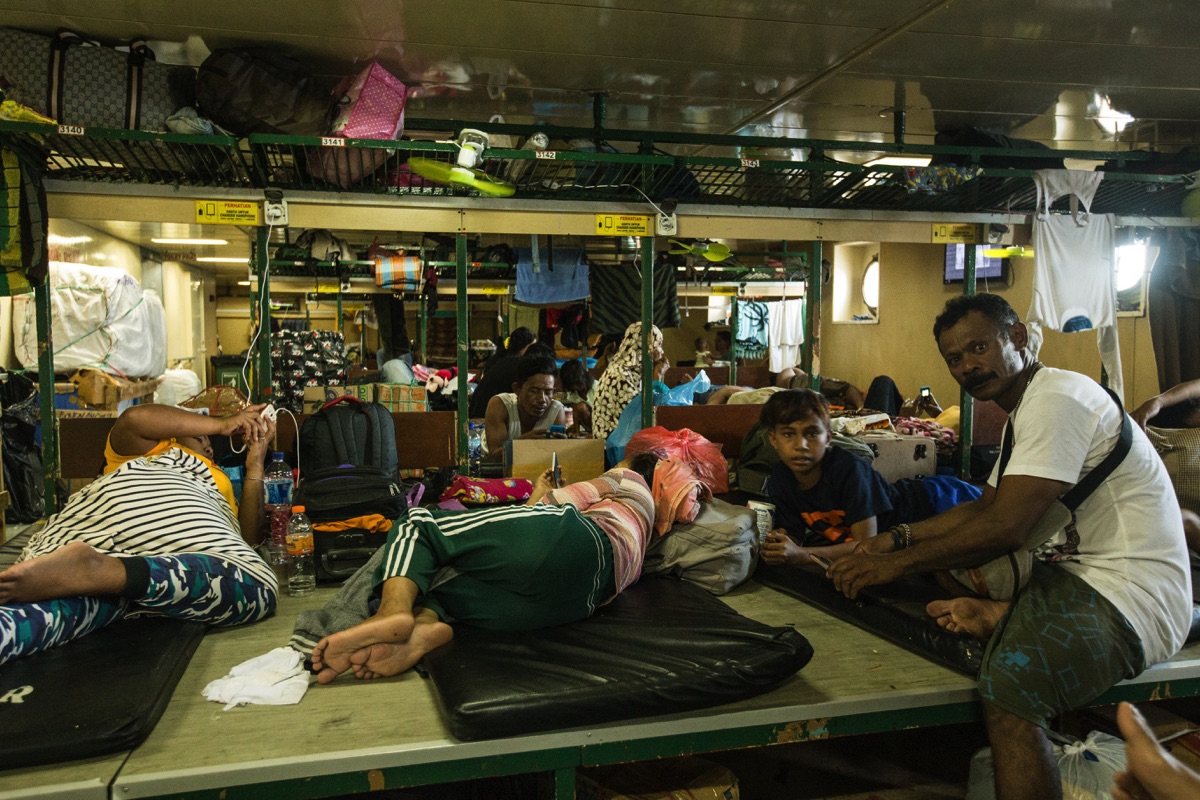 ASDP : inter-provinces ferries
ASDP (PT ASDP Indonesia Ferry, ASDP stands for 'Angkutan Sungai Danau dan Penyeberangan' or 'lake, river and crossing vehicle') is another public company providing inter-province ferries. The ferry you take in Padangbai to go to Lombok, in Padang to go to Mentawai, everything is operated by them.
The main difference with Pelni is that ASDP ferries do accept cars, trucks and motorbikes on board.
ASDP has a website which is quite good to know which destination are available from a given harbor. You get the price sometimes and the schedule. From my experience, the schedule given online is not reliable. It doesn't mean that everything is false but cross-check or you might have some surprises.
Every office have usually a Whatsapp number that you can contact and they will send you a PDF file with the last updated schedule. Otherwise you check directly at the harbor if you're nearby.
In almost every ASDP ferry you can upgrade your ticket once onboard to access a VIP room. This room usually has AC and some matress available so you can sleep. Just walk in the room and take a seat, the crew will come during the journey to collect the additional fee (usually 20-30,000Rp). Sometimes it is not collected.
Private lines and Perintis
Besides Pelni and ASDP ferries, you could also use the Perintis (cargo ships) or privates ferries.
Private boats are usually operated between two harbors. I don't know any centralized place to get information about them, you need to ask around. But you have many, many options. Often, both ferries and speeboats are available.
Pelni ferries detailed routes
In case you want to plan a trip in advance, you need to check the current schedule online and extrapolate the dates in the future. I did this a couple of times and I ended up listing all relevant informations for every ships. Again, I'm not working for Pelni so don't take it for granted but it should help (use your browser search function to find the destination or the ship you're looking for).
Usually Pelni ferries go from point A to point D (and stopping at B, C on the way) then go back to A the same way (so the route usually look like A – B – C – D – C – B – A). If the route is like that I note it A – B – C – D. Sometimes the ferry doesn't follow the exact same way on its way back, in that case I detail the full route.
Some ferries do follow different routes alternativaly (they do the round-trip as per route 1, then as per route 2, then …, and back to route 1)
Many harbor bear a distinct name especially the following :
Tanjung Priok is Jakarta
Tanjung Perak is Surabaya
Tanjung Emas is Semarang
Tenau is Kupang
Batu Ampar is Batam
Benoa is in Bali
Ampenan is in Lombok
Ship : KM Sangiang
Route description : Bitung – Central Maluku – Papua / Bitung – Central Maluku / Bitung – North Sulawesi islands / Bitung – Tomini Gulf
Frequency (time to wait for the boat to repeat one leg of its route) : Once a month (28 days)
Starts from : Bitung
Route 1 : Bitung > Ternate > Badang > Sanana > Namlea > Ambon > Geser > Fak-Fak > Sorong
Route 2 : Bitung > Ternate > Badang > Sanana > Namlea > Ambon
Route 3 : Bitung > Kahikitang > Tahuna > Lirung > Karatung > Miangas
Route 4 : Bitung > Gorontalo > Togian island > Poso
Ship : KM Awu
Route description : Surabaya – East Nusa Tengara / Surabaya – Central Kalimantan
Frequency : Every two weeks (14 days)
Starts from : Surabaya
Route 1 : Surabaya > Benoa > Sape > Waingapu > Ende > Sabu > Rote > Kupang > Larantuka > Kalabahi > Kupang > Rote > Sabu > Ende > Waingapu > Sape > Benoa > Surabaya
Route 2 : Surabaya > Kumai
Ship : KM Leuser
Route description : Surabaya – Sunda islands – South Sulawesi – South Maluku – South Papua
Frequency : Once a month (27 days)
Starts from : Surabaya
Route :  Surabaya > Benoa > Sape > Labuan Bajo > Makassar > Bau-Bau > Wanci > Namrole > Ambon > Banda Naira > Saumlaki > Larat > Tual > Dobo > Timika > Agats > Merauke
Ship : KM Dobonsolo
Route description : North Java – South Sulawesi – Ambon – North Papua
Frequency : Every two weeks (14 days)
Starts from : Jakarta
Route : Jakarta > Surabaya > Makassar > Bau-Bau > Ambon > Sorong > Serui > Jayapura
Ship : KM Sinabung
Route description : Surabaya – South and North Sulawesi (by the East) – Halmahera – North Papua
Frequency : Every two weeks (14 days)
Starts from : Surabaya
Route : Surabaya > Makassar > Bau-Bau > Banggai > Bitung > Ternate > Babang > Sorong > Manokwari > Biak > Jayapura
Ship : KM Nggapulu
Route description : North Java – South Sulawesi – South Maluku – South Papua
Frequency : Every two weeks (14 days)
Starts from : Jakarta
Route : Jakarta > Surabaya > Makassar > Bau-Bau > Ambon > Banda Naira > Tual > Dobo > Kaimana > Fak-Fak
Ship : KM Ciremai
Route description : North Java – South Sulawesi – North Papua
Frequency : Every two weeks (14 days)
Starts from : Jakarta
Route : Jakarta > Surabaya > Makassar > Bau-Bau > Sorong > Manokwari > Biak > Jayapura
Ship : KM Pangrango
Route description : Ambon – Seram / Ambon – Banda / Ambon – Buru / Ambon – South West Maluku islands
Frequency : Every two weeks
Starts from : Ambon
Route 1 : Ambon > Amahai > Geser
Route 2 : Ambon > Banda Naira
Route 3 : Ambon > Namrole
Route 4 : Ambon > Banda Naira > Saumlaki > Tepa > Moa > Kisar
Ship : KM Binaiya
Route description : Makassar – Bali – Flores / Makassar – East Kalimanta
Frequency : Every two weeks (13 or 15 days, the ship stops 2 days in LBJ once a month)
Starts from : Makassar
Route 1 : Makassar > Labuan Bajo > Bima > Benoa > Labuan Bajo
Route 2 : Makassar > Awerange > Bontang > Tarakan
Ship : KM Sirimau
Route description : Maumere – South Sulawesi – Central Maluku – North Papua / Maumere – South Maluku – South Papua
Frequency : Once a month (28 days)
Starts from : Maumere
Route 1 : Maumere > Bau-Bau > Wanci > Ambon > Sorong > Manokwari > Nabire
Route 2 : Maumere > Lewoleba > Kupang > Kalabahi > Saumlaki > Tual > Dobo > Timika > Agats > Merauke
Ship : KM Tatamailau
Route description : North Sulawesi – North Maluku – South Papua
Frequency : Every two weeks (14 days)
Starts from : Bitung
Route : Bitung > Tidore > Babang > Sorong > Fak-Fak > Kaimana > Tual > Timika > Agats > Merauke
Ship : KM Tidar
Route description : B
Frequency : Every two weeks (14 days)
Starts from : South Sulawesi – Central and South Maluku – South and North Papua
Route : Makassar > Bau-Bau > Namrole > Ambon > Tual > Dobo > Kaimana > Fak-Fak > Sorong > Manokwari > Nabire
Ship : KM Tilongkabila
Route description : North and South Sulawesi – Flores – Bali
Frequency : Every two weeks (14 days)
Starts from : Bitung
Route : Bitung > Gorontalo > Luwuk > Kolonedale > Kendari > Raha > Bau-Bau > Makassar > Labuan Bajo > Bima > Lembar > Benoa
Ship : KM Egon
Route description : Surabaya – Lombok – Sumba / Surabaya – West Sulawesi – East Kalimantan
Frequency : Every two weeks (14 days) for the 2 routes from Surabaya + some irregular round trip to Kumai and Sampit from Semarang
Starts from : Surabaya
Route 1 : Surabaya > Lembar > Waingapua
Route 2 : Surabaya > Batulicin > Pare-Pare > Bontang > Nunukan
Route 3 : Semarang > Kumai
Route 4 : Semarang > Sampit
Ship : KM Dorondola
Route description : North Sulawesi – North Maluku – South Sulawesi – Java – Bintan
Frequency : Every two weeks (14 days)
Starts from : Bitung
Route : Bitung > Ternate > Ambon > Namlea > Bau-Bau > Makassar > Surabaya > Jakarta > Kijang
Ship : KM Labobar
Route description : Surabaya – East Kalimantan – North Sulawesi – North Maluku – North Papua
Frequency : Every two weeks (14 days)
Starts from : Surabaya
Route : Surabaya > Balikpapan > Pantoloan > Amurang > Bitung > Ternate > Sorong > Manokwari > Nabire > Serui > Jayapura
Ship : KM Gunung Dempo
Route description : Java – Makassar – North Papua
Frequency : Every two weeks (14 days)
Starts from : Jakarta
Route : Jakarta > Surabaya > Makassar > Sorong > Manokwari > Nabire > Jayapura
Ship : KM Willis
Route description : South Kalimantan – Makassar – Sumbawa to Alor by the north coast – Kupang / South Kalimantan – Makassar – Flores – Sumbawa – Sumba – Kupang
Frequency : Once a month (28 days)
Starts from : Batulicin
Route 1 : Batulicin > Makassar > Sape > Labuan Bajo > Marapokot > Larantuka > Kalabahi > Kupang
Route 2 : Batulicin > Makassar > Reo > Labuan Bajo > Sape > Waingapu > Ende > Kupang
Ship : KM Kelimutu
Route description : Java – South Kalimantan
Frequency : Every two weeks (14 days)
Starts from : Surabaya
Route 1 : Surabaya > Kumai
Route 2 : Surabaya > Sampit > Semarang > Kumai > Semarang > Karimun Jawa > Semarang > Sampit > Surabaya
Ship : KM Lambelu
Route description : Makassar – Bau-Bau / West Sulawesi – East Kalimantan – East Flores
Frequency : Every two weeks (14 days)
Starts from : Makassar
Route 1 : Makassar > Bau-Bau
Route 2 : Makassar > Pare-Pare > Balikpapan > Tarakan > Nunukan > Pantoloan > Balikpapan > Pare-Pare > Makassar > Maumere > Larantuka
Ship : KM Umsini
Route description : Java – Makassar – Flores – Kupang / Jakarta – Bintan
Frequency : Once a month (25 days)
Starts from : Jakarta
Route 1 : Jakarta > Surabaya > Makassar > Maumere > Larantuka > Lewoleba > Kupang > Ende
Route 2 : Jakarta > Bintan
Ship : KM Bukit Raya
Route description : Jakarta – Riau islands – Pontianak
Frequency : Every two weeks (14 days)
Starts from : Jakarta
Route : Jakarta > Belinyu > Kijang > Letung > Tarempa > Natuna > Midan > Serasan > Pontianak
Ship : KM Kelud
Route description : Jakarta – Batam – Karimun – Medan
Frequency : Every week (7 days)
Starts from : Jakarta
Route : Jakarta > Batam > Karimun > Belawan
Ship : KM Bukit Siguntang
Route description : Makassar – Flores – Kupang / West Sulawesi – East Kalimantan
Frequency : Every two weeks (14 days)
Starts from : Makassar
Route 1 : Makassar > Maumere > Lewoleba > Kupang
Route 2 : Makassar > Pare-Pare > Balikpapan > Toli-Toli > Tarakan > Nunukan > Balikpapan > Pare-Pare
Ship : KM Lawit
Route description : Java – Pontianak – Belitung
Frequency : Every two weeks (15 days)
Starts from : Semarang
Route 1 : Semarang > Karimun Jawa
Route 2 : Semarang > Pontianak > Belitung > Jakarta  > Belitung > Pontianak > Surabaya > Pontianak > Semarang