Maumere is often considered solely as a starting or ending point of a trip through Flores because of the airport.
I spent a few days exploring the area and I found many stuff to do, whether discovering the local life or enjoying the natural beauties.
I got almost all the ideas from the following official websites :
By the Ministry of Tourism (in English) : http://florestourism.com/
By the local provincial government (English available) : https://tourism.nttprov.go.id/
THE BIG PICTURE
Information is scarce about Maumere, especially when it comes to locations. I tried to put everything on a map so you can navigate more easily in the area. As usual, renting a motorbike is recommended. Don't be surprised if you can only come up with an old manual bike with no mirrors and no plate.
ONE DAY DRIVING ALONG THE NORTH-WEST COAST
Here we're gonna follow the yellow dots on the map.
Desa Wuring
In no more than 15 minutes you shall see a sign on the road telling you to turn right to go to desa (village) Wuring. 
This village is partially inhabited by Bajo people. These former nomad fishermen can be found in all Eastern part of Indonesia as well as Philippines or Malaysia. They usually build pictural house over the sea, so fishermen have a direct access to their boat.
I got told they often receive some tourists but the contact is quite limited given they speak very little English. Speaking Indonesian is highly appreciated. Village people are really welcoming and even invited me to sleep in their house.
Expect the children to request a lots of pictures.
Fishermen on the coast
After you leave Wuring, pay attention to what's going on on the coast. You might come across huge fishing boat and even get invited to jump on.
Farm life
On the sides of the road, you will see mostly farms. If you are polite and ask for the permission, there is no problem to walk in.
Tanjung Salib Koalisia
I'm pretty sure this place has many names but it is the name you will need to find it in Google Maps so I'm gonna just stick to it.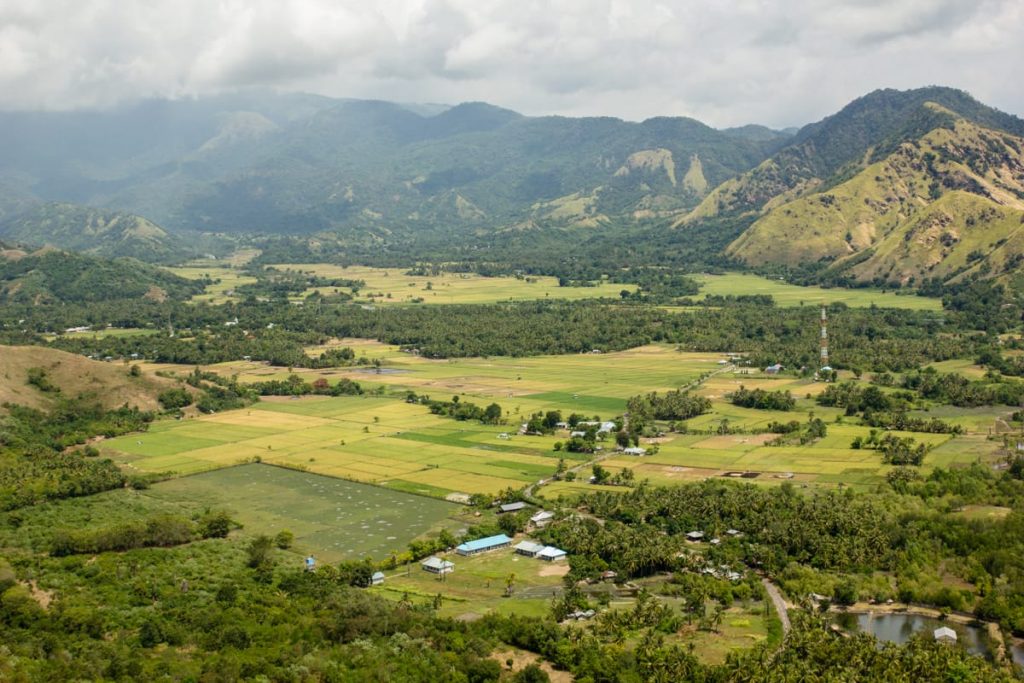 ONE DAY CLIMBING GUNUNG EGON
You gonna need roughly 7-8 hours from Maumere to get to the summit and come back. A guide is not required. Check the orange dots on the maps to know where to turn on the main road to get to Blidit village.
All the details can be found on the dedicated article.
ONE DAY SOUTH OF MAUMERE
Time to follow the green dots. The idea is to go to the beautiful Koka Beach and to make a few stops on the road.
The blacksmith of Nele village
I really like to see artisan working. Nele village is famous for crafting machete or titi parang. All blacksmith use old rusty Japanese artillery guns as anvil. Why ? No idea, even locals seem to ignore the reason.
Pantai Koka
This beautiful double beach is located about 1h30 from Maumere. You will have to pay a 5,000Rp entrance per person and additional 5,000Rp to park your motorbike. An additional 5,000Rp is required to climb up the hill in front of the beach.
It's possible to sleep there. The beach restaurant serves quite cheap and delicious grilled fish.
Sikka village
On your way back to Maumere, I recommend you to drive to Sikka village. The coastal road to get there is quite scenic and I loved the atmosphere in this village. Look for St. Ignatius Loyola Church on Google Maps.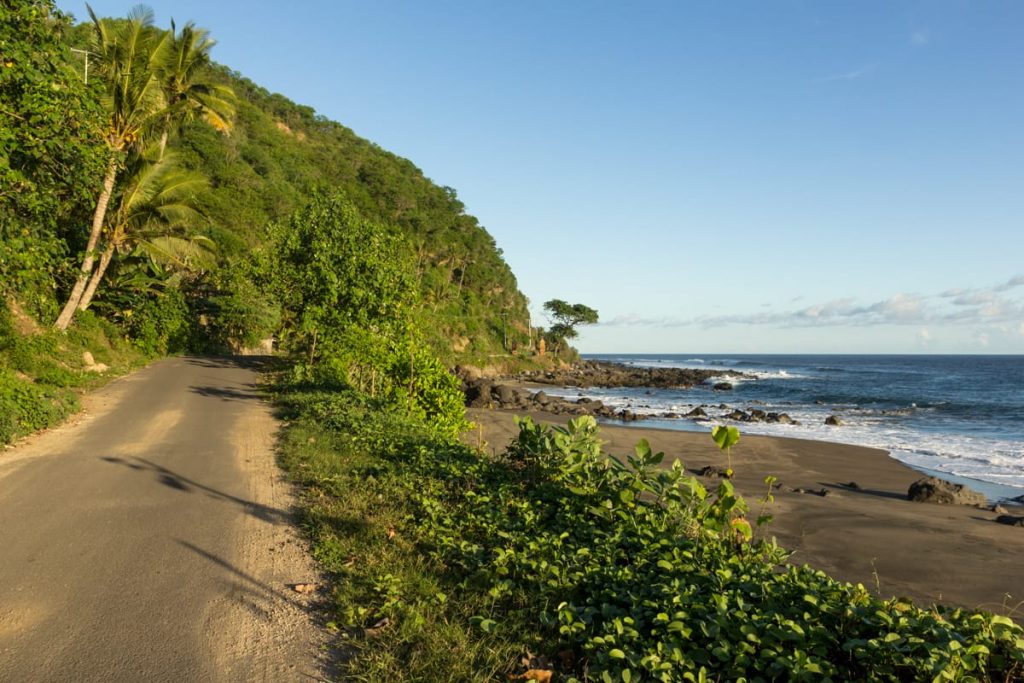 THE QUEST FOR TRADITIONAL IKAT IN WATUBLAPI
I wanted to checking out the ikat weaving industry of Watublapi which is touted as still using natural-dying products. Getting there took me about 1 hour, the road is not in excellent condition.
Once I reached Watublapi, I got told I had to drive another 13km on a bad road to get to the ikat making person. The weather forecast was bad so I decided to go back. I hope I will be luckier next time.
SLEEPING IN MAUMERE
Guidebooks advertise some resort in the outskirt of Maumere. I found a way cheaper option with Eltari Hotel located in Maumere. Price is 110,000Rp for a private room with single-bed, AC and a small breakfast. Toilets and bathrooms are shared.
The hotel can rent you a motorbike for 75,000Rp a day. Many locals restaurants around accessible with a 5 min motorbike ride.