Sumbawa in a nutshell
Sumbawa is the island located between Lombok and Flores.
In this article I will report about a motorbike trip from the western harbor (Pototano) to the eastern one (Sape) done in August 2023.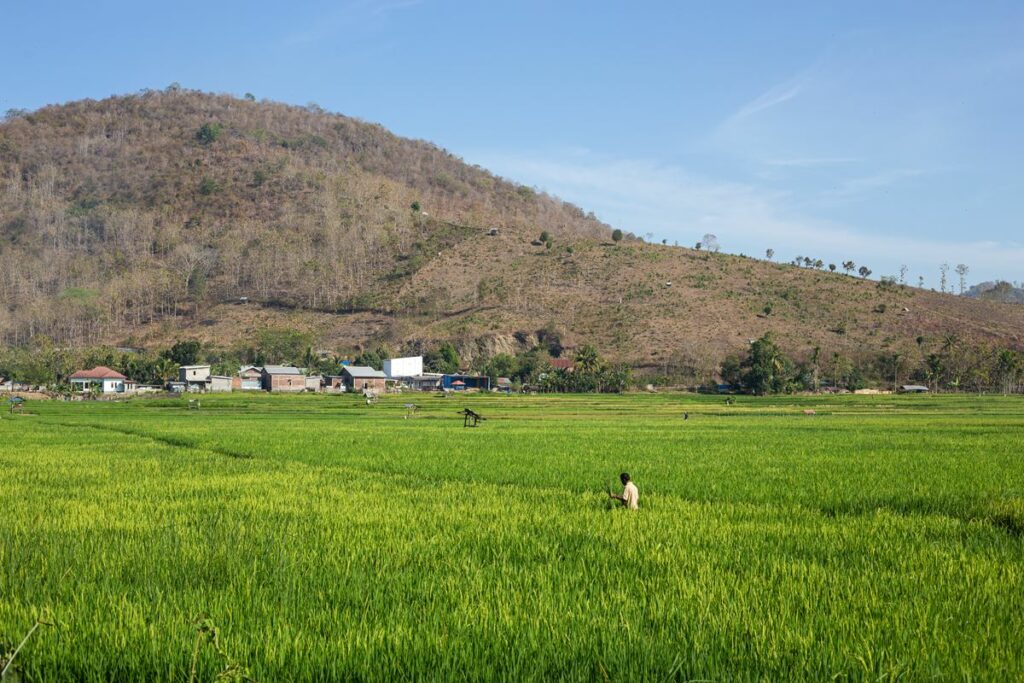 As of 2023 most of the tourism is still brought by 2 sources :
Surfers.
People joining cruise from Lombok to Komodo that visit some spots on the northern coast.
Recent developments include the rising popularity of whaleshark watching tour in the bay of Saleh and some big real-estate development on the west coast.
I'll try to give you a comprehensive view of the island, including areas I chose to skip.
From Pototano to Sumbawa Besar
Once in Pototano, you have 2 choices : get east towards Sumbawa Besar or drive down the western coast (for beach & surfing).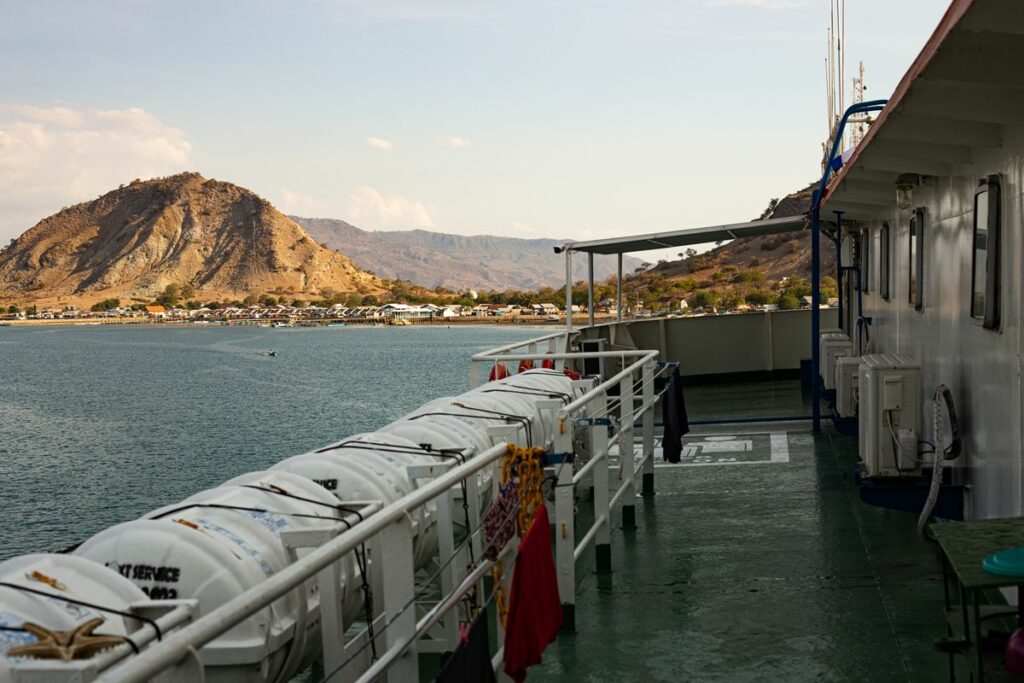 I headed east.
If like me you arrive middle or late afternoon and don't want to drive at night, you may want to stop on the way in the small town of Alas.
But I decided to try my luck in the Bajo village of Bungin instead. Turns out the few accommodations they had in the past had shut down. They're building new ones but by the time of my visit they weren't ready.
So I ended up arranging a home stay in the village. It's a true authentic Indonesian experience : expect sleeping on the floor, noise, lots of trash in the streets… and huge smiles.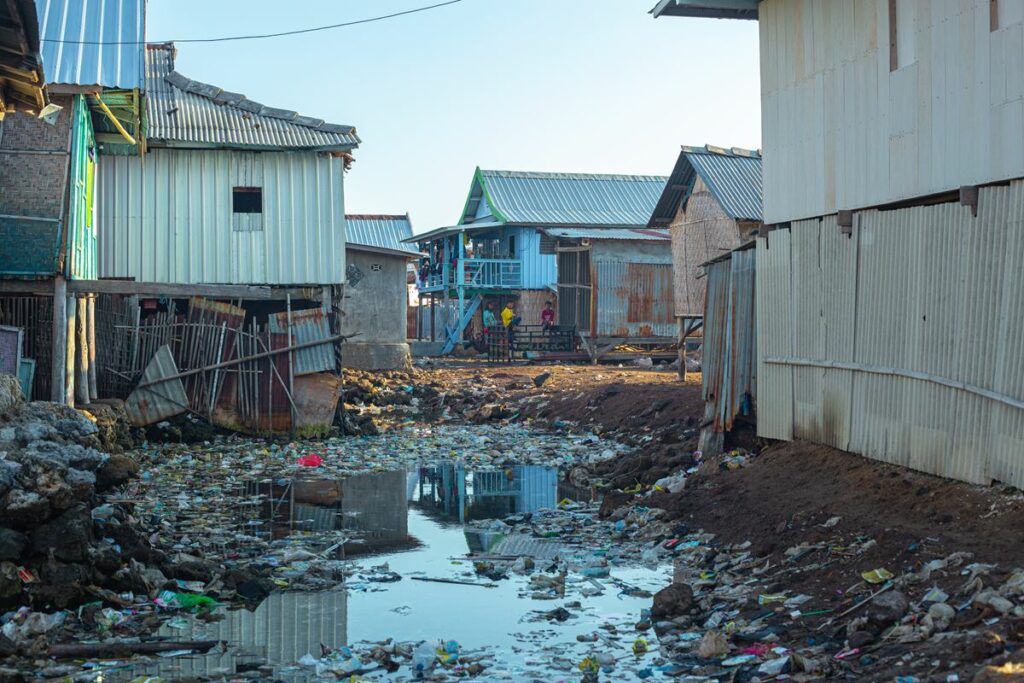 Don't be cheap and leave some money when you leave (I gave 150'000Rp to my host) even if they tell you it's not necessary.
For dinner, there was excellent seafood available at the restaurant The Front. Also several food stalls available if you are looking for something cheap.
The Bajo village of Bungin
This village is quite famous in Indonesia, national TV has dubbed it "the most crowded village in the country".
A drone view will help you to understand why :
Several generations ago, Bajo fishermen settled there. Since then they have kept on reclaiming more land, first with pieces of corral, now with sand they bring from the mainland.
This village sees at least a couple of visitors per day. Boat cruises from Lombok to Komodo also often stops for 1 or 2 hours there regularly.
But at night and in the morning, you are likely to be the only visitors around. People are delighted to talk with you, provided you can converse in Indonesia (or Bajo language).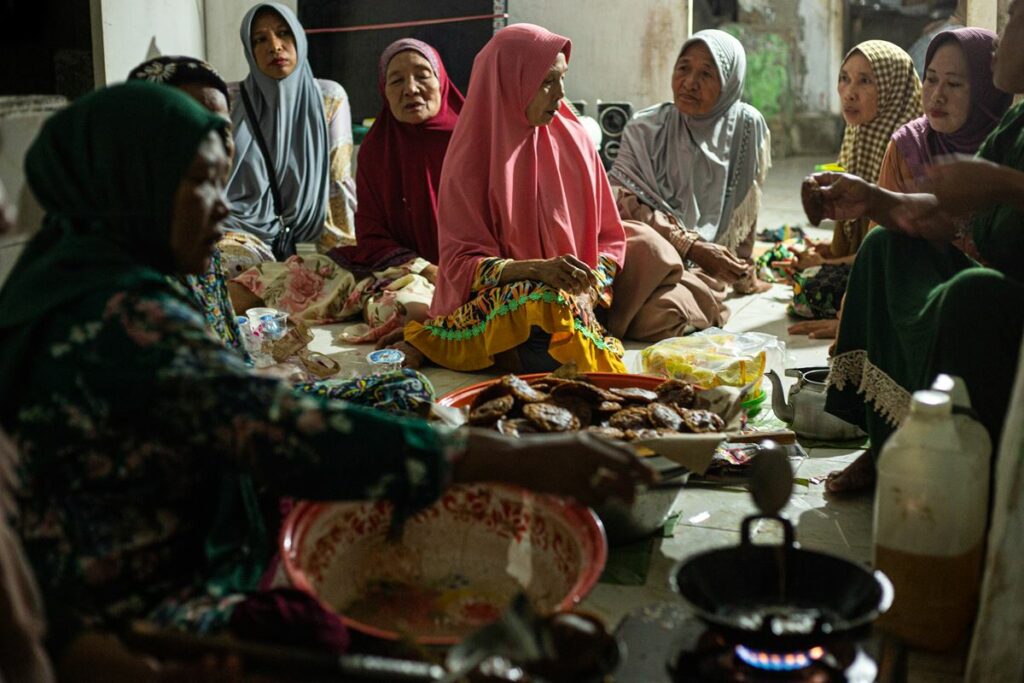 Staying in the village is great for an early morning stroll :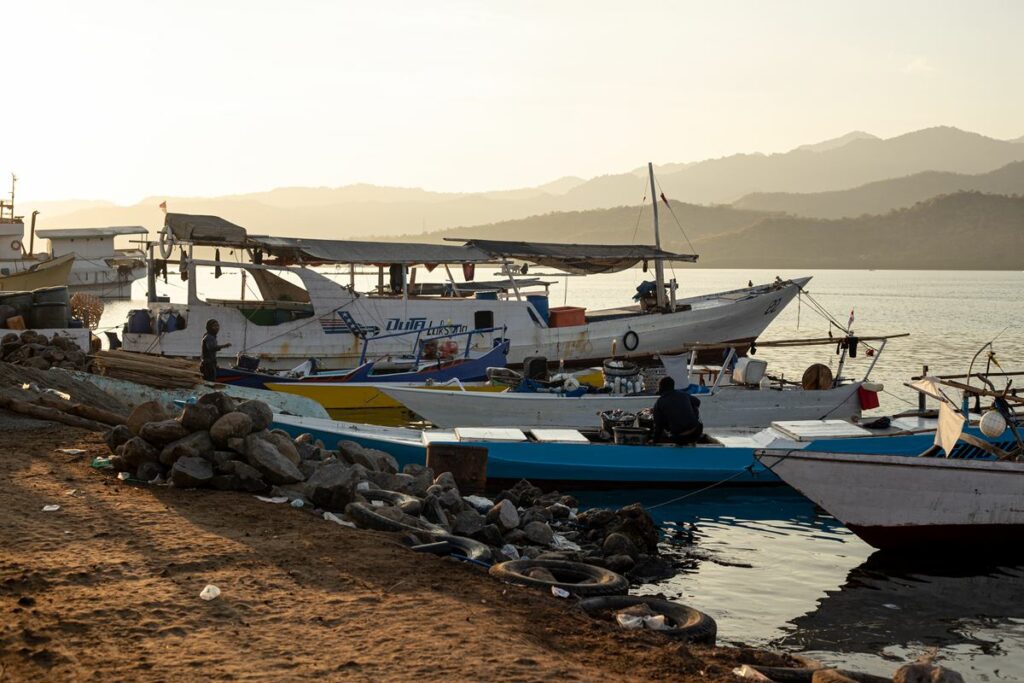 After a goodbye to everyone and a promise to come back one day, I hit the road again.
From Alas to Sumbawa Besar
Don't forget to look on your left after you pass Alas for some views of Bungin :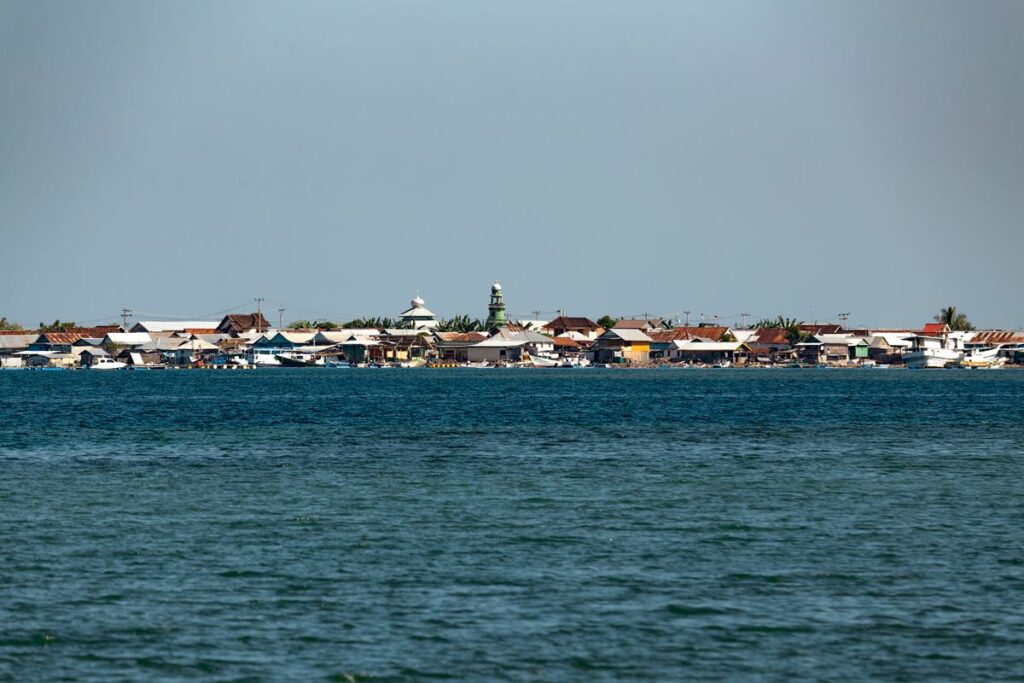 Despite being in the middle of the dry season, I've seen several oasis of green along the road :
Sumbawa Besar
Sumbawa Besar is the largest town of west Sumbawa. They also have an airport there with regular flights to Bali.
A key sightseeing is the former Sultan's palace called Istana Dalam Loka. It's free. Very interesting architecture with obvious Bugis' influence (according to me). Right next to it it's the grand mosque of Sumbawa Besar.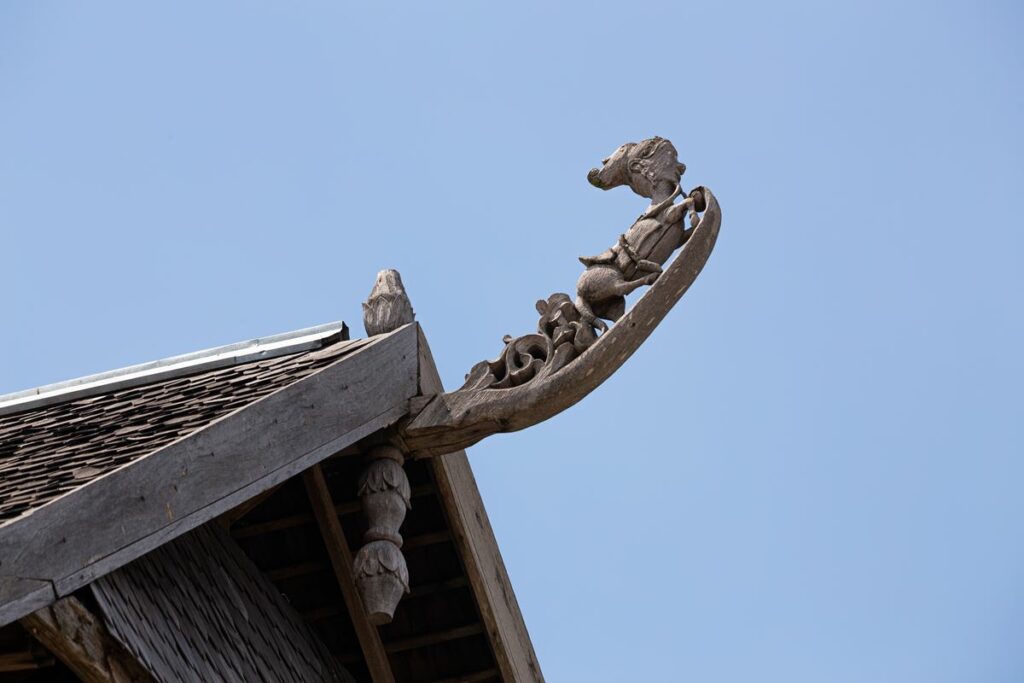 The inside of the palace is not super interesting (it's mostly empty) but the guardian can answer most of your questions (in Indonesian). Most interesting is probably the collection of historical pictures and the replica of the crown and keris of the Sultan.
There is no entrance fees but a donation box. I gave 30'000Rp to the guardian.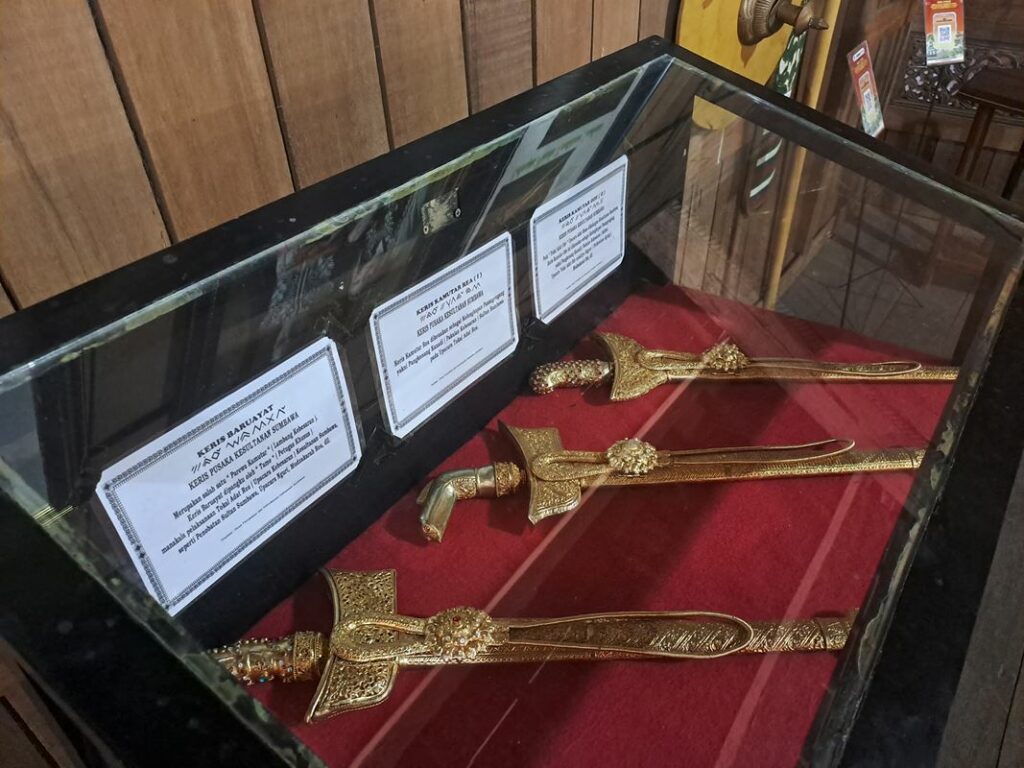 From Sumbawa Besar to Bima
Irrigation allows for farming to continue despite the dryness of the season :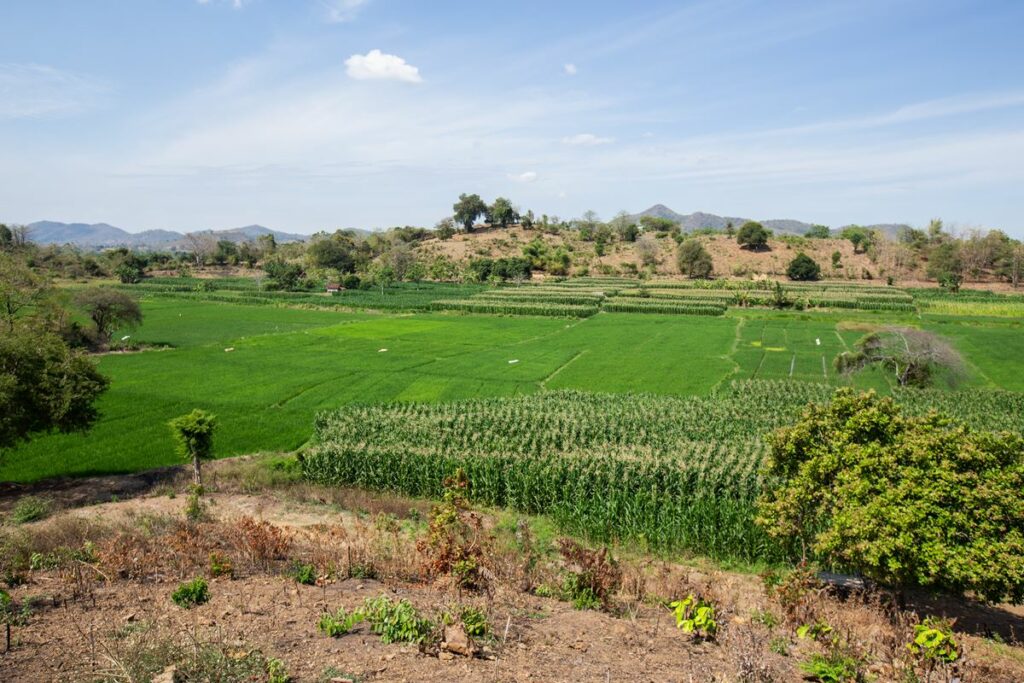 You will soon start to drive around the Bay of Saleh (Teluk Saleh). I didn't found that part super scenic honestly. Shallot farming seems to be a big thing here.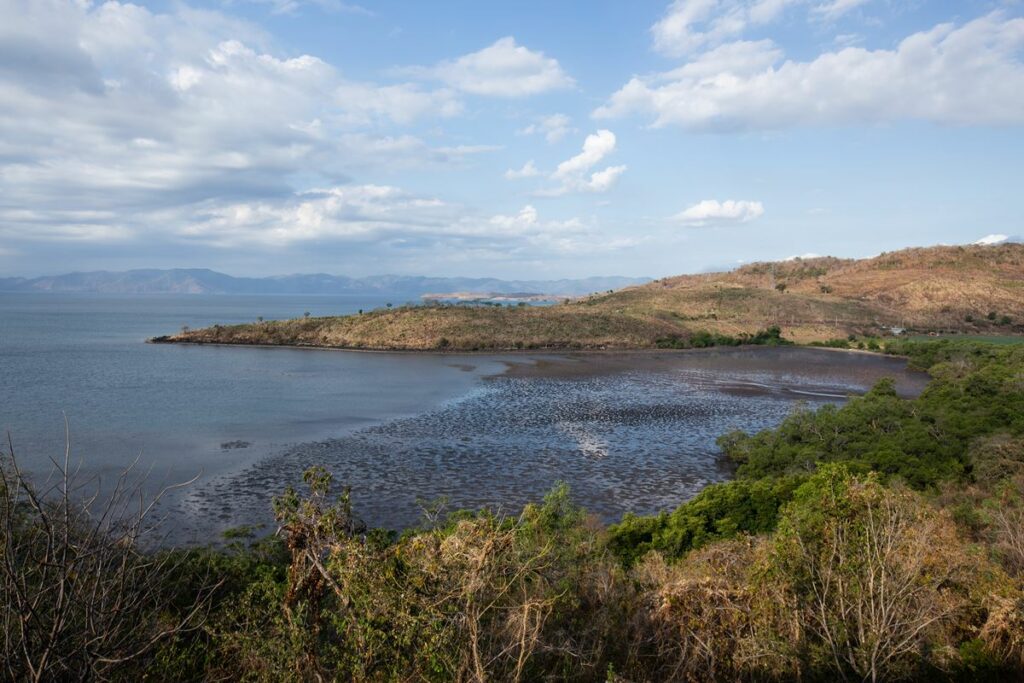 Dozens of people and street food sellers gather by the road at a point called Rest Area Teluk Saleh to watch sunset.
I then made an overnight stop at the small town of Manggalewa.
Hiking Tambora volcano via Doro Ngancca
Around Dompu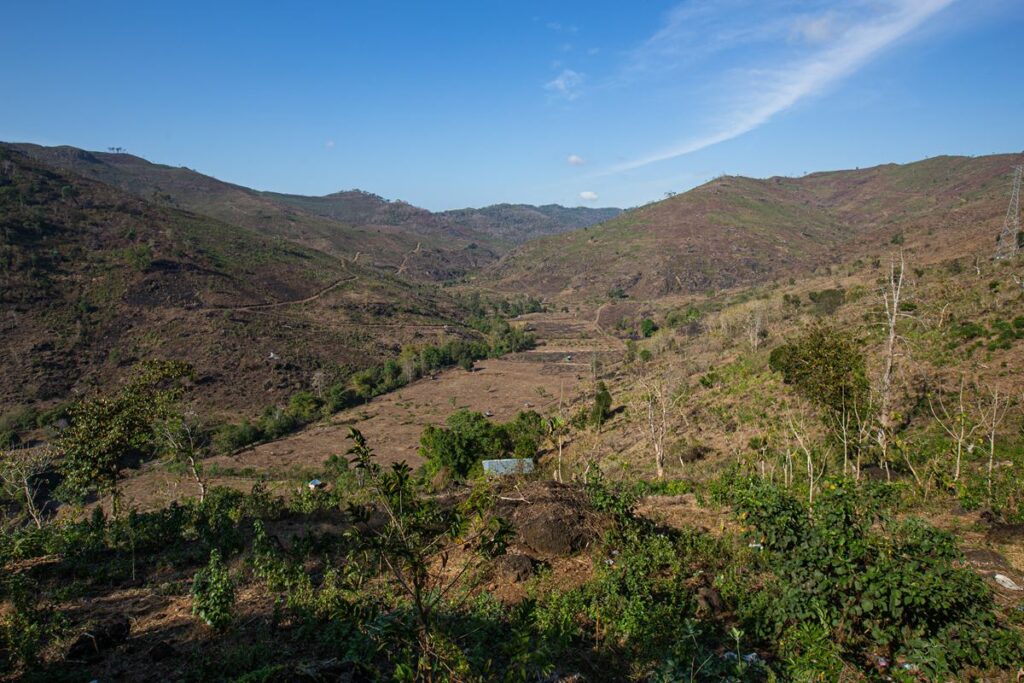 On your right when you pass the village of Katua you will find extensive ricefields :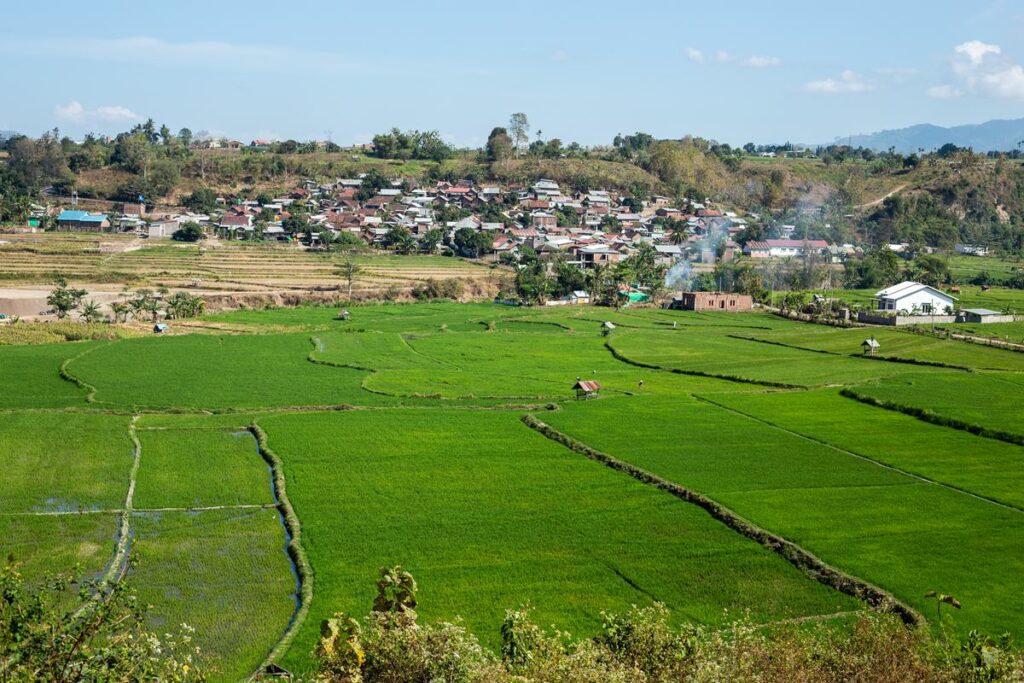 A few kilometers further, there are some impressive terraced ricefields tended by the people of Ndano. For the views below, you'll need to walk a bit away from the road.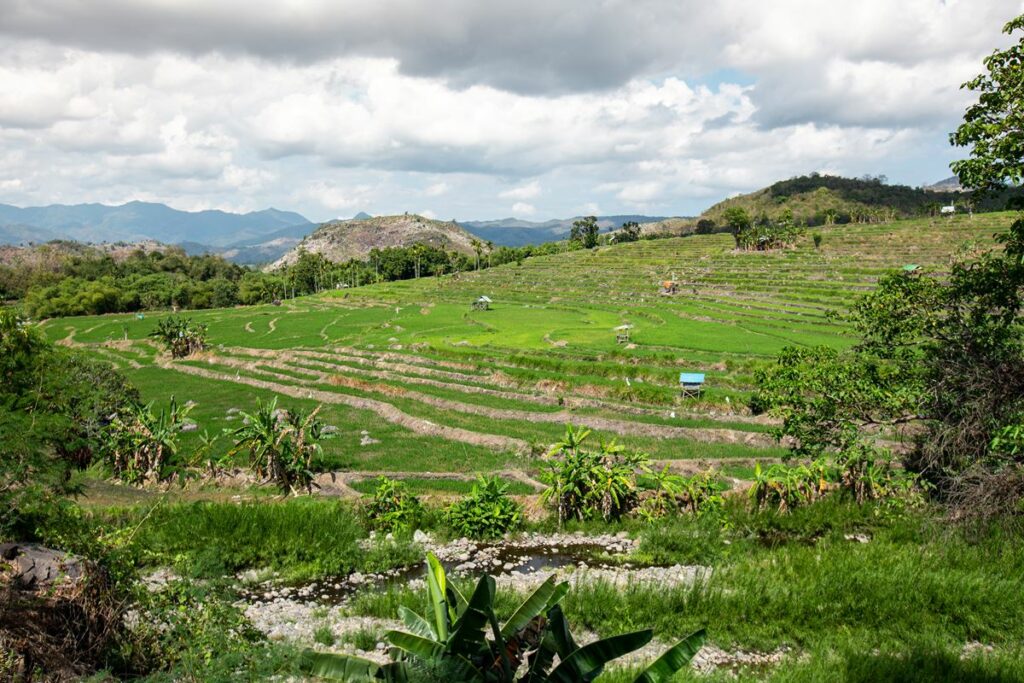 The villagers of Ndano where super keen on having a talk with me :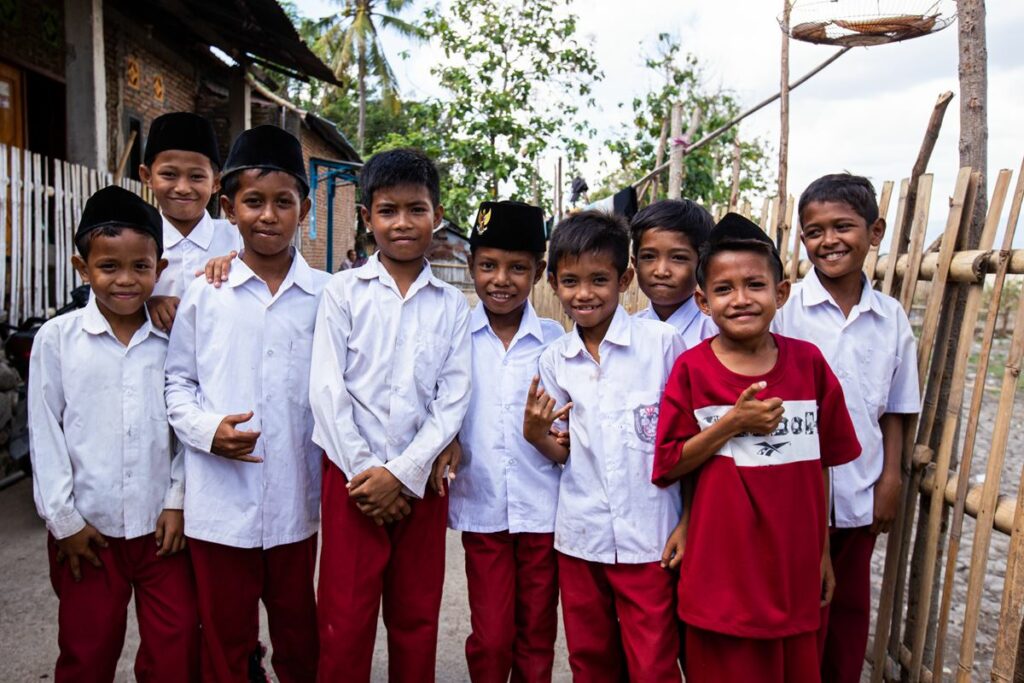 Keep driving. The landscape continues to alternate between dry and lush landscapes.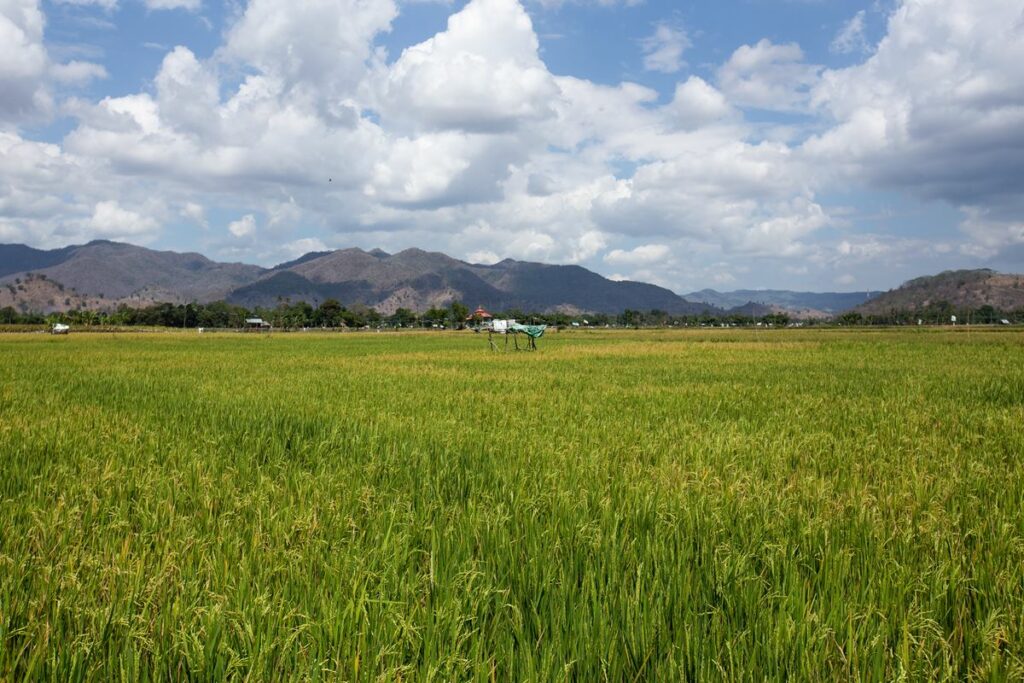 Dou Donggo land
From the small town of Sila, you can take north to explore the mountainous land of the Dou Donggo.
When the people of Bima converted to Islam, some refused to abandonned their own religious practice. They chose instead to seek a new home in the mountains. This is the origin of the Dou Donggo people.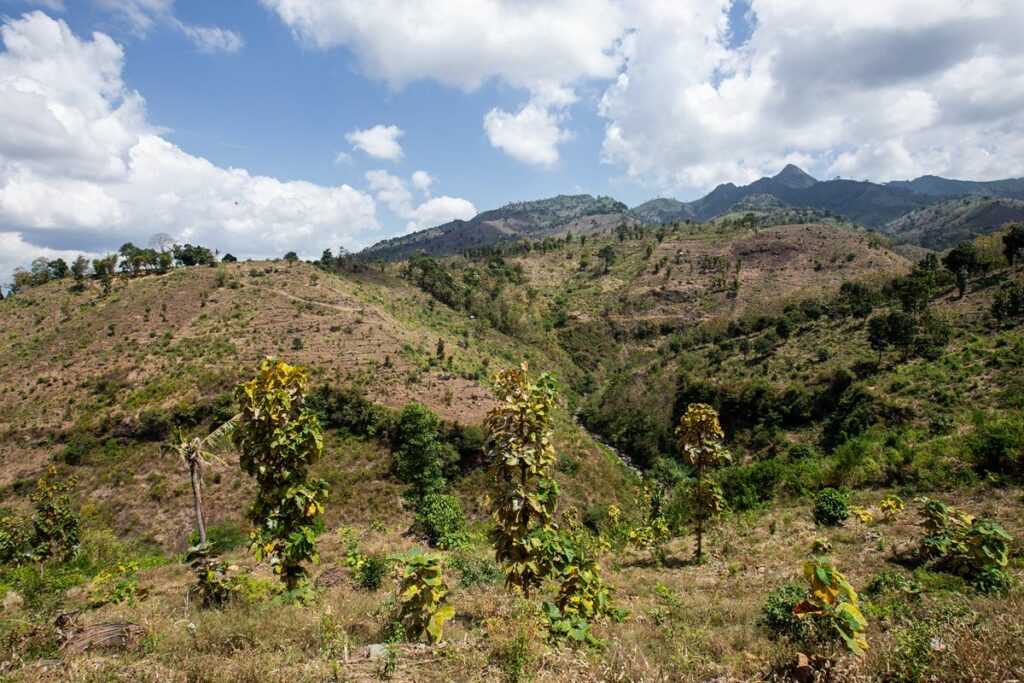 I read that a couple of traditional granaries where still to be found there. I found only one in the village of Mbawa. It's not well maintained. As someome told me : "people don't believe in the old things anymore".
The people in the villages told me to go check a viewpoint called La Hilla. It was midday, dry season and yet the view over the ricefields and the gulf of Bima was stunning.
Can't wait to come back during rainy season for better colors.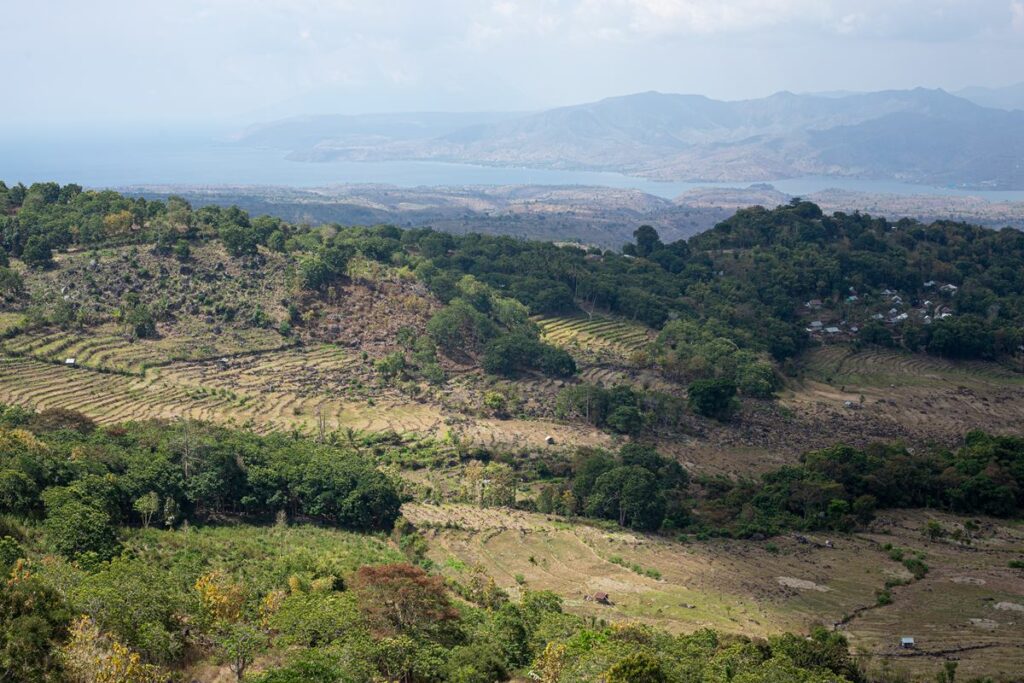 From Bima to Sape
In Bima, I came across a traditional Bimanese warung serving local specialties from the area. It's simple but they're super nice and I've eaten stuff there that I've never seen before.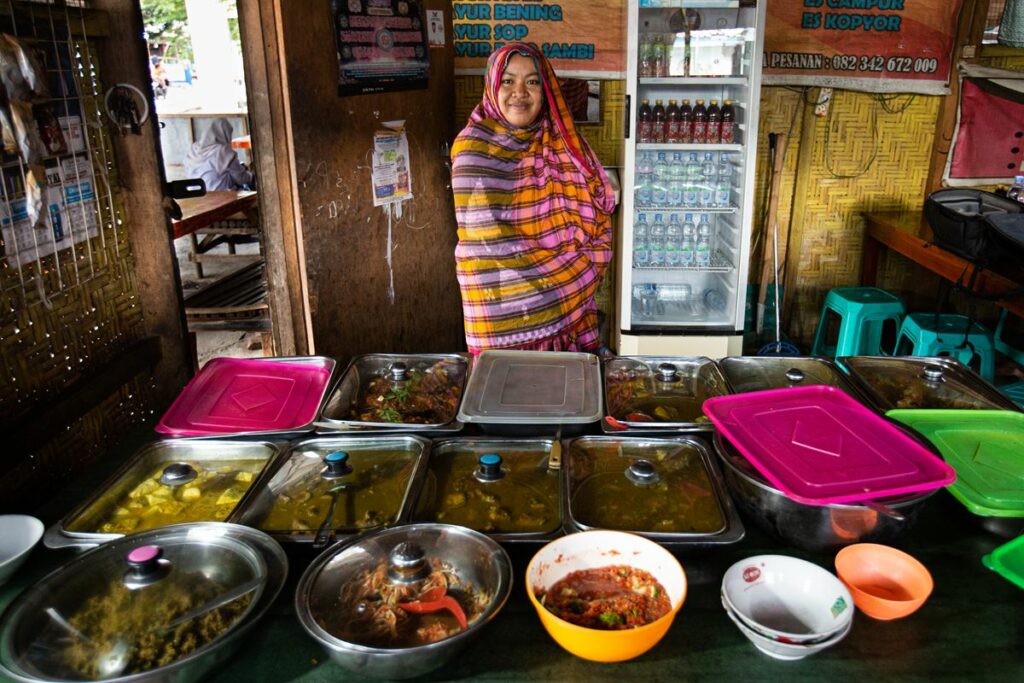 Traditional houses : Situs Uma Lengge Wawo
A couple of traditional granaries (Uma Lengge) can be found a few kilometers after Bima. Most of the granaries are falling apart but a few at the entrance of the site are still ok.
One nice guy is apparently there everytime and he decided to improvise himself as a tour guide. He's not pushy and rather interesting, if I remember well he told me he doesn't do it for the money. I gave him 20'000Rp when I left anyway.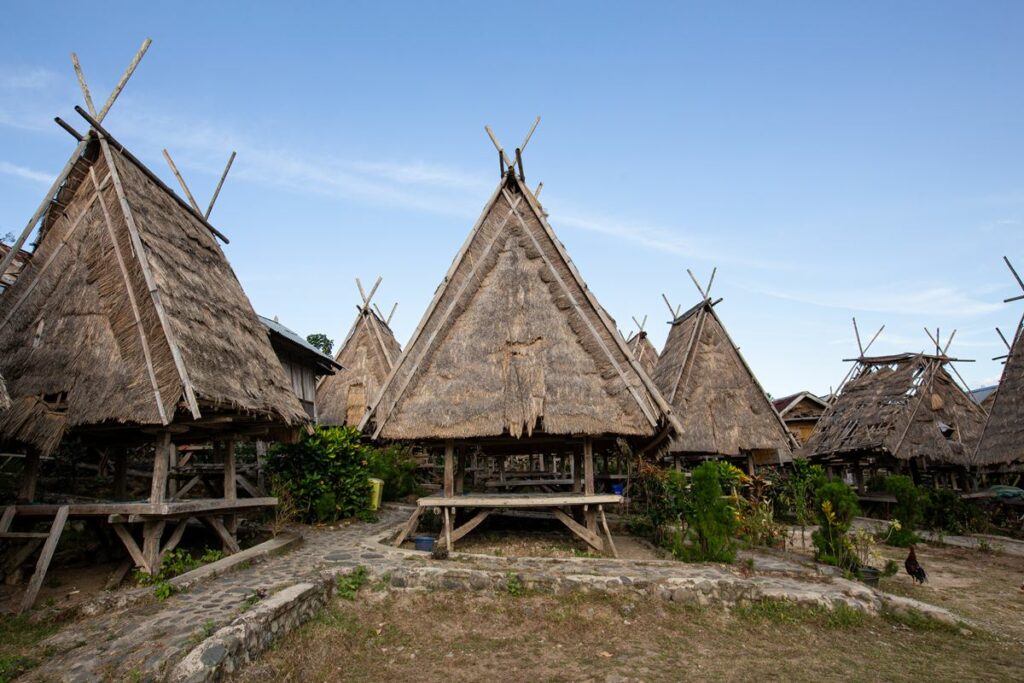 Last kilometers towards Sape
Same kind of views since I started the trip : dry land and oasis of irrigated greens. Also came across this guy that brings his horse on his motorbike :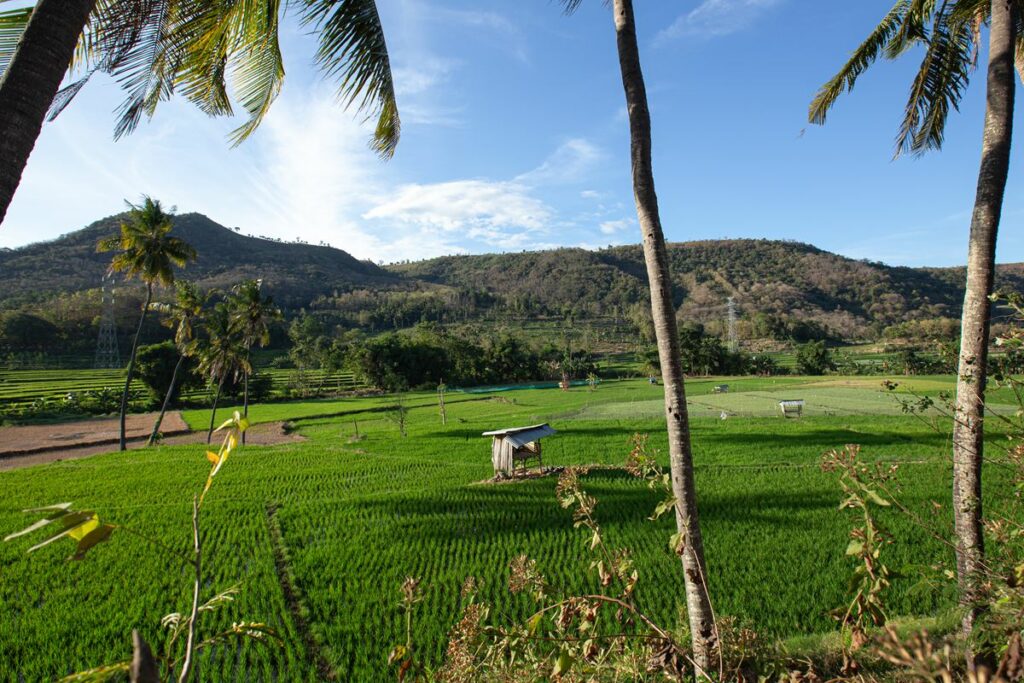 On my last day, I saw several groups marching in preparation for Independence Day :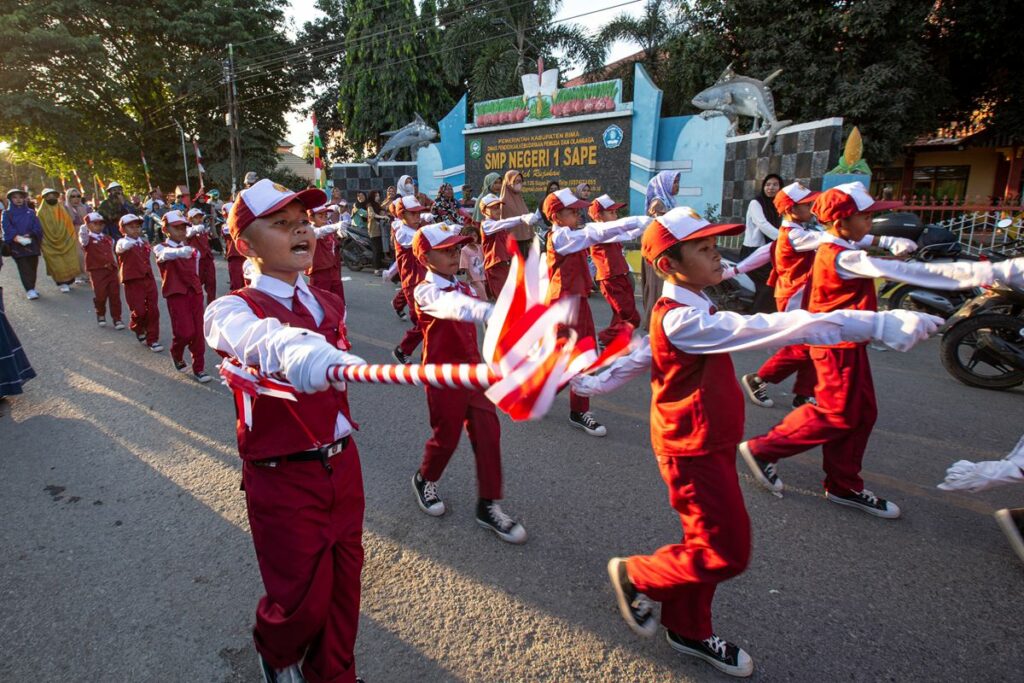 This women can be seen wearing the typical colorful headscarf of the Bimanese :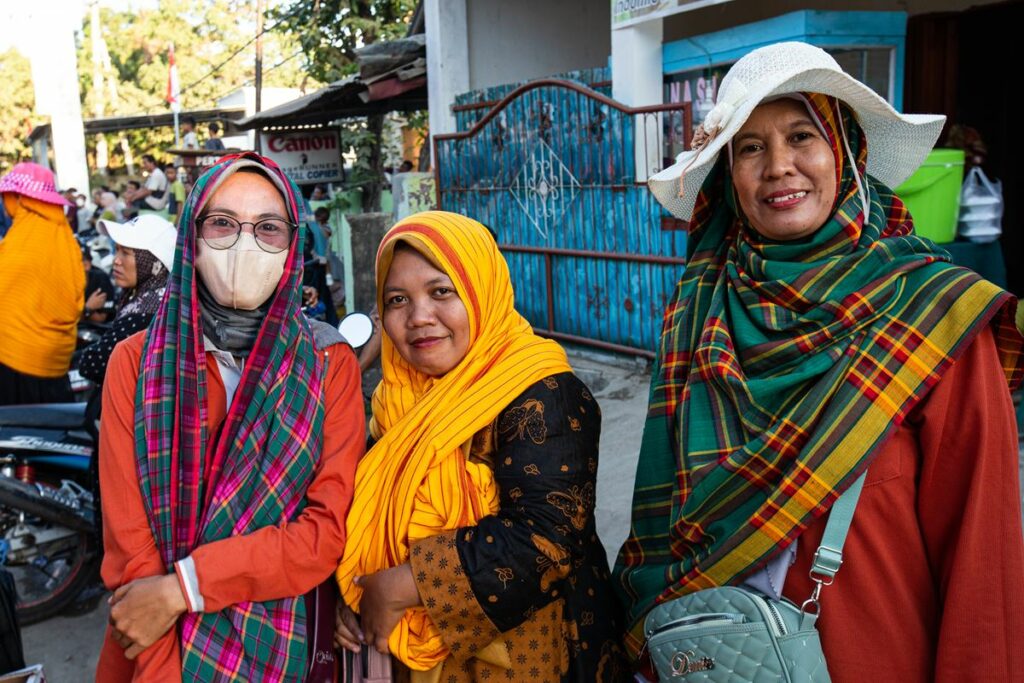 Other areas of interests
The west coast (beaches & big waves)
To be clear : I've never explored that part of Sumbawa but it's probably the 'most' touristy part of the island with several surf camps and resorts.
From the western harbor of Pototano, just drive south along the coastal road. On the way you will pass the small town of Taliwang.
Surfers have flocked to the area since at least the 90s especially around the beach of Maluk and Sekongkang.
There you will find lots of nice and relatively quiet beaches, and allegedly great surfing. I'm neither a surfer nor a beach lover so I cannot be more informative than this but it looks very nice on pictures.
Also, the island of Kenawa is often visited by boat cruise between Lombok and Labuan Bajo.
Moyo Satonda Marine National Park
Facing Sumbawa Besar and closing the Saleh Bay you have the fairly large island of Moyo.
This island is famous for a waterfall called Mata Jitu. Besides this I've never hear much more from the island.
I heard once good things about the dive center but never took the time to visit.
Not very far from Moyo you have the island of Satonda, which looks very impressive by drone.
The question is : what does it look like from the ground ? My guess is : ok.
Satonda is almost always visited by cruise sailing between Bali and Komodo.
In 2022 a new national park called Moyo Satonda has been gazetted. I know that for years disembarking at Satonda was charged 100'000Rp for foreigners, now that it's officially a national park it will probably increase.
I haven't heard of a 150'000Rp entrance tiket for Mata Jitu waterfall yet (the norm in Indonesia is to charge a 150'000Rp entrance tiket per day for foreigner visiting any national park).
Snorkeling with whale sharks in the bay of Saleh
Since about 2018-2019, an industry of whaleshark tours has developped in the bay of Saleh (Teluk Saleh). It is centered around the village of Labuan Jambu.
From various testimonies and videos I've seen it seems to get pretty busy as Lombok-Komodo cruises include it in their itinerary.
I didn't had time yet to stop there but I gathered the following info :
The whalesharks are fed to stay near the surface.
The whalesharks are present year-round.
These tours are not cheap. As of 2023 I've seen price starting at 2,6 millions IDR for one person (and you add 200k for each extra person). These are price advertised online so there is probably room for some negotiation.
So basically, it costs you more than in the Philippines (unless you have a large group to share the cost with) for more or less the same conditions (potentially crowded, feeding).
So I passed so far. But I might change my mind in the future. Typically if I decide to spend some days diving in Moyo and they can arrange a tour with other guests.
Practical details
Coming to Sumbawa
Lombok – Sumbawa
Coming from Lombok is easy : just go to Labuan Kayangan harbor (located in Labuhan Lombok village) and buy a ferry ticket. ASDP Ferries run every hour night and days. The ticket is 78'000Rp with a motorbike and about 20'000Rp as a passenger.
If you don't bring you own wheels, just take a bus heading to Sape in Mataram. It will take the same ferry.
The ferry takes 2 hours once it departs to reach Pototano harbour in Sumbawa.
You will first need to stop at the booth at the entry to top-up your e-money card. Then you can buy your ticket with it at the entrance.
Sumbawa to Labuan Bajo (Flores) or Sumba
Once you reach the eastern harbor of Sumbawa (Sape) you have two choices with ASDP (name of the company) :
Cross to Labuan Bajo in west Flores.
Cross to Waikelo in west Sumba (near the town of Waitabula).
By August 2023, there were only one ferry running between these 3 harbors, with another one supposed to come back from maintenance soon.
The key info here is that you cannot simply assume there is a ferry every day.
The good news is that the guys from the harbor post all the updated schedules on their Instagram page @pelabuhan.sape.
Both ferries takes at least 10 hours. Right now the Cakalang is not super comfortable as they don't seem to rend mattress.
The ticket from Sape to Sumba was 256'000Rp with a bike. Again you need to top-up your emoney card first then pay the ticket (this can be done at once as ASDP office in Sape).
Flying to Sumbawa
Sumbawa has 2 airports : one near Sumbawa Besar and one near Bima. I would expect them to offer flights to Bali, Lombok and maybe Jakarta, Surabaya, Makassar and Kupang.
Pelni ferries
Bima is also part of some Pelni routes. A few years ago, there wasn't that many but more details can be found about it here.
Accommodation
If you are not yet familiar with this website I don't care about fancy accommodation. All the places listed below are typical Indonesian homestays. From west to east, here are some places I used or wrote down :
In Alas (less than 15km from Pototano) : Homestay Alas. Haven't slept there, but they have good reviews on Google. Price seems to be 250'000Rp per room.
If you speak some Indonesia, you can also arrange a homestay in Bungin village. I left 150'000 to my host when I left.
I cannot find the name of place I stayed at in 2017. But based on Google Maps reviews, I would probably start by Homestay Sakura Sumbawa.
In the village of Labuan Jambu in the bay of Saleh, hotel Alffiah seems to be popular with whalesharks tour organizers.
In Manggalewa, I slept at Penginapan Ariel. Room with fan and cold water was 100'000Rp (they also have AC rooms for 150'000Rp). Quite run-down. At first I intended to sleep at Penginapan Fadila but I missed it at night and ended up there. If I come back I would start again by Fadila.
If I was to sleep in Dompu, I had selected Homestay Andara from Google Maps reviews. Seems to be fair for one night. Price seems to be 200'000Rp per night.
I have never slep in Bima or Sape, but it shouldn't be too hard to find a place with Google Maps or Booking.
Public transportation in Sumbawa
Sumbawa is basically one main road : the TransSumbawa. It's almost everywhere in prime conditions.
You do have buses going everyday between Sumbawa Besar, Dompu and Bima as well as larger buses bringing people all the way from Java to Sape.
There are not hard to find : just stay by the main road and wave at them when they pass.
But there are not super regular either (a few departures per day). You could definetly catch one bus a day and make your way across the island in a couple of days while stopping at some place of interests (for instance Bungin, Teluk Saleh, Tambora, Bima …).
Just be aware that you will probably miss all the small stops along the road.
If you just want to save some money while going from Bali/Lombok to Komodo, there are some ferries from Pelni leaving from Benoa (Bali) or Lembar (Lombok) going to Labuan Bajo. It shouldn't cost you very much more than a 2 days bus and your bum will thank you.
Motorbike rental in Sumbawa
As far as I know, it's still not easy to find a motorbike for rent in Sumbawa. I must say that the last time I tried was in 2017. But during this trip in 2023, I saw nowhere sign advertising for bike rental, nor I found rental companies on Google Maps.
My best bet would be the surf homestays on the western coast.
Then, the geography of Sumbawa makes it not really suitable for a loop trip. Sumbawa is basically one road. So if you have to bring the motorbike back at the point of origin, it means driving the same road 2 times.
That being said, you need only 2 full days to cross Sumbawa island so if you are keen on driving, getting a bike in Bali or Lombok and bringing it by ferry is doable.
Some motorbike rental companies let you rent a bike from Bali to Labuan Bajo one way. If I didn't have my own bike, I would probably do that.
Just google "One way motorbike rental Bali Labuan Bajo" or something similar.
What to combine Sumbawa with ?
Let's be honest, unless you are a surfer, you have little reason to fly specially to Sumbawa. As you are mostly gonna come by the road, obviously you could combine Sumbawa with :
Lombok and Bali from the west.
Flores (Komodo) or Sumba to the east.
Map