Muna is a bit like the little sister of Buton island. The daily speedboat from Kendari to Baubau stops there so why not stopping there for a few days ?
Muna is dotted with hidden lagoon and water holes. Many of them are listed on Google Maps, but actually finding them is another story.
I have only visited the most famous places from Raha (the main town of the island).
Napabale lake
A bit less than half an hour from Raha, you'll find the beautiful lake of Napabale.
Locals take you on their boat around the lake for a fee. At low tide, it's possible to pass to a secondary lake. When I visited, the place was absolutely empty of any visitors.
Locals seem a bit greedy when they see a foreigner. First rate I got offered was 100'000Rp. I ended up giving 2 kids 70'000Rp for a tour of the lake and then to show me the way to the jellyfish lake.
There are lakes filled with stingless jellyfishes in Muna as far as I know. One is about 20 minutes from Napabale lake, the second one is near Meleura. I have only visited the one in Napabale, finding it alone would be rather hard even though it's done that far.
It's less impressive than the jellyfish lake of the Togian islands or Kakaban islands in Kalimantan because jellyfish are not very numerous (at least by the time of my visit).
I shared the place with local youngs who were hunting small fishing using homemade spearguns. Once they had enough, they cooked them with kelor leaves (don't know the English name) and fresh seaweed from the lakes seasoned with lime and chilli.
Back in Napabale, you can also climb the Napabale summit (Puncak Napabale), after the parking take the trail on your left then always choose right.
Meleura
Not very far from Nabale, there is very nice lagoon in the village of Meleura. The place gets very crowded in the weekend.
Unfortunately, some ugly ziplines (flying foxes) have been installed over the lagoon. But Indonesians do love them so what do you wanna say ?
The entrance ticket (probably only sold during the weekends) is 3'000Rp per person, and another 5'000Rp is asked to park your motorbike.
Other places
I have limited myself to those few highlights of Muna. I'm 100% sure that there is much more to see. Muna is renowded for its lagoons and freshwater pools lost in the middle of the forest. One that has a good reputation is Pemandian Moko for instance (see the map) below).
I've seen a couple of enticing pictures on Indonesian social media (see the part 'Tourist Guides' in my article on Buton).
Practical tips
Boats from / to Muna
Daily speedboats connect Raha to Kendari and Baubau in Buton. The trip takes about 2h to Baubau and 3h to Kendari, price is 150'000Rp to Baubau and no idea for Kendari but Baubau Kendari is 185'000Rp.
Departure from Baubau at 7AM and 12AM everyday. Should be the same from Kendari.
Besides the superjet, you have a couple of ferries operated by ASDP that takes passengers and vehicles on board. They don't leave from Raha.
To get back to mainland Sulawesi, you board a ferry in Tampo in North Muna that will take you to Torobulu on Sulawesi. 4 departures per day (both ways) : 7AM, 10AM, 13PM, 16PM (unless on Friday only 3 departures 8AM, 13PM, 16PM). The ticket is 32'000Rp per person, the trip takes 2 hours.
I would not recommend this ferry. In the end the superjet costs almost the same once you factor in the price of the transport from Raha to Tampo and then Torobulu to Kendari. It's only interesting if you need to bring a vehicle with you. You will enjoy the same views from the superjet (it's possible to get outside).
An ojek from Raha to Tampo costs 50'000Rp and takes about 30 minutes. When you arrive in Torobulu, shared taxi takes passengers to Kendari for 50'000Rp (about 2 hours).
One thing I have thought about but never tried is to go from Muna to Bira, either to continue your way to South Sulawesi or go to Selayar island. According to ASDP's website (which is not reliable based on my experience) there is a departure from Tondasi on Wednesday and Sunday at 8PM.
Accomodation
I stayed at the very first hotel I found after arriving at the pier : Hotal Alia. They have rooms with 2 single beds and fan for 150'000Rp per night (including breakfast), other rooms with AC available.
Very nice owner and staff. They can put you in touch with ojek drivers in Raha that are willing to rent you their motorbike for 100'000Rp/day.
Map
All the articles about Southeast Sulawesi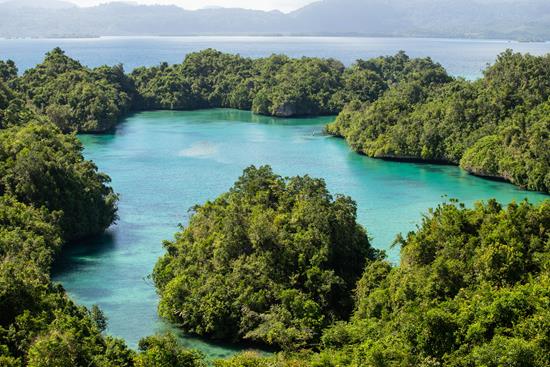 A guide to the beautiful lagoons of Napabale and Meleura. Only 2 hours from Buton.