In the past years, Labengki and Sombori islands have become increasingly popular among Indonesian travellers thanks to national television and social networks. Yet, this part of Sulawesi is still well under the tourist radar, especially foreign one.
There is no public transport to get there. The most popular way to visit this area is to join so called 'Open Trip' organized by local tour operators that usually takes 10 to 20 people together for 4 days.
This article will explain you how to do it on your own. The fact that you need to charter a boat makes this destination a bit expensive for Indonesian standards though.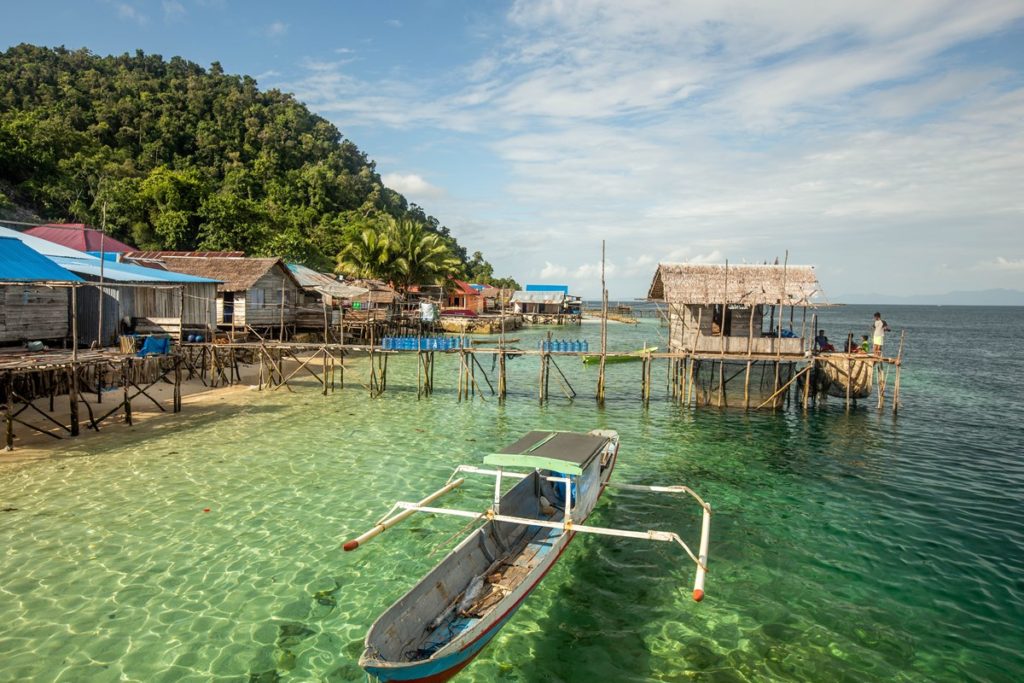 Where is it ?
Information in English is very scarce about this part of Sulawesi, so I will be a bit more specific than usual.
Labengki and Sombori are islands located off the east coast of South-East Sulawesi province.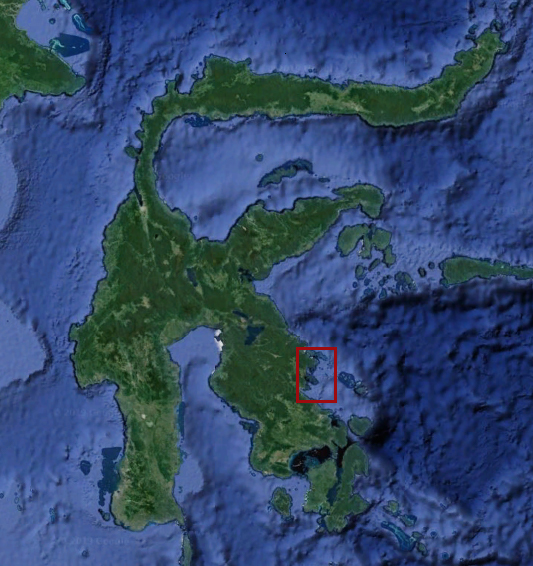 Sombori island technically belongs to Central Sulawesi but people almost always go there from Labengki which is in South-East Sulawesi.
The trip to Labengki
Labengki Besar ('Greater Labengki') is uninhabited. You'll soon realize why when you approach it. The island seems to be made of a single sharp rock outcrop on which a dense forest manages to grow. By the time of my visit, there was only the luxurious resort behind Teluk Cinta ('Love Bay') that offered accommodations on its fringes.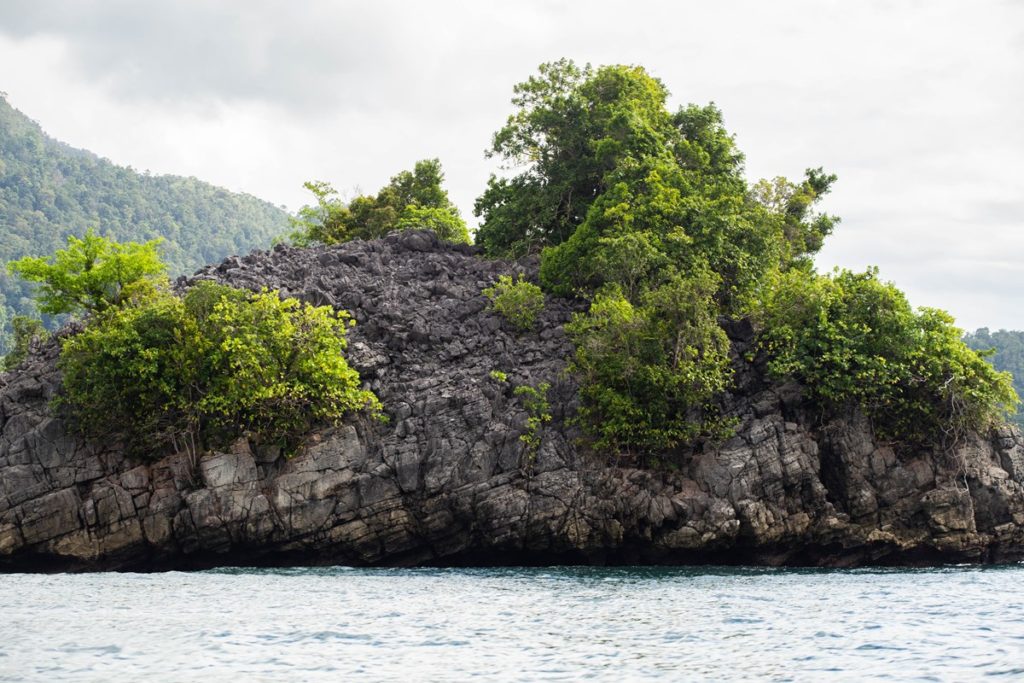 The local people all stay on Labengki Kecil ('Lesser Labengki').
I spent the night at Jufri's house and we left the next day at 3:30AM. They were afraid of the afternoon wind and preferred to travel at night on a calmer sea. It took us 5 hours to arrive at Labengki.
At first you see this huge island that reminds me of Jurassik Park's opening landscapes, this is Labengki Besar :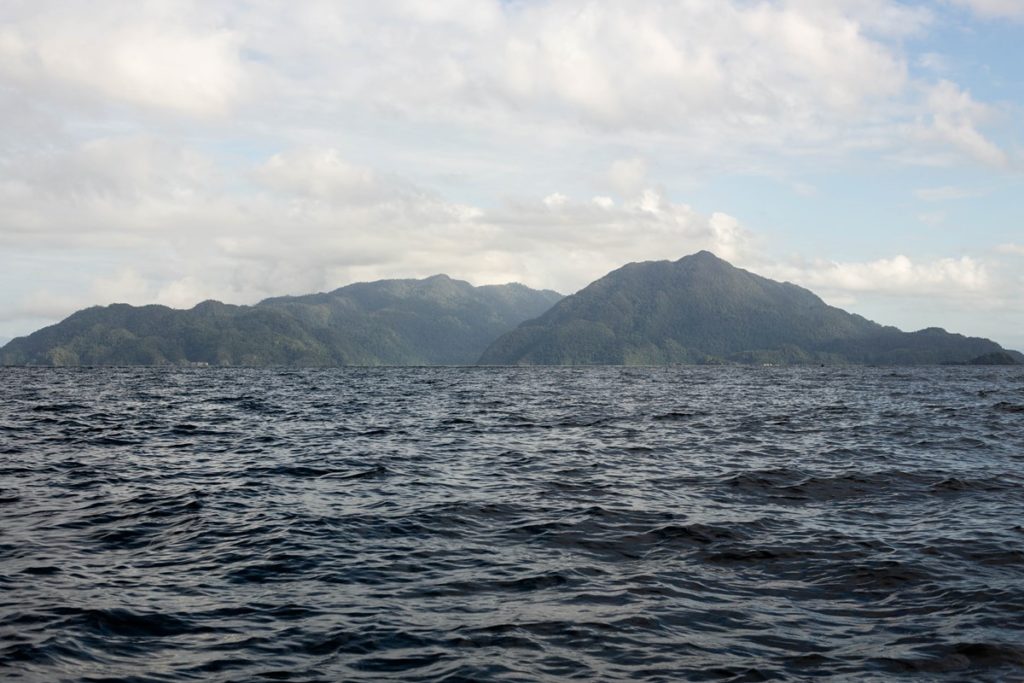 Then on your right, you'll notice the smaller Labengki Kecil where you will stay.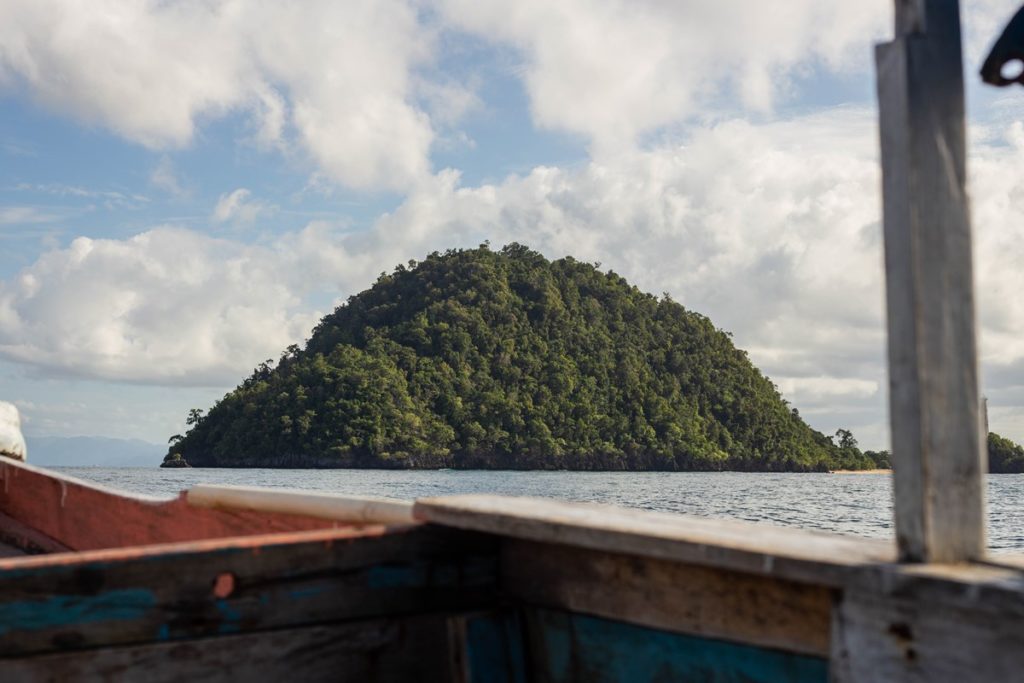 Around Labengki island
There is map at the end of the article so you can locate the different places I will mention.
Your captain will definitely takes you around Labengki Besar. The combination of ocean and lush forests is simply exquisite. Many small and empty beaches can be found around the island.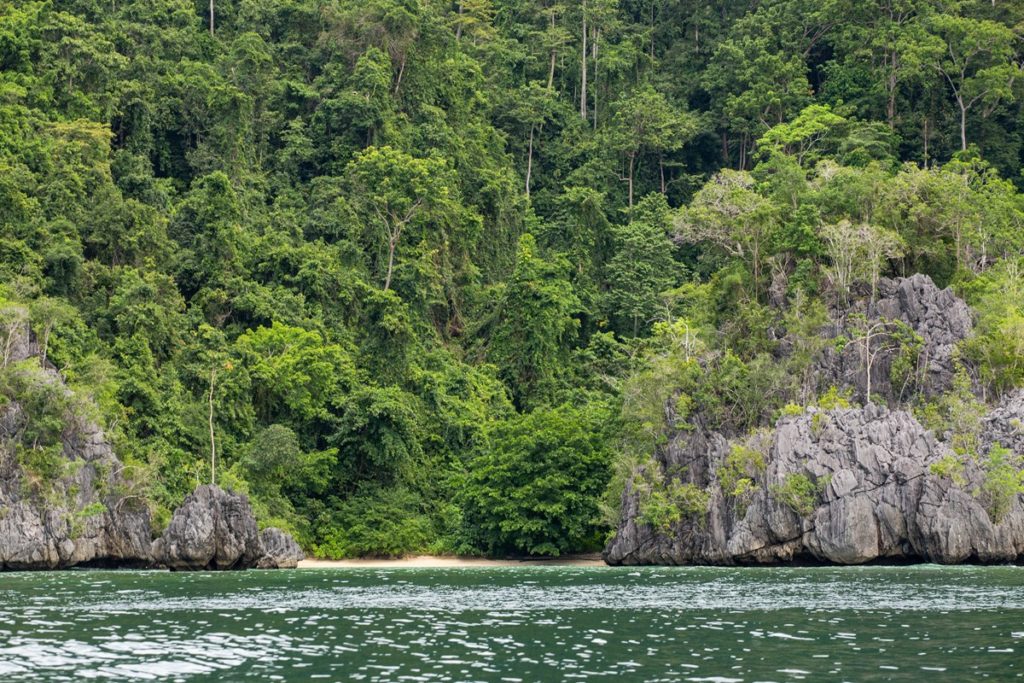 You will definitely come across locals from Labengki Kecil busy fishing :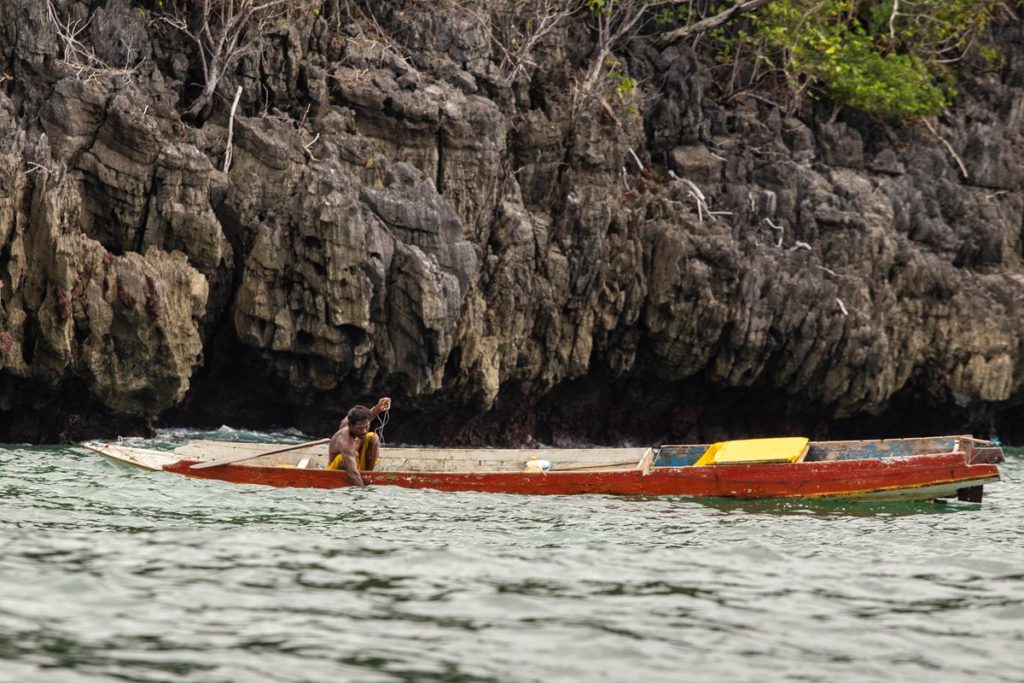 Blue Lagoon
Your boat enters a kind of small bay to eventually reach a striking spiky rock barrier.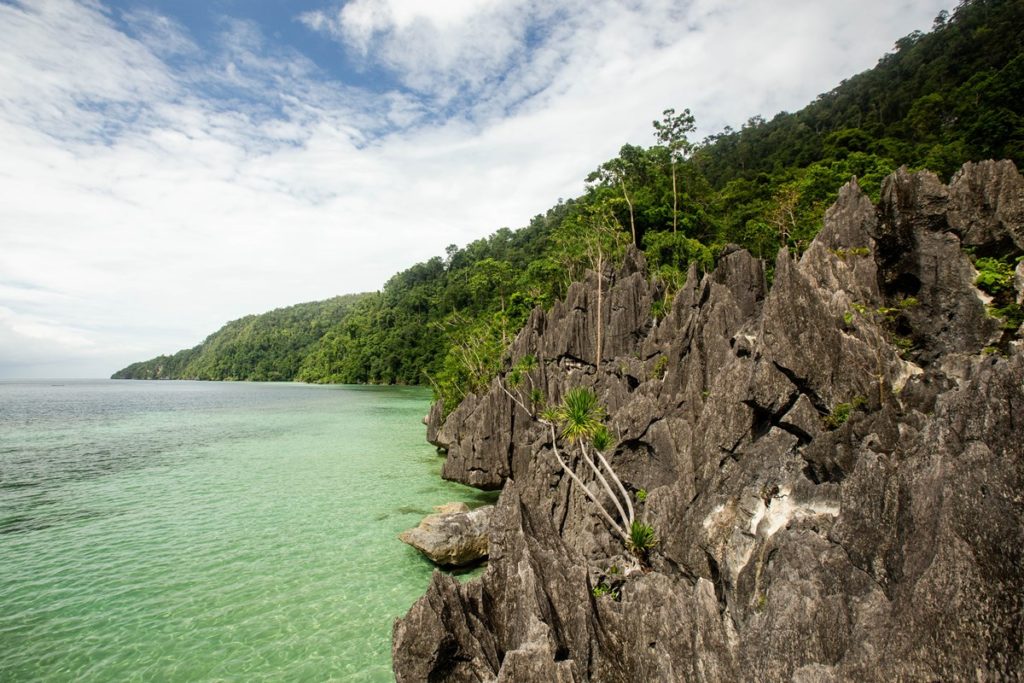 There is a hidden lagoon behind. One of the most beautiful I've ever seen. The colors are mesmerizing and numerous birds fly around providing the perfect background music with their soothing sings.
Please collect the few trash left over by previous visitors to keep this place intact.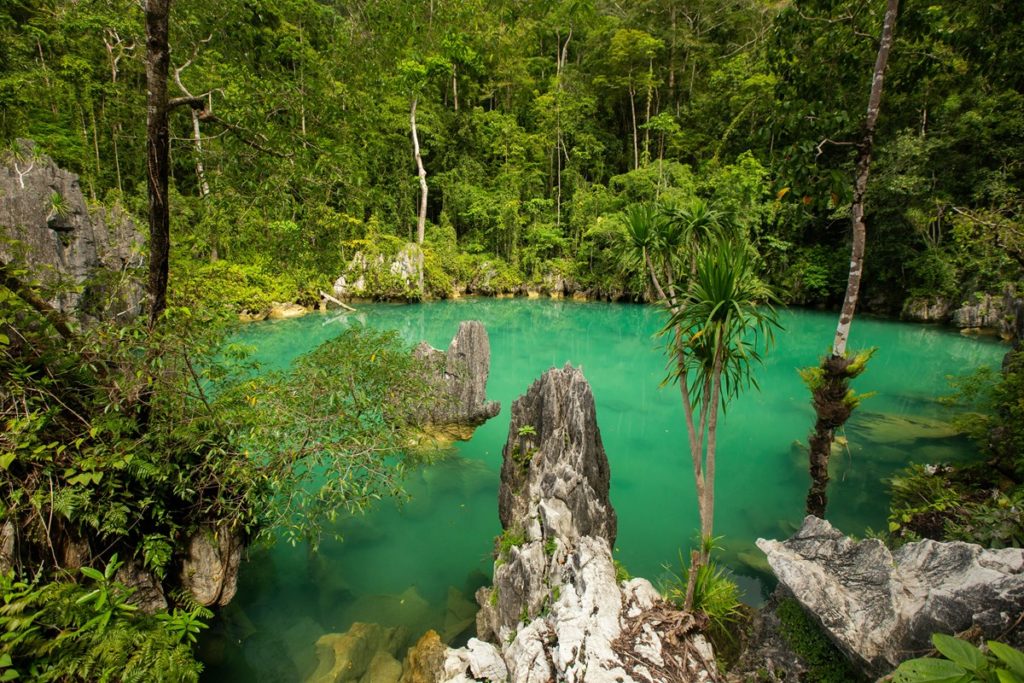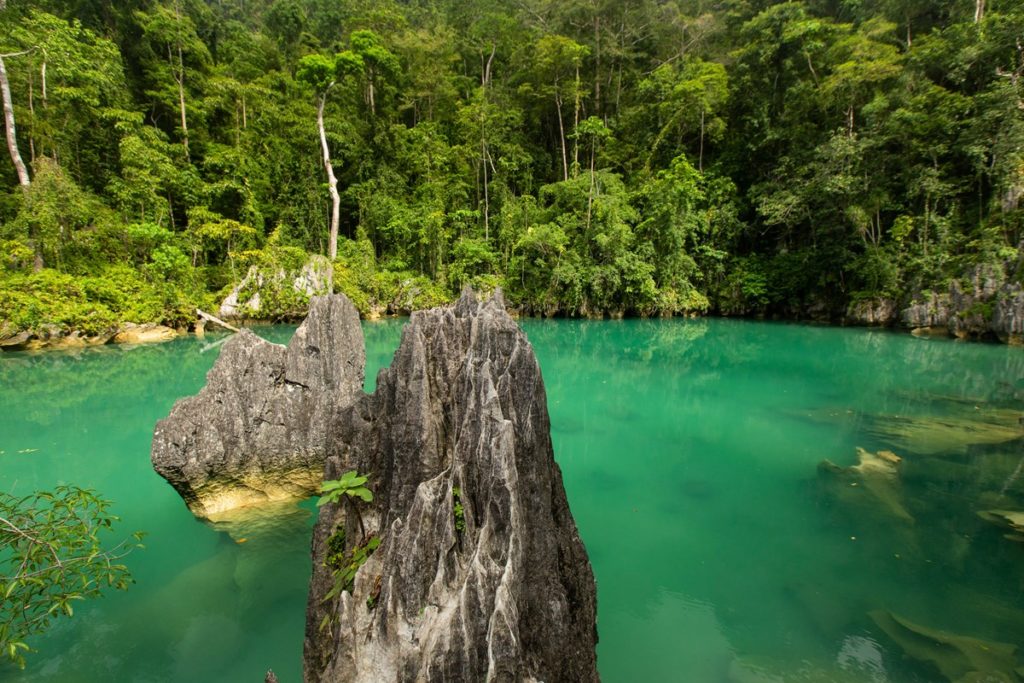 The twin lakes
Not very far from Blue Lagoon, boatmen usually do a stop in a place called "Twin Lakes".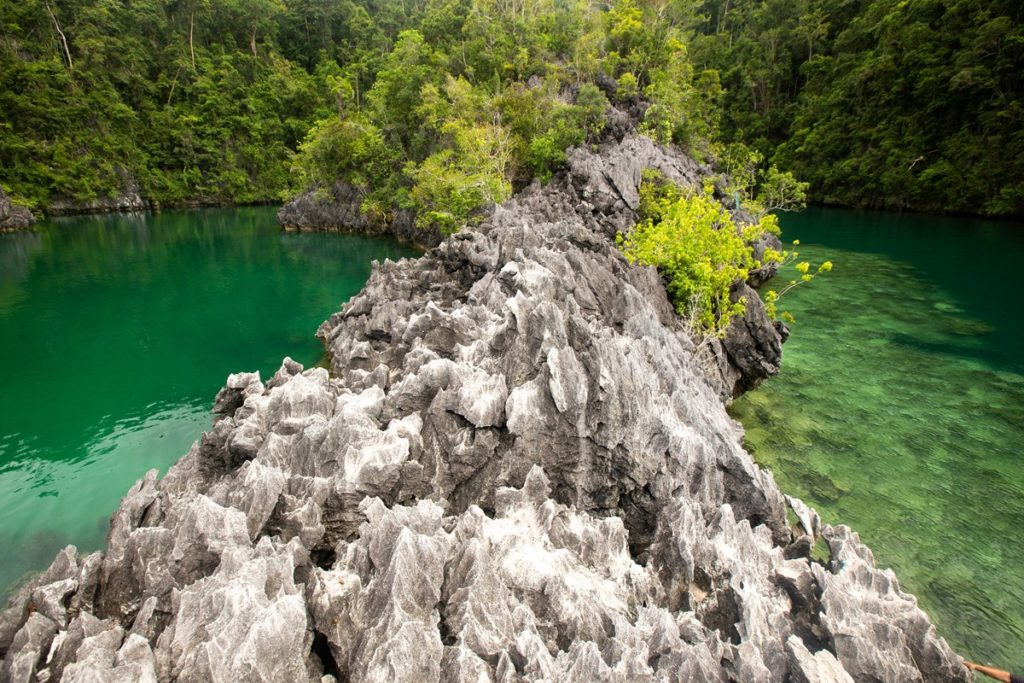 Teluk Cinta
This is basically a viewpoint located on Labengki Besar, right in front of Labengki Kecil. On one side you look down on the expensive resort based on Labengki Besar, on the other you can compemplate Teluk Cinta ('The Bay of Love', from the air, the darker blue water is supposed to look like a heart).
Unfortunately, ugly ziplines have been built on both sides.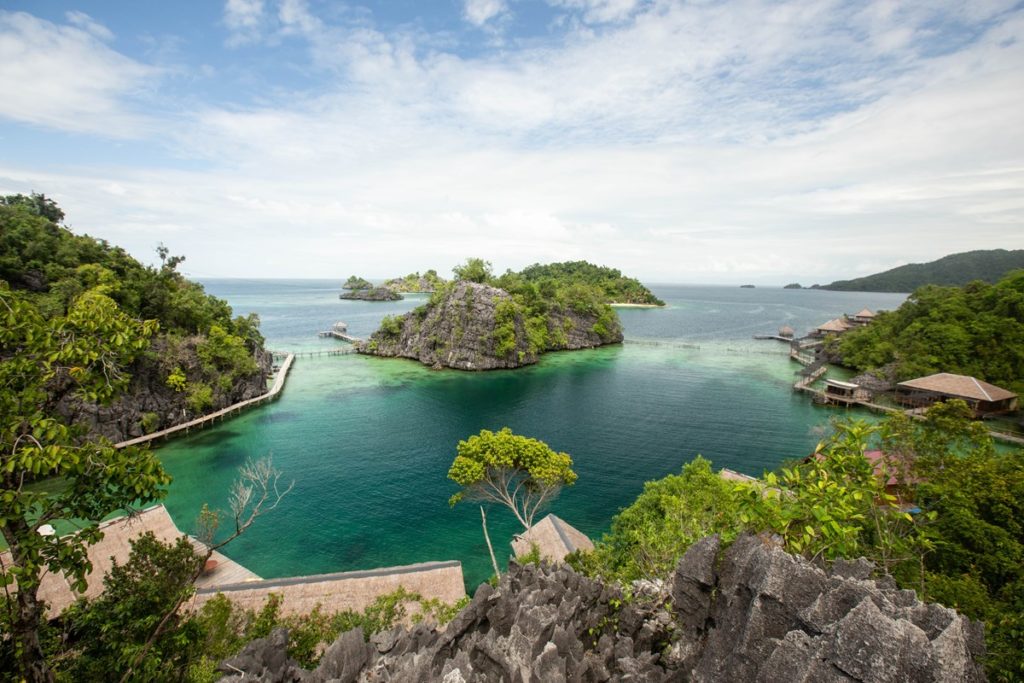 Pasir Panjang Beach
Litteraly the 'long sand beach', this is the closest and most easily accessed beach from Labengki Kecil. It is located on Labengki Besar. By the time of my visit it was totally empty, but the few villagers who get drinking water by pumping a spring nearby.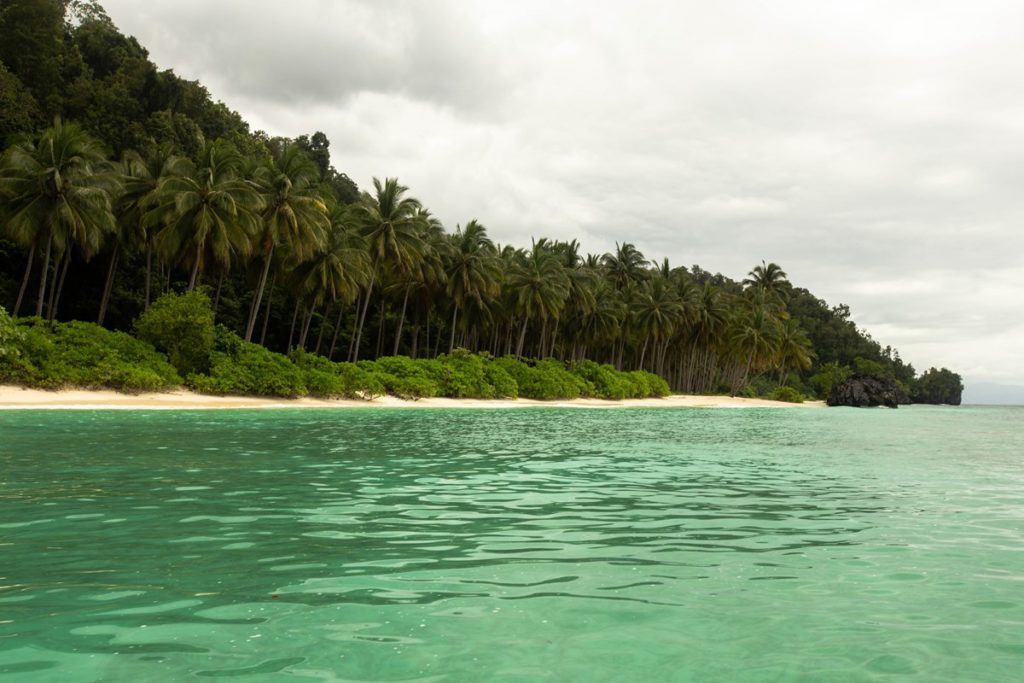 The beachfront is supposed to be good for snorkeling. Visibility was very bad when I visited in June so I cannot really confirm that.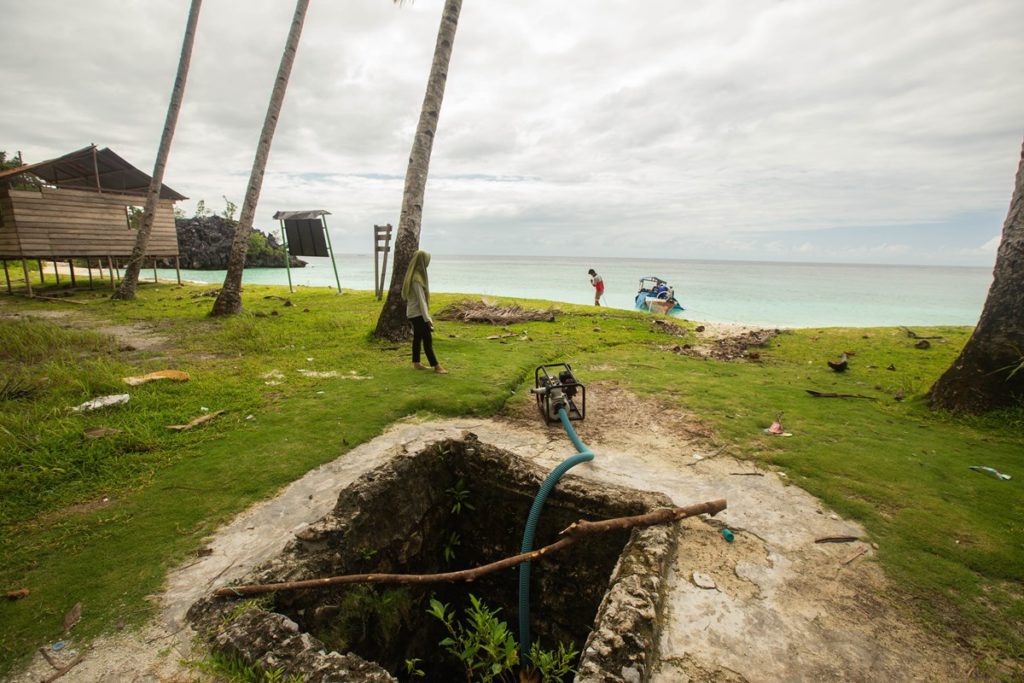 Around Sombori island
A day-trip to Sombori is definitely a must-do while in Labengki. The view on Sombori island is often dubbed 'Little Raja Ampat' by Indonesians (for the actual Raja Ampat, check this).
The best view is probably the one you get from Kayangan island. The viewpoint is often referred to as 'Sombori Hills' or Puncak Kayangan. A concrete stairs has been built to get there.
Actually, an helipad has even been built. I got told that the governor used it once … The government couldn't help but to build a huge sign reading 'Sulawesi Tengah' on stilts in the bay below. Half of the letters have already fallen in the sea, I hope the rest will follow soon.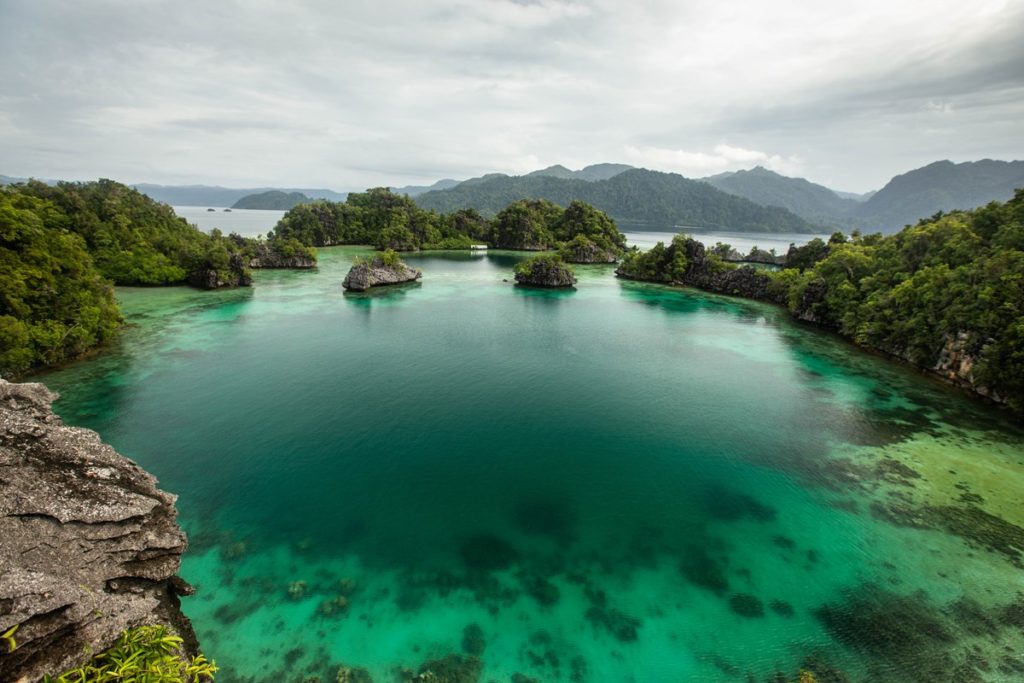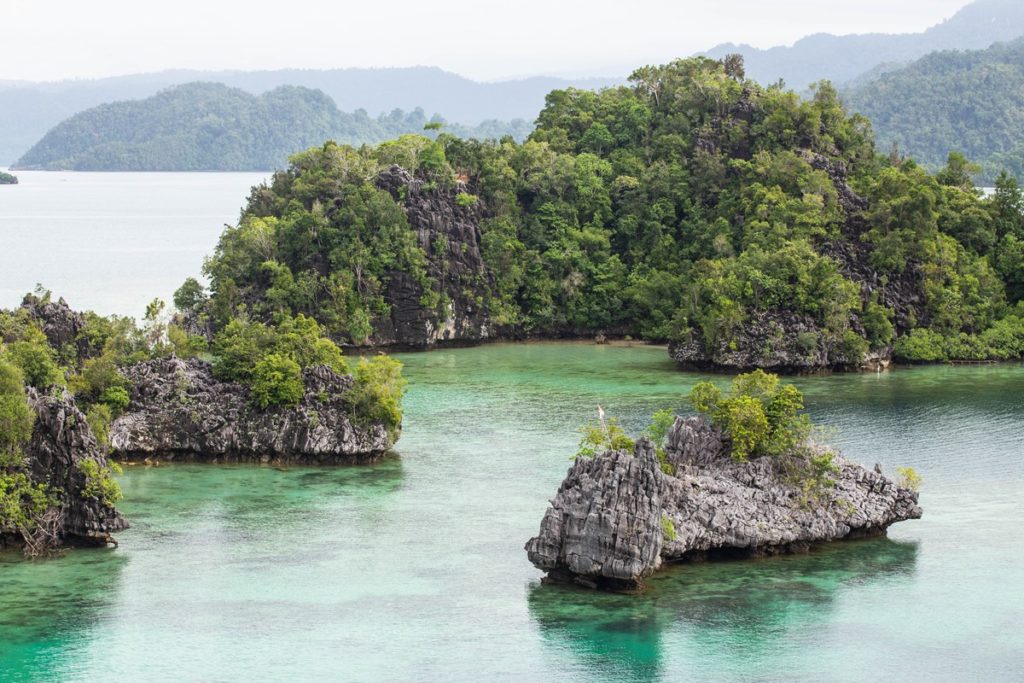 There should be another viewpoint, because I've already seen pictures of the same landscapes but with another angle. With the right amount of sunlight and a drone, you can get some spectacular shots here.
Goa Berlian
On the way to Rumah Nenek, you usually make a stop in Goa Berlian (litteraly 'Diamond Cave' but 'Glittering Cave' is more telling).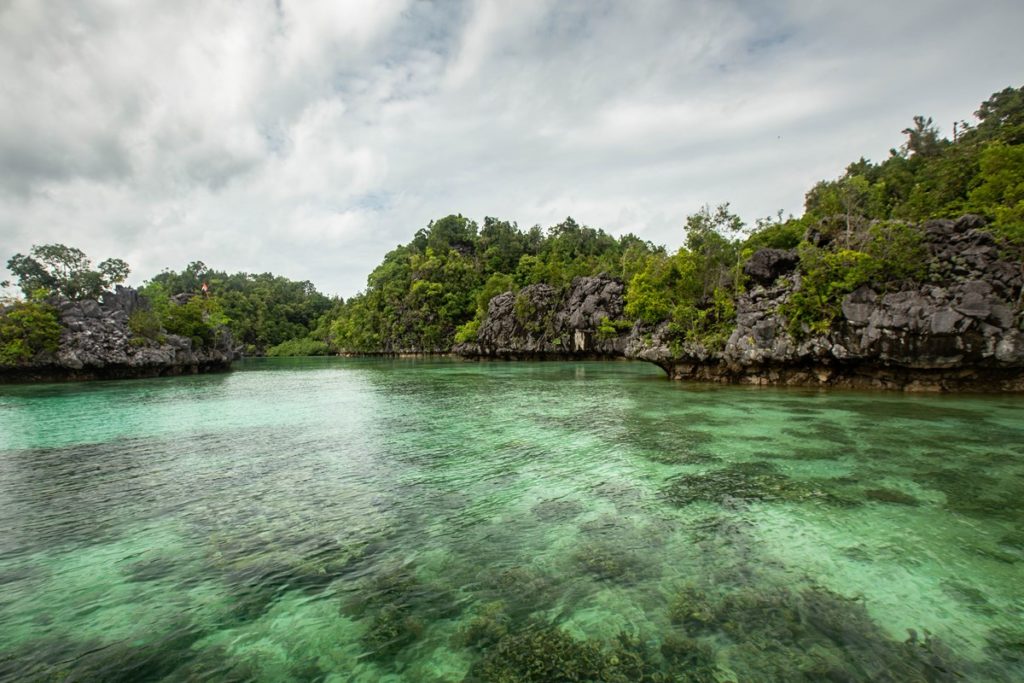 The grandma we will visit next would tell us that she among other young girls hid in such caves to escape Japanese soldiers during WW2.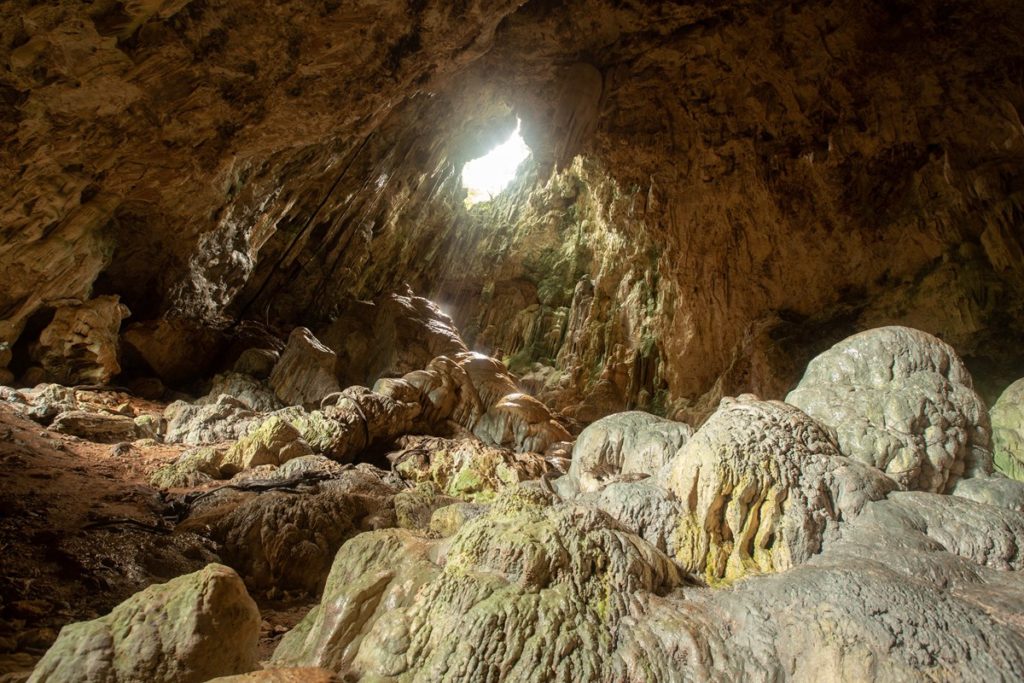 Rumah Nenek
About 15 minutes from Goa Berlian, an old grandma lives most of time alone in the middle of sea. Fishermen often use the back of her home as their base for a few days, before changing places again.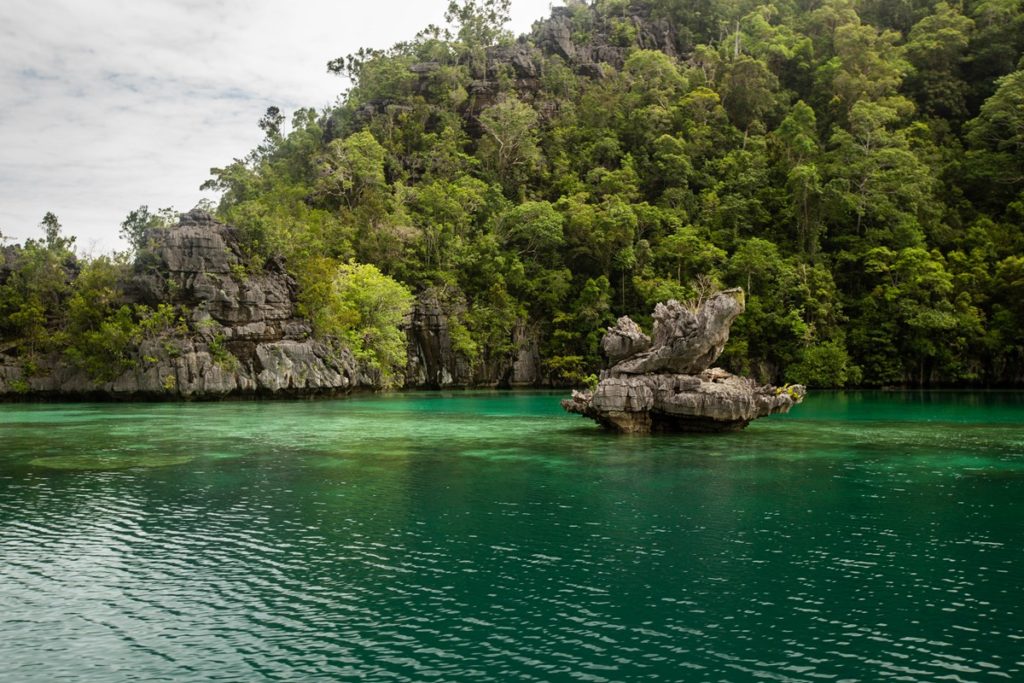 On the internet, you often see pictures of a small shack on stilts that is referred to as rumah nenek. The shack has been cast away by a storm, so there is no more shack and anyway this has never been an actual house.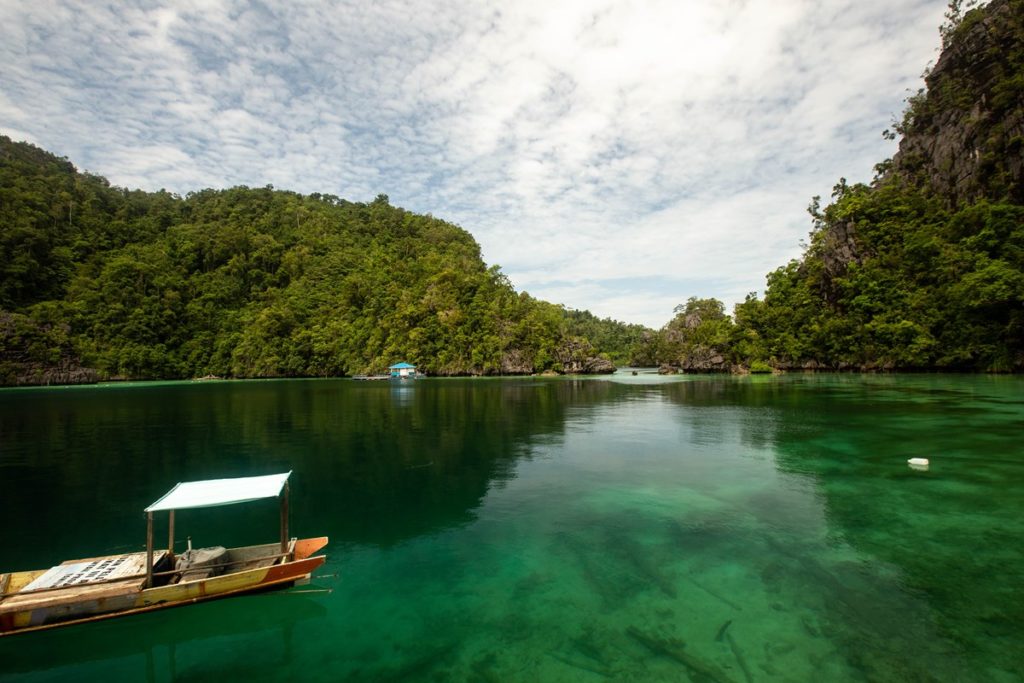 But she lives there, mostly alone and year round. This is an incredible living place. She speaks surprisingly good Indonesian even though she often switches to Bajo language.
The boatmen will probably buy some flour, rice or another commodities to bring to her.
Practical informations about Sombori
Boats entering Sombori area must stop in a village called Mbokitta to pay a retribution fee (200'000Rp per person + 30'000Rp for the boat).
This is not small but there is not much economical opportunities in the region, unless for nickel mining of course.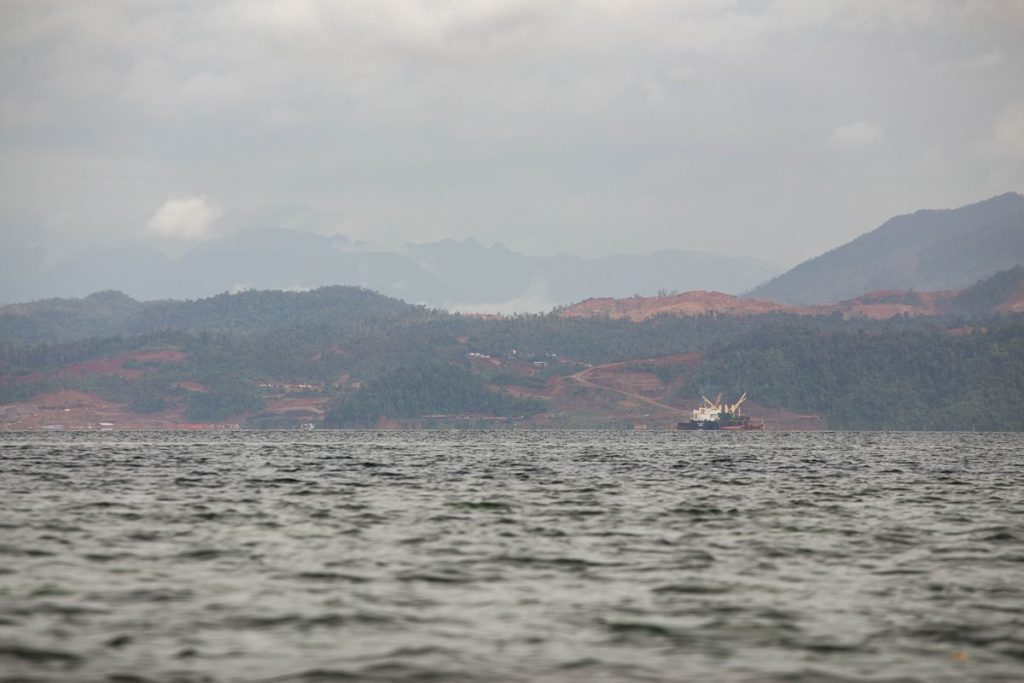 The trip to Sombori takes about 2 hours from Labengki (depending on how powerful is your boat of course).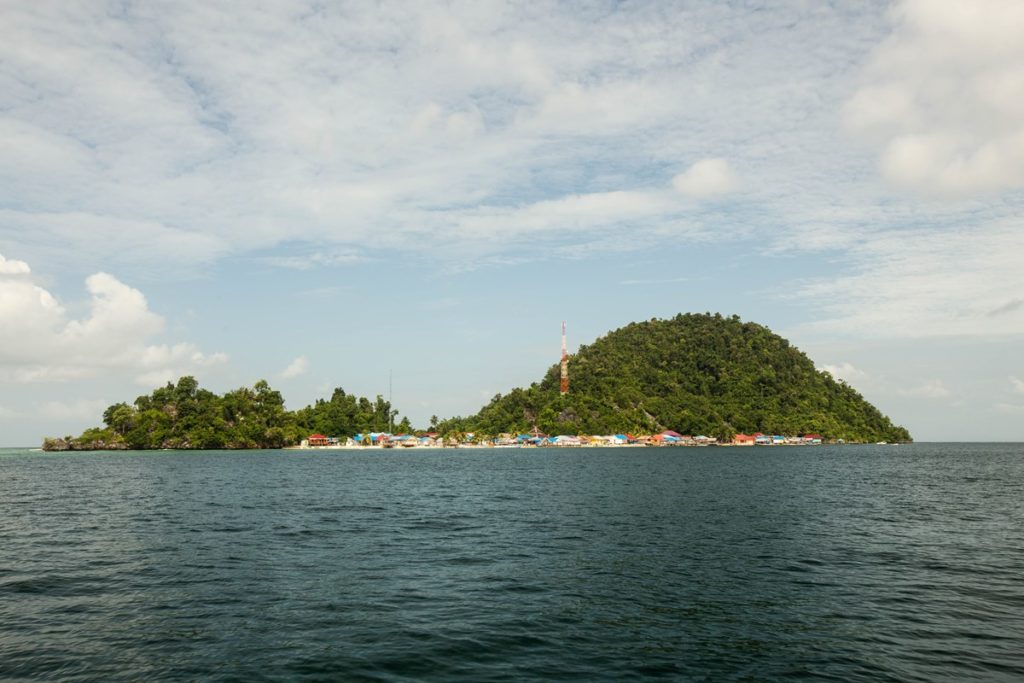 Staying on Labengki Kecil
In a few years, local have built a dozen of homestay in their village. This is a lovely place to stay. Inhabitants are extremely friendly.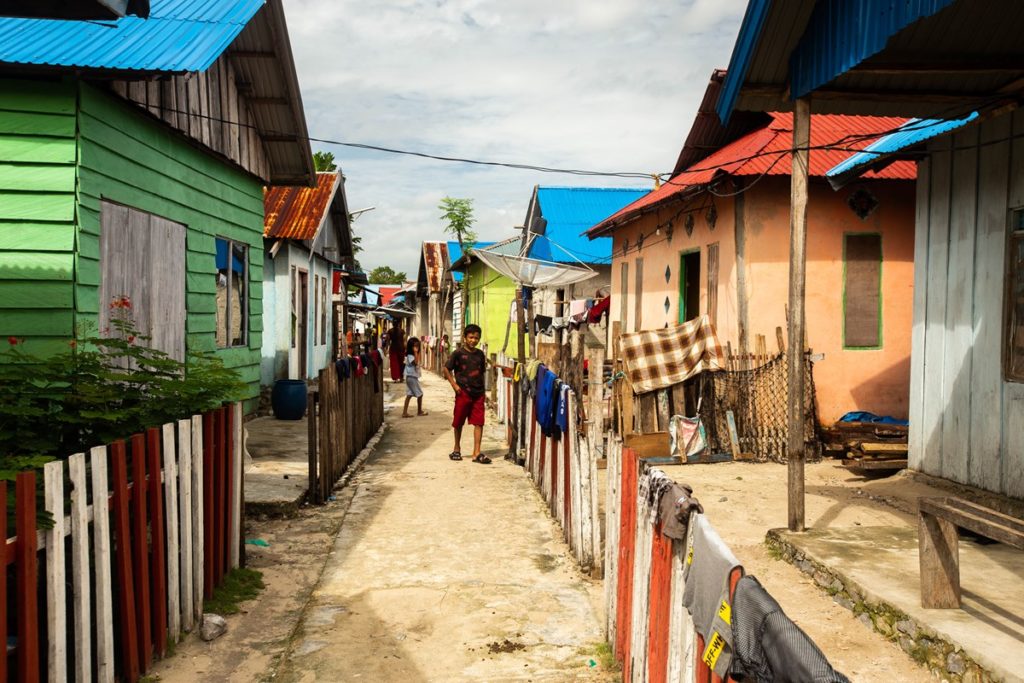 Fishing if the men's job. They learn it from the youngest age. Every night you can see kids on every jetty with a line a hook trying to catch fish or squids.
The most sought-after fish is the tenggiri (maquerel), if I'm not mistaken they sell it 50'000 or 75'000Rp per kilo. Jacks (ikan putih) are much cheaper : about 20'000Rp per kilo.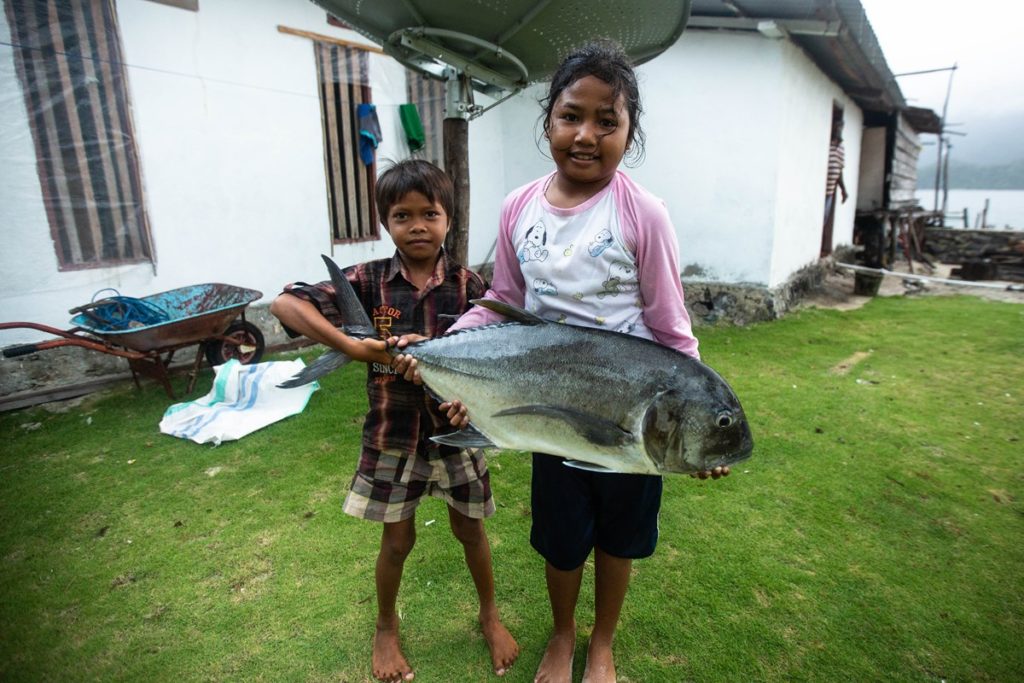 A few inhabitants are known for their boat-crafting skills. They get the wood from Labengki Besar. Once the planks are ready, it takes only a few days to assemble the canoe. No nails are used, only small rounds pieces of woods.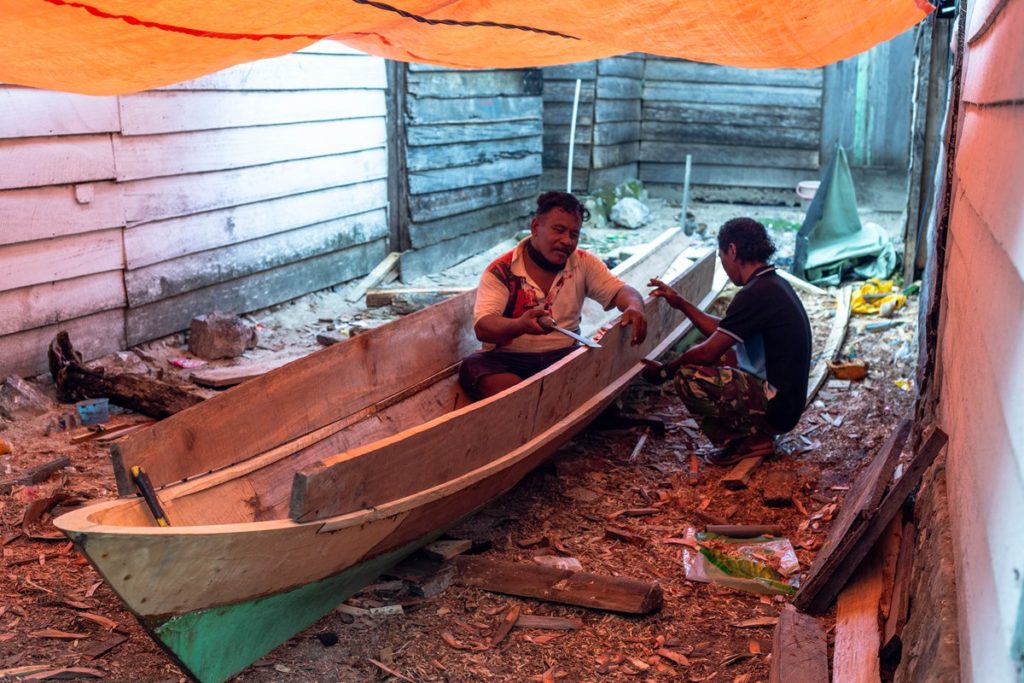 Kids of the village will be delighted to take you to the lighthouse, the hill overlooking the village or to invite you to play volleyball in front of the elementary school.
There is a small cave (Goa Kolam Renang 'swimming pool cave') that can be visited behind the village. For a fee, the guardian can turn on the lights inside.
Other places
I have focused on the highlights of Labengki and Sombori, but there are many other places that can be visited. Jufri has told me about other rarely visited islands off Kendari.
A very good source of information about Labengki is Indonesian website Ivacanza.
Practical Tips
Maps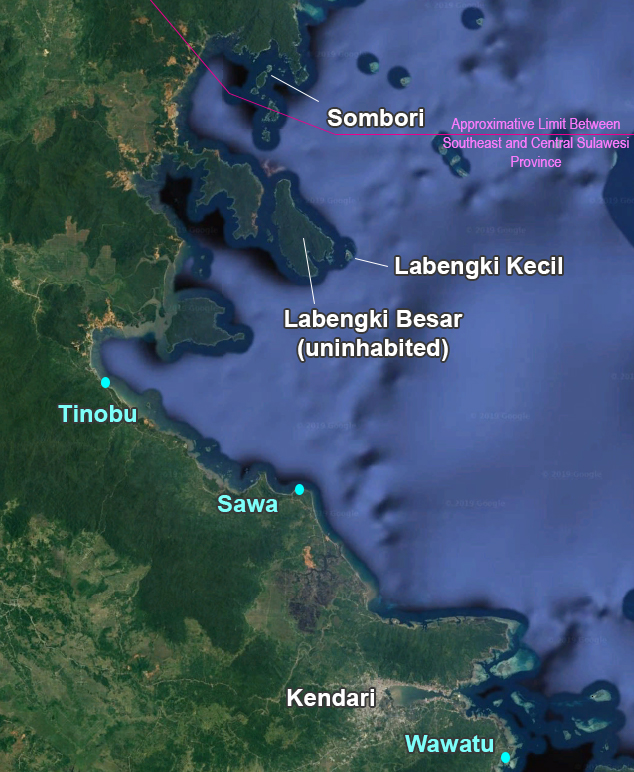 Otherwise I've added the places I mentioned above in my general travel map of Sulawesi :
Getting there
There is no public boat to get to Labengki. You need to charter one. The boat usually leaves from the home village of the captain, so it's mostly going to depend on who is your contact.
Wawatu is the base of Pak Jufri, who was my captain for the trip. You need a bit less than 1 hour to get there from Kendari.
Sawa (which should be a village) is also popular. You need to drive 1 hours from Kendari first, but then the trip to Labengki is shorter.
I know some boats leave from Tinobu but I'm not sure it worth it : the boat trip then takes the same time as from Sawa and you need to drive an additional hour from Kendari.
On paper the best departure is probably from Sawa, because it is the closest from Labengki. Yet I couldn't find a reliable contact based there, and by the time of my visit roads were closed due to floods anyway.
What price for the boat ?
Captains usually rent their boat for a few days, they bring you to Labengki, tour you to the different places and then bring you back on the mainland.
I hired Pak Jufri for the trip. I paid 3'500'000Rp for a 4 days trip.
Jufri has 3 boats : a narrow one with 1x40hp engine (and no roof so I don't recommend it), a traditional wooden boat with 2x40hp engines (a roof and good for 4 passengers I would say) and a larger glass fiber boat with 2x100hp engines. I went for the traditional wooden boat. The crew was Pak Jufri and his stepbrother, and his daughter Eka also joined as a passenger.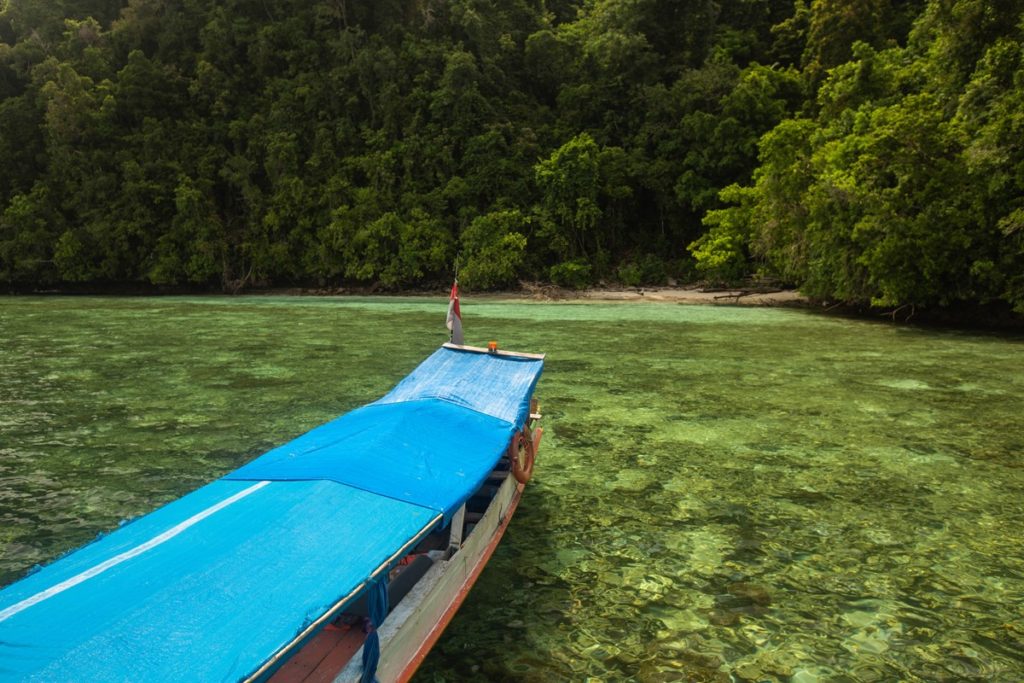 When I visited in June 19, roads from Kendari to North Konawe regency were still blocked due to recent floods so departures from Sawa or Tinobu were not possible and I didn't investigate much about alternatives.
I highly recommend the services of Jufri anyway. He is honest, nice and serious. To contact him :
In Indonesian : Pak Jufri ( +62 822 3908 5439
In English : Jufri's daughter Eka (+62 853 4228 2648)
I also know that a guy called Oleng, charges 1'500'000Rp one way from Tinobu to Labengki.
Food and accomodation
Boatmen usually have family ties with people on Labengki Kecil and will bring you to a place managed by their relatives.
In the case of Jufri, he is not dealing with the accommodation. He can put you in touch by phone with homestays owner, but it's up to you to bargain with them.
Anyway, the going rate seems to be 250'000-300'000Rp per person per day (including all meals). Meals only are charged 25'000Rp each.
I stayed at Cahaya View Homestay, managed by Mama Chelsea (Chelsea is her daughter's name, but she got called Chelsea's mother, it's common in Indonesia). Mattress are goods, there is a fan and electricity at night. It's Jufri who brought me there, but it was a rather good pick.
There are at least 10 different places to stay and more were being built when I visited. It's a small island and everyone knows everyone so I would rather advise you to negotiate beforehand by phone your rates rather than knocking on every door to look for the cheapest rate.
Phone signal is excellent in Labengki Kecil, thanks to a brand new antenna installed by the national telecommunication company. I guess they believe that a reliable connection to Internet is a must to attract visitors.
For food, prepare yourself to eat rice and fish at every meal. Inhabitants don't grow vegetables and fruits on their island, so the supply is rather irregular and depends on traders coming from the mainland.
What do before and after ?
You will most likely start and finish your trip by Kendari. From Kendari, you have various boats (and planes) taking you to Muna, Buton and Wakatobi (informations about transport from Kendari are included in these articles).
In short :
There are daily speedboats from Kendari to Muna and Buton (one departure in the morning, one around 13-14PM).
There is a boat leaving for Wakatobi most days of the week in the morning.
For flights, check a comparator online, but most flights are in the morning too.
My personnal experience
I left Muna in the morning from Tampo harbour to arrive in Torobulu. From there it took a collective taxi to Kendari (50'000Rp) that dropped me downtown. Collective taxis to Moramo can drop you in Wawatu but they usually leave in the morning (from behind a market in town, I forgot the name).
I was lucky to catch a car leaving in the afternoon, I gave a call to Jufri who explained to the driver his location and I was dropped in front of his door (costed me 100'000Rp but you should pay less).
For the return, Jufri left me in a coastal village South of Kendari. Public minibuses (angkot) regularly passes on the main road and take you back to town for 5'000Rp. Once in town, hop on a another angkot heading for Kota Tua (the old part of the town) that will drop you at the right harbour for another 5'000Rp.
Cost wrap-up
This is what I spent for this trip :
Boat rental for 4 days : 3'500'000Rp
Transport from Kendari to Wawatu : 100'000Rp (Jufri could probably arrange something cheaper if you tell him beforehand)
Transport back to Kendari harbor : 5'000Rp. Should have been 10'000Rp (5 + 5) but the first driver I had was so thrilled to have his first foreign passenger ever that he refused that I pay.
Accomodation for 3 nights : 750'000Rp (250'000Rp per day, full board)
Additional meal on the last day : 25'000Rp
Retribution Sombori : 230'000Rp
Total : 4'610'000 Rp.
I did not met anyone speaking English during my stay. If you know a bit of Indonesian, you could probably handle it anyway. You are going to get drop in front of every spot anyway, so there is hardly a need for someone to show you the way.
Communication will be limited though and that's a bit of a pity. Jufri's daughter Eka speaks fair English and could guide if you want to. It would definitely mean paying her on top of the rest.
Climate
I don't have any explanation to give, but I've talked with various people who have been to Labengki at different times of the year (December, March, October …), and everyone seems to agree that good weather is not guaranteed there.
Maybe it's due to the fact that the islands are located in the middle of the sea, with no landmass to protect them from heavy winds.
Nevertheless, here what I have understood from the climate of this part of Sulawesi :
The rainy season is supposed to last from May to July
The strong wind season is supposed to last from June to August
I didn't know about it when I visited in June. I had few real sunny moments and we had to wake up very early to avoid the wind getting stronger from noon in the open sea. But it was still fine and I had the whole area for myself.
A few weeks before my visit, the regency of North Konawe suffered from heavy rains that turned into floods. With such weather, no boat would be eager to do the trip in the open sea to Labengki.
So I guess a visit to Labengki is best organized outside the summer if you can. Yet I visited during June and it was fine. Among the downsides : I didn't see much truly blue sky, visibility under water was quite bad and the vegetable sellers only came once during my stay.
All the articles about Southeast Sulawesi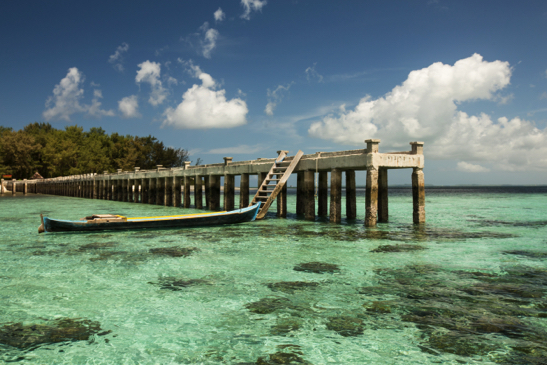 The best soft coral I've seen all over Indonesia