Buton is the largest island of South-East Sulawesi. Even though tourism is slowly picking up, the place is still seldomly visited both by foreign and local travelers. Yet the island represents a very nice addition to a trip in Wakatobi, with nice waterfalls, caves, beaches and forests to explore.
The administrative authority over the province has now shifted to Kendari on the mainland. Yet Buton remains the main harbour of the region (no Pelni ferries calling in Kendari).
Throughout history, the Buton sultanates has come to dominate the region and has maintained close ties to the Bugis kingdoms of South Sulawesi.
Heading North from Baubau
The following itinerary could be done as a day trip from Baubau on a rented motorbike.
From the city center, head North on Jl. Anoa. The road takes you out of town and then start to climb slightly uphill. A place called Kolema hill (Bukit Kolema) is on you way and offers a nice view over Baubau town as well as nearby Makasar Island (Pulau Makasar, many versions of the story of how this island came to be named Makasar circulate, this article lists some of them).
A few hundred meters from Kolema, a sign clear indicates Tirta Rimba waterfall. You park right next to the first waterfall but I heard that you could also walk to some more remote spots.
Parking : 5'000Rp per motorbike.
Keep going North and you will pass by ricefields owned by Balinese immigrants. They joined a government program called transmigration a few decades ago. They received funds and unused (usually means forested) lands with instruction to convert them to agriculture. They also imported their Balinese religion and culture, hence the several temples that you can see in family compounds or shrines in the fields.
I visited in Mid-June right in Idul Fitri period and the area felt rather empty. I guess most of its inhabitants had travelled back to Bali at this time. Rice was also almost fully harvested too.
The road is quite pleasant to drive. It is in fairly good conditions and alternates between coastal and hilly sections.
Then the roads goes uphill and offers a nice view on large ricefields :
From this hill, you could visit 2 nearby waterfalls. I visited both of them with a young guy from Baubau. The first waterfall (Air terjun Kandawu Ndawuna) I mentioned can be found on your own I guess, you may want to ask your way to the local though but then the trail through the forest is clear and straightforward.
Kandawu Ndawuna is an impressive fall about 20m high.
You get there after a short walk in the forest to arrive on the upper section. There is then a slippery and steep trail to get down the cliff.
The second one is much harder to locate, you have to navigate first trails used by villagers to access their gardens and then find your way in the forest. I don't recommand going there alone. It's called Lapangan waterfall (Air terjun Lapangan).
If you skip Lapangan, everything should fit in one day. Most of the local tourist guides can also arrange a night in the forest. I guess it would be easy to extend this itinerary to two days or more by adding more spots.
We stopped by a wedding reception on our way for instance :
Birding in Labusango
There are 2 nature reserves in North Buton : Kakenauwe and Labusango. Actually the two areas are next to each other, and basically you pass from one to another by crossing the road.
Why the BKSDA Sulawesi Tenggara has decided such a division is rather unclear.
The small village of Labundo Bundo (actually it's the name of the dusun but everyone uses this name so be it) has came to the spotlight because it is used as a base by Operation Wallacea for their Buton operations.
It is mostly surrounded by forests that are good for birding and wildlife in general. I came here mostly because I wanted to take pictures of Knobbed Hornbills, also called Sulawesi Wrinkled Hornbills. Took me 2 days to get to see one from a rather short distance.
But I also spotted cuscus as well as a number of nice birds, butterflys and insects.
The way this place is managed by the BKSDA remains a mystery for me. Any willing visitor to the nature reserve must first request for a permit in Kendari… From what I have understood this permit costs 250'000Rp per day (so 100'000Rp more expensive than the standard entrance ticket to national parks for foreigners).
I guess that Operation Wallacea would like this place to remain "off limit" for regular visitors to keep on selling their packages. Yet, they only operate from June to July …
Local villagers would be very keen to collect a reasonable fee from visitors as well as providing them with guiding services. But they won't take anyone in the nature reserve, at least during OpWal high season.
It doesn't mean that Labundo Bundo is not worth a visit. One of the best birding spot is the road used by farmers on your left right after you pass the gate to Labusango forest. Villagers also told me about some production forest (forest patches designated for selective logging) that are freely accessible.
Otherwise if you plan to go camping in the forest, it's best to come outside June and July, when both OpWal and the staff from Kendari are far away.
Coming and staying at Labundo Bundo
Labundo Bundo is located between Baubau and Kamaru harbour, so collective taxis taking passengers there can drop you by. Cars heading to Buton Utara also pass by Labundo Bundo.
So get to terminal Wantiro (that's the name I have in my notes but I'm not sure about it, could be Warumusio instead) in Baubau in the morning and just wait for a seat. Drivers heading to Kamaru will likely offer a cheaper rate (expect something like 50'000Rp) : it's more profitable for those heading to Buton Utara to take a passenger doing the full trip rather than someone stepping off half way, but I guess it depends on the number of passengers at the terminal).
Otherwise there would be a DAMRI bus heading to Buton Utara every day but this doesn't seem reliable. I waited for it for 3 hours in Labunbundo and it never showed up.
Another possibility, if you have hired someone to visit some of the waterfalls I mentioned above, is to ask him to drop you there (it's not that far). You can then go back to Baubau in collective taxi (or DAMRI if it shows up).
Villagers in Labundo Bundo are used to accomodate OpWal guests during the summer. They usually charge 80'000Rp without the meals. I left 150'000Rp for the full board.
Baubau town
The town of Baubau is a practical base to explore the island but is also the best place to discover Butonese traditional architecture.
A good place to start is Malige Palace (Istana Malige) located 500m from the harbours. Entrance is free. The guardian is willing to let you see inside the building against a fee. I understand that it's empty inside.
Unfortunately there are no information signs.
Another interesting place is the old Buton Sultanate palace fortress (Benteng Keraton Buton) built in the 17th century. Don't expect a castle but rather a (large) fortified area. It is one of the few Indonesian fortress built by indigenous leaders instead of colonial powers.
Many exemples of traditional architecture to be seen in the keraton (that's how the local refer to the place but this must be understood as a whole area). There is no great palace of the sultan standing. The largest building in the area is the Great Keraton Mosque.
You may notice a dragon figure carved on top of several traditional house. The origin of this tradition is not exactly clear even if a Chinese influence is quite likely. This article reports some local stories about it.
Buton was first a kingdom from the 14th to the 16th century, and then became a Sultanate in 1541 when the king converted to Islam. In 1960, the last Sultan from the colonial era died and the office went dormant for about 50 years. Only in 2014, a new Sultan, La Ode Muhammad Jafar, has been appointed (see this interesting article by Elisabeth Pisani) with few people actually caring about it.
Most of the former Sultans are burried here, and many locals still consider the graves (makam) as sacred places.
A museum (Museum Keraton Buton) can be visited but only in the morning. I didn't know and could not visit. Yet visiting the keraton in the afternoon let you enjoy the view of the sun setting over Baubau.
No matter what time you visit, the whole place feels like a very peaceful and traditional neighbourhood. It's a very pleasant place to take a stroll and enjoy small daily life scenes, like those kids who use discarded pieces of motorbikes helmets to slide this street.
South of Buton
I have not spent much time exploring this part of Buton. I took a motorbike on one day and simply followed the coastal road from Baubau to Pasarwajo before riding back to Baubau.
First think you'll see when driving south of Baubau are karaoke next to hotels charging rooms by the hours. So I guess this is the red light district of Baubau :).
Soon you should arrive to Nirwana beach, which is quite a good beach, long and clean. It's very busy on the weekend but I guess quite calm otherwise.
A few kilometers before, I know there is a popular cave called Lakasa cave that can be visited but I have not tried myself.
The south coast is dotted with many beaches, some indicated by a sign, some registered on Google maps as well as many other for sure. I get bored quite quick with beaches so I haven't make much efforts to locate them all.
For instance, I think this one was called Pantai Jodoh. It all depends on how you look at it :
The south is not very densily populated, and is actually quite forested.
I prefered the area around Sampolawa. There is a hill on your right that can be climbed. I heard that a movie had been shot there …
If you check the map I have prepared at the end of the article, you'll notice that I have added some places that are not mentionned in this article. It's place I've only heard about.
Tourist guides
Information is rather scarce on what to visit in Buton, both in guidebooks and online. Yet Buton has a lively community of young people eager to help visitors discovering their islands.
Some of them are more professional than others. Expect them to mixing friendship and business. Two of them are quite active on Indonesian Facebook travelling groups : Mario (his profile) and Petra (his profile). Both have a lots of public pictures on their profile that may at least inspire you.
I prefer to travel on my own but for sure a local guide can take you to places impossible to find by yourself. Go browse the 2 profiles I just gave and you will soon realize that this article is far from comprehensive.
When it comes to my own experience, I went to Kandawu Ndawuna and Lapangan waterfalls with a local guide (or more exactly 2). We met by chance and when I told them that I was planning to go to these place, they offered to take me there. We didn't discuss any arrangement beforehands and actually they would tell me later that they haven't taken any tourist ever so they didn't knew how much to ask for. I ended up giving them 600'000Rp for 2 days (during which we ride their motorbikes, slept and eat at their friends' house.
Diving in Buton
I have enquired a bit about diving in Buton. Google will tell you that the resort next to Nirwana beach offer some diving, but the price are very expensive in my opinion.
I've seen some pictures of nice corral reefs in this area though so you might give it a try.
I went looking for a local dive shop and found Rock'n'Roll divers. There are based in Baubau (Whatsapp +62 812 4567 7888). Their specialty is cave diving and it seems that Baubau's underwater caves have some reputation in South East Asia.
The issue is that you cannot go there unless you are a certified cave divers. They can certify you, but it takes a few day. They also told me that outside caves, Buton reefs were rather common for Indonesia. In the end I gave up and went diving again in Wakatobi.
Practical tips
Coming to Buton
By plane
Buton is connected by regular flights to Makassar and Kendari in Sulawesi.
Pelni ferries to other Indonesian islands
Buton is the main harbour for Pelni ships in the region. As much as 10 different boats regularly call in, heading further east to Maluku and Papua, but also to Flores, Java, North Sulawesi or Kalimantan.
I've written a rather comprehensive article about Pelni ferry lines that you may want to read.
Local boats
Large speedboats operated by Express Bahari (that everyone calls superjet) are leaving Baubau to Kendari twice a day at 7AM and 12AM. The trip takes 5 hours and costs 185'000Rp. You can get outside the boat and enjoy great views over the coast of the uninhabited south-east tip of Sulawesi.
The departure times from Kendari are more of less the same (I left once at 1PM from Kendari though).
It stops at Raha (Muna) on the way, 150'000Rp, 2 hours.
Baubau is also well connected to Wanci and Tomia islands in Wakatobi. We are talking about wooden traditional boats that run at night. There is a departure almost every night to Tomia at 9 or 10 PM (215'000Rp, around 10 hours, I did it once we took 13 hours due to a rough sea).
Night boat from Baubau to Tomia
I understand that there are also night boats to Wanci on Wednesday and Friday night. But most people prefer to go to Kamaru first (collective taxi available from Baubau) from where daily boats leave for Wanci.
The cheaper and slower Jetliner also takes passenger to Kendari and Wanci. The schedule seems to be :
From Baubau to Kendari : Tuesday at 10PM and Friday at 10PM
From Baubau to Wanci : Thursday at 6AM and Saturday at 11:30PM.
Wooden boats also leave for the Banggai island on Tuesday and Friday at 2PM.
I guess that you also could cross from Baubau to South Muna between Lakologou (Buton) and Wamengkoli (Muna). This boat should take vehicles too.
For those who needs to bring a vehicle from Sulawesi main island, then there is a crossing in Amolengo, North Buton.
Accomodation tips
Sleeping in Baubau is not an issue, there are many accomodations near Murhum and Jembatan Batu harbours. Boats are the main means of transportation in the region and Baubau serves as the largest regional hub, so there is a regular flow of people that need to spend the night in town waiting for their connection.
Wisma Mulia is a good pick. They have 2 buildings : the original Wisma Mulia and the New Wisma Mulia across the street. The original has standard single rooms starting from 100'000Rp (fan) and the New single AC rooms starting from 180'000Rp.
The staff is keen on renting their motorbikes for the day for 80'000Rp per day. Otherwise you can also contact Ardin by Whatsapp (+62 822 9155 6238, motorbike 80'000/day, car 300'000/day). He has his own rental business but a bit out of town.
Otherwise if Wisma Mulia is full, you have really plenty of other options within a 100m radius. But they don't seem to offer motorbike rental.
Outside Baubau, besides a few resorts and accomodation South of town by the beach, you need to arrange a homestay with local villagers.
Climate
June to September is the driest period of the year. November to April is supposed to be the wettest.
Map
All the articles about Southeast Sulawesi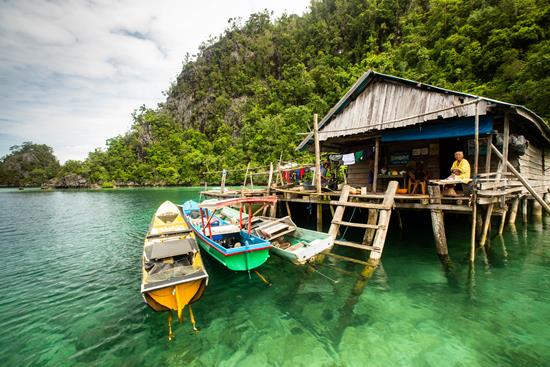 A fast-growing great destination in South-East Sulawesi. Great landscapes inhabited by awesome locals.