I hear a lots of people raving about Flores recently. So I guess it was time for me to wrap everything up and to propose a comprehensive guide to roadtripping in Flores.
PROPOSED ITINERARY

No surprise here, I'm gonna go from Labuan Bajo to Maumere. I didn't include any information on Riung or Larantuka because I never had the occasion to go there. I'll try to update this page further in the future.
You need roughly 4 hours to reach the next city : from Labuan Bajo to Ruteng, then to Bajawa, then to Ende, then to Maumere.
Starting by Maumere or Labuan Bajo doesn't make any difference. It's gonna depend on your plan before and after :
If you intend to go to/from Lombok or Sumbawa by boat, then you have to plan your trip accordingly
If you intend to continue further East (for instance taking the ferry from Larantuka to Alor), then you have to end by Maumere.
In the rest of the article I will assume that you start from Labuan Bajo.
LABUAN BAJO AND KOMODO (3 to 7 DAYS)
DAY 1 : FIND YOUR MARK AND CHILL
You have 3 options to arrive in Labuan Bajo :
The cheapest : by bus and ferry from Bali/Lombok/Sumbawa. See this article. Also possible to take the ferry to Makassar or Kupang with Pelni.
The fastest : by plane. Check an online comparator like Skyscanner.
The most raved about : a 4 days cruise from Lombok. I discussed this at the end of this article.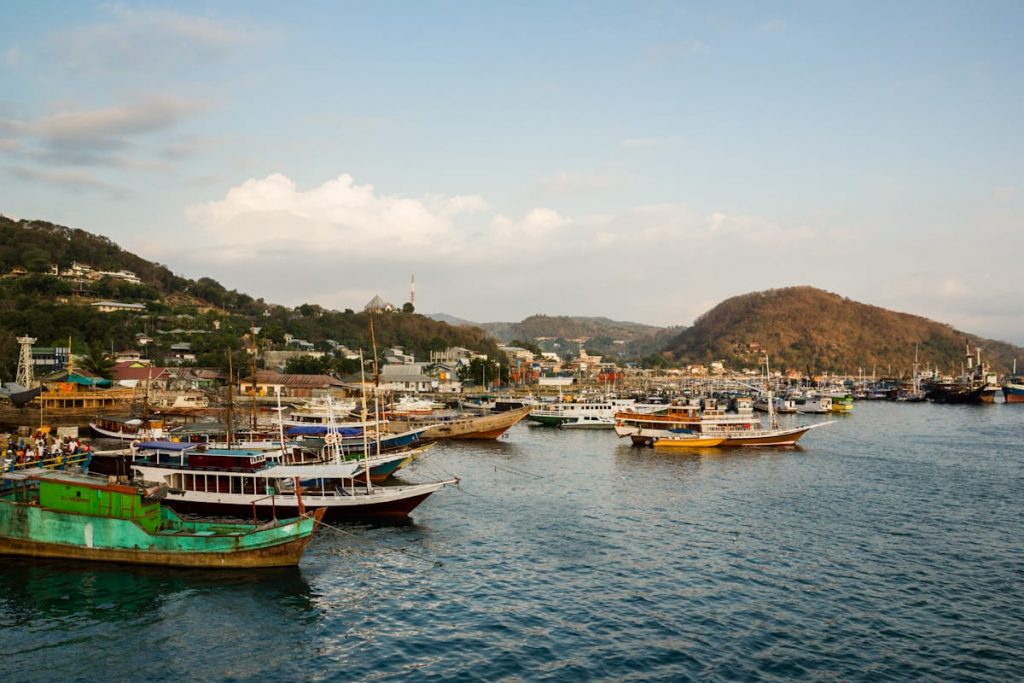 For the accommodation I tried two different places during my 2 trips there :
Hotel Mutiara, outdated but cheap. Starting from 70,000Rp (solo room)
Hotel Gardena : simple but clean. Starting around 150,000Rp (budget room).
For the food I recommend you try 2 things :
The night market (pass the harbour, the fish market, it's on your right). You can eat for around 30-70,000Rp. Good seafood.
Treetop restaurant. Crazy owner and great Chinese food. A bit more pricey though.
Rent a motorbike and enjoy the nice view from a spot called "Bukit Cinta" (you can find it on Google Maps). It's about 10 minutes from Labuan Bajo.
DAY 2 & 3 : BOAT TRIP TO KOMODO NATIONAL PARK
Don't miss Padar Islands, spotting Komodo dragons and snorkeling with Manta rays.
I provided all the details in a dedicated article.
DAY 4, 5, 6 : DIVING (OPTIONAL)
Komodo National Park is one of the best diving spot in the world. Period. I usually dive with Dive Komodo but it's not the only reputable operator in town.
RUTENG (2 to 4 DAYS)
Time to head East. Take bus, car or motorbike and drive until Ruteng. During the afternoon, visit spiderweb ricefields in Cancar.
Then the issue is whether to go to Wae Rebo or not ? If you have 2 days I recommend that you go. Otherwise you will have other occasions to see traditional villages (but from a different ethnical group) in Bajawa.
If you skip Wae Rebo, spend at least 1 or 2 hours on the next day exploring around Ruteng. Weather is almost always clouded in the afternoon.
If you choose to go to Wae Rebo, I explained everything here.
BAJAWA (1 TO 3 DAYS)
Your next stop is Bajawa. I took this road twice on motorbike. At one point you gonna see a billboard stating that you are entering a protected forest. From this point and for a few kilometers you enter a thick fog. You pass a second signs telling you the protected area is over and the weather is back to normal. Really strange microclimate.
You should allow you at least one day to visit the different traditional villages from Ngada ethnical group. Many details in this article.
If you are into hiking. It's possible to climb Mount Inerie. Check the website Gunung Baging for more informations.
ENDE (2 TO 4 DAYS)
Your next stop is Ende. Most of the travellers will go straight to Moni, the main base to visit Kelimutu Lake. I must confess that I did exactly this and had no time yet to explore the surrounding of Ende. But I'm sure there must be some interesting stuff to see.
All advices to visit Kelimutu's colored lakes can be found in this article.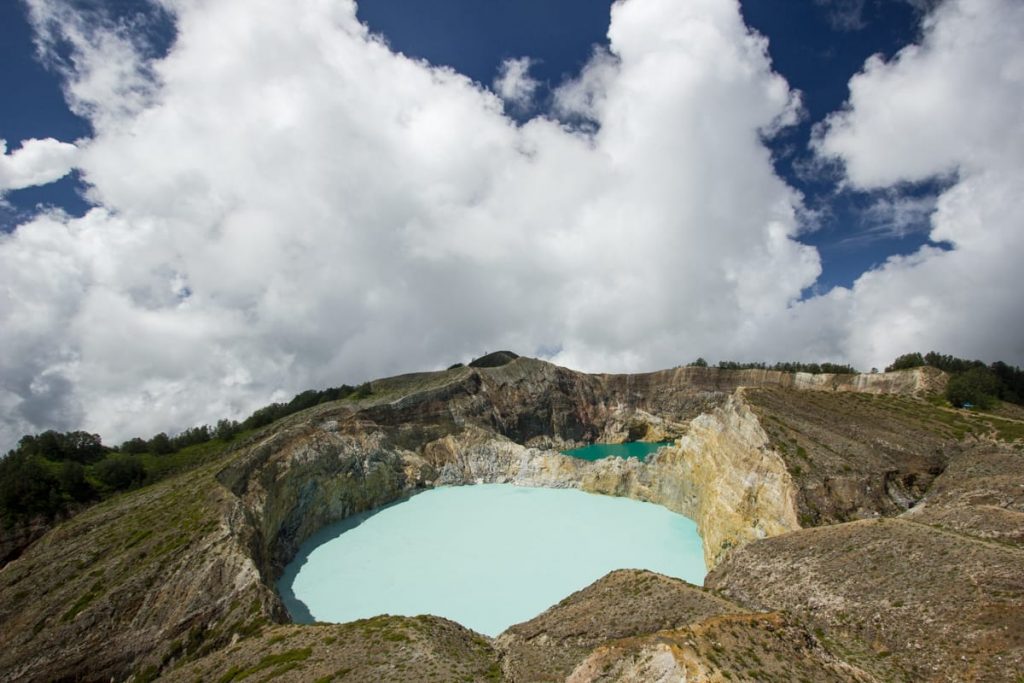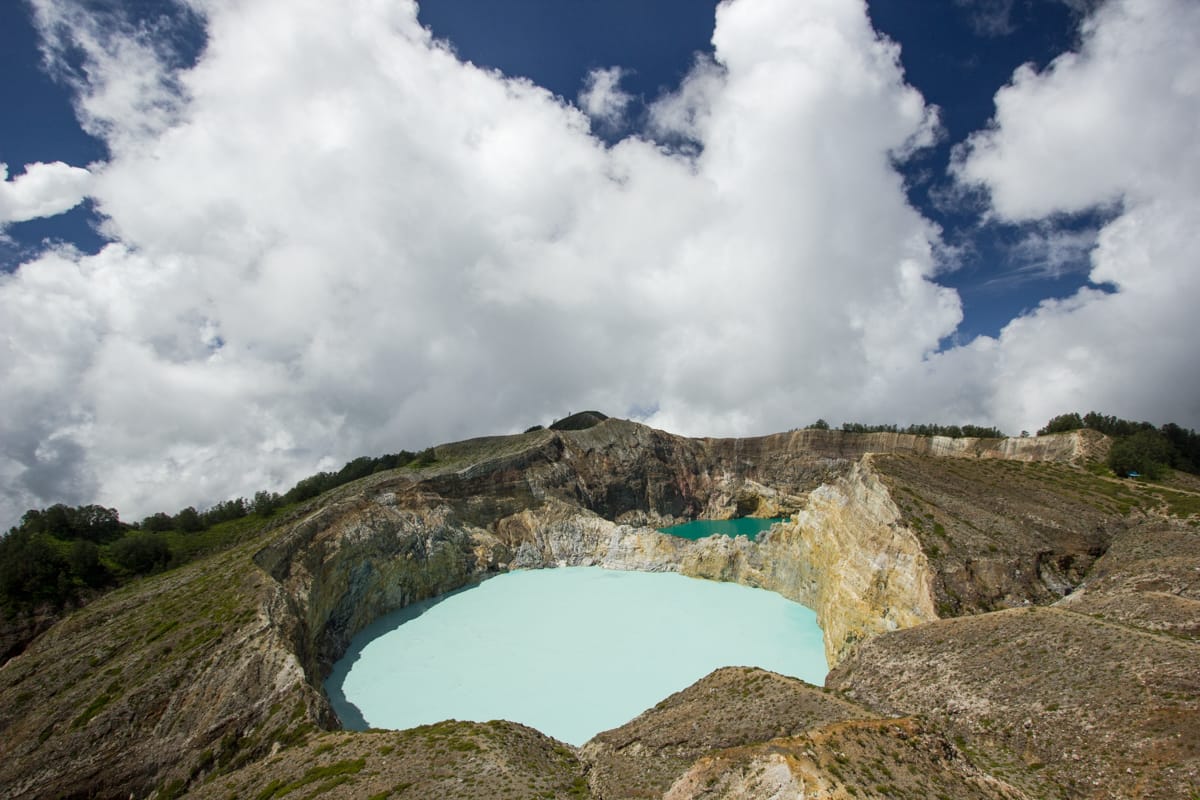 MAUMERE (2 TO 5 DAYS)
After Kelimutu you're final destination is Maumere. This is the perfect place to immerse yourself into the local way of life. The bay of Maumere is also a diving destination.
I wrote an extensive article about the stuff to see and to do in Maumere.
TRANSPORT GUIDE IN FLORES
RIDING YOUR OWN MOTORBIKE
It's not possible to rent a motorbike in Labuan Bajo and to return it in Maumere. If you intend to cross the island with a rented motorbike then it will have to be a round trip.
The standard rate is 70,000Rp/day.
As long as you stay on the Transflores, the road is in good shape. But you go up and down and there are many nasty curves so don't try to break a speed record.
Note that it's possible to go back from Maumere to Labuan Bajo in 2 days if you drive from morning to night. Again, be cautious, don't overestimate your capacities especially if you are not used to ride a motorbike. I recommend not to drive at night.
I remember that sometimes you can see motorbikes attached at the back of minibus so it might be possible to take the bus with your motorbike if you are tired.
A more convenient solution is to take public transport between big cities and then to rent a motorbike in the place you stay.
TAKING PUBLIC TRANSPORTS
There are many buses and private cars available between the main cities. The most famous operator is Gunung Mas but beware because seats are very limited. Better call them a few days before to book your tickets.
Otherwise, there are other minibus running. There is not a real schedule but early morning and around noon is usually a good time. They leave when they are full. In every city, bus will park in a dedicated area (except in Labuan Bajo where I was never able to identify where is it). Ask any ojek or bemo to take you there.
To give you an idea of the prices :
With minibus. From Maumere to Moni : 50,000Rp. From Moni to Ende : 30,000Rp. So expect to pay something like 70-80'000Rp between each cities.
With public car. From Labuan Bajo to Ruteng : 100,000Rp.
HIRING A DRIVER
It's the most comfortable option but also the most expensive.
I met some people who crossed the island in 4 days with a driver. This is a total waste in my opinion. The interest of Flores lays within its authenticity. If you don't take it slow and try to immerse yourself in the local way of life you are totally missing the best of this island.
CUTTING YOUR TRIP SHORT
There are many local flights available in Flores. If you realise that you are running out of time or that you have a issue, they are a quick way to get out.
Daily flights from Maumere to Labuan Bajo, Denpasar and Kupang.
Daily flights from Ende to Labuan Bajo and Kupang
Daily flights from Kupang to Bajawa
DETAILED ITINERARIES
FLORES ESSENTIALS IN 7 DAYS
Day 1 : landing in Labuan Bajo
Day 2-3 : boat trip to Komodo National Park. Take the bus at night to Ruteng.
Day 3 : in the morning go see Cancar spiderweb ricefields. At noon take the bus to Bajawa.
Day 4 : rent a motorbike. Spend the day visiting traditional Ngada villages : Bena, Gurusina. Try to stay at night in Belaraghi.
Day 5 : bus to Ende and then to Moni.
Day 6 : morning trip to Kelimutu. Bus to Maumere. Step off at Paga. Overnight in Koka beach.
Day 7 : bus to Maumere. Fly to your next destination.
FLORES AUTHENTIC EXPERIENCE IN about 20 DAYS
Day 1: Landing in Labuan Bajo
Day 2-3: boat trip to Komodo National Park.
Day 4-6: diving in Komodo National Park.
Day 7: go to Ruteng.
Day 8: visit the spiderweb ricefield in the morning. Then drive to Denge (3 hours). Then hike to Wae Rebo (2 hours). Overnight in Wae Rebo.
Day 9: go back to Ruteng. Take the bus to Bajawa.
Day 10: Spend the day visiting traditional Ngada villages : Bena, Gurusina. Try to stay at night in Belaraghi.
Day 11: observe the local life until noon. Then go back to Bajawa. Sleep early.
Day 12: morning hike to the top of Mount Inerie.
Day 13: take the bus to Ende and then to Moni.
Day 14: visit Kelimutu National Park and spend a few times in Moni. Then take the bus to Maumere.
Day 15: explore the North-West area of Maumere.
Day 16: go to Pantai Koka and then to Sikka village (see my articles about Maumere for more details).
Day 17: hike mount Egon.
Day 18: fly from Maumere or continue to Larantuka.
If you have even more time, you may try to spend a few days in Riung. It's 4 hours North of Bajawa.
ACCOMMODATION TIPS
In Labuan Bajo :
Budget : Hotel Mutiara. Starting from 50,000Rp (solo room). Even cheaper dorms available in town.
More comfortable : Starting around 150,000Rp (budget room).
In Ruteng :
Budget : possible to find double room for 150,000Rp
More comfortable : Hotel Rima. Double room for 250,000Rp
In Bajawa :
Budget : possible to find double room for 150,000Rp.
In Ende :
Budget : Hotel Ikhlas, solo room from 80,000Rp.
In Moni :
Budget : double room from 150,000Rp (but in really poor condition).
In Maumere :
Budget : Hotel El Tari, solo room from 110,000Rp.