Togian islands (Kepulauan Togian) are a group of about 50 islands located in the gulf of Tomini, in the province of Central Sulawesi. Getting there is quite long, but I guarantee it's worth the trip.
Like often in Indonesia, it's a melting pot of people from different ethnical groups: Togian, Bobongko, Bajo, Bugis … They are among the friendliest people I've met in Indonesia, hence implying they are truly adorable given how friendly Indonesian people are in general.
Local people traditionally make their livings off fishery, pearl trade and cloves. Tourism brings a steady flow of guests to the archipelago, but its scale remains limited.
Understanding the area
I made a map that should help you to understand how Togian (also called Togean) works.
The tourist track follows the cargo boat that connects Ampana to Wakai and then stops in Katupat, Malenge, Popolii and Dolong (the boat also stops in other villages between).
As you can see on the map, accomodations that cater to tourists are distributed among 5 locations.
I decided to avoid Kadidiri area where you have a lot of resorts (Black Marlin, Paradise, Pondok Lestari, Sunset, Harmony Bay …). They might be quite good, I have no idea. But :
I try to avoid places where you have (or expect) a lot of tourists.
Fadhila and Malenge are actually closer to most of the attractions of the Togian.
I stayed in Fadhila Cottages and then in Sera Beach on Malenge and eventually in Una Una Sanctum, so I will dwell upon them later. Lia Beach is quite far but I think it's worth a try if you have time.
Katupat area
Chilling in Fadhila Cottages
Fadhila cottages is located on a small islands off Katupat (pulau Pangempang). They offer free ride (5 min) to and from Katupat whenever you want. The price is 200,000Rp per person per day (including 3 meals).
This place is perfect to relax, there is neither Internet connection nor phone signal. The staff is nice and the food is good.
You can go swimming and snorkeling around the island. Don't hesitate to join the daily football or volleyball game in Katupat.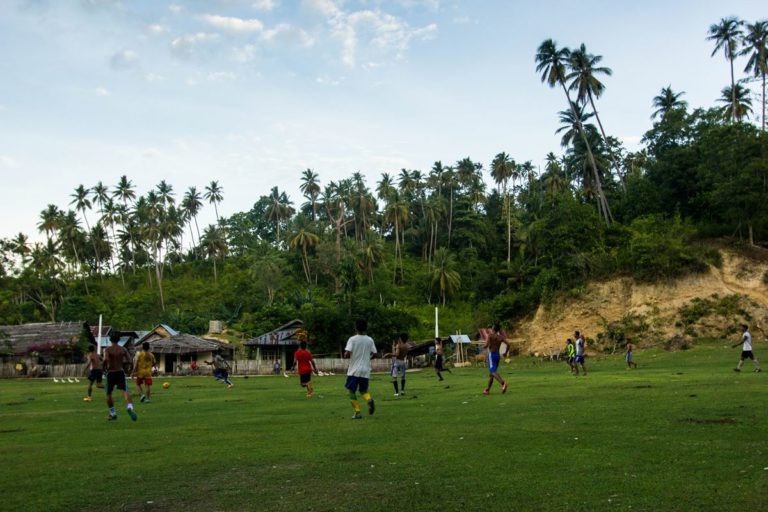 They offer several excursion from 425'000 to 600'000 IDR to be shared between 6 to 8 people. It's mostly snorkeling but they can also take you in the nature or in remote villages. Diving is also available (but I knew I was to dive in Una Una so I didn't try).
Exploring Lembanato
From Katupat, a 20 minutes walk will take you to Lembanato, another village on the other side of the hill that stands behind Katupat.
In Lembanato, no one speaks English and there is no permanent homestay either (but I don't doubt any second you could arrange one). I got a much more authentic overview of the life in the Togian there. Beyond the postcard, local people remain very poor and lack almost all of the modern comfort.
The village shall be connected to the power grid in 2017 and a new road large enough for cars shall also be build between Katupat and Lembanato this year.
I spent one afternoon talking with anyone I would meet there. I really enjoyed this time but I'm afraid the contact will be very limited if you cannot speak Indonesian. You can still expect a swarm of cheerful kids following you everywhere.
The jellyfish lake
About 40 minutes from Fadhila you have a lake filled with harmless jellyfish. Thousands years ago they got stucked there without any predators around, thus they never developed any defence mechanism. You can swim with them and even touch them (very gently and as few as possible).
I know at least 4 others places with a similar lake in Indonesia (Derawan, Buton, Misool, Banggai) as well as one in Palau so it's not that uncommon.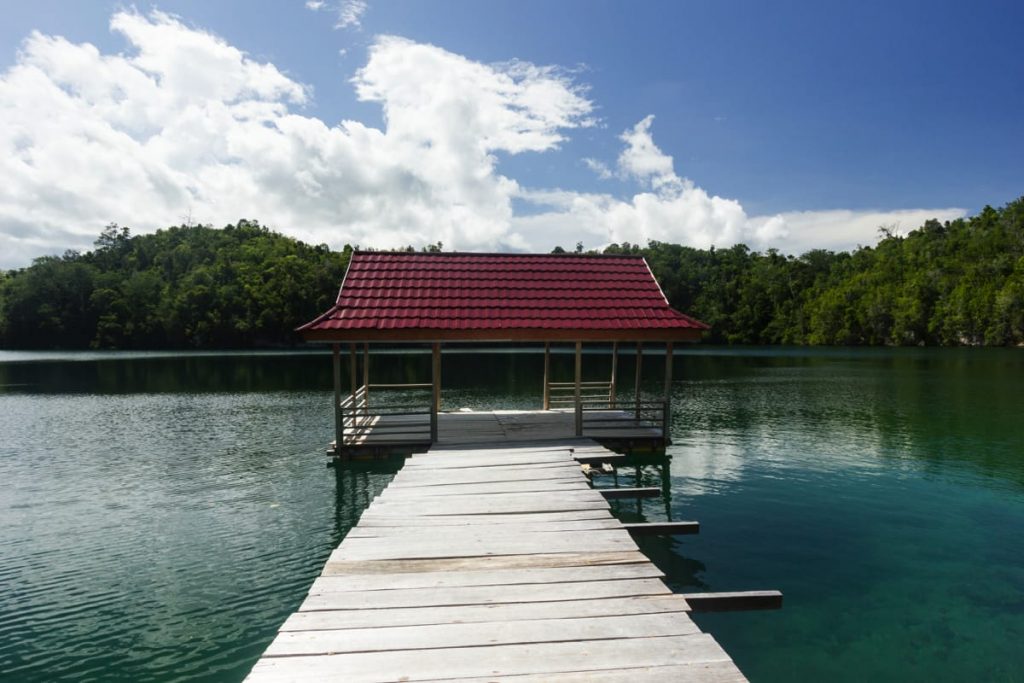 Malenge area
Where to stay in Malenge ?
You have a lots of options almost all located on the North coast of Malenge islands. I've chosen Sera Beach and was quite satisfied. Price are the same than in Fadhila (200'000 IDR per person per day).
The manager (Nuir) is really nice and knows a lot about the local wildlife (both on land and underwater). At any moment of the day you can enjoy the huge natural pool in front of the resort. They stroke a deal with local fishermen so they don't fish in front of the resort. The snorkeling on the house reef is also quite good : lots of fish, baby sharks, some nudibranchs if you look closely. I got even told you could see some eagle rays sometimes.
Behind the resorts, there is an huge garden on the slope of the hill. It's owned by a sole guy that grows black beans, chilies, eggplants, tomatoes, bananaes, papayas, pineapples …
The trees hosts several kind of birds. According to the farmer, it's better to come early in the morning to watch them, even though I spot hornbills only during the afternoon. He also told me there were a lot of monkeys around noon.
In front of Pulau Papan you have Lestari Cottages (not the same as Pondok Lestari on Kadidiri) which I think is also quite good, that would have been my second choice if I had to change.
Papan island and its iconic jetty
It's definitely the most iconic view of Togian islands : the two kilometers jetty that connects the village on Pulau Papan to the village of Kadoda (where the elementary school is).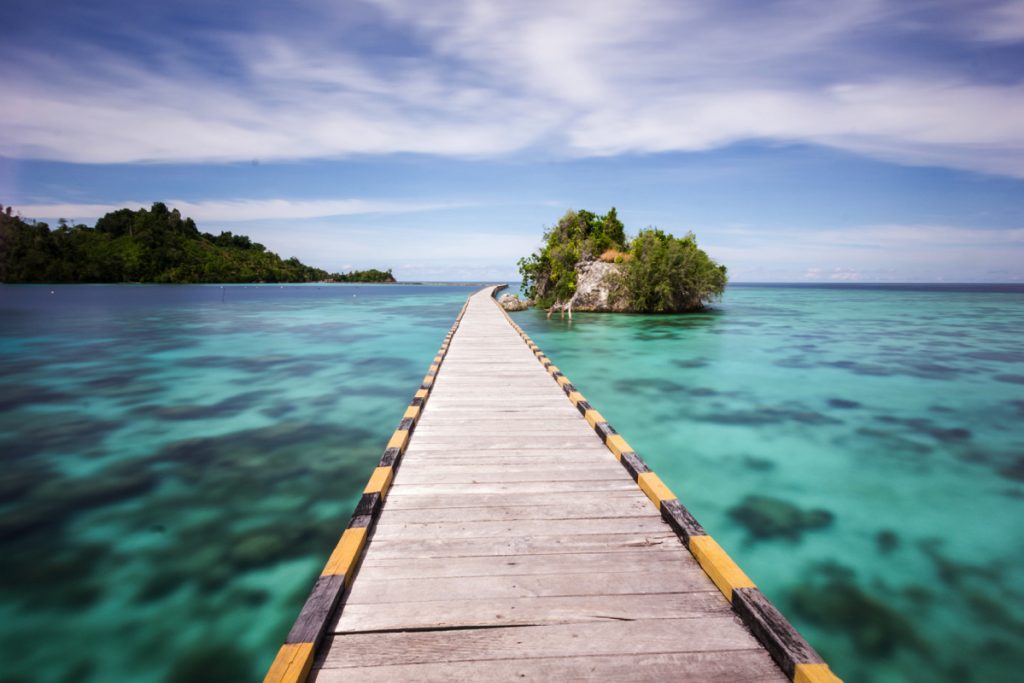 I advise you to get dropped off in Kadoda and then walk to Pulau Papan. Your boat can pick you up there.
The jetty picture above is the renovated one. Before the building of the jetty, kids were relying on boat to go back from school. Some days there was no boat so they would just take off their cloth and swim back to their house while holding there school uniform off the water with one hand.
I read on numerous occasions that the village on Pulau Papan was a bajo village. But all inhabitants I asked the question told me there were no bajo living here.
So I don't know exactly what is the reality but from my discussions with inhabitants I understand this is not a "sea gypsies" village, even though it's built on the water.
Things to do in Malenge
The best snorkeling spots are located off Malenge. I was a bit pressed by time so I didn't try them given I was heading for Una Una afterwards.
I just notice that all resorts in Kadidiri offer trips there but no resort in Malenge offer trip to Kadidiri. So I guess there is a good reason for that.
It's allegedly possible to walk across the islands through the nature in about 2 hours. Among the wildlife that can be spotted I heard about coconut crabs, birds and some babirussa (very rare).
Unfortunately I understand there are too many dogs on the islands and they are driving the babirussa population down by hunting them.
Una Una area
I dived for 3 days in Una Una sanctum that is run by Andri and his Finnish wife, who wasn't there when I visited. The diving is great: huge schools of barracudas and jacks in front of the resort, nice walls, some muck, corral gardens…
Gears and divemasters (at the moment of my visit 2 instructors) are also top quality.
Una Una is quite far from the rest of the islands (3 hours by boat from Wakai) so I don't advise you to go there unless you wanna dive.
The public ferry from Wakai to Una Una costs 30'000Rp. Chartering a local boat costed me 600'000Rp (one way).
How to go to the Togian islands ?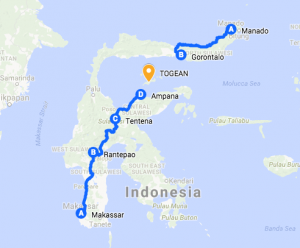 To put it in a nutshell, the fastest you can do to reach Togian from Jakarta or Denpasar is 2 days, which can be push down to 1 day if you are willing to charter your own boat.
You can get there either from the South (by Ampana) or the North (by Gorontalo). There is another ferry leaving from Bumbulan to Dolong twice a week.
Almost all the boats will take you first to Wakai, which is the transport hub.
Before planning your trip, please note that boats are not leaving daily, hence your itinerary is going to depends mostly on the schedule.
The owner of Lia Beach Resort keeps updated a free boat schedule on her website [Update : it seems that Lia Beach now gives out its boat schedule as a marketing anchor to subscribe to their newsletter]
The South road : Makassar > Rantepao > Ampana
From Makassar you spend a few days in Tana Toraja, then hit the road to Ampana. At Ampana I got told it takes 16 hours by car and 20 hours by bus. I met 2 couples who told me their bus trip took even longer.
A possibility is to slip the road in two by stopping in Tentena overnight.
The fast boat from Ampana to Wakai costs 130'000Rp, the slow boat 75'000Rp (2017).
The North road : Manado > Gorontalo (or Bumbulan)
If you choose this, you are likely to spend first a few days in Bunaken off Manado's coast. The transport are easier to arrange for this one (because both Manado and Gorontalo are larger cities) but still long.
The ferry from Gorontalo costs 90'000Rp.
Tips when stopping in Ampana and Gorontalo
There are airports both in Ampana and Gorontalo.
The airport in Ampana is quite new but has connections every day to Palu and Luwuk. From Palu you got connections to Jakarta, Makassar and Denpasar.
The issue is that there is no flight landing before the departure of the boats to Wakai, so you'll have to spend a night in Ampana.
Update 2019 : the route Palu – Ampana has been closed (source).
I stayed at Oasis Hotel (standard room for 160,000IDR with AC and breakfast). In the same street you have a losmen that should offer cheaper room if you are on a budget.
If you are ready to pay the price (probably around 1,5 or 2 million IDR) it's possible to charter a boat that will wait for you to land before departing for Togian. Hence it's possible to land in Ampana in the end of the morning and in Togian during the afternoon.
Ask your hotel to arrange it from you or you can contact Dudi on Whatsapp : +62 852 4199 8586.
Given Gorontalo is a larger city, there is much more flights in and out. Please note that the harbour is quite far from the airport (44 km). It took me one hour on bentor at 4:30AM.
An exemple of planning : my trip
I took off from Jakarta on Friday at 5:00 to land in Palu at 8:35AM (1 hour difference from Jakarta). Then I catch another flight from Palu to Ampana that lasts 1 hour. It was scheduled at 10:40 but eventually left at 11:40.
I stayed overnight in Ampana and then wanted to take the speed boat on Saturday morning. Because of the bad weather it was cancelled so I had to take the slow boat which is a kind of cargo. The boat left at 10AM and arrived in Wakai around 14:00 in Katupat at 16:40.
On Monday I catched again the slow boat from Katupat to Malenge. On Thursday I chartered a boat to take me back to Wakai. Then I chartered another boat to take me to Una-Una (3 hours in theory but we left at 14:00 and arrived at 22:00 because we waited behind Kadidiri for the weather to calm down).
On the next Monday I went back from Una-Una to Wakai using the public boat and waited for the ferry at 16:00 to take me back to Gorontalo. We arrived at 4:30 and I catch my flight back to Jakarta at 07:00.
Chartering a boat
Local fishermen will be happy to take you around in their boat (ketinting). It will costs you more than the public boat but price remain reasonable especially if you share with other passengers.
Unless you have plenty of time you will likely need to charter a boat at one point to optimize your trip. Don't hesitate to talk with the captain to include some stops.
For instance if you have to go back from Malenge to Katupat, you can ask your boat to stop first at a reef off Malenge for snorkeling, then at the jellyfish lake and finaly to Wakai.
Best time to go to visit Togian islands
Togian are nice year round but are quite crowded during the summer (especially in July and August). Reservations ahead is highly recommended.
If you are alone during this period, most of the resorts will ask you to share your room with someone else (or pay for 2 people).
Wind can also be quite strong from December to January and the boat planning is easily disrupted.